Recently, a very nice piece made by this early 20th century jeweller was sold at an auction organised by the Skinner house in Boston. And it is true that this jeweller is rather unknown to the public, but not to collectors.
I therefore propose to go back over the few historical elements we have about him. Gabriel Falguière(s) left his mark on the Art Nouveau movement with his very high quality creations. His workshop was located in the 9th arrondissement of Paris, at 23 rue Notre-Dame-De-Lorette. We know from the archives the dates of his practice, which range from 23 May 1888 to 10 November 1922. His hallmark featured a Lorraine cross.
Falguière's hallmark on which the manufacturer's initials are legible as well as his symbol: a cross of Lorraine. Photo : Répertoire des marques, Ministère de la Culture.
Before explaining the few elements of history that we have, let us note that there is often a mistake in the spelling of the family name: Falguière or Falguières. It is therefore necessary to look for him with both spellings. It seems, however, that the correct way to write his name is with an "s" at the end. This may have been a simple administrative error in the papers of the time, which finally lasted.
We know from Henri Vever's book that he was a partner in the Auger firm between 1864 and 1870 before founding his own firm at the end of the 19th century.
In 1902, he participated in the Salon of the Society of French Artists. The magazine Les Modes explains that the jewels of various jewellers, including his, are pleasant to admire.
This brooch in gold, diamonds and carved hard stone representing the profile of Orpheus was made by Falguières around 1901. It was sold at Christie's – in 2001 – for $47,000.
This pendant is made of gold, diamonds, enamel and opal. It bears the hallmarks of the Falguières firm and dates from about 1901. It was sold in 2001 for just over $42,000. Photo: Christie's.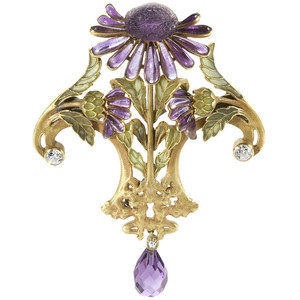 Brooch that can be transformed into a pendant. Gold, enamel, amethysts and diamonds. Signed by Falguières. Photo: 1stdibs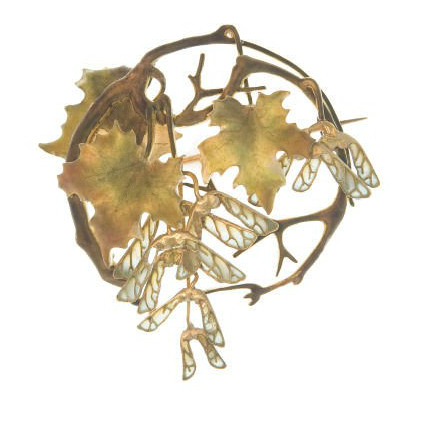 Yellow gold enamel brooch. Signed G. Falguieres for Gabriel Falguieres, Paris, it was sold at Christie's in 2008 for $9750. Photo: Christie's
There is little iconographic documentation of his work. A few pieces come up for sale from time to time and fetch quite high sums. As for the history of his studio, data is scarce. I suppose, but I would have to dig my research, that his workshop stops with his death. In the archives of the punches, one finds his symbol "the cross of Lorraine" reattributed to another workshop: Falguière Vve (Widow) and Debut and this from July 1923. This workshop operated until 31 July 1945. It was located on rue Rossini and then rue de la Chaussée d'Antin, two streets in the 9th arrondissement of Paris. But I am not certain that these two entities are linked.
I have not been able to find any information about this company, nor any photos of the pieces produced. I will complete this article if necessary.
See you soon!