The Christmas sales, or more generally the end of year sales, are back for our greatest pleasure. It is therefore with great pleasure that I discover the catalogues and the pieces that will illuminate the December 2022 sales. On this occasion, the house of Aguttes will propose a small qualitative sale (100 lots), just like the house's always very delicate catalogues. I have therefore immersed myself in this one to select a few pieces that caught my eye and which I hope will please you as much as it did me. See you on December 15th in Neuilly to participate!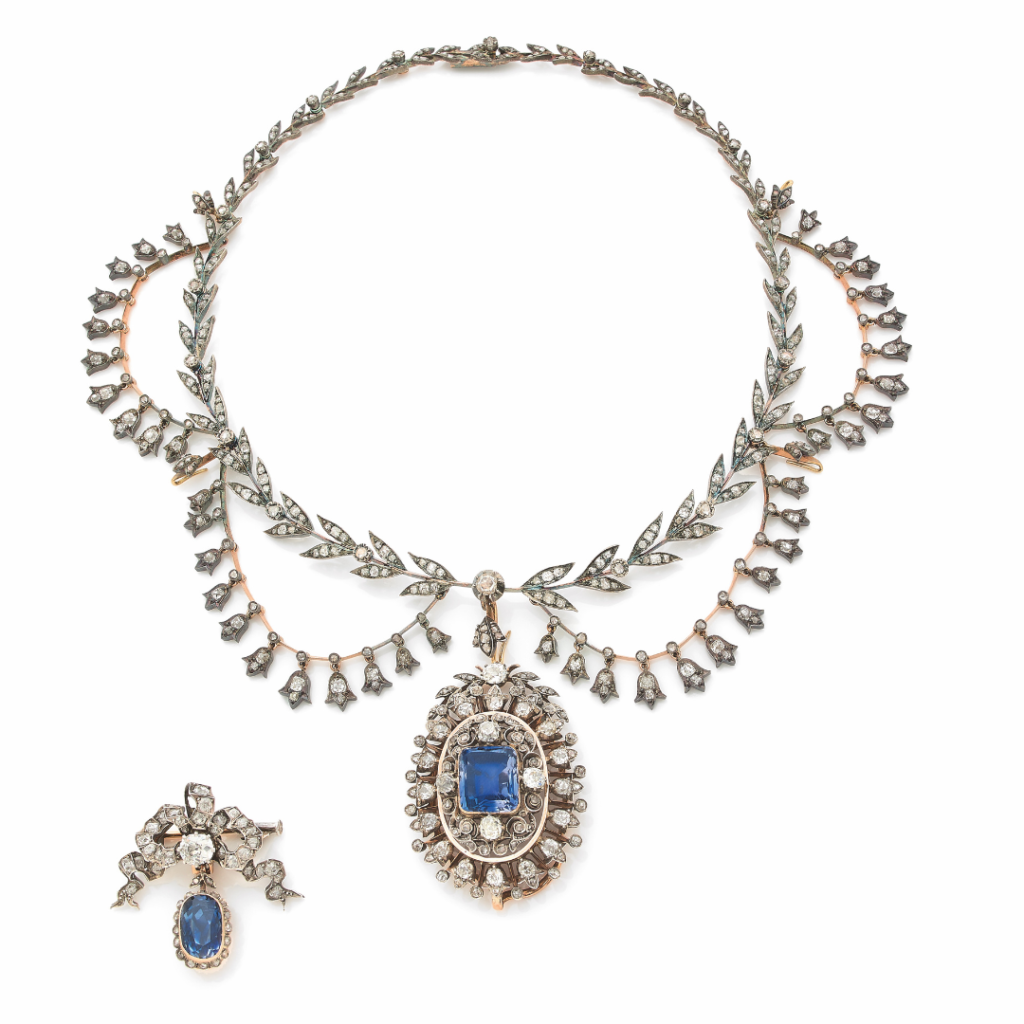 Lot 8: Silver, gold, diamonds and sapphires (not heated) drapery necklace. 19th century work. Estimate between 10,000 and 15,000 euros. Photos: Aguttes
I have always liked transformation pieces. It must be a kind of professional deformation acquired in the jewellery manufacturing workshops. I have always enjoyed watching jewellers devise systems and find the trick to make them discreet and yet effective. I even remember, one day, a necklace where no one could find the way to open it because the system was so hidden… Quite a technical achievement when you think about it! Of course, this necklace, and its brooch, can only please me. But who doesn't like 19th century pieces, sometimes a bit outdated and yet so beautiful. And then the pieces to be transformed of this type were often taken from wedding baskets at a time when the ornament made it possible to answer all the social occasions: here a necklace, there the diadem, here with or without the pendant… On this piece, there must have been two pendants that could be hung. Note the motif that evokes a bellflower, a flower with a particular symbolism whose nickname is "Venus' mirror". It is a motif that speaks of charm, of neglected beauty, of discretion, of gratitude, a way of saying "thank you for being there for me"… It is a whole program of seduction that this necklace tells…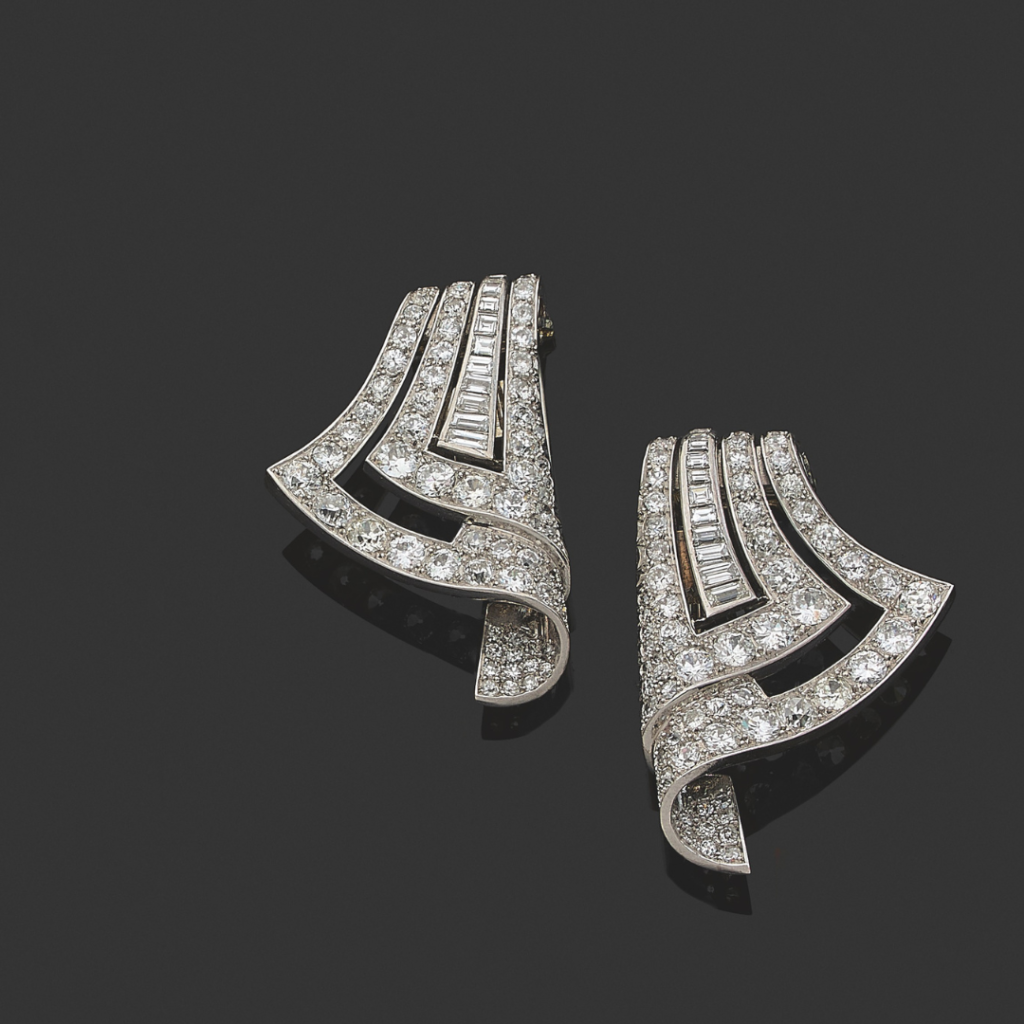 Lot 15: Boucheron double brooch in platinum and diamonds. Estimate between 10,000 and 12,000 euros. Photos: Aguttes
If you're looking for a fashion accessory in jewellery, you'll want to look at a double clip. These jewels appeared in the first half of the 20th century and became totally fashionable in the 1920s. The information I have speaks of a first double brooch made in 1927 by Cartier, the idea will spread and then be taken up again by costume jewellery. Some can be hung together to be worn as a single piece, and sometimes, as in our case, there are opposite brooches with an identical design. These dress brooches, or collar brooches, allowed people to play with fashion and have fun with their jewellery as much as with their clothes. These clips can be fixed everywhere, sleeves, collars, shoulders even… Anything is possible with this jewellery, which reflects the atmosphere of an era of renewal and relaxation after the dark hours of the war. Boucheron is no exception to the rule with this very pretty model that will delight a fashion lover. Because I have a scoop for you, it is not only watches that go to men, brooches also!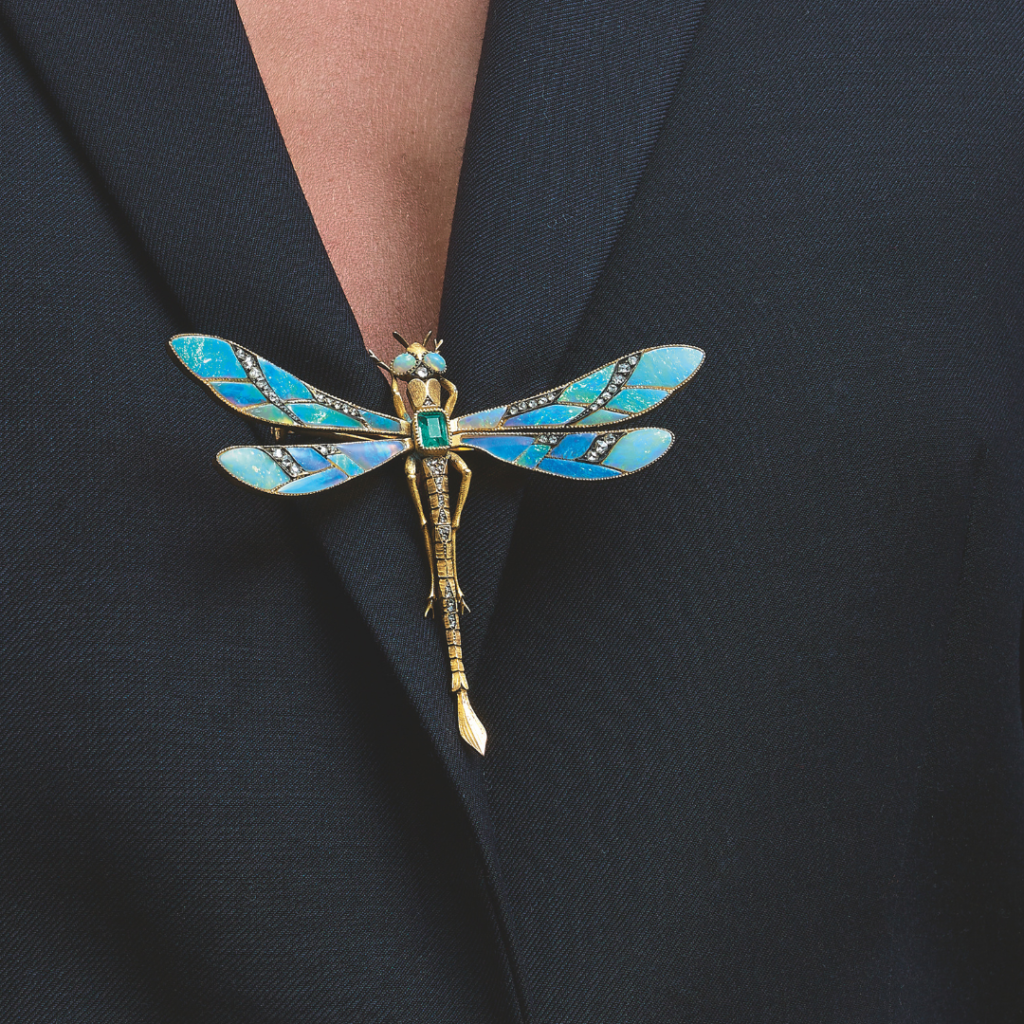 Lot 22: Gold, opal, diamond and enamel dragonfly brooch. Gaston Laffitte. Estimate between 6000 and 8000 euros. Photos: Aguttes
Dragonflies largely inspired jewellers in the Art Nouveau period and this jewel is no exception. But for once, we can identify the maker, a jeweller who is not well known and whose pieces are rarely sold at auction, perhaps because of a lack of knowledge of his hallmark. Based at 34 rue de la grande truanderie in Paris, Gaston Laffitte worked between 1896 and 1932. But the main works known about him are marked by a clearly recognisable Art Nouveau identity. I know many butterfly women with an undeniable and deep sensuality. A symbol of luck in Asia, of renewal even, the dragonfly is linked to the feminine in jewellery. The changing, luminous wings of the insect know how to bewitch men to better seduce them. Between grace and fragility, the insect questions and jewellers sublimate it.
Lot 37: "Bird on a branch" brooch in gold, diamonds and turquoise. Rolland Barrey. Estimate between 4000 and 6000 euros. Photos : Aguttes
Birds… I don't know when I started to like them. In real life first, because these creatures fascinate me. Don't think of it as the myth of Icarus, because I'm not comfortable in the air, even though I've always dreamed of becoming a helicopter pilot. And then in jewellery, it is through Pierre Sterlé's birds that I learned to love them. But in the case of this brooch, it is as much the motif as the signature that I love. I have so many memories of the Rolland Barrey company, for which I was an apprentice more than twenty years ago. I remember going there countless times and especially the kindness of the Barrey couple who welcomed me each time. And, in addition, he was a great jeweller, always ready to teach me something, to explain his trade, what he did… So to come across one of his pieces is a bit touching, even sentimental. And then, this beautiful brooch, 9 cm, has a crazy look and a lot of character. So, I don't know about you, but I'd love to wear it!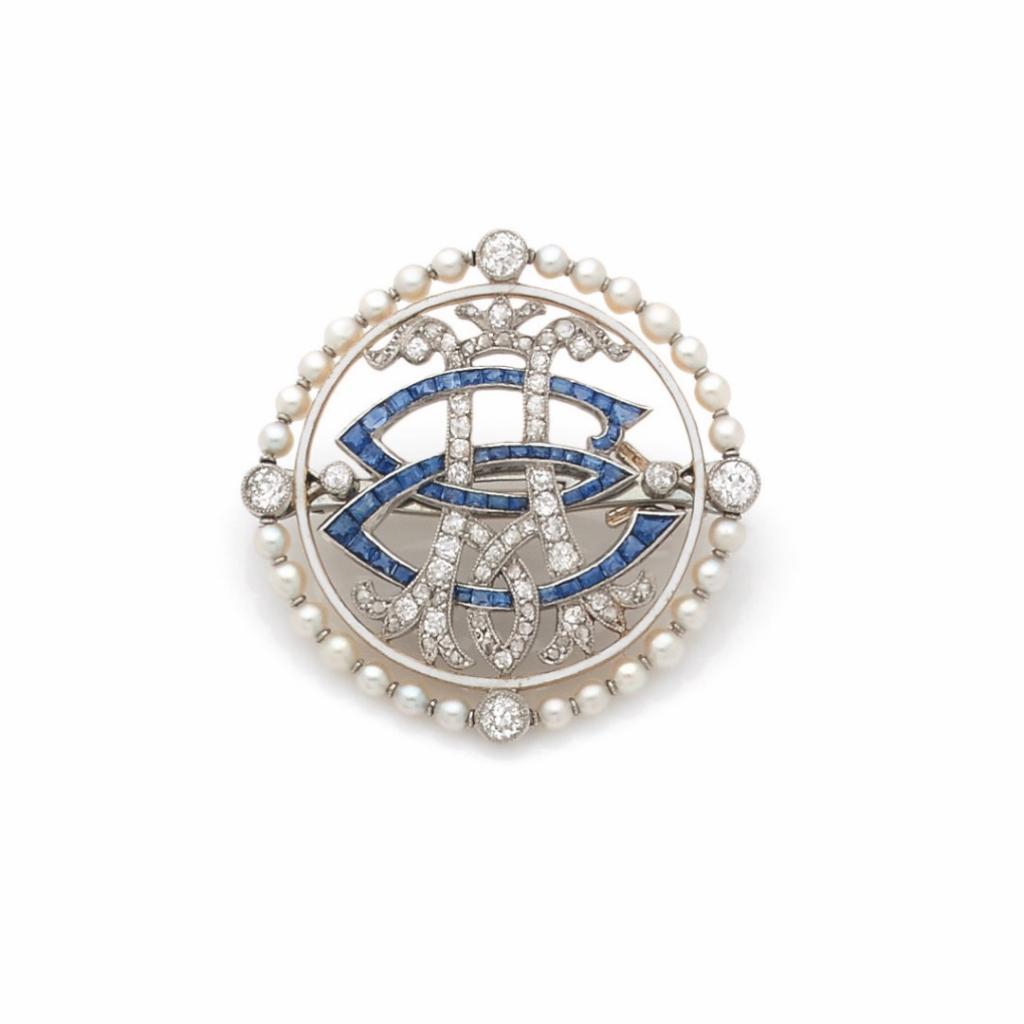 Lot 40: Gold, diamond, pearl and sapphire brooch. Estimated between 1500 and 2000 euros. Photos: Aguttes
There are gifts that tell the great story. They may be small, but they bear witness to important events that may have marked the life of a country. This brooch in gold, diamonds and pearls is a beautiful testimony to the history of Belgium. On 23 December 1909, Albert I became King of the Belgians and his wife Elisabeth of Bavaria, the Queen Consort. Memorabilia are in a class of their own in the art and jewellery market. Collectors love and cherish them as much for their quality of execution as for the events they tell. Like this adorable, delicate brooch, decorated with the initials of the King and Queen, which has been kept by the family to this day. The royal couple was soon appreciated by the Belgian people for their humanist and pacifist vision. And they will be remembered as monarchs devoted to their country.
Lot 49: Gold bracelet by Georges Lenfant. Estimate between 7,000 and 10,000 euros. Photos: Aguttes
This bracelet at Aguttes tells the story of Parisian jewellery and the friendly ties between jewellery families. Signed by Lenfant, this belt bracelet is remarkable for its size and weight, weighing 123 grams. This is no mean feat for a bracelet. The granddaughter of the jeweller Maurice Labarte entrusted this piece and it is relatively rare that we know the name of the seller in an auction. This jeweller's house worked exclusively for Lenfant from the 1960s onwards and I can only recommend Richard Jean-Jacques' article about this family. You will discover there a funny story of name change but also a story of professional friendship which will last almost until the end of the house in 2001. This jewel is what the Americans call a "statement piece", in other words a piece that has a strong character and that cannot be ignored. I have always liked strong, massive jewellery that has a strong presence on the body and this jewel, I think, ticks all the boxes!
Lot 57: Pierre Sterlé gold, diamond and enamel brooch. Estimated at 6,000 to 8,000 euros. Photos: Aguttes
And as I mentioned Pierre Sterlé above, I will end this selection with him. I like the pieces from this house all the time. It's my guilty pleasure. I can only be delighted when I see a piece of his house. His work on birds has left its mark on jewellery with his approach to faithfully realising the feathers, giving them an amazing reality in metal. Nicknamed the "couturier of jewellery", he left his mark on the history of Parisian jewellery and I still remember my emotion in front of the Sterlé pieces exhibited at the Ecole des Arts Joailliers "Birds in paradise" event. Although he was an excellent jeweller, he was not a good manager and it was Chaumet who saved the furniture by buying up his stock in the 1970s. He had worked almost exclusively for the company since the early 1960s. He ended his life with them as a technical advisor. The harlequin presented at Aguttes is a beautiful testimony of the work and achievements of this great man of the trade. A must have!
See you soon!