On 7 and 8 October, Bonhams Auction House will be auctioning over a thousand pieces of jewellery in three sales. We will talk about this in the next article after this one. Indeed, there will be some very nice things to see and for jewellery lovers, some pieces not to be missed.
But the purpose of this article is to draw your attention to two small pieces that will be sold on October 8 in London. On this occasion, the house will offer two pieces of jewellery that belonged to the queen of mysteries and crime solving over scones and a cup of tea: the great Agatha Christie. However, I have to tell you the story of these jewels, because the anecdote is quite singular. Back a few years ago…
In 2006, a sale was held at Greenway House in Devon, with the aim of dispersing some of the possessions contained in the author's first house before it was turned into a museum.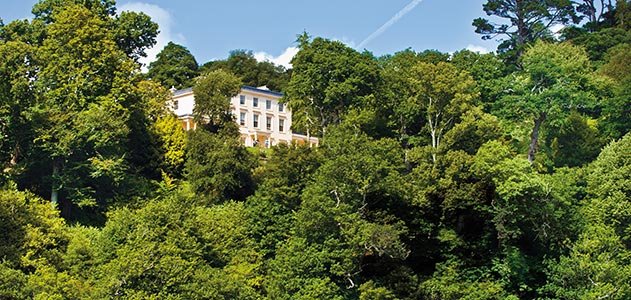 Greenway House, the home of Hercule Poirot and Miss Marple. Photo: Smithsonian Mag.
Of the lots on offer, few are affordable, but lot 677 seems accessible. The description reads "a canvas trunk engraved with the initials C.M.M. containing a small metal chest". Jennifer Grant, a fan of the author, managed to win the bid on this lot for £100. After the sale, she discovered that the box was locked and that the trunk did not contain the key to open it. She therefore kept her acquisition preciously for several years.
Then, in 2010, when a bricklayer was working at her house, she asked him if he could open the box. And she was surprised to discover inside a cardboard box containing jewels, most certainly belonging to Agatha Christie's family: a ring, a brooch, but also some gold coins. Note that it is the jewels in particular that allow us to make a link with our queen of mysteries. How and why the box was not opened during the appraisal for this sale, mystery and gumdrops…
The trunk bears the initials C.M.M., in this case Clara Margaret Miller, who happens to be Agatha Christie's mother. In 1977, one year after her death, an official biography of the author was published in which her mother was described. It states that she did not own many precious jewels, but a multitude of costume pieces. Nevertheless, she owned a diamond brooch representing a belt buckle and a diamond ring. There is also mention of a "crescent moon" brooch, also in diamonds.
Agatha Christie's grandson, Mathew Prichard, said that the new owner of the box was very lucky and that he wished her all the best for the future.
Gold, silver and diamond brooch representing a belt buckle. Estimated at £6,000 to £8,000. Photo: Bonhams
Platinum and diamond ring with a centre weighing approximately 2.40 carats. Estimated at £3800-£6400. Photo: Bonhams.
See you soon!