Since July 2014,the Museum of Bastia has been offering an exhibition devoted to the history of a family of jewellers in the city. For this, the museum decided to highlight the history of the Filippi family whose workshop has been active in the city for over a century.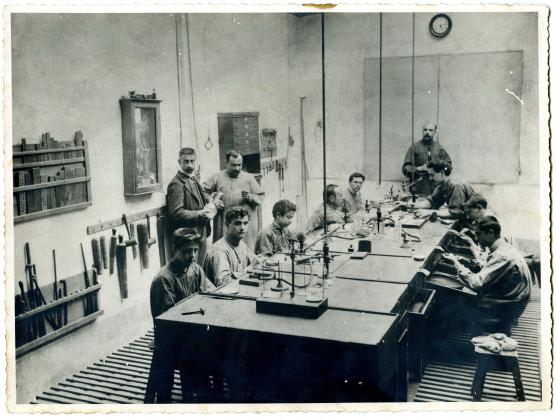 The interior of the Caracciolo workshop in Livorno, located in Via Grande. Photo: Filippi Fund
The Filippi family's jewellery and goldsmith's workshop was founded in 1882 when Cesare Filippi opened the workshop at No. 3, rue Saint-Jean in Bastia. Four generations followed one another at this address, serving the Bastiacci family.
Shop in rue Saint-Jean, around 1900. Photo : Fonds Filippi
Sketch sheet of the workshop. Photo: Filippi Fund
The shop on rue Saint-Jean, a little after 1950. Photo: Filippi Fund
Nicole Matelli-Filippi, the daughter of the last owner of the workshop – Pierre – has decided to perpetuate and enhance the collection accumulated since the creation of the company. In 2011, she decided to entrust all the machines, documents and tools – over 200 objects – to the town of Bastia. This made it possible to offer residents and tourists alike an exhibition retracing this history. This can be seen in the Palais Caraffa.
The exhibition can be seen until 16 July 2016.
See you soon!