During the Révélations trade fair at the Grand Palais in September 2015, I had the great pleasure of meeting the Inédit Joaillier team again, whom I had met two years ago at the Salon du Patrimoine Culturel at the Carrousel du Louvre.
We got on well together as they were taking on a major challenge: the creation of a piece of jewellery during the four days of the show. The piece was finished in time to be presented to the press and the public on the last day of the exhibition. This is not the first time that this jewellery workshop has taken on this type of challenge. Already for the first Biennale de Métiers d'Art in 2013, a ring based on the structure of the Grande Verrière was created. The company decided to repeat this challenge a few weeks ago, once again at the Grand Palais, with the creation of the Strates ring celebrating geology and jewellery.
The Grand Palais ring being made in 2013. Photo: Inédit Joaillier
Photo: Inédit Joaillier.
If you're not in the trade, you must already be thinking that making a complex piece of jewellery in a few days is, surely, something difficult. If you are from the trade, you know that it is complicated and that it will require a lot of concentration between the hazards of a "live" show and the inevitable and enthusiastic presence of the public, which we know is often very curious about our professions.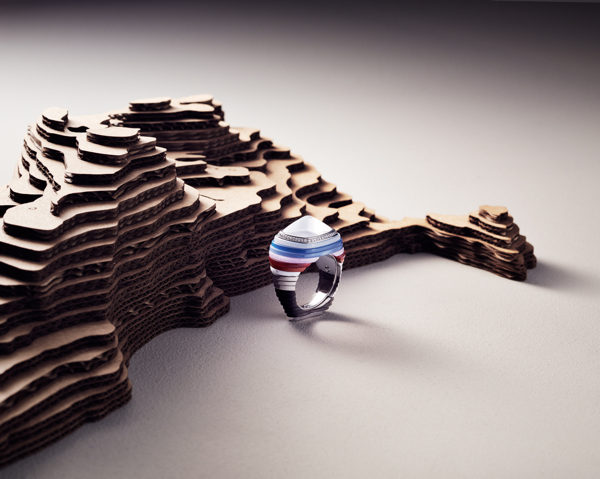 The Strates ring. Photo: Inédit Joaillier
For the occasion, Inédit moved a four-seat workbench, its jewellers, setters and polishers to carry out the production. The project was designed to take into account the constraints of a place like the Grand Palais and the prohibitions relating to a public place, such as the impossibility of having gas available and therefore a blowtorch. The hard stone slabs were prepared before the show because it was impossible to cut and adjust them in the presence of people. But the rest of the work was done on the spot, including the adjustment of the precious wood parts. And the ring was presented in the middle of the afternoon on Sunday 13 September. And I have to tell you that I think this is a great idea! Here is a look at the making of this beautiful piece in white gold, diamonds, hard stones and wood.
See you soon!