A few days ago, at the invitation of the Conservation Services of the Paris Museum of Mineralogy, I was delighted to participate in the inauguration of the showcases displaying the collection of gems from the French Crown Jewels entrusted to this remarkable institution in 1887.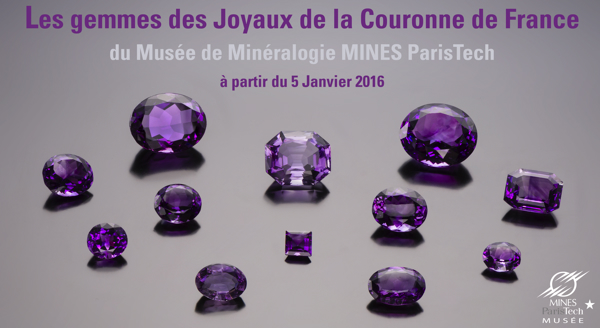 A selection of Russian amethysts from a former set for Empress Marie-Louise designed by Nitot (Maison Chaumet), which contained 235 gems. These were dismantled under Louis XVIII. The Museum's collection includes 144 stones. Photo: Mines Paris Tech – A. Stenger
This magnificent collection, some of which have not been presented to the public for 130 years, showcases Russian amethysts, Brazilian pink topazes and Colombian emeralds of the finest quality.
Indeed, following the decision taken by the government of the time under the IIIrd Republic to give up its national treasure to get rid of a symbol of the monarchy, some gems are nevertheless given to several institutions because they have an important mineralogical and historical character:
Some pink topazes, also known as Brazilian rubies , were acquired for an ornament for Empress Marie-Louise. The stones were given to the Museum in 1887, which had 48 gems in its collection. Photo: Mines Paris Tech – A. Stenger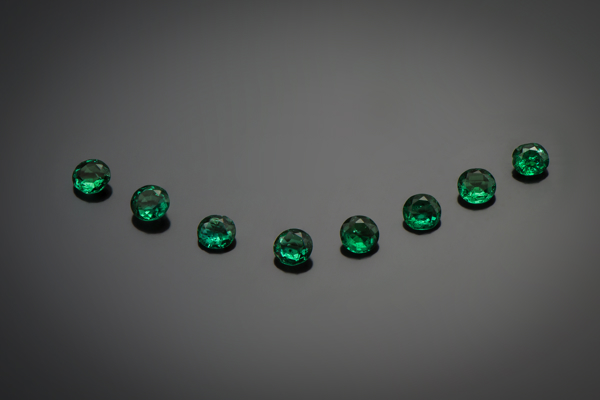 The collection also includes numerous Colombian emeralds weighing approximately 1 carat each. They were used to set the Crown of Coronation of Napoleon III. Photo: Mines Paris Tech – A. Stenger
This permanent exhibition will be open to the general public from 5 January 2016, when the Museum reopens after the Christmas holidays. It has been made possible thanks to the sponsorship of the Lyon-based company Riondet, which specialises in antique jewellery. I would like to draw your attention to the fact that Geoffray Riondet had the opportunity to study the Great Blue Sapphire of Louis XIV, kept in the MNHN collection in Paris.
Furthermore, on 7 January 2016, the Museum will be transformed into a post office for a day and will offer you a booklet of stamps presenting some of the most beautiful mineralogical specimens in the collection. Philatelists, I count on you to go and acquire this beautiful set!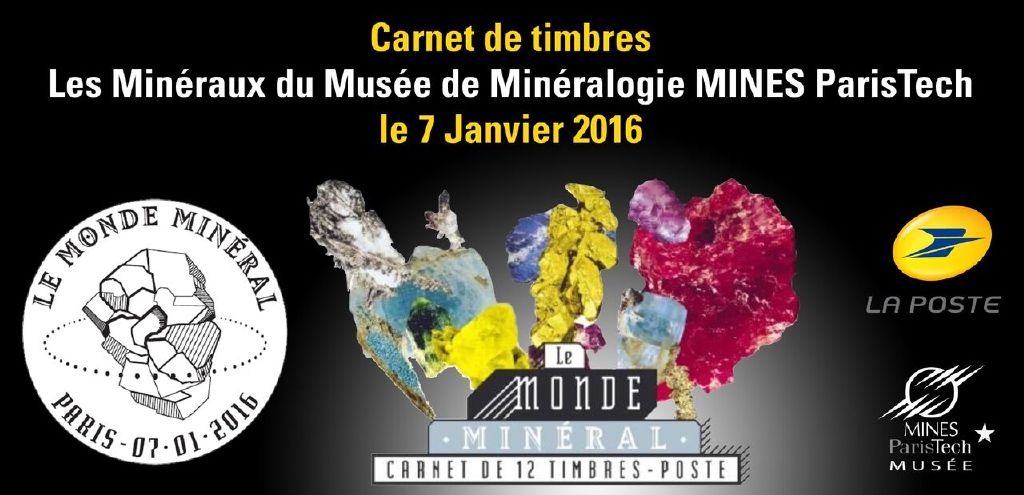 The booklet of stamps proposed by the Mines ParisTech Museum and the Post Office, from 7 January 2016.
See you soon!