Among the various high jewellery presentations in July, I had the chance to discover the new collection imagined by Laure-Isabelle Mellerio, new Artistic Director of the eponymous house. The collection is made up of 11 pieces that honour the cocktail ring with bright and refreshing colours.
This is a very successful first collection by the wife of Laurent Mellerio, CEO of the house since autumn 2015, who inaugurates the fifteenth family succession at the head of the company with significant double news: it is the first time that a couple has headed the house, but Laure-Isabelle Mellerio is above all the first woman to take over the Artistic Direction. We'll be talking about the house again in the coming weeks, but in the meantime I suggest you discover the jewels initiated by this new team!
Tourmalines, coloured sapphires, rubies, beryls or acid garnets, pink coral… These are just a few examples of the gems that make up the various pieces admirably produced by the company's in-house workshop. Joy, a lot of fantasy, that's what emerges from this opus which simply enchanted me. Enjoy your discovery!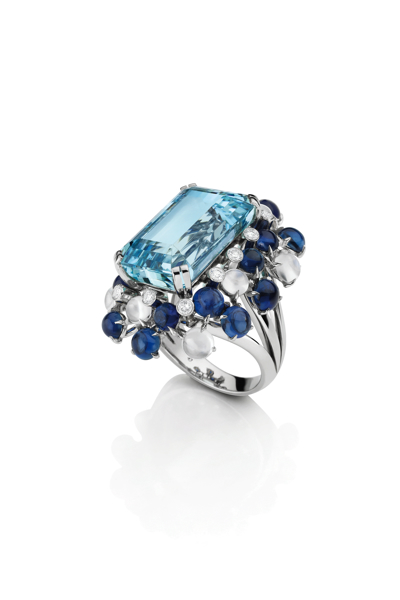 Minorca" ring. Emerald-cut aquamarine (16.92 carats), 12 cabochon sapphires (4.20 carats), 8 moonstones (1.99 carats), brilliant-cut diamonds (0.44 carats), platinum. Photo: Mellerio
Porto Ercole" ring. Oval padparadscha sapphire (4.03 carats), cabochon tsavorites (2.12 carats), coral, brilliant diamonds (0.40 carat), rose gold. Photo: Mellerio
Nosy Be" ring. Cushion-cut purple sapphire (1.73 carat), 2 cushion-cut pink sapphires (1.84 and 1.65 carat), 2 oval-cut pink sapphires (0.92 and 0.88 carat), 4 triangular amethysts (1.28 carat), brilliant-cut diamonds (0.58 carat), white gold. Photo : Mellerio
Ring "Paratii". Degree-cut rubellite (8.85 carats), 8 rose-cut orange sapphires (8.41 carats), 2 rose-cut pink sapphires (1.62 carats), 4 rose-cut yellow sapphires (3.24 carats), brilliant-cut diamonds (0.23 carat), rose gold. Photo : Mellerio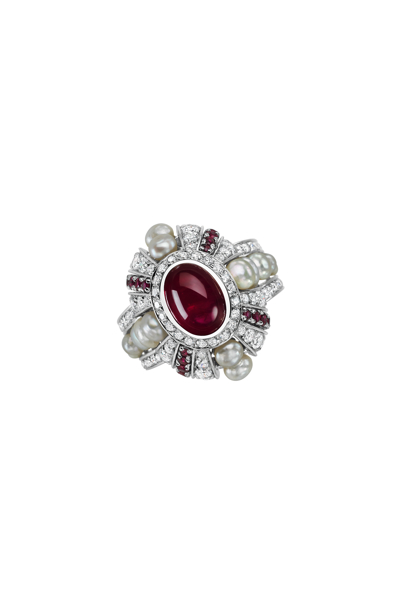 Livadia" ring. Burmese cabochon ruby (3.25 carats), 20 rubies (0.55 carat), 14 fine pearls (2.29 carats), 85 brilliant diamonds (1.47 carat), white gold. Photo: Mellerio
See you soon!