The highlight of November in Paris is the opening of the exhibition "Illuminations, from earth to jewel", a remarkable retrospective of the American jewellery artist Paula Crevoshay.
The artist in her studio. Photo: Paula Crevoshay
Sabrina" bracelet in yellow gold, tsavorite garnets, blue zircons and opals. Photo: Paula Crevoshay
Exhibited for the first time in France, she chose the Mines ParisTech Mineralogy Museum to showcase her creations and offer visitors a superb journey from the raw stone to its enhancement in a unique piece of jewellery.
Liddicoaite. Photo: Mines ParisTech
World-renowned for her work, her pieces are today preserved in numerous private collections and museums such as the Gemological Institute of America (Carlsbad, California, USA), the Carnegie Museum of Natural History (Pittsburgh, PA, USA), and in the National Gem Collection at the Smithsonian Institution (Washington, DC, USA)
Brooch in yellow gold, blue zircons, inlaid with hard stones including rhodochrosite, opals, turquoise, malachite and onyx. Photo: Paula Crevoshay
It was therefore an obvious choice to come to Paris where the Musée de Minéralogie has the richest systematic collection of rare specimens and a large number of gems from the former royal collections. On this occasion, we took the time to meet the artist and ask her a few questions about her work.
Dear Paula, can you introduce yourself to our readers?
My interest in jewellery dates back to my childhood. I have always painted, drawn and developed an artistic sense at an early age. As a child, between the ages of four and nine, I also built up a collection of costume jewellery. Then, as a student, I also studied and practised goldsmithing as a hobby.
When I was in Asia, where I lived for four years, I tried my hand at working with gold and gemstones and started learning traditional metalworking techniques. My very first pieces were quickly successful and I was encouraged to continue.
I soon realised that one-off pieces were of much greater interest to collectors, and at the age of twenty-six I made the decision never to make reproducible pieces again. Thirty-three years later, my passion for gemology, art history, colour and light is still intact. Today, it finds a particular resonance in this collection, which combines the science and art of jewellery.
The exhibition "Illuminations, from earth to jewellery" has just opened at the Musée de Minéralogie in Paris. It tells the story of my journey as an artist fascinated by the light of the Earth and all that it can bring us. I am extremely lucky to be supported by my public and my professional industry who have long called me "The Queen of Colour" and I am grateful for that!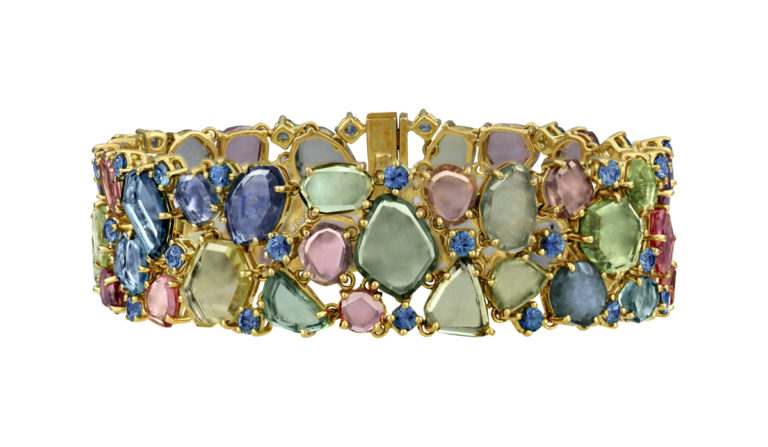 Rainbow over Montana" bracelet, yellow gold and Montana sapphires. Photo: Paula Crevoshay
Where did you learn the art of jewellery making?

As I said, I began studying jewellery making during my undergraduate degree at Virginia Commonwealth University. At that time, my main focus was the study of the more classical disciplines: painting, sculpture and drawing. But my passion for jewellery was always there and it resurfaced with a vengeance at that time.
After a master's degree in painting and printmaking at the University of Wisconsin, Madison, I flew to India for four years with my late husband George Crevoshay, who had been awarded a Fulbright scholarship and a four-year fellowship from theAmerica Institute of Indian Studies. It was in India that everything really came together with learning traditional techniques. When I returned to the US, I entered designs in competitions and won awards. I realised that jewellery would now be my medium of artistic expression.
I quickly realised that to express my full creative potential, I needed help. Like many before me, Lalique or Fabergé, I had to surround myself with competent craftsmen to achieve my artistic ambitions. My first workshop was established in Thailand and then we opened another location in New Mexico (where I live) and I also enlisted the skills of specialist craftsmen in Hong Kong, New York and also in Florida. The art of jewellery making is a global industry and many techniques are specific to the place on earth where you find them. So when I find people who are committed to the highest level of their professional practice, I recruit them!
Sapphire. Photo: Mines ParisTech
Can you tell us more about your inspirations and your creative path?
My biggest inspiration is Mother Nature. The beauty and even the splendour of nature is sublime. As a jewellery artist, I like to mix several disciplines in my work. In the same way as when I was a painter.
When you look at a piece of Crevoshay jewellery, you also see that a lot of my work is based on the principles of gemology. I take into account the colours as well as the refraction indexes, but also so many other things… My Master's thesis was to show that you can't initiate a masterpiece without combining the skills. When you study Art History, you quickly understand that the great masters perceived this very early. Leonardo da Vinci is a perfect example.
My next idea will be to honour the great mines and to create jewellery that reflects the geological and gemological specimens that can be found in these places. The exhibition "Illuminations, from earth to jewellery" is only the beginning and also the catalyst of a work I have been doing for three years now. I still have so much to give and I would like my work to open horizons and paths for the next generation.
Gift of the Sun" brooch, yellow gold, 8.25ct sphalerite, brown diamonds, demantoid garnets and opals. Photo: Paula Crevoshay
Your jewellery is always impressive and very colourful. What are your favourite gems to work with?
I have often asked myself this question and I must admit that I love all gems. It's like asking myself as a mother if I have a favourite child. I can't choose!
But I must admit that opal is very often present in my work. This is because I find it very graphic and even "pictorial". If you look at the work of Monet, Van Gogh or other modernists, they all painted like this with bold colours. Then there are the feldspars because I am absolutely fascinated by the phenomenon of adularescence intrinsically linked to their mineral structure. Tourmalines and spinels are absolutely fantastic as they provide a myriad of colours. Finally, my answer must also take into account the characteristics of the stones and what the light produces on them. I want the viewer to want to look at each of the gems I have chosen to combine.
One of the goals I set for myself when I was twenty-six is to set as many gems as possible before I leave this earth. It is an ambitious goal!
Azurite. Photo: Mines ParisTech
This is a unique opportunity for the French to see your jewellery as it is the very first time you are exhibiting in France. Why did you choose Paris and especially the Musée de Minéralogie to exhibit your pieces?
I came to France at the very end of the 80s and I immediately loved Paris and what it represents for Art History, Culture; there is beauty and art everywhere. I feel that this city is a cultural torch for Humanity. I couldn't hope for a better city than the City of Light to launch my exhibition. The very name of the event "Illuminations" is perfectly suited to the place!
The Musée de Minéralogie was suggested to me by a dear friend: Delphine Le Blanc. She loves and understands my work. I explained to her one day that I had this dream of exhibiting my pieces in Paris and she immediately replied that she could help me. Years passed and I kept this idea in the back of my mind. Two years ago, Martin and I came back to Paris and we met Delphine, Jean-Claude Bouillard (director of the mineralogy collection of the Pierre-et-Marie-Curie University, nda) and Didier Nectoux (curator of the Mineralogy Museum of Mines Paristech, nda). I then presented my project and things went from there.
The rooms of the Museum are absolutely perfect for such an event because the exhibition is a mixture of art, science and history. Moreover, this museum was created with this idea of sharing when René Just Haüy founded the place in 1794. So I feel privileged to be able to exhibit here because no other place would have had the same impact.
The exhibition that has just opened lasts until 1 February 2017. I strongly invite you to go and discover this very beautiful event as well as the Museum's collection. It is a timeless place that will make you love minerals!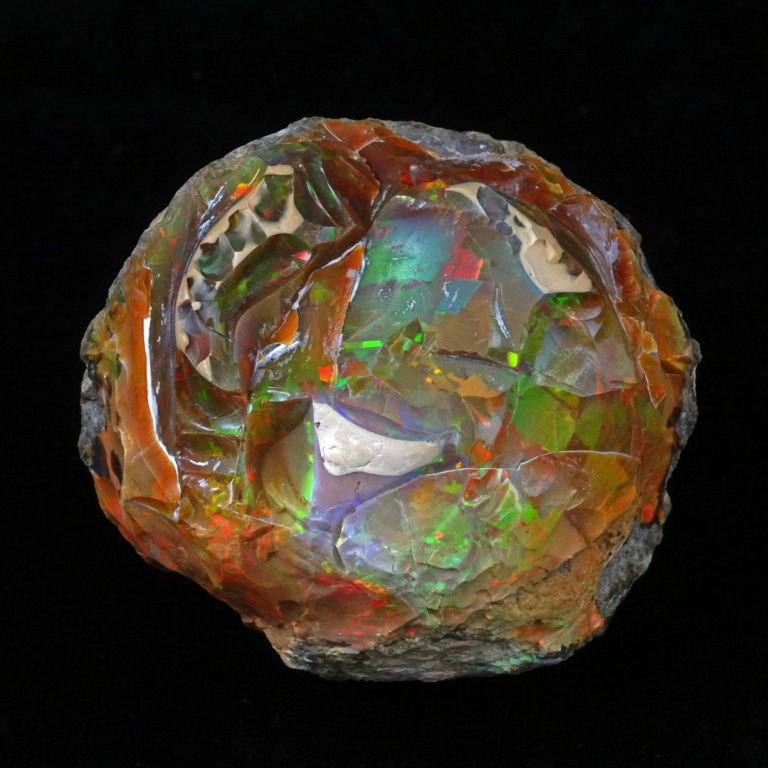 Opal. Photo : Mines Paristech
Finally, to complete your collection of books on the subject, you should know that the artist, in collaboration with the Museum's conservation team, has just published a beautiful book recounting this event. It is available for $50.
Enjoy your visit and see you soon!