If the name Nelson Doubleday Jr. does not evoke anything for many people in France, it is not the same in the United States and more precisely on Long Island where he lived a large part of his life. Born in 1933 and deceased in 2015, he joined the family empire – Doubleday Publishing – shortly after the Second World War and became its Managing Director in 1978.
This well-known American publishing house was founded in 1897 by Nelson's grandfather. Specialising in English literature, it was the American publisher of such remarkable talents as Rudyard Kipling, Joseph Conrad and Somerset Maugham. In 1986, he sold the company to become the majority shareholder of the New York Mets. A year unlike any other for this baseball team… And you'll soon understand why!
The Doyle auction house will offer in a few days the collection of this famous American businessman. If I tell you about it today, it is because of the presence of two very particular rings that appear in the catalogue…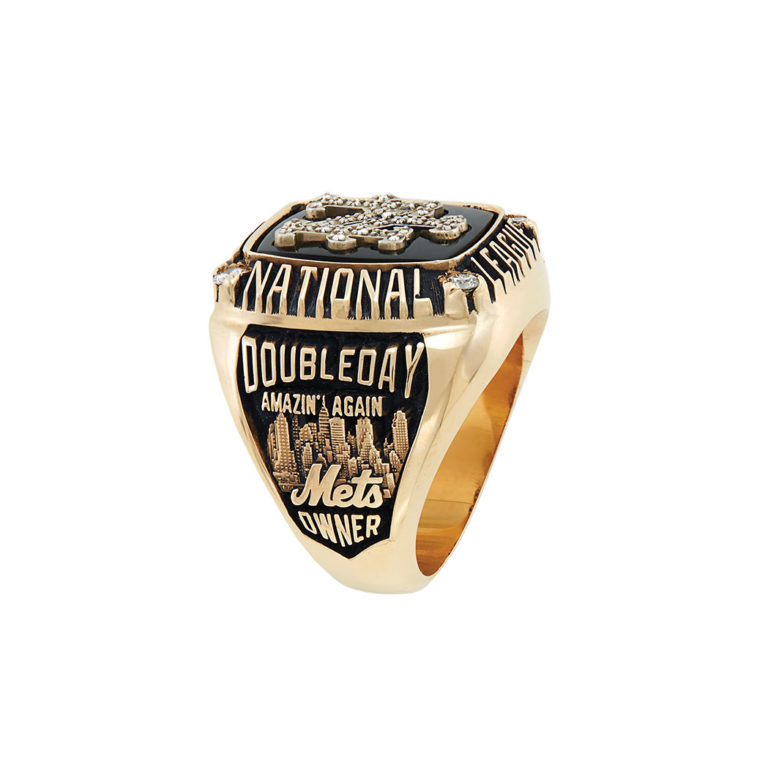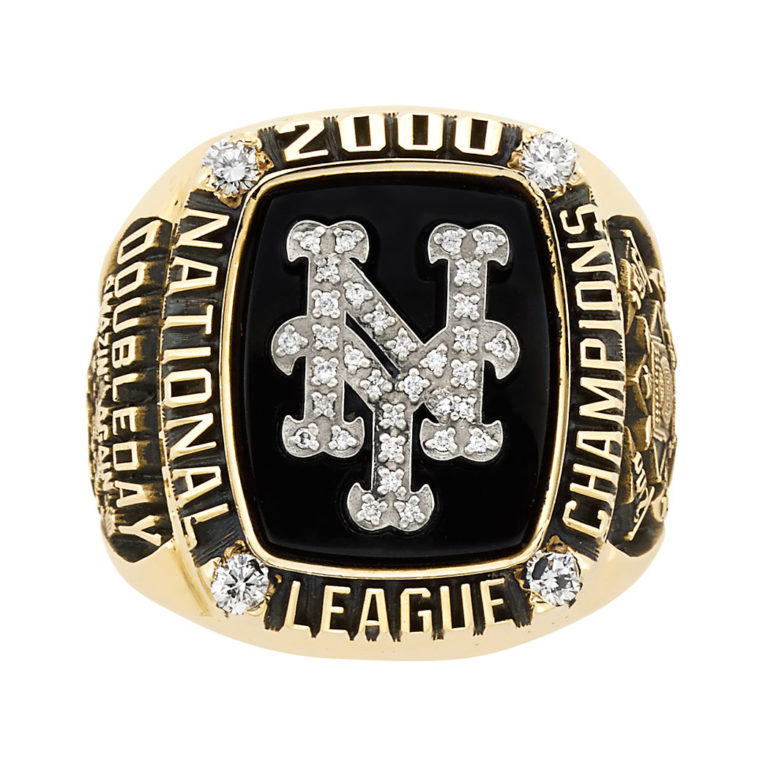 Lot 57: A 585 ‰ gold and diamond ring celebrating the Mets ' 2000 National Championship victory. On the side depicting the New York skyline is engraved the text "Doubleday, the owner of the always amazing Mets". The other side features the National Baseball League seal, the New York underground system and flags celebrating the Subway Series (meetings between two NY clubs) with the dates 1969, 1973, 1986 and 2000. The ring comes in a box engraved for Nelson Doubleday. The 2000 meeting between the Mets and Yankees is an important chapter in New York sports history. That year, the team was led by stars like Mike Piazza, Al Leiter and John Franco. It was a special victory for Americans because it came just months before the dramatic events of September 11, 2001. For Doubleday, it was his team's second win after the 1986 victory. Estimated at between $8,000 and $12,000. Photo: Doyle
Lot 58: 585 gold ‰ and diamond ring celebrating the Islanders ' (NY ice hockey team) 1982 Stanley Cup victory. It features the team logo with the Doubleday name and three trophies for this team in 1980, 1981 and 1982. In fact, the Islanders also won the trophy in 1983, becoming one of the most famous teams in the National Hockey League. The ring is a reminder that the team is the first to win three Stanley Cups. Estimated at $8,000 to $12,000. Photo : Doyle
See you soon!