Bonhams will shortly be offering a small sale on 11 April 2017, mainly dedicated to antique jewellery with some very nice pieces. Just before a very busy end of April. Amongst others, a rare brooch signed by Frédéric Boucheron and some very beautiful pieces from the Arts and Crafts movement, which was in fact the precursor of British Art Nouveau, will be on offer. This is an opportunity to discover signatures that are rare in sales and often unknown to many people. Here is my selection!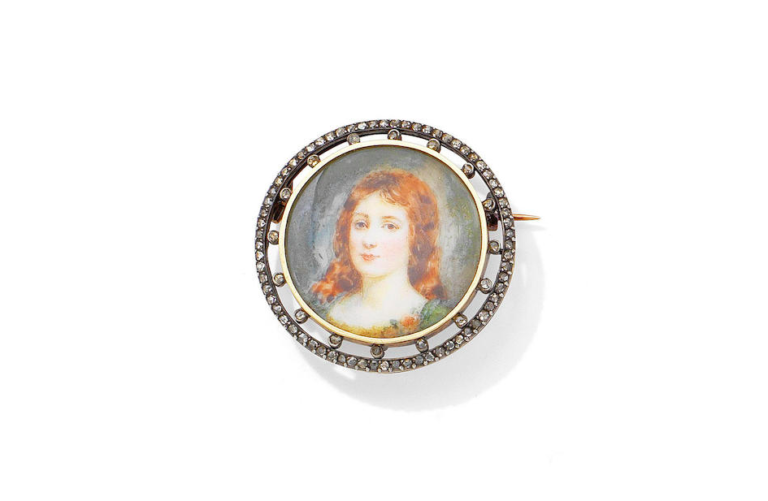 Lot 8: Rare gold and silver brooch by Frédéric Boucheron, diamonds and painted ivory miniature attributed to Fernand Paillet who was a close collaborator of Boucheron. Late 19th century, signed. Estimated at between €2300 and €3500. Photo: Bonhams
Lot 69: A rare collection of silver, gold and diamond "heart" brooches. These 18th and 19th century Belgian pieces were typical of the city of Antwerp. They are known as Flemish Hearts(Vlaams Hart) and were offered for Mother's Day. Variants can be found in the north of France, particularly in Normandy, but also throughout Holland. Estimate between 4600 and 7000 €. Photo: Bonhams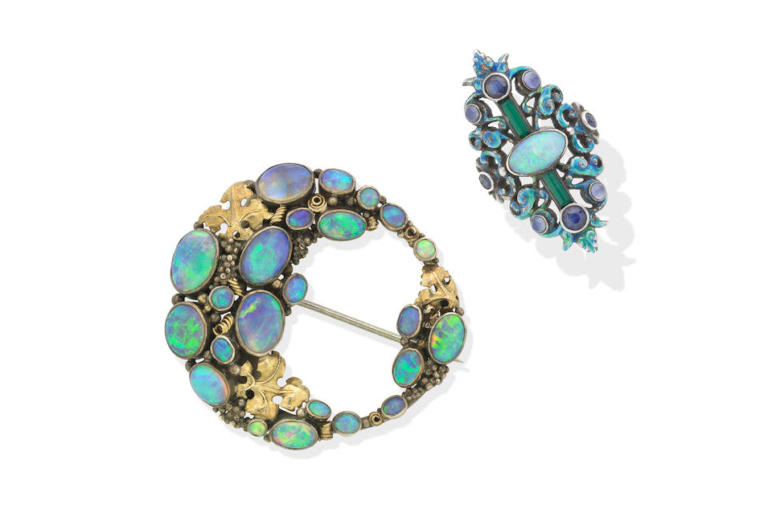 Lot 338: An enamelled brooch and ring set with various gemstones and opals. The former is attributed to Sybil Dunlop and the latter to Dorrie Nossiter. Both are famous representatives of the Arts & Crafts movement. Sybil (1889-1968) was born of Scottish parents and trained in Brussels where she discovered jewellery. On her return to England, she set up her own workshop in Kensington Church Street, London, in the early 1920s and was soon joined by W. Nathanson. The company produced pieces inspired by Celtic motifs and nature. Nathanson became known for making rich, geometric settings using dyed quartz. They closed in 1939 because of the war and Sybil never returned to the workshop because of her health. Nathan continued until 1971. Dorrie Nossiter (1893-1977) studied at the Birmingham School of Art. Her work is inspired by nature and is perfectly in line with this artistic movement of which she is one of the great representatives. A contemporary of Dunlop, their work is sometimes confused despite Nossiter's predilection for asymmetrical motifs. Estimated at €1,200 to €1,700. Photo: Bonhams
Lot 338: Gold, pearl and emerald brooch by John Paul Cooper circa 1905. He was one of the leaders of the Arts & Crafts movement. Trained as an architect, he specialised in jewellery between 1902 and 1910, influenced by his friend and teacher Henry Wilson, whose rare pieces fetch high prices at public sales. Estimated at €1,200 to €1,700. Photo: Bonhams
Lot 340: A rare Arts & Crafts necklace by John Houghton Maurice Bonnor, circa 1905-1908. Gold, opals and rubies. An unsigned drawing of this necklace is held in the archives of the English Guild of Craftsmen Jewellers, now part of the Goldsmiths' Company, the equivalent of our HBJO. This sketch shows the addition of the rubies to the first design and shows that the individual stones belonged to the client at the time. English jeweller John Houghton Maurice Bonnor (1875-1917) was first an architect before meeting and being trained by Henry Wilson at the Central School of Arts and Crafts. From 1908 onwards, he started his own workshop with his wife Nancy Agar and left the Guild's workshop, which he had headed since 1905. Estimate between 2900 and 4100 €.
See you soon!