Every year, I look forward to the Bonhams Natural History sales. A Bonhams tradition held in Los Angeles, these sales are full of treasures and rare and unusual gems, often from major dealers or collectors. I take great pleasure in trying to find out where the stones come from, but I won't betray the secret here!
So I present you my selection from the catalogues of 23 and 24 May 2017: on the programme, remarkable opals, atypical tourmalines, consequent and therefore rare sets. I show you this!
23 May, Los Angeles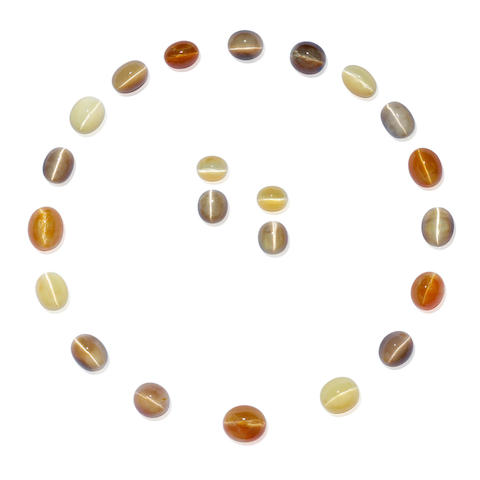 Lot 1070: a rare set of cat's eye opal cabochons from a pocket discovered in Tanzania in the late 1990s and no longer mined. Estimate $14,000-$18,000. Photo: Bonhams
Lot 1097: A rare pairing of two Australian (Queensland) opals for approximately 129 carats. Estimate $50,000-$70,000. Photo: Bonhams
Lot 1136 (2): A rare 31-carat black opal with intense red fire from the Lightning Ridge Mine, Australia. Estimate $30,000-$40,000. Photo: Bonhams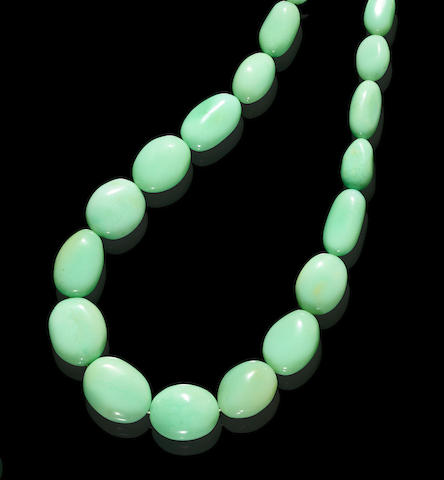 Lot 1145: A rare green common opal necklace from a pocket found in Kosovo weighing over 460 carats. Estimated at $2,500 to $3,500. Photo: Bonhams
*****
May 24, Los Angeles

Lot 2055: A rare "alphabet" agate set from Indonesia. There are few sets of this type, those of my readers who frequent mineral sales will remember a very fine example in the collection of Mr. Laurent Sikirdji (Gemfrance). Estimate between 2000 and 3000$. Photo: Bonhams
Lot 2174: Rare Namibian demantoid garnet weighing 9.86 carats. Certified by the GIA. Estimated at $100,000 to $125,000. Photo: Bonhams
Lot 2179: A very rare 27.68-carat Herderite gem from Brazil. This stone occurs in pegmatites and belongs to the apatite family. Estimate $20,000-$30,000. Photo: Bonhams
Lot 2228: A very rare 2.82-carat pudretteite gem from Mogok, Myanmar. Estimate between $10,000 and $15,000. Photo: Bonhams
Lot 2352: A rare and important set of 19 bicoloured tourmalines from the Himalayan Mine (Pala, California) weighing 219.5 carats. Estimated at $17,000 to $22,000. Photo: Bonhams
See you soon!