On 20 and 21 June 2017, the Tajan auction house will offer a very rich catalogue presenting numerous rare and atypical pieces. More than 500 lots will be offered, including some very beautiful stones that should not leave amateurs and dealers indifferent: among them, a 10.15-carat Kashmir sapphire estimated at between €100,000 and €150,000 (untreated, Gübelin) and an almost 12-carat Burma sapphire estimated at between €320,000 and €400,000 (untreated, Gübelin). Among the notable pieces, an Asian-inspired cigarette case by Lacloche and a rare watch by Verger Frères. Inspired by Art Deco and representing a car radiator, it has a system of small flaps that allow the dial to be hidden from prying eyes. A slightly mysterious object and a little marvel of technicality as I like them! In addition, there is a set of twelve pieces signed by the Boivin house, including a remarkable gold, diamond and sapphire set. It's a truly eclectic catalogue that gives us some very nice things to see as the season comes to a gentle close.
It is also an opportunity for me to present a project that I am very happy to see come to fruition with the house team: a selection of pieces that I find interesting and that I deliberately wanted to keep away from the lots highlighted in this sale. You are now familiar with my approach on the site, so I have remained faithful to this approach and selected four objects that are sufficiently rare to be presented to you. For this, I have moved away from my traditional photos that I share on Instagram and Facebook and I have asked the photographer Dominique Dubois, whose contemporary work I really like, to create visuals to highlight the objects and thus unveil them to you. I hope you will enjoy this series that we had the pleasure to create and that you will be happy to discover it.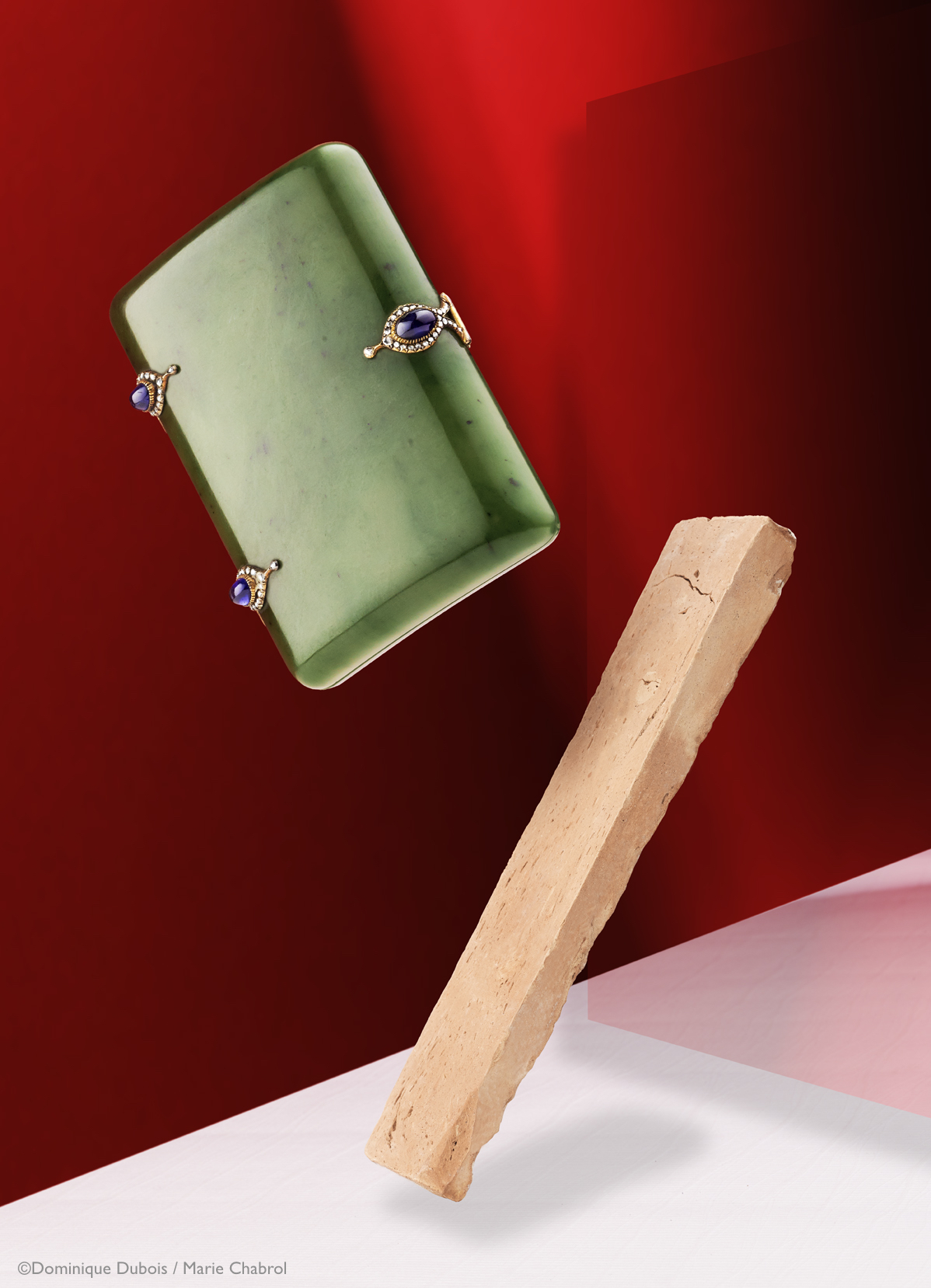 Lot 14: Rare nephrite, gold, diamond and sapphire cabochon cigarette case, circa 1900. This Karl Fabergé piece is signed by his master goldsmith Michael Perchin. From 1886 onwards, he became the main supplier to the company and put his hallmark on all his pieces. The Fabergé mark is sometimes found on them but not always. Estimate between 7000 and 10,000 €. Designer: ©Dominique Dubois / Marie Chabrol. Photo and production: © Dominique Dubois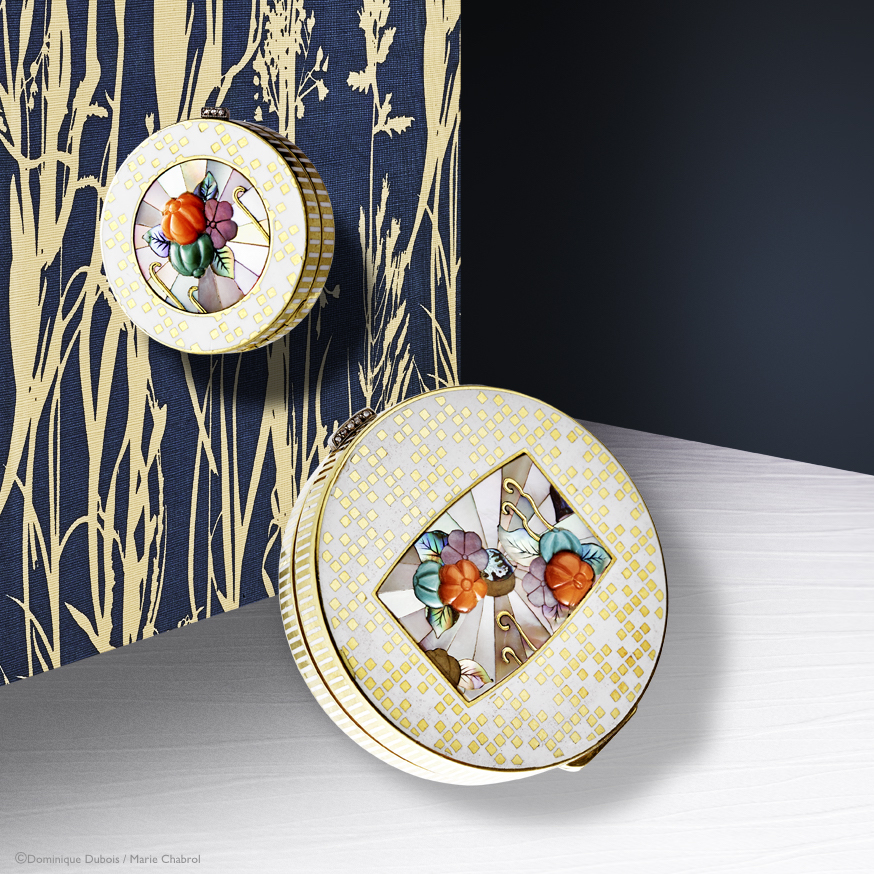 Lot 15: This is certainly my favourite lot of the sale and I hope it will appeal to buyers as much as I do. These two enamelled gold powder cases, decorated with coral and turquoise flowers on a mother-of-pearl and gold fillet marquetry background, are signed by Black, Starr & Frost, which was founded in 1810 and remains one of the oldest and most famous American jewellery houses. Pieces of this type are relatively uncommon in sales and deserve to be highlighted. Estimate between €3000 and €4000. Designer: © Dominique Dubois / Marie Chabrol. Photo and production: © Dominique Dubois
The exhibition of the pieces starts on June 15 at the Espace Tajan in the rue de Mathurins in the 8th arrondissement. On the same date, the house will receive from 7 pm, Mrs Solange Thierry de Saint-Rapt: collector of art and contemporary jewellery, she was also the editor and director of the magazine "L'Œil", book editor but also curator of exhibitions, she will come to tell her story, share her vision of the jewel and her experience of collector. If you are interested in this subject or have questions, I invite you to register with Tajan for an evening that will undoubtedly be fascinating.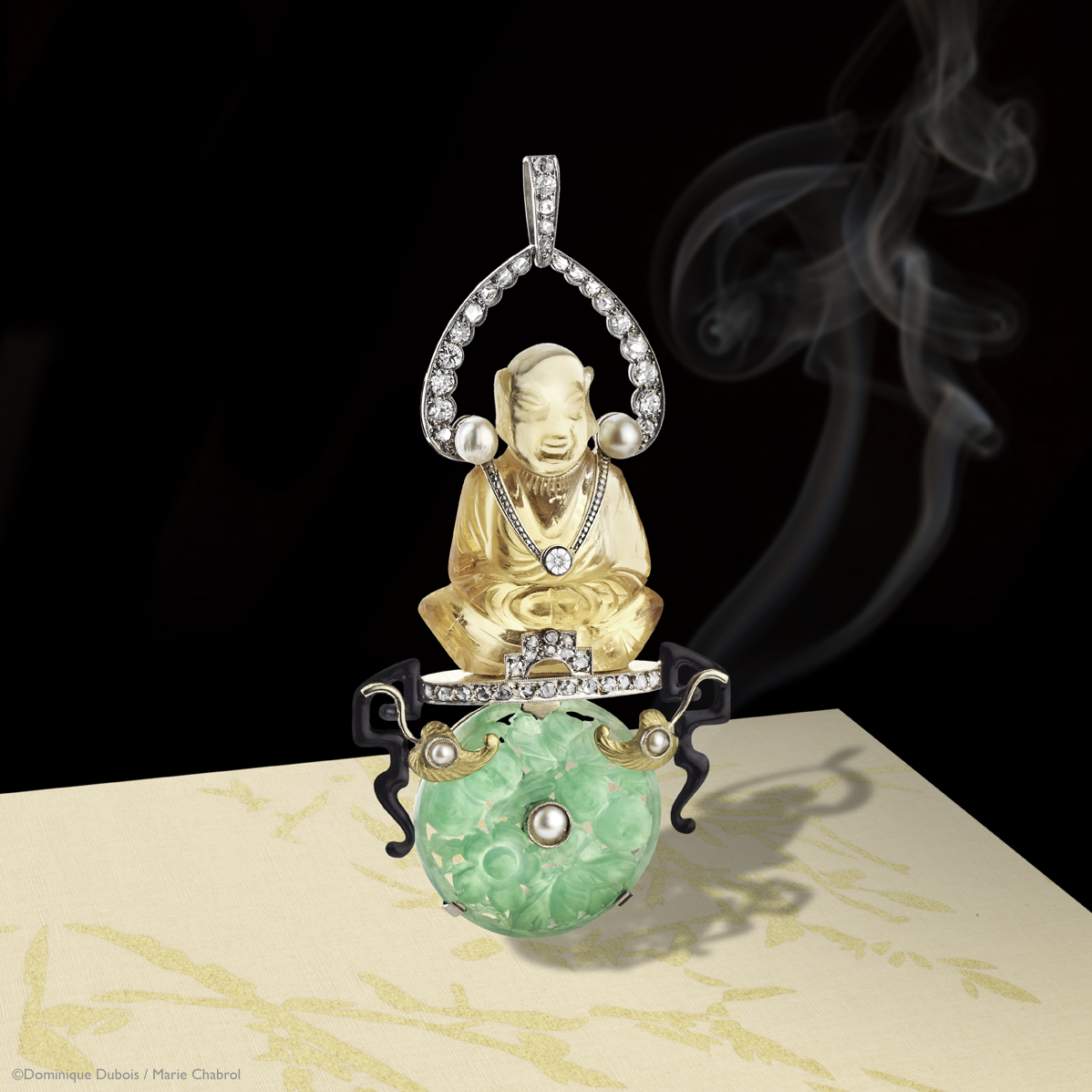 Lot 30: Attributed to the Lacloche house, this pendant remains the most surprising piece of the sale. Representing a Buddha carved from citrine and topped by a diamond-set white gold element, it is set on a diamond-set white gold base, lacquered in black and featuring yellow gold leaves. The Buddha motif is a recurrent theme in the work of Lacloche and there are many examples of brooches in the same style. Estimate between 4000 and 6000 €. Designer: © Dominique Dubois / Marie Chabrol. Photo and production: © Dominique Dubois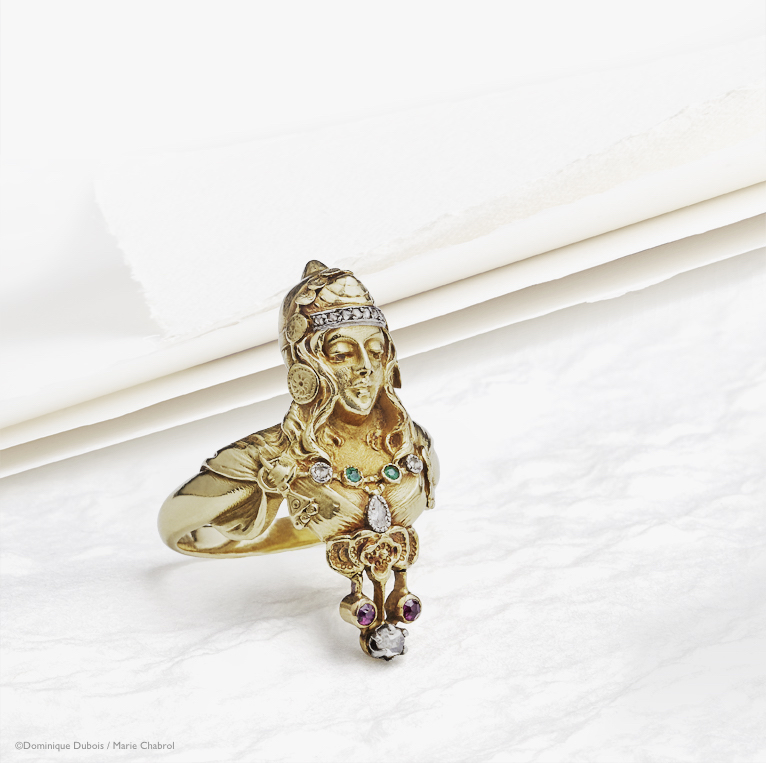 Lot 197: I have deliberately selected this ring because its iconography is rarer in Art Nouveau jewellery. It represents a richly adorned Byzantine woman, perhaps an empress. It is especially typical of the fantasy-inspired jewellery and the warrior women found on some jewellery. Technically, this piece is very fine and presents multiple details if one looks at it very closely. I would like to draw your attention to the jewellery she is wearing. Estimate between 1200 and 1800 €. Designer: © Dominique Dubois / Marie Chabrol. Photo and production: Dominique Dubois
See you soon!