To speak of the art of secrecy in the world of jewellery is to evoke what best characterises the trade: the discretion of the workshops. From the men and women who work there, for obvious security reasons, to the jewel which conceals within it, like a talisman, one or more elements that only the owner – often the wearer – can know. For many centuries now, the jewellery object has been a source of curiosity and it allows for a great many technical fantasies, all the more breathtaking since we are talking about extreme miniaturisation. It was therefore with pleasure and wonder that I took the time to discover the remarkable collection entitled Le Secret that the house unveiled in Paris during the fashion week. Rebus, retractable elements, transformation jewels, double reading… this is what makes up this set of more than 65 pieces from a collection that will eventually gather 110 pieces. Many of which will remain secret. This is the image of a house that communicates little and whose first week of July represents a time of expression that has been noted for the success of this presentation.
I believe it is necessary to talk about the effort, patience and ingenuity that went into making the jewellery on display. As you explore the collection, you inevitably become aware of the work that went into making a clasp or hinge more flexible, allowing the petals of a brooch to detach almost effortlessly, or making another ring blossom that reads differently when worn open or closed. I could also mention the Cachette sautoir, which contains a ring set with a 2.33-carat unheated Burmese ruby, or this little Venetian damsel that can be hidden under her wolf. Thus, the Pegasus necklace required more than 2200 hours of work from the design and the search for the stones to the finalization.
The stones are one of the attractions of the collection: unheated sapphire of 45.10 carats from Sri Lanka, unheated Burmese sapphire of 5.13 carats, fancy intense yellow diamond of 13.01 carats, no oil emerald of 10.17 carats from Zambia or a pair of unheated coloured sapphires from Madagascar totalling more than 142 carats. I would also have to tell you about the onyx and mother-of-pearl – very present -, the sugilite, the spessartite garnets, the coral but also the turquoise that punctuate the different models.
I suggest you discover some pieces of the collection, some of which are accompanied by videos that will allow you to better understand the piece and its mechanism. The jewels are thought, here, to be looked at on the front as on the back. They offer this playful side, so dear to Van Cleef & Arpels, which can only seduce the child in all of us.
The "Butterfly Petal" clip is made of yellow gold, white gold, diamonds, yellow and purple sapphires, emeralds, spessartite and tsavorite garnets, onyx, sugilite. Transformable clip. The flower hides a butterfly that can be worn as a brooch, separately from the flower. Photo : Van Cleef & Arpels
The "Blue Flower" ring is made of white gold, diamonds, emeralds, Paraíba tourmalines and a 5.13 carat cushion cut sapphire (Burma). A quarter turn lifts the upper part to reveal a quote from Oscar Wilde: "A life without love is like a garden without sunshine". Photo: Van Cleef & Arpels
Amour retrouvé" earrings in white gold, pink gold, diamonds and pink sapphires. Transformable ear motifs. The ear motifs can be worn alone, while the detachable pendants are attached to an elegant clip-on base. Photo : Van Cleef & Arpels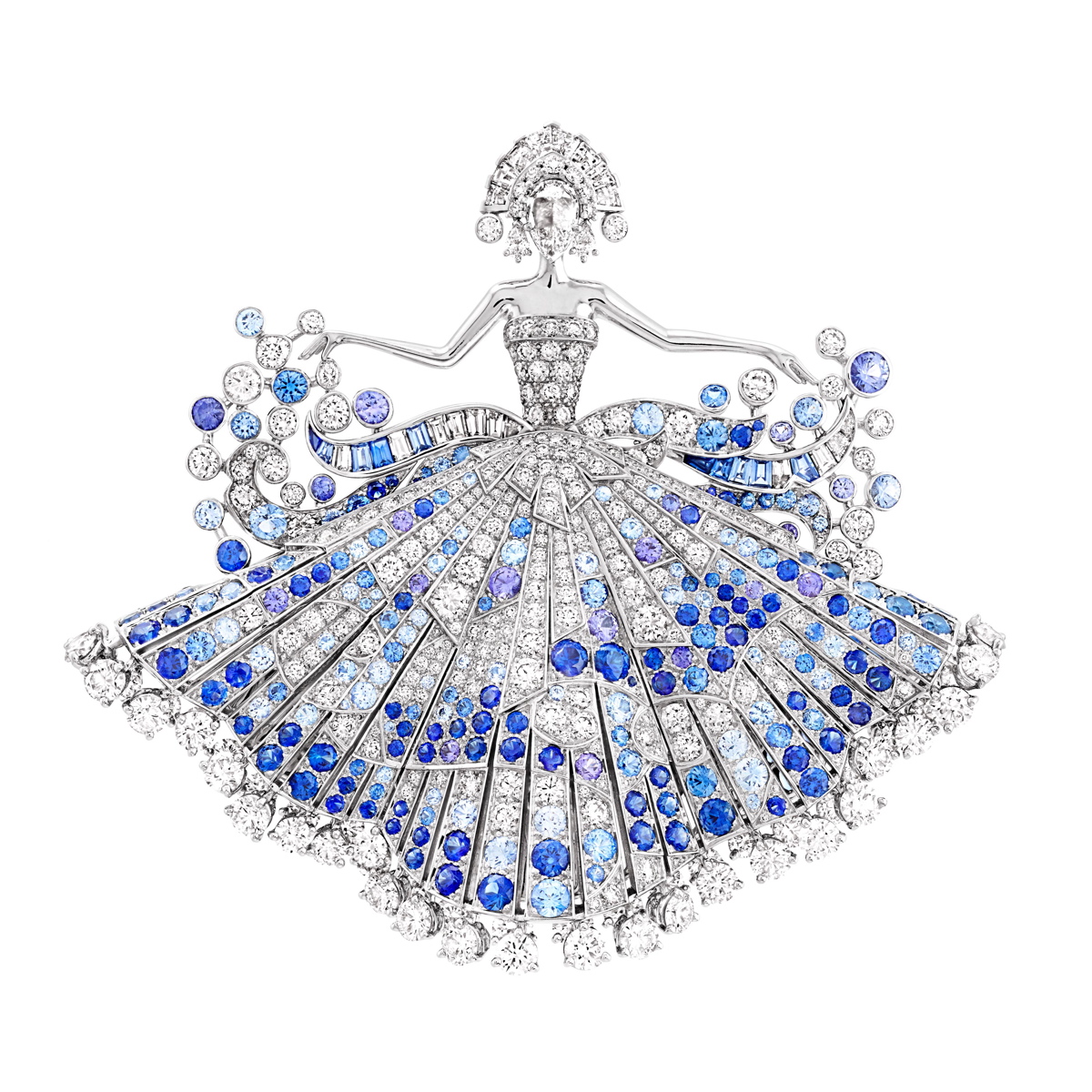 Brooch "Metapmorphosis of the Swan" in yellow gold, white gold, coloured sapphires, spessartite garnets, black spinels, onyx, diamonds. This piece is inspired by a poem by Alexander Pushkin in which a princess is transformed into a swan. Triggered by a rotating movement on the back of the piece, the metamorphosis really takes place: the bust of the young girl disappears in favour of an elegant swan floating on the water. Photo: Van Cleef & Arpels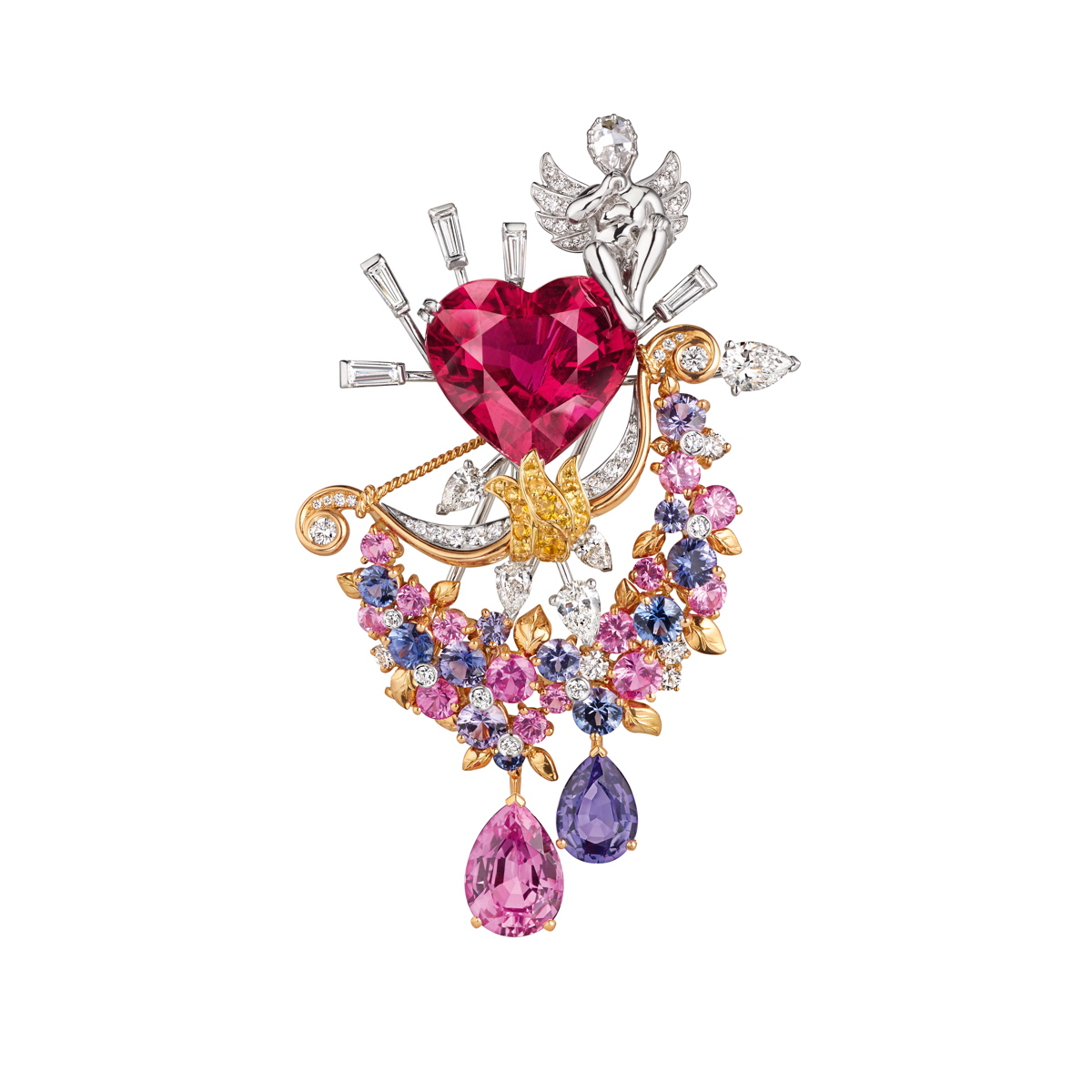 Secret des amoureux" brooch in white gold, rose gold, yellow gold, diamonds, coloured sapphires, a 2.74-carat pear-cut orange-pink sapphire (Sri Lanka), a 1.36-carat pear-cut purple sapphire (Sri Lanka), a 12.04-carat heart-cut rubellite. Cupid invites the viewer into the secret with a gesture meaning "shhh". Already featured by the House in the 1940s, he appears here surrounded by his traditional attributes. Photo: Van Cleef & Arpels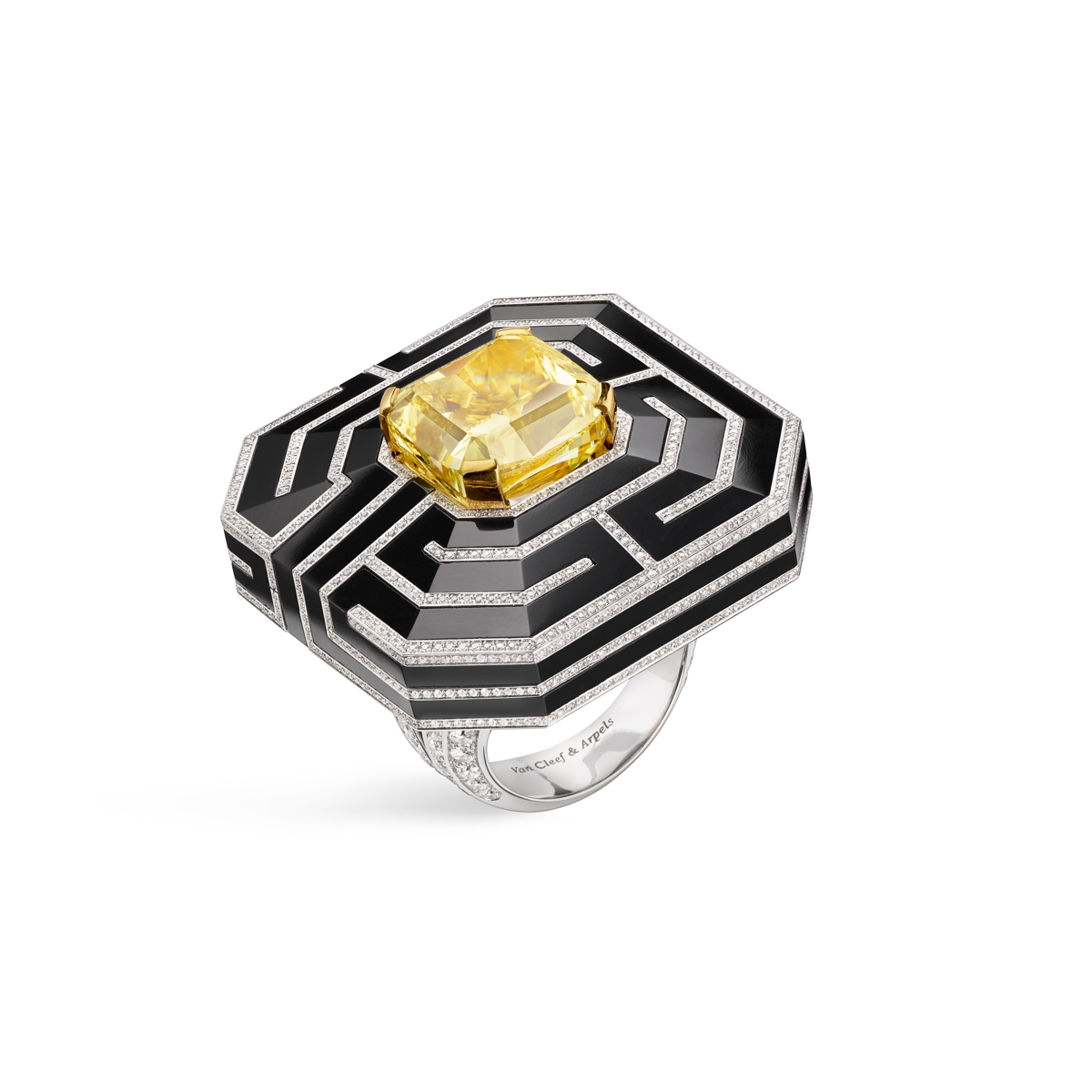 Labyrinth" ring in white gold, yellow gold, diamonds, onyx, a 13.01 carat Fancy Intense yellow cushion cut diamond. The ring invites the viewer to contemplate it from different angles to find his way back. Photo : Van Cleef & Arpels
"Under her wing" brooch in red gold, white gold, traditional Mysterious™ setting rubies, pink and yellow sapphires, spessartite garnets, coral, black spinels, onyx, grey mother of pearl, diamonds. Carefully integrated into the piece, the wing opening system reveals the chick nestled against its mother. Photo : Van Cleef & Arpels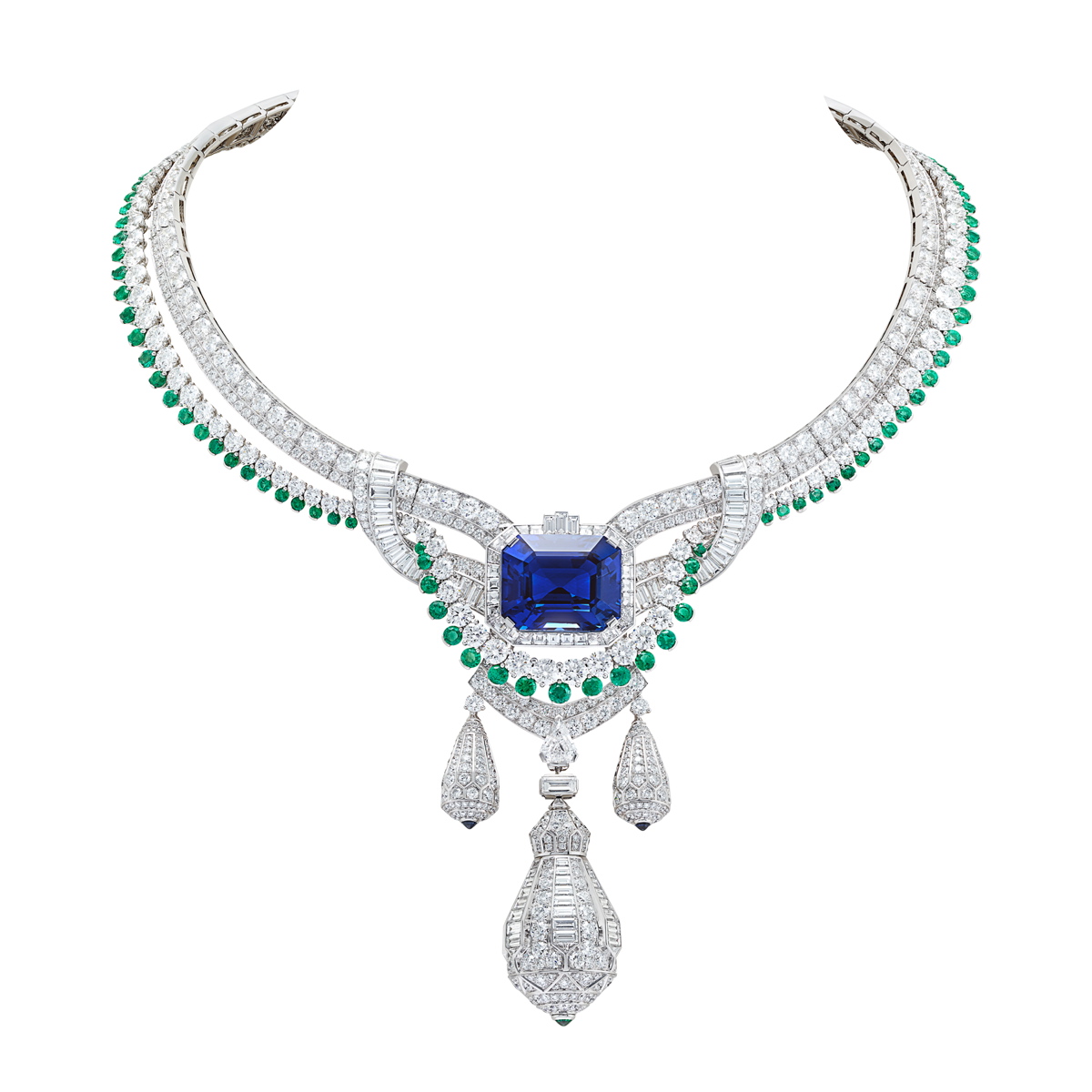 Pegasus" necklace in white gold, diamonds, emeralds and sapphires, including a 45.10-carat emerald-cut sapphire (Sri Lanka). Detachable clip. A miniature white gold figure of Pegasus is hidden in the central tassel. Depending on your wishes, the winged horse – a famous creature from Greek mythology – can be kept secret, revealed in broad daylight, or suspended from a clip, along with the two other detachable pendants. Photo: Van Cleef & Arpels
Marguerite d'amour" clip in yellow gold, white gold, diamonds, orange spinels and roses. Some of the petals have an invisible mechanism that allows them to be gently turned over before reading the engraved messages "Tendrement", "Passionnément", "Éternellement", "Infiniment" and "A la folie". Photo: Van Cleef & Arpels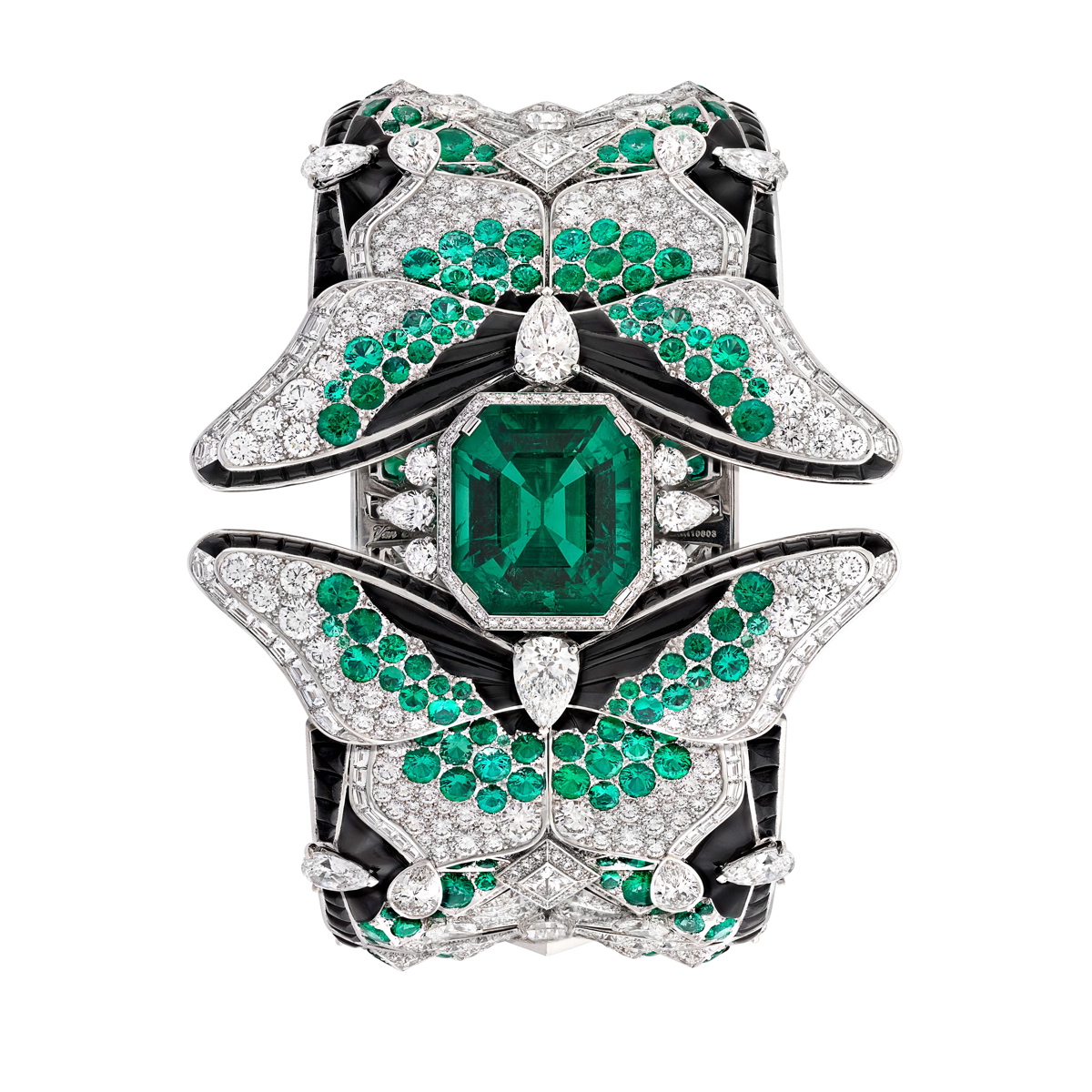 Secret Butterfly" watch in white gold, diamonds, emeralds, black spinels, onyx, white mother-of-pearl, one 14.57 carat emerald cut emerald (Colombia), mechanical hand-wound movement. One of the butterflies hides a mother-of-pearl dial under its lower wings, revealed with the fingertips. Photo: Van Cleef & Arpels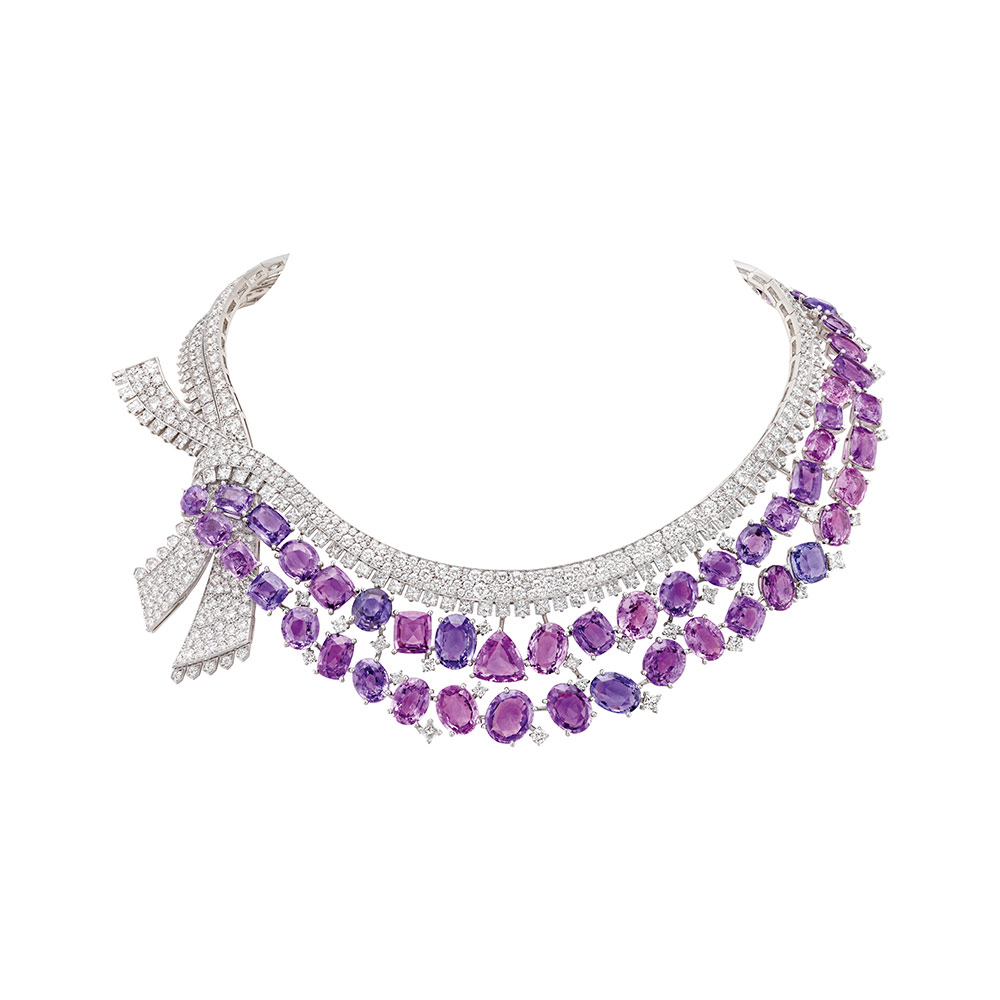 Necklace "Message des hirondelles" in white gold, pink gold, diamonds, coloured sapphires, coral, red enamel, 52 fancy cut purple sapphires for a total of 142,10 carats (Madagascar). The surprise comes from its jewellery clasp, a case for a secret. On either side of a knotted ribbon, two graceful swallows move aside to reveal a pink gold envelope, sealed with a red enamel heart. Photo: Van Cleef & Arpels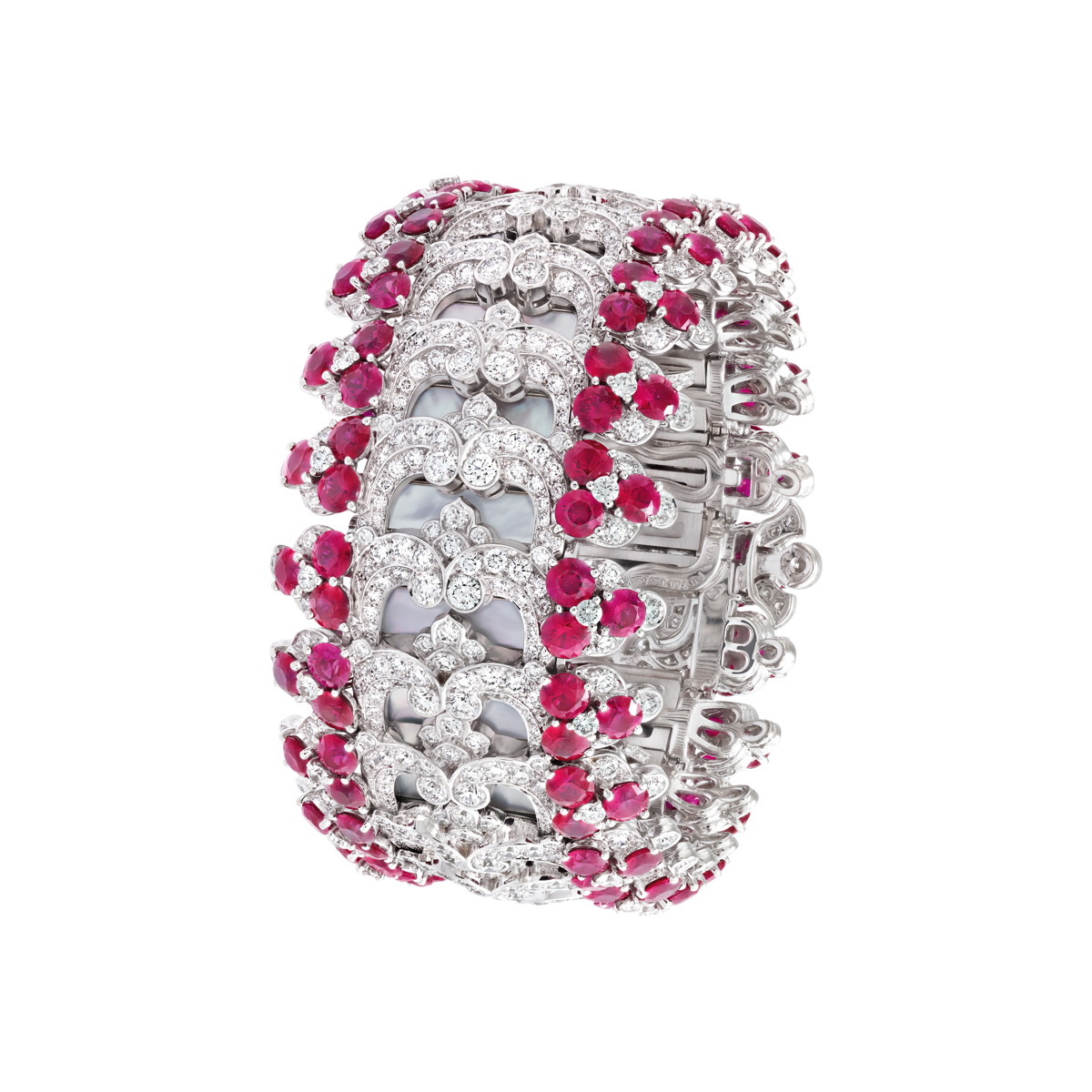 Bracelet "Dentelle secrète" in white gold, diamonds, rubies, onyx, white mother of pearl. Visible in the open parts, the underlying onyx can be replaced by white mother-of-pearl thanks to an ingenious sliding system. The materials thus alternate as desired, from shiny black to iridescent white. Photo: Van Cleef & Arpels
See you soon!