There is one event that I look forward to at every fashion week: the presentation of new one-off pieces by the contemporary designer and artist Suzanne Syz. There is no collection as such and no main theme. You never know what the designer is going to present to you and that's exactly what I like.
This year again, we had an appointment at the Ritz to discover her novelties between bronze, aluminium, diamonds, acidic cabochons of Paraiba tourmaline, rubies or garnets. But this designer's touch is resolutely humorous. This year, she offers us a pair of earrings featuring beach baskets made entirely of yellow and orange sapphires or a bronze ring set with diamonds. The pieces are all made in Switzerland, in the Geneva area where the designer has her boutique. I propose you to discover the pieces that made the most impression on me during the presentation.
Sea, sex and sun earrings in red gold, emerald balls (6.30 ct), turquoise balls (46.23 ct), coral balls (55.08 ct) and diamonds. Photo: Suzanne Syz
You're the one I want earrings in rose gold and bronze, slice diamonds (27.75 ct), brown, yellow and cognac diamonds, spinel. Photo: Suzanne Syz
Life Savers earrings in yellow gold, silver, enamel and diamonds. Photo: Suzanne Syz
Are you calder or not? earrings in aluminium and red gold with aquamarines (27.50cts), morganites (37.41cts) and diamonds. Photo: Suzanne Syz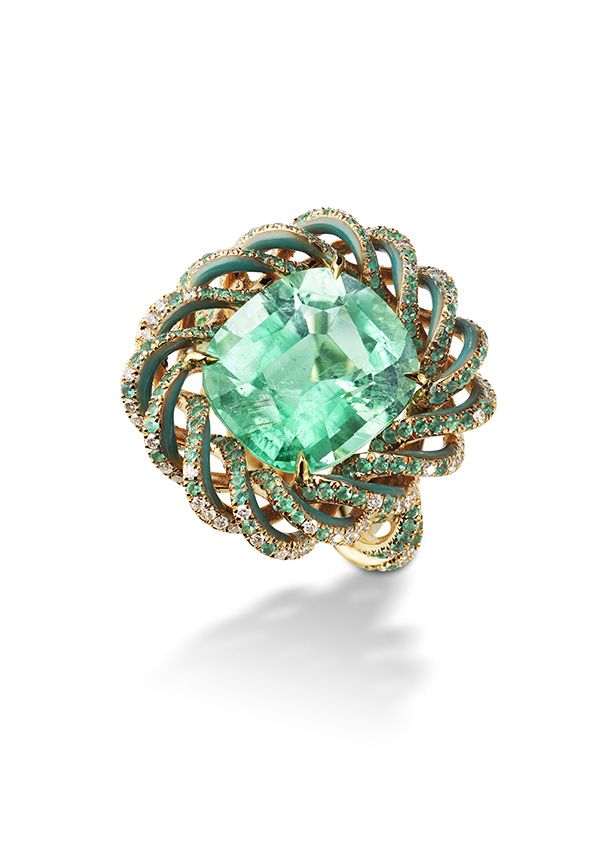 Want a mint? ring in rose gold, enamel, diamonds, Paraiba tourmalines and a 14.16 ct tourmaline centre. Photo: Suzanne Syz
Rose gold, diamond, chalcedony and sapphire basket earrings. Photo: Suzanne Syz
A marriage made in heaven earrings in titanium, platinum, white gold, diamonds (75.60cts) and tourmalines (39.49cts). Photo: Suzanne Syz
Ça cartonne bracelet in aluminium, titanium and diamonds. Photo: Suzanne Syz
See you soon!