The Leclere auction house, based between Marseille and Paris, is offering a rare collection of antique jewellery collected mainly at the end of the 19th century and composed of Hellenistic and Sarmatian pieces. Ornamental stones and remarkable cameos are on the programme and we would like these pieces to be acquired by one or more museums so that they can remain visible to the general public as this treasure, for that is what it is, is exceptional in its quality, its level of preservation and its unity. I therefore propose you to discover some lots which I particularly liked and which, I am already convinced, will not leave indifferent buyers and collectors.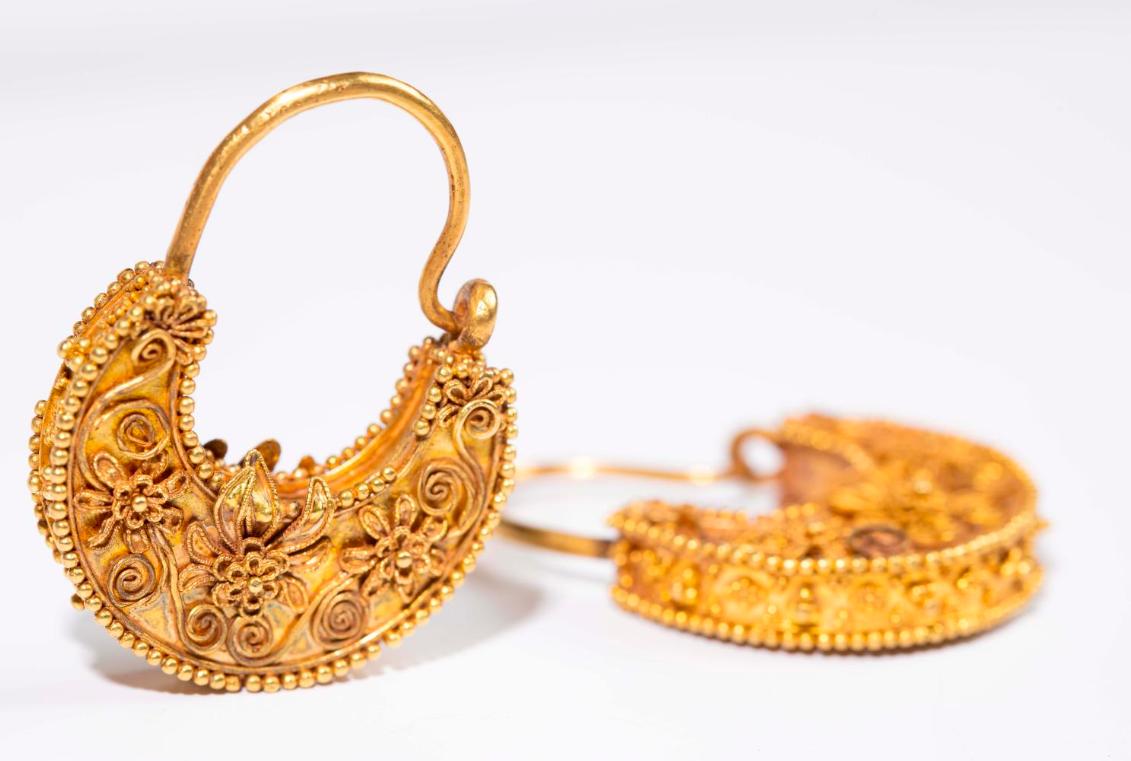 Lot 1: A pair of gold half-moon earrings dating from the 3rd century BC. The earrings are decorated with fine filigree and subtle granulations with rosette motifs, scrolls and a central acanthus leaf decoration. The edges are decorated with grenetis. Half-moon earrings are well known from antiquity. The decoration is typical of the late Classical and early Hellenistic periods. A similar pair from Cyprus, dated to the 5th century, is known to us, but the decoration of this pair is from a later period. Estimate between 5000 and 7000 €. Photo: Leclere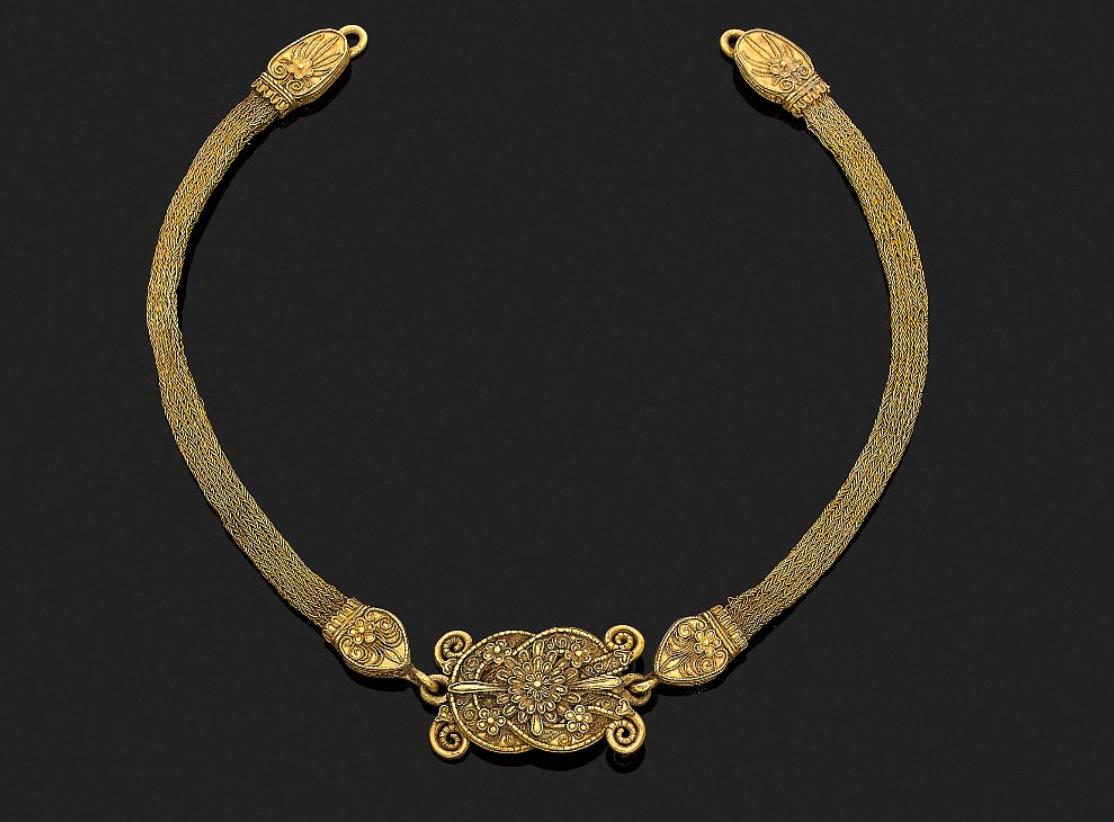 Lot 2: Gold necklace with Hercules knot, 4th-3rd century BC The Hercules knot necklace is a well known model from ancient Greece. The chains, made of a mesh of gold wire, are of rare finesse and end in a palmettes motif. The central ornament, the Heraklian knot, is decorated with beaded and filigree motifs. Estimate between 100,000 and 150,000 €. Photo: Leclere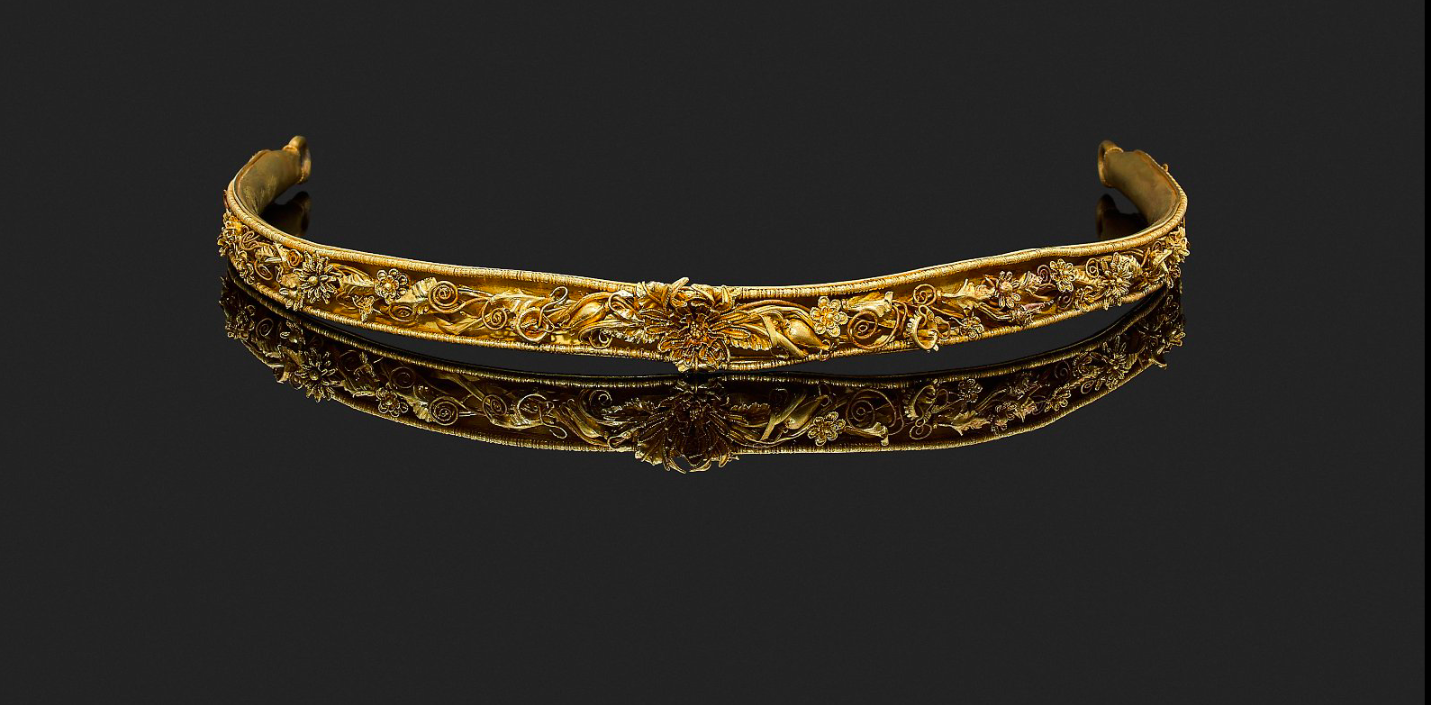 Lot 3 : Gold diadem with filigree decoration, 3rd century A.D. This rare U-shaped gold tiara is adorned with floral motifs and filigree decoration of perfect execution. The decoration is surprisingly fine, with a fillet of flowers, tiny stamens of gold thread and a band of fine pearls. Many tiaras are known from the late Classical and early Hellenistic periods. This tiara is of a rare and unusual form that combines the delicate elegance of floral motifs with filigree decoration, giving the impression of a garland of flowers in the hair. Estimated at €100,000 to €150,000. Photo: Leclere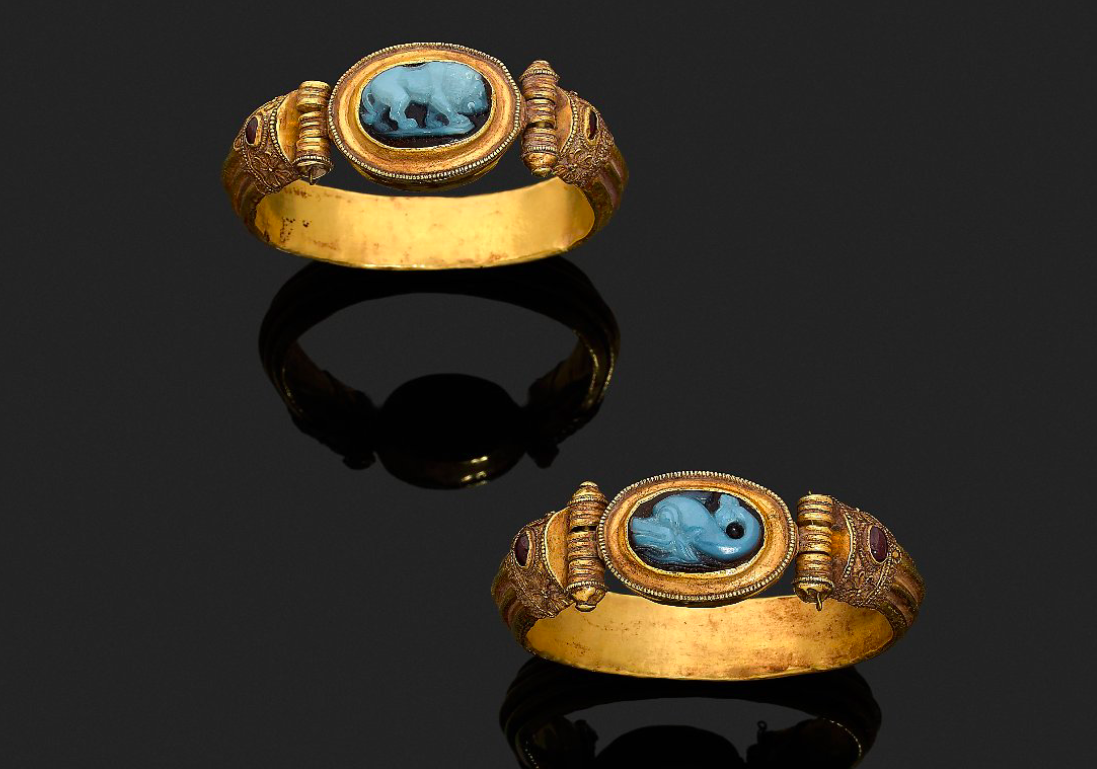 Lot 4: A pair of gold bracelets with cameos, 1st century BC. The bracelet consists of a tubular gold ring with fluting, the cut of which is semi-circular. The two ends, which support the cameo, are decorated with flat and beaded filigree and a four-leaf cross motif, the whole being enhanced by a small cabochon garnet encircled with gold wire. The onyx cameos form a pair, the lion facing the dolphin. The cuts are perfectly cut. This mirror-like arrangement is characteristic of classical bracelets and shows that they form a pair. The animal motifs have an ancient symbolism and can be found in the Homeric poems and Aesop's fable "The Lion and the Dolphin". They are terrible creatures representing the terrestrial and marine kingdoms. A Dionysian and astrological interpretation is possible, as the figures refer to the constellations of the sky. Tubular bracelets are known throughout the Hellenistic period. Estimate between €80,000 and €100,000. Photo: Leclere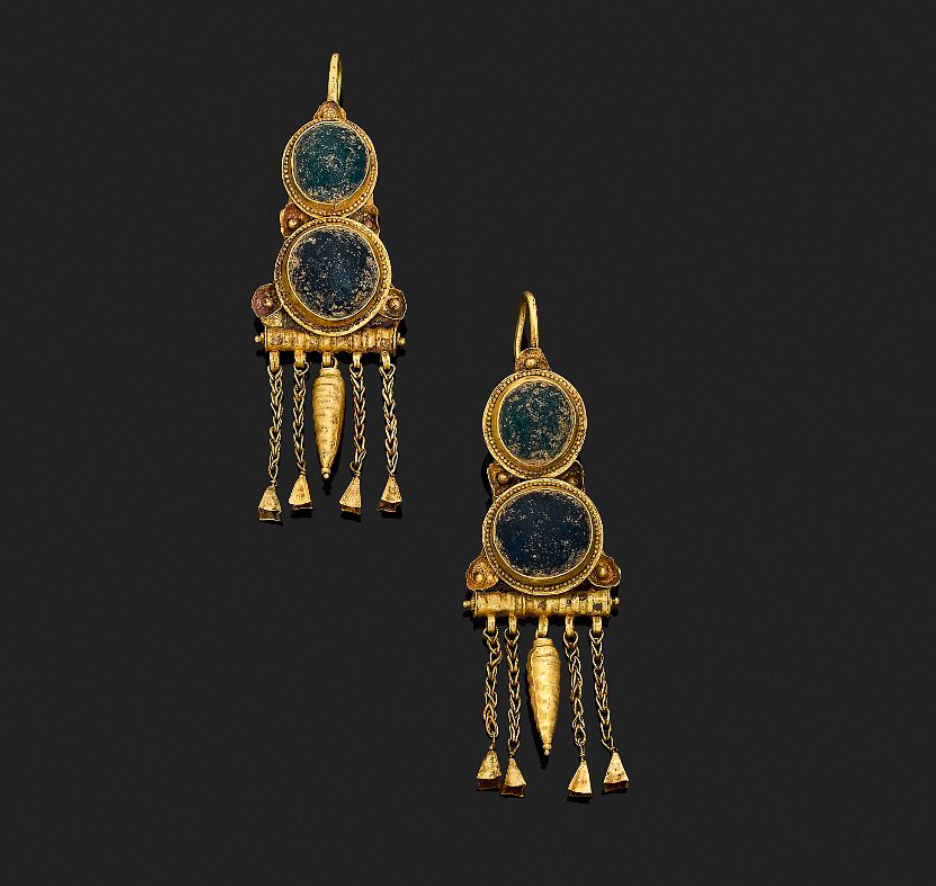 Lot 10: Pair of Sarmatian gold and glass earrings, 1st-2nd centuries AD Each earring is composed of two coloured glass inlays mounted in cabochon, the upper piece of green colour with blue reflections, the second of sapphire blue. In the centre hangs a small gold amphora, each side adorned with a pair of twisted chains ending in chalice motifs. This model derives from a well-known Hellenistic form and is found in the northern Black Sea between the 1st and 2nd centuries BC. Similar forms have been found in the burials of Kerch and Pescanoe (Crimea). The use of coloured glass to imitate gems is typical of Sarmatian jewellery. Estimate between 2000 and 3000 € Photo: Leclere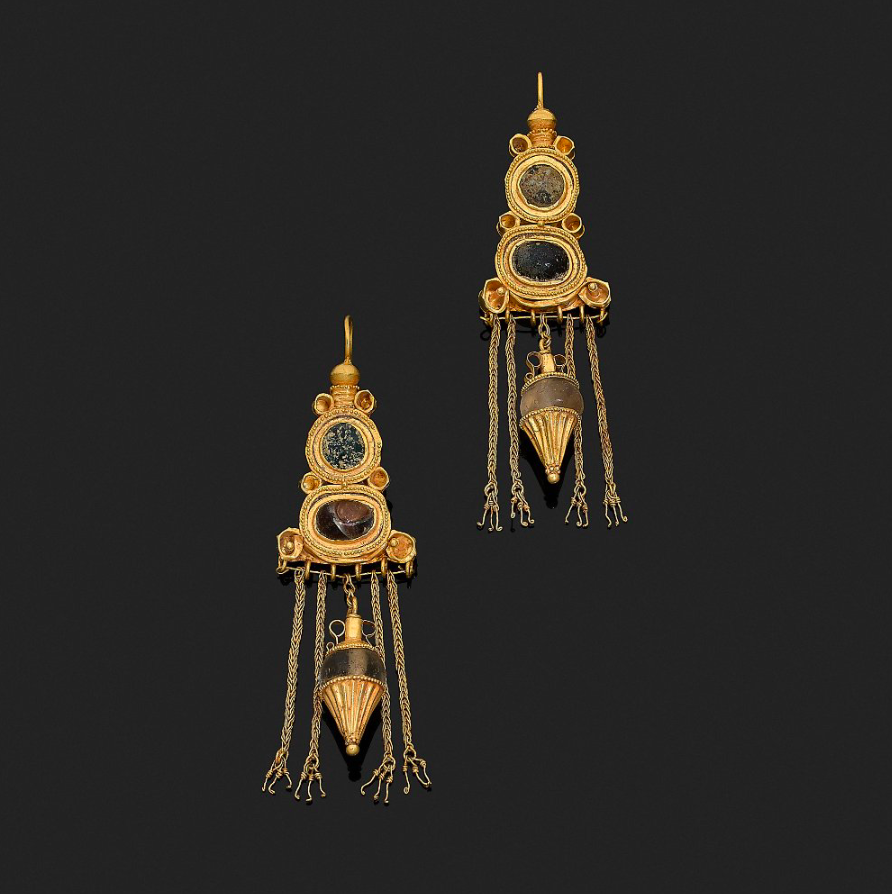 Lot 13: Important pair of gold, crystal and glass earrings, 1st-2nd century AD. Each earring consists of two cabochon glasses superimposed. The first one placed on top is circular and decorated with a green cabochon in imitation of emerald, the second one is oval and imitates garnet. Six small spheres around the cabochons probably served as a closed setting for pearls. The lower part consists of a central amphora pendant motif, consisting of a rock crystal sphere mounted in gold at the base in the form of a fluted cone. On each side is a pair of twisted chains, the ends of which are composed of a set of three gold wires that originally held a pearl. Estimate between 3000 and 5000 €. Photo: Leclere
See you soon!