For two years now, the discreet and renowned London-based David Morris house has been offering its remarkable gems and inimitable "pirouette" bracelets in the heart of Paris, on rue Saint-Honoré, a few metres from Place Vendôme. The powder pink setting has attracted a clientele of connoisseurs for its rare and astonishing stones: coloured diamonds, cashmere sapphires, Burmese, African or Madagascan rubies, Colombian emeralds and Paraiba old mine tourmalines from the historic Brazilian mine, which is now exhausted. This is a very special selection, wanted and decided by Jeremy Morris, the son of the founder of the company, who now runs the company and is also responsible for its artistic direction.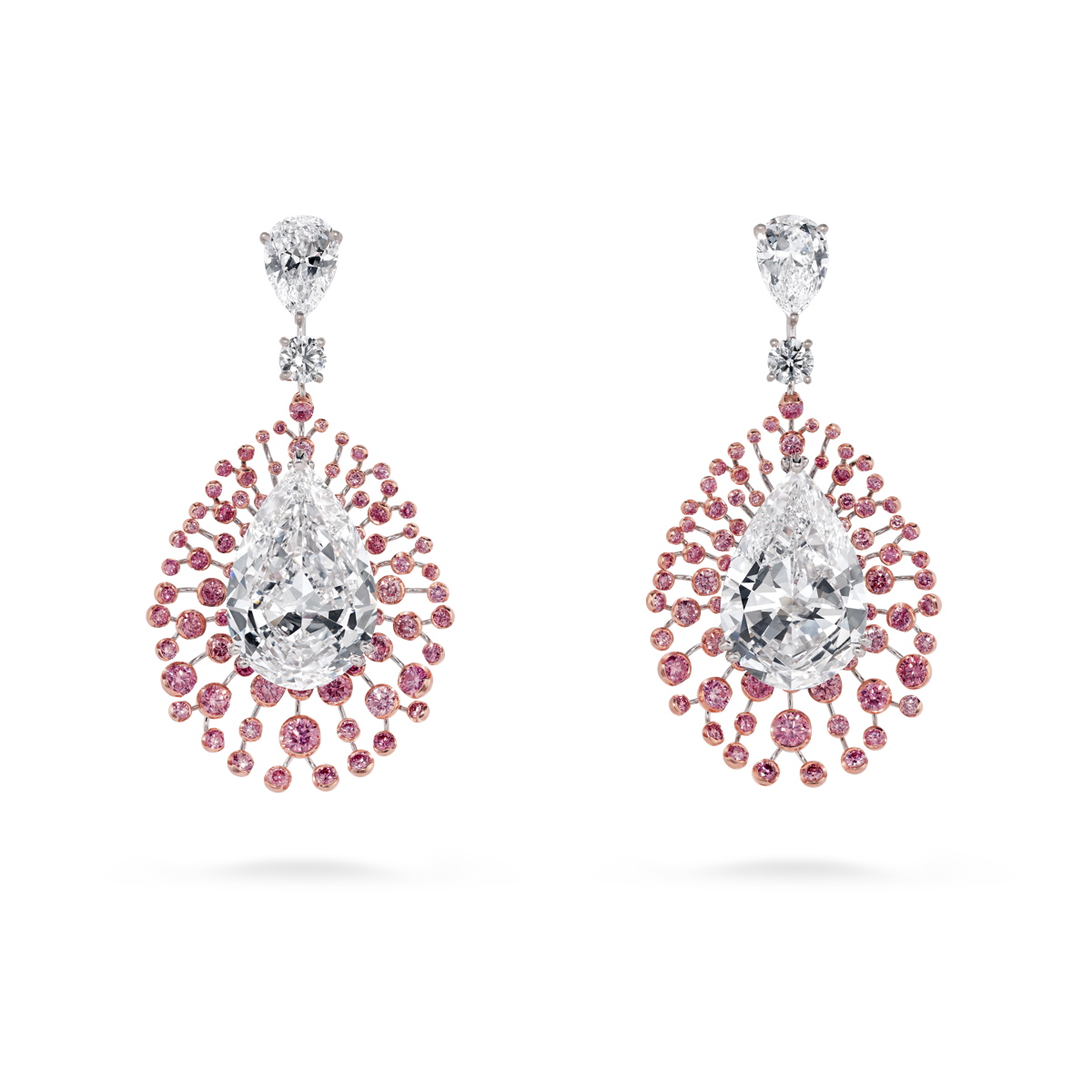 Earrings in pink and white gold, pink and colourless diamonds. The central pears each weigh 20.15 (G/SI2) and 20.16 (G/VS2) ct respectively. The total diamond weight of this pair is 55.22 carats. Photo: David Morris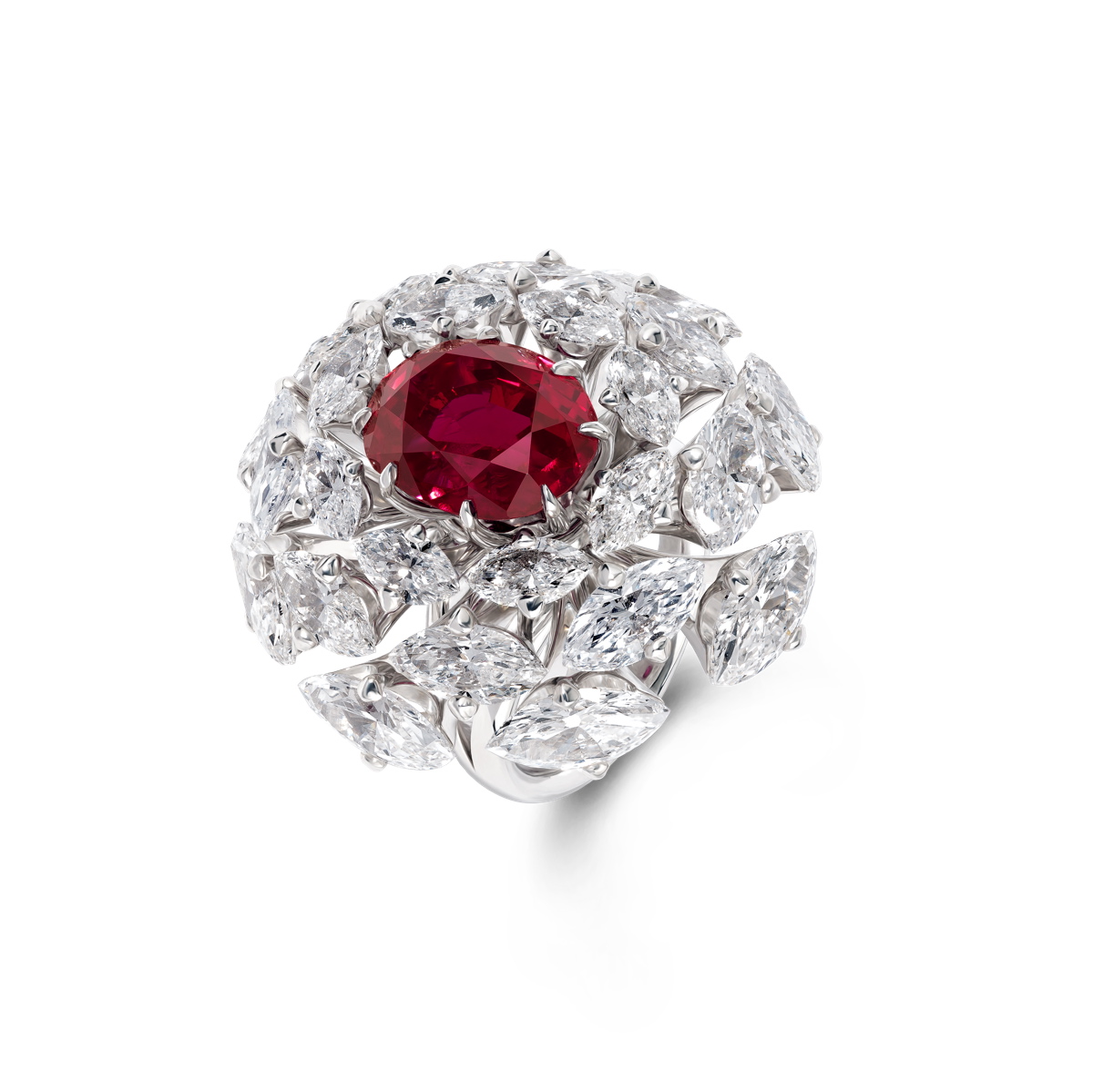 White gold, diamond (14.07 ct) and ruby ring. The marquises are mounted in suspension on this ring, giving the impression of fireworks. The 10.14 ct ruby comes from Thailand. It is certified by Gübelin. Photo: David Morris

Also, among the collection launches of this spring 2019, that of the David Morris brand left no one indifferent. By choosing to unveil high-flying jewellery creations, the house thus took a slight lead over July. If we had to pick out a few pieces from the profusion of gems, then we would have to pick out a wonderful padparadcha sapphire, a rare pairing of Colombian emeralds or these earrings featuring two pear-cut diamonds weighing just over 20 carats each.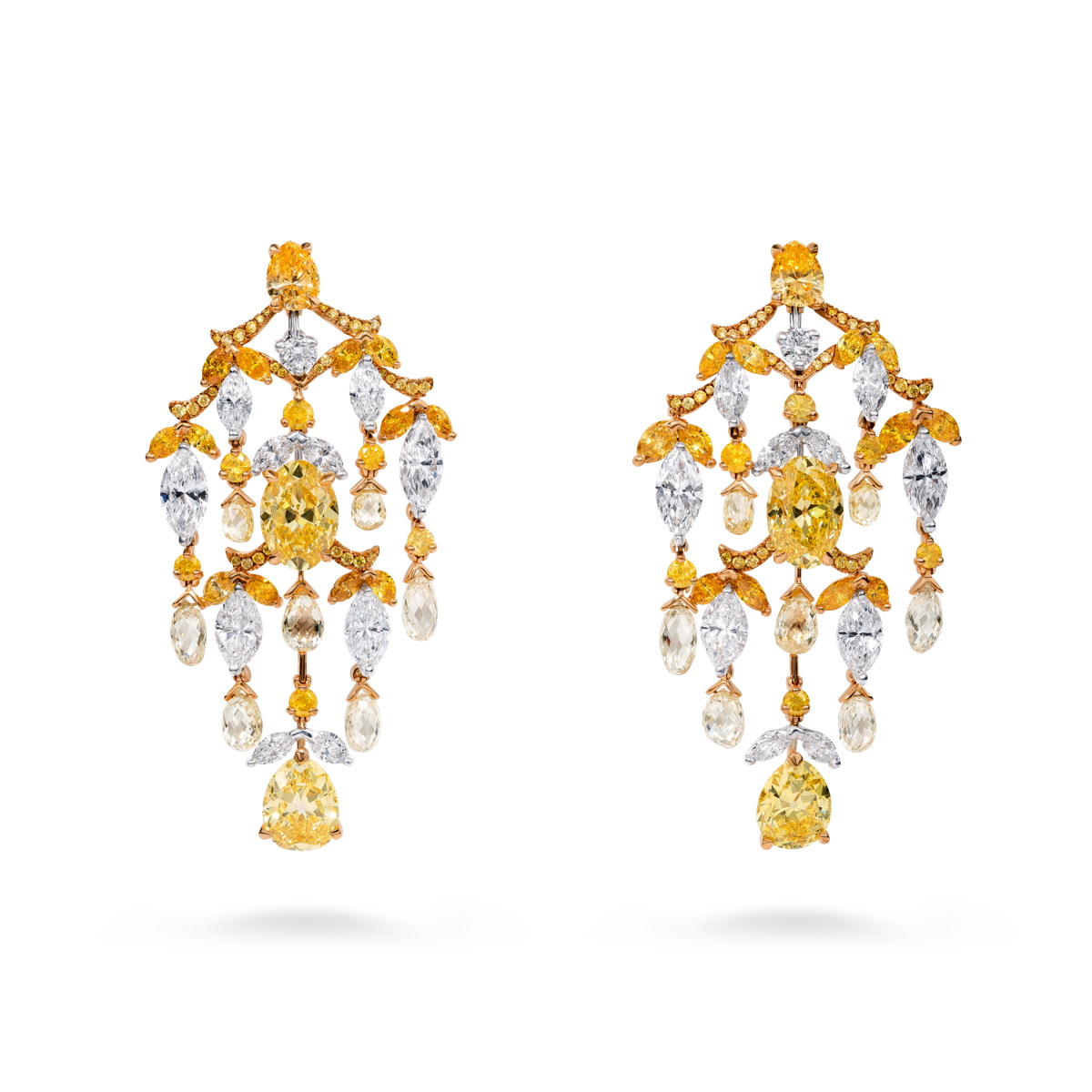 Gold and diamond earrings. The two orange pears set at the top of the earrings weigh 1.06 and 1.03 carats respectively. They are certified by the GIA as Fancy intense orange and Fancy vivid orange. The pair totals over 45 carats of diamonds. Photo: David Morris
White and yellow gold, diamond and ruby ring. The centre stone comes from Burma, is SSEF certified and weighs 4.05 carats. Photo : David Morris
There is no doubt that the company knows how to choose its stones and succeeds each time in the complicated exercise of the new collection. It is also important to remember that a stone selected by Jeremy Morris must have a story behind it. If the colour is crucial, so is its inner life. Its inclusions give it meaning, confirm that nature intended it to be so and encourage one to immerse oneself in the conditions of its creation. The gems here are rare because they have those subtle hues and delicate nuances that make them highly desirable.
Gold ring, colourless and pink diamonds, 12.30 carat padparadcha sapphire from Sri Lanka (SSEF). Photo: David Morris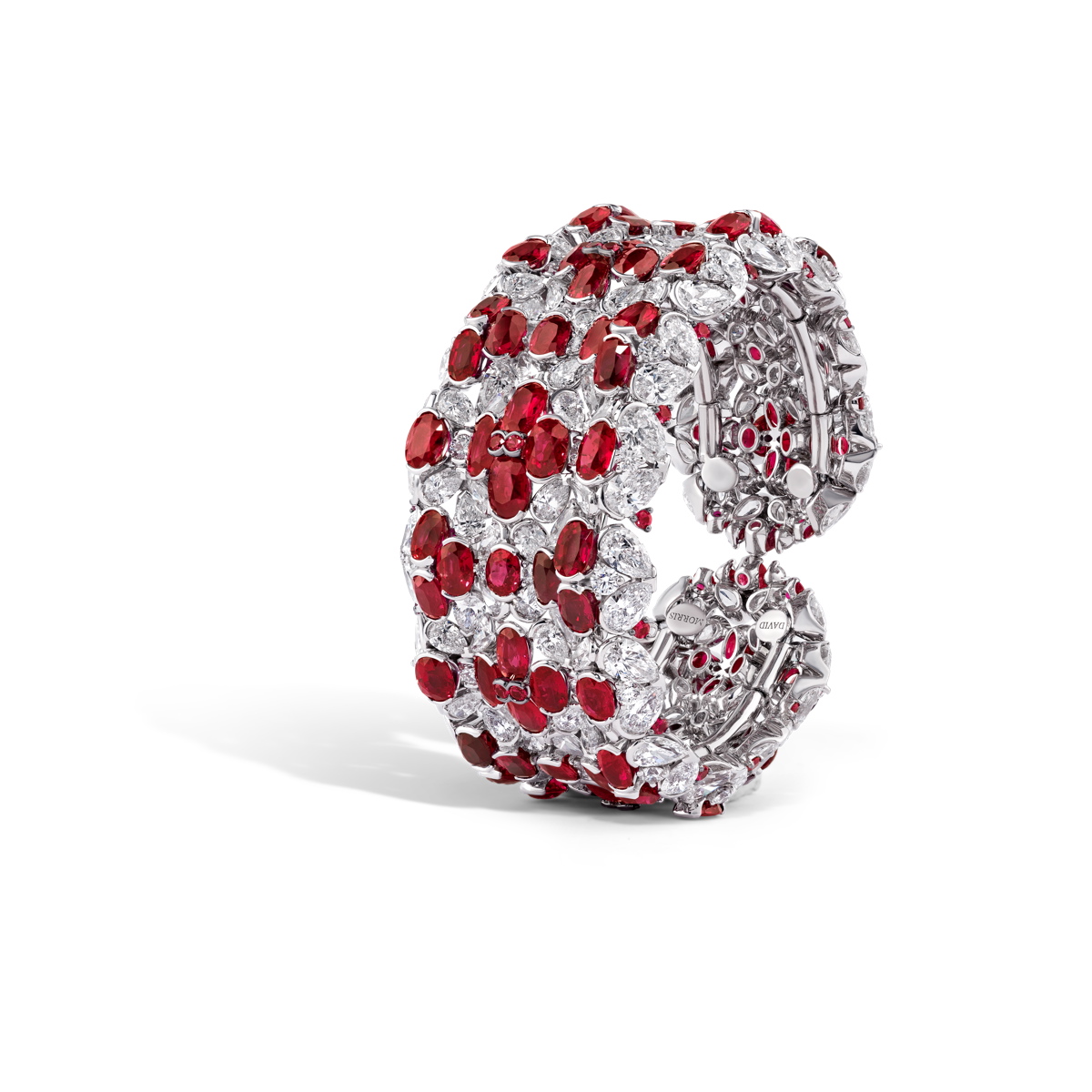 A large white gold, diamond and ruby "pirouette" bracelet. The piece totals over 47 carats for the diamonds and 59.61 carats for the rubies. Photo: David Morris
The pieces came to Paris, they immediately evaporated. We had the privilege of admiring them, touching them and playing with the stones in the light of a Parisian sunset that was just around the corner. We also contemplated the technicality of their creation: here a firework of suspended diamonds illuminating a Mozambique ruby, there a shower of diamond pearls highlighting traditional silk threading, elsewhere the ingenuity of jewellers to create jewellery that can be worn in multiple ways. Since 1962, the House of David Morris has been imposing its vision of jewellery with character. And one thing is certain, Jeremy Morris has not finished surprising us.
White gold and diamond earrings (119 carats). The London-based jeweller makes extensive use of the pearl stringing technique with his "Tassel" collection. Photo: David Morris
See you soon!