Without the internet and the Facebook page of legemmologue.com, I would never have met Frank Stefan Stern. All it took was a search for a jeweller's name for us to talk to each other and for me to discover the extent of his collection of jewellery sketches. And it seemed necessary to me to introduce you to some of the drawings and the man behind a magnificent collection of over 80,000 drawings and gouaches. I will therefore take you to Germany where the collection is kept.
Drawings of rings by Raymond Templier. Photo: Frank Stefan Stern
1- Hello Frank, can you introduce yourself to our readers?
Hello, I am one of the few collectors of jewellery drawings and gouaches. But I am not from the jewellery industry at all as I am a Research Assistant in Chemistry at Covestro where I work on various research projects. I started this collection almost 20 years ago and in April 2017 I launched a website that presents a small part of what is in it. But I am happy to see that the site is of interest as it has already recorded 210,000 visits after 2 years of existence.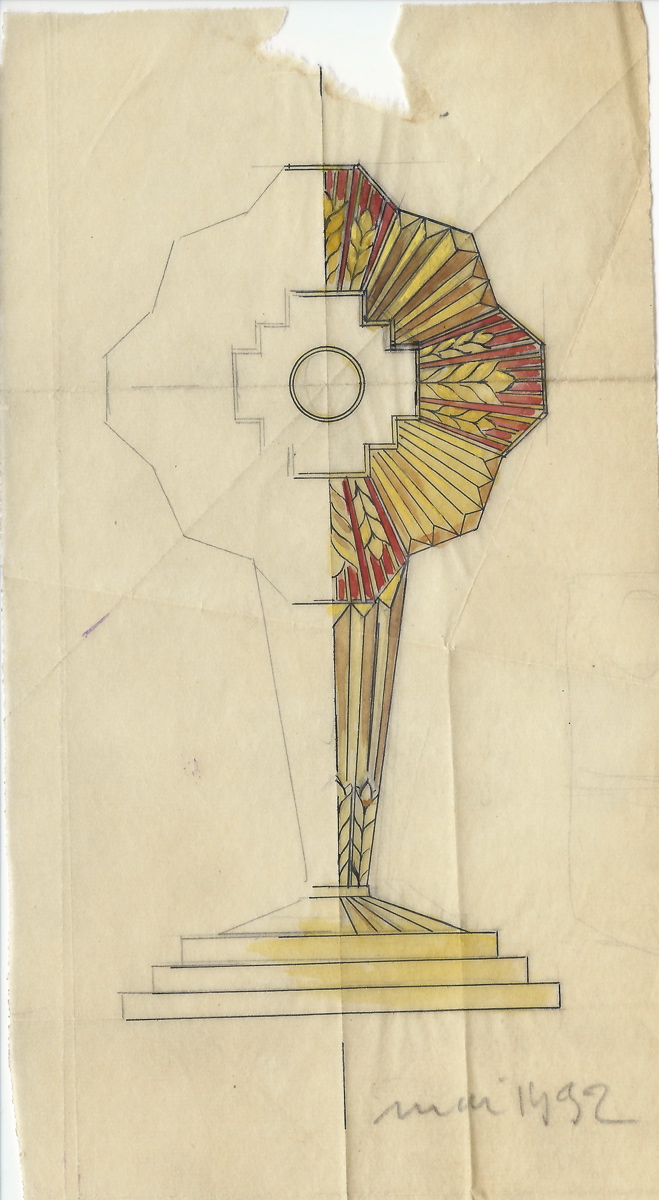 Drawing from the archives of Raymond Pivert, a jewellery designer who worked for Entreprises Kunslers (Paris 3) before taking over. The archive includes not only jewellery, but also evening bags, seals, sacred art…etc. The archive was acquired in 2016. Photo: Frank Stefan Stern
2- Where does this passion for jewellery designs come from?
I took evening classes in jewellery and watercolours for 15 years. But I don't have enough talent for it to be a full-time job. However, it was during this time that I acquired my first jewellery designs. And with this angle, I combined two passions into one. I was "hooked" and this has been going on for about twenty years now. I am also convinced that within one or two generations, designs of this quality will certainly no longer exist because computers and modern technologies are becoming more and more present. Moreover, the difference between drawings from around 1900 and those from the 1950s is already enormous. Artists did not have as much time to work out the designs and customers did not necessarily want to pay for them. 3D printing has not really helped to defend the design in jewellery. This is also why I collect 'modern' designs because they are not old enough for museums.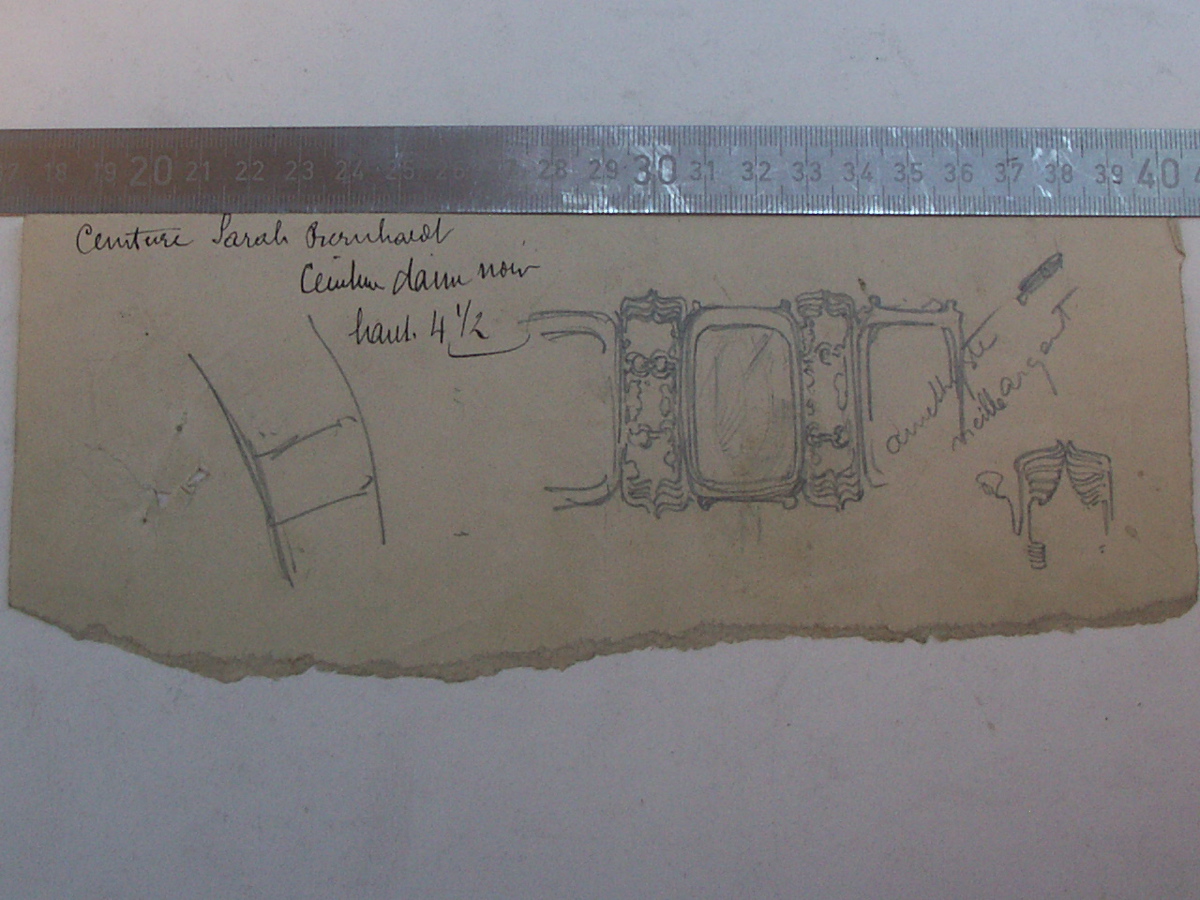 Sketch of a belt buckle for Sarah Bernhardt by Gutperle. Photo: Frank Stefan Stern
3- How many drawings and houses are in your collection?
My collection has between 80 and 85,000 designs from over 200 jewellers over the last 300 years. Among the names in the collection, we find the great names of Place Vendôme but also more confidential signatures such as Daubrée, Fontenay, Gutperle, Kiefer, Raymond Templier, Christian Dürr, Trifari II, Harry Winston, Zeller Auktion or Eberle. But there are so many more!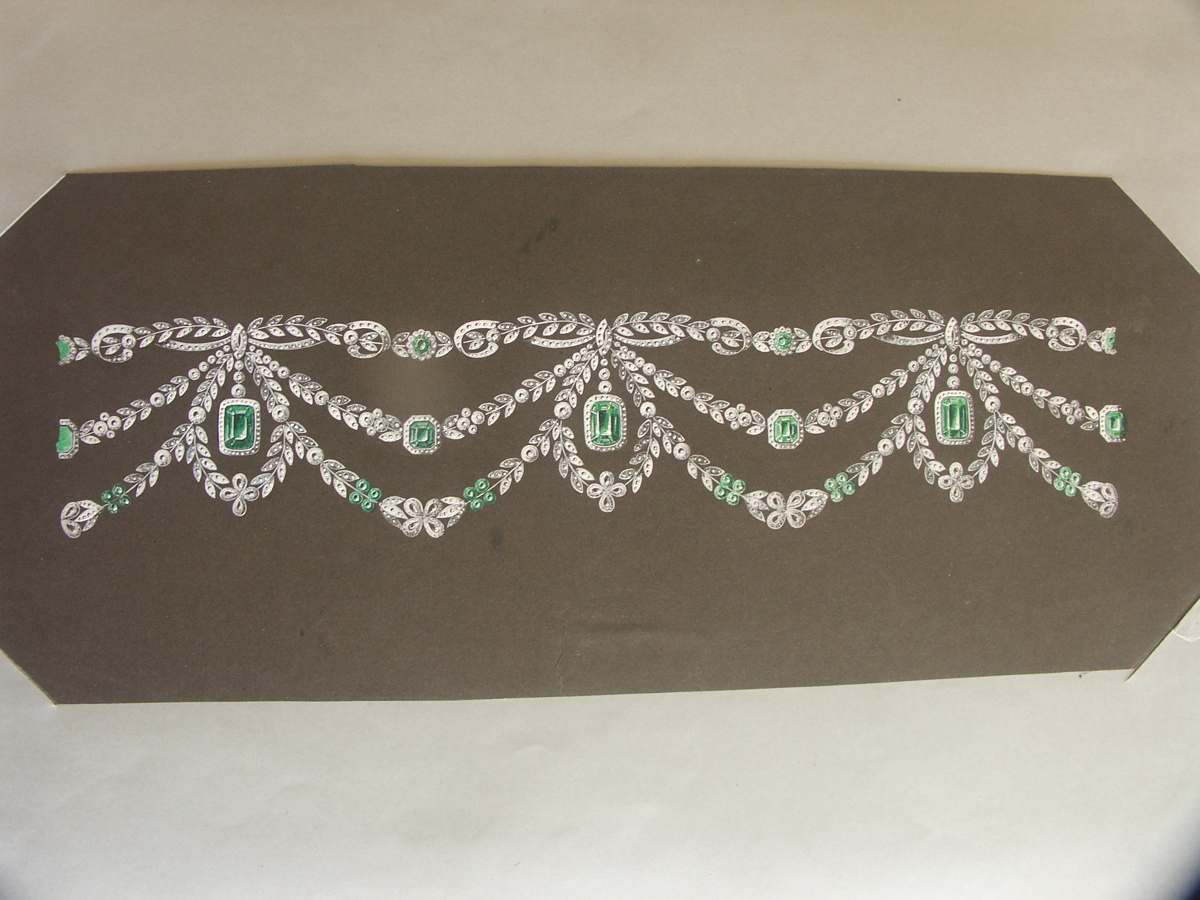 Drawing signed by Robert Koch, court jeweller and founder of the Koch company in Frankfurt am Main. His descendants fled to Switzerland in 1933. Photo: Frank Stefan Stern
4- Do you also collect jewellery or only drawings?
I would like to, but I can't afford the jewellery I own.
5- Do you own pieces that you are more proud of than others? If yes / no, why?
This is not an easy question because I can say without hesitation that I love all my designs. But of course, I am proud and happy to have been able to acquire some of them. For example, at the end of March, I was able to buy almost 800 drawings by Robert Koch and it was really an incredible stroke of luck! Koch was for a long time called the "German Cartier" and he was a court jeweller. I am also pleased to have original drawings and letters from the author Eugene Fontenay which are included in his book which dates from 1887. I am also proud to have drawings by Marianne Hunter. She is one of the greatest American jewellers and she knows my collection. After long "negotiations" she agreed to give me three of her designs. My collection is "alive" and I like to convince jewellers and goldsmiths to entrust me with some of their sketches in order to perpetuate their work beyond our current era.
Drawing of a brooch project by Marianne Hunter. Photo: Frank Stefan Stern
6- What is the oldest design in your collection? Where does it come from and do you know the designer?
It is very difficult to find drawings that are older than 1750 so the majority of my collection is from the 1850s and after. My oldest illustration would certainly be a monstrance drawing but I don't know the artist. However, the oldest illustration of a piece of jewellery is a woodcut from the 1550s (Cosmographia Sebastian Munster).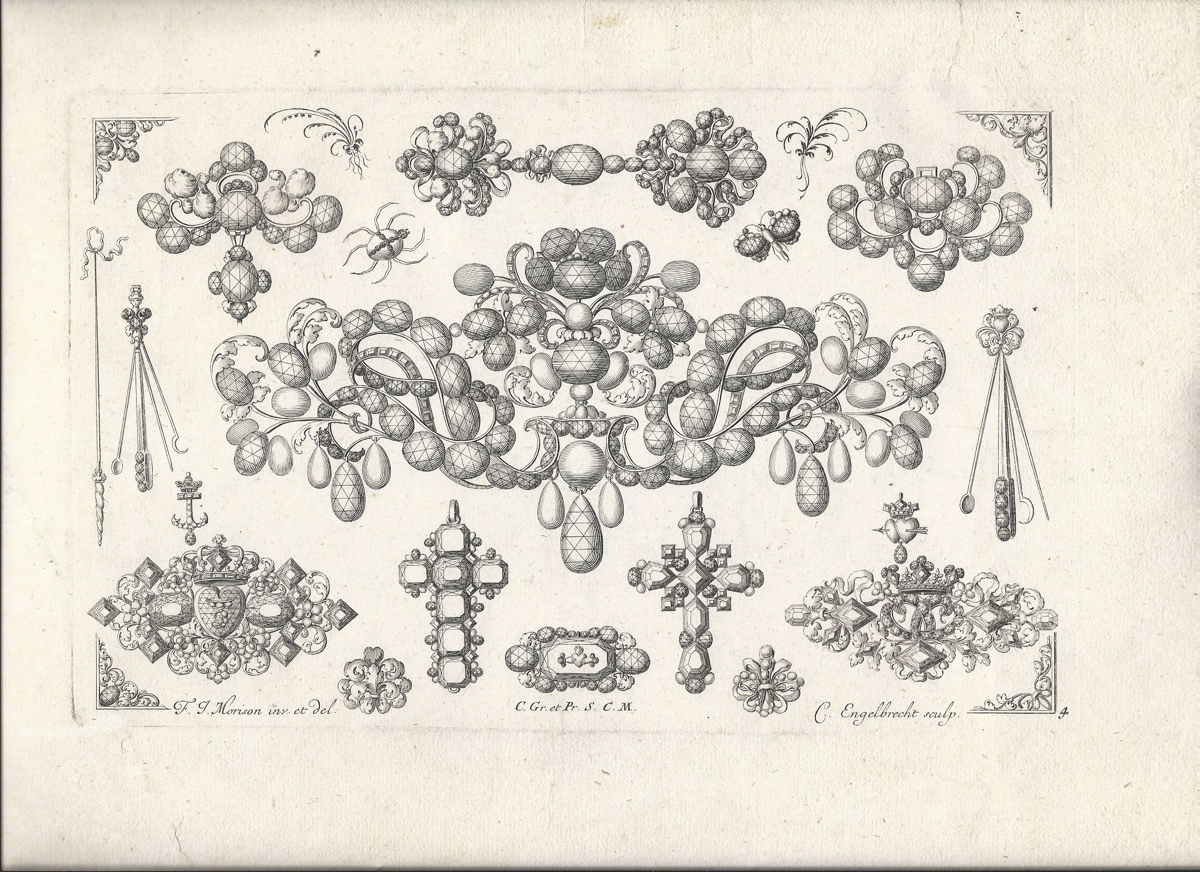 Signed plate by Fridrich Jacob Morison, ca. 1690/1700. Photo: Frank Stefan Stern
7- Which are the most atypical drawings in your collection?
The most atypical? I would probably say the drawings by Gutperle. Leblance-Granger & Gutperle made jewellery for the theatre; for Paris, London but also the New York Opera. They supplied all the metal objects that were to accompany the costumes, including weapons and armour. But the only ones I have are mainly belts and crowns. In this lot, I discovered drawings by Alphonse Mucha for Sarah Bernhardt, I was delighted of course. Especially since at the time of acquisition of this lot, I did not know him. In January 2019, I realised that the House of Gutperle had designed jewellery for Mardi-Gras (New Orleans Carnival). So I collaborated on a project with the Louisiana State Museum. A few months ago, the Streekmuseum in Holland discovered thatone of their objects was a fake from the 20th century. I was able to help them with the drawings I keep in my collection.
Drawing by Leblance-Granger & Gutperle that identified the fake jewel in the Streekmuseum collection. Photo: Frank Stefan Stern
8- Do you regularly work with museums, jewellery houses or heritage departments to help them? Do the houses know you?
I regularly exchange with about 60 museums, schools, universities and collectors. Many museums (such as the MET or the V&A) have jewellery and sketches of which I have gouaches. Several museums have initiated links to my website (e.g. Dublin, Heidelberg, Karlsruhe or Dusseldorf). Every December I send them a DVD with the latest additions to my collection.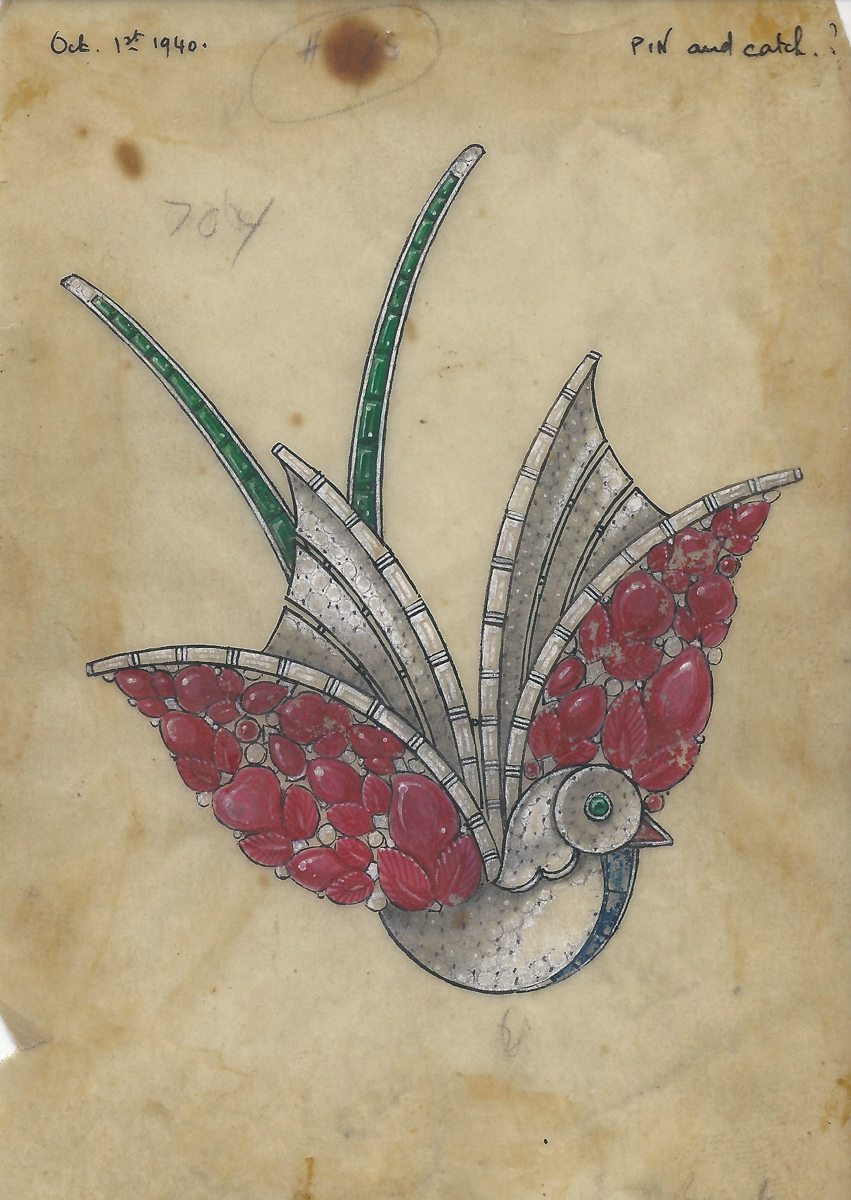 Drawing by Alfred Philippe for the Trifari house, 1 October 1940. Photo: Frank Stefan Stern
10- Where do you buy the drawings that go into your collection?
I mainly buy my drawings at international auctions. But I am also contacted via my website by private individuals who own drawings and wish to sell them to me.
Drawing from the archives of Raymond Pivert, a jewellery designer who worked for Entreprises Kunslers (Paris 3) before taking over. The archive includes not only jewellery, but also evening bags, seals, sacred art…etc. The archive was acquired in 2016. Photo: Frank Stefan Stern
11- According to art dealers, jewellery designs are difficult to find. Can you confirm this? Why is that?
I think there are several reasons for this:
It is a so-called "niche" collecting area and many people don't even know it exists
In the last century we had two world wars in Europe. Millions of people fled to survive, and too many were killed and slaughtered. Jewellery could be used as a currency to buy so-called "necessities" but not the designs. Many were destroyed or lost forever.
These drawings were not meant to be collected. They were documents for work. The jeweller would design the jewel according to the client's wishes, and then make it if the client confirmed the order. Once delivered, the design became "uninteresting" to him. Many jewellers have told me that they don't keep records of their own work because it is not necessary.
I think it is all these reasons that make jewellery designs rare. The big houses like Cartier, Tiffany…etc. have their own archives where they keep the drawings and projects but they sometimes started late to do this.
Drawing by Eugène Fontenay, French jeweller (1823-1887), whose clients included heads of womenhis clients included crowned heads such as Napoleon III and his wife Eugenie, but also the Pasha of Egypt. He was a great connoisseur of Antiquity and its jewels. After 35 years of self-employment, he closed his business and wrote two books. The last one was published shortly after his death (1887): Les Bijoux, Anciens Et Modernes. Photo: Frank Stefan Stern

12- You have a website with a large part of your collection. Have you ever communicated about this incredible collection? Are you thinking of a book or an exhibition?

As I am not a historian or a jeweller, I should certainly ask for help from a professional in this field. They know best. That said, through the collection, I have made contact with jewellers in my country. Mr. R. Fisher – President of the German guild – told me that I could consider exhibiting at jewellery events like JuwelUhr (Hagen, Germany). We will see.
As the drawings were made on fragile supports, I have started to scan them to make up books by jeweller or period: thus I have a "book" concerning my drawings from France between 1850 and 1950, another concerning H. Teterger and one on Art Nouveau. Also, if collectors or jewellery lovers contact me, I could offer them a copy.
On the other hand, I am very happy to work on a limited edition book on Robert Koch's designs because I have so many that it is exciting to present them. As I've never done this before, it's very time consuming but I've almost finished it and found a publisher. I hope to have it in print by the end of June.
Drawing by Alfred Daubrée ( 1817-1885 ), jeweller in Nancy and then in Paris where he was at 85 rue Montmartre. Photo : Frank Stefan Stern
13- Which drawings do you like to acquire?
I think that the Holy Grail for us collectors of drawings is to acquire a drawing of a famous jewel, for example of an imperial egg by Fabergé. Maybe one day!
More broadly, I would like craftsmen to realise that their art does not begin at the workbench but from the very first sketches on the drawing board and that these sketches must be treated with immense respect but also – like painters – given a name and a date. Because a company can have several generations and it is not always easy to find one's way through the drawings. So, jewellers, sign and date your designs. I will be eternally grateful!
See you soon!
*****
Cover photo: tiara by Bachruch, A. Budapest K & K royal court supplier. Mr. Stern's collection holds sketches of this house from the period between 1870 and 1890.