Sophie Simon is a gem trader, gemologist and jeweller. We have known each other for several years now and her sunny personality delights me every time she crosses my path. I love the way she talks about stones and her gourmet selections that she shares on social networks during her travels, mostly in Asia. After listening to her talk about the stones she loves so much, at least as much as I do (let's not lie!), I thought I should introduce her to you; even virtually through this joyful and cheerful interview, just like her! A meeting with a passionate and great professional.
Sophie Simon
1- Can you introduce yourself in a few lines?
My name is Sophie, I was born in 1980 in France, I am a FGA gemmologist and coloured gem trader. I am also a jeweller by training. I live in Paris.
2- What did you want to do as a child? And why did you want to do it?
If I think about it, this is a question I didn't really ask myself, at least not as a child. My paternal grandparents were musicians and teachers at the national conservatory and I started learning music at the age of 6. I quickly added singing and violin and orchestra work. At the age of 8 I started modern dance and then classical dance, which is quite similar in learning: precise and exciting. So I also wanted to become a dancer. When I was 15, academic studies didn't appeal to me at all and I didn't envisage a career made up of competitions and sacrifices, the two laws governing the world of music and classical dance… And all the adults asked me what I wanted to do! I was fascinated by Haute Couture, stage costumes and jewellery, and I was inspired by my mother's and grandmothers' personalities. I often borrowed their silver necklaces, trying on diamonds and the colourful, giant clips and bracelets of the 90s. There was never a shortage of manual expression and I was able to learn ladies' work, DIY and gardening, I didn't really dream of being anywhere else in the future.
Surrounded by history, nature and geology enthusiasts such as my father and grandfather (both amateur geologists), I was constantly aware of the world around me and under my feet. Their mineral collections are now my treasures and I consider them the origin of my passion for stones. Stories of travelling around the world, then discovering other countries and their traditions made me realise that I loved to travel. I was fascinated by Asia at an early age and I always thought that really I should have been born on the Asian continent!
At 16 I knew I wanted to do something with my hands. At the right time came the opportunity to visit a jewellery school, which one of my cousins had attended and the instinctive teenager that I was understood that her life would be dedicated to jewellery.
Assortment of multi-coloured emerald-cut tourmalines from Nigeria. Photo: Sophie Simon
3- And finally, what is your current work?
I dedicate my life to jewellery! My destiny has changed forms many times during my "career" but the common denominator has always been jewellery. Working now with gems allows me to be at the forefront of their creation.
4- How did you get to this position?
After graduating in 2002, I went directly to Paris, which I knew quite well, and I stayed there for 7 years. I had the opportunity to work and learn from great professionals. First for the Haute Joaillerie as a diamond and gemstone sorter but also for a while as a production assistant for the contemporary jewellery designer and glassblower Agathe Saint-Girons. This creative dive between these two jobs gave me the desire to develop my creative work and I started to think about having my own structure.
For personal reasons I decided to leave France in 2008. I went to England, to London. The flexibility of the English system gave me rewarding opportunities. I gained confidence and was able to establish myself as a bespoke jewellery designer, whilst assisting a variety of contemporary jewellery designers from all walks of life, establishing a bespoke role with them within their workshops. I think I have worked for everything from importing and exporting silver jewellery from Jaipur which is only available at trade shows, to Swiss high jewellery and a gallery of giant minerals and fossils, one of the rarest in Europe, which is unique in England. My interest in mineralogy was strengthened because the pieces in this gallery were rare and unique.
During my last year in London, I knew I was missing a very important technical asset and despite my somewhat sharp eye, I did not feel I could properly purchase my own gems. As a jeweller, I was also getting more and more requests to analyse clients' stones. As I was also working for jewellers, knowledge of stones was an essential asset, but I needed a real diploma course, in order to be able to provide as many technical elements as possible during a sale. I therefore chose Gem-A and one of its accredited training centres in Marseille to carry out this training in French, which was expertly conducted by Agata Cristol.
My training was extremely precise and I discovered more stones than what was planned in the programme. We went to Thailand to visit different trading places. Gemmology opened up a magical and infinite world to me.
At the end of my studies in Marseille, I went back to Paris. It was then that I really questioned my role within the French jewellery industry and began to ask myself how I wanted to evolve.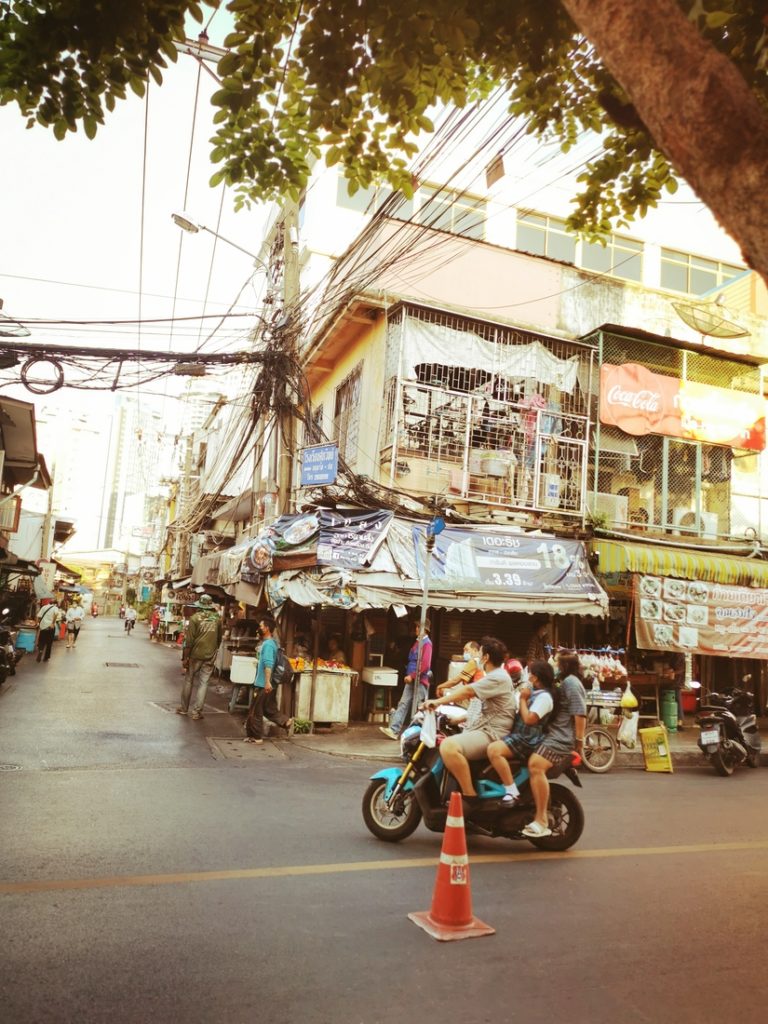 Trip to Thailand, 2022. Photo: Sophie Simon
5- What was your study path?
I chose to study for a total of 6 years in Saint-Amand-Montrons in the Centre region. I have a CAP in jewellery and a CAP in precious metals, as well as a Brevet des Métiers d'Art in jewellery. This school, its teachers and the quality of the premises and tools have opened the way to an enriching and fascinating professional sector. The internships I did allowed me to test the different facets of jewellery creation and I wanted to try everything to find out where I would feel most at home.
I was keen to understand how the daily life of a neighbourhood jeweller-repairer was carried out, the production in a high jewellery subcontracting house (piece by piece, system by system, no 3D at the time!…), I liked it so much that I went for a second year, then to a women's style office of a Haute-Couture house and the workshop of a contemporary jewellery designer with processes that I have to keep confidential.
Traditional methods and techniques were taught by professors-craftsmen, workers, designers, former workshop managers. There was also the organisation of meetings and the discovery of the whole world of contemporary and designer jewellery. The CORPUS design group in Strasbourg and the designers Christophe Burger and Brune Boyer had a particular impact on me. My universe widened, everything could be jewellery.
We went every year to Basel, which used to be open to traders from all horizons, and I was able to be very active in the school's journal and thanks to this I took part in the meetings of the European jewellery schools which were organised by the member countries, to discover the traditional techniques of other countries, the history of the art of jewellery, to visit the schools and to discover contemporary jewellery.
From the time I graduated until today, 20 years have passed. I was lucky enough to meet the right professionals at the right time. They integrated me in their workshops or offices and passed on their knowledge to me in the service of stone or jewellery. Then, the market as well as the globalized world changed after the crisis of 2008.
Even if my jewellery study path ended in 2002, I think that all my following jobs were part of my apprenticeship, leading me to my current job as a trader. Without the transmission of my peers, my training would not have been complete.
I was "born" a jeweller but when I became a gemmologist I knew then that I had a more intense relationship with stones than with metal. I still love making jewellery for my own pleasure, I think enviously of the Indian gods with their many arms, and the days are too short, I can't say that enough!
6- What is a typical day like and does it actually exist?
I've given up on a typical day, except that I'm in my office at 9am every morning and that my day then revolves around client projects, specific research and selections, exhibitions and various other requirements. The choice to be self-employed was mainly linked to the fact that I could work at my own pace, whether it was to leave time for travel and research, the selection of stones and all the administrative work. The appointments with the jewellers are the most important moments of course, several hours of discovery where the designer immerses himself in the colours and takes the time to be inspired. It always makes me think of a garden where you come to pick your bouquet.
I live in accordance with my environmental needs and the care I take with my work. I have also chosen to adhere to a certain vision of jewellery, that of the jewellery designer, who has the same values as I do on the way to buy and sell, where the creative process is unique to each person, where trends are not often followed and customers are not statistics. I like to discover their creative universe and adapt, I aspire to make them all feel valuable during this experience. I am challenged every day to find the gems that will match their desires and the planet offers us hundreds of shades of colours, what a joy!
Green tourmaline from Nigeria. Photo: Sophie Simon
7- What do you like best about your work and what do you like least?
What I like most is to be able to work on my stones, to prepare tailor-made selections and present them to jewellers, to exchange with my colleagues during events and exhibitions.
What I like least is not to be able to buy such and such a stone or stones for various reasons and that the days do not last 54 hours.
8- What are your favourite stones and why?
I would say tourmaline. It is the gemstone that I think has the most colours available in the mineral kingdom. Garnets are all amazing too, the varieties and shades of colour all very interesting.
9- Do you have any ideas about future trends in stones? And if you had to highlight a little known stone, which one would you choose? Why would you choose it?
I don't want to get ahead of myself as far as trends are concerned, even if the Panthone of this year 2023 is very greedy and will go wonderfully well with the Rhodolite garnet and one of its shades: red-pink.
I nevertheless think that the natural Zircon and its shades of gold to red are magnificent and I think that it is a very underrated and underestimated stone nowadays.
10- How do you position yourself in the face of challenges on traceability and manufacturing that are changing the jewellery landscape?
This is a key issue in today's landscape and it is good that consumers are aware of the practices when they want to buy a piece of jewellery. However, as with many industries and increasingly so today, beware of green-washing and 'everything traceable'. This is only possible for a tiny fraction of the market at the moment, as it is so sprawling and the general public only has access to the tip of the iceberg. Responsible artisanal mining is where I would like to be fully involved in the future, my position being to be able to acquire as many gems as possible from certified sources, choosing my collaborators very carefully. I would like to have 100% traceability within a maximum of 2 years for all the stones in the centre.

Depending on the stones, the origins and the volumes, certain information is not always available. The customer sometimes wants very precise answers and the market is just adjusting to these practices. Let's not forget that men and women from all over the world are involved in the extraction of gems in countries with policies that are often very different from ours and that it is very easy to make demands sitting in an ivory tower. Apart from diamonds, rubies, sapphires, emeralds and now spinels, it is still sometimes very difficult to know exactly where gems come from, as the market is so vast, from the point of extraction to the point of cutting to the point of sale in Europe.
Sophie at the Sainte-Marie-aux-Mines show. Photo: Sophie Simon
11- Where do you see yourself in 10 years?
In the near future, I aspire to cut my own stones and to be able to cut to measure for my customers. A way of "closing the loop" from jewellery to stone! In 10 years' time, I hope to be able to pass on some of my experience. I can't predict my geo-location but I hope to continue to travel regularly to buy more and more gems! I dream of settling down as a jeweller as well, so many designs in store…qui vivra verra!
12- Any anecdote or story you would like to share?
The first time I couldn't get a stone out of my head was in 2005. I waited one year for the return of the person from Madagascar to finally buy it. A 7 carat green Apatite from Madagascar, oval mixed cut with a series of halo inclusions reflecting the light depending on the inclination, it is really unique. It was a great expense at the time and I definitely didn't think to try it again at the time! I didn't think I could make a profession out of it if I got so attached! I still have this stone which I would never sell of course.
13- Your biggest dream or the jewellery personality you dream of meeting?
I have met many of my designer "idols" over the years and I am lucky enough to work for some fabulous designers but I would have loved to have met Line Vautrin. I love her because her work is multi-faceted, from objects to jewellery, using a less precious metal like bronze. I think she is one of the most important French women designers. I particularly like her mirrors which are like wall brooches and of course all her jewellery, without exception.
14- And to conclude, what would you say to a young person who wants to do what you do and start up one day?
Surround yourself with the right people and don't count your hours!
See you soon!