A few months ago, the house of Chanel celebrated the 100th anniversary of N°5 perfume. Born in 1921, this elixir was to mark the history of perfumery and is still today one of those names whose evocation is synonymous with a particular luxury. Like all great perfumes, N°5 has created its own legend and its aroma is now as mythical as it is iconic. The shape of its bottle contributes to this, its warm, golden amber colour and certainly all the advertising that has surrounded it since its creation. Few perfumes can claim to have been worn as well: Marie-Hélène Arnaud, Suzy Parker, Cheryl Tiegs, Jean Schrimpton, Catherine Deneuve, Carole Bouquet, Estella Warren, Nicole Kindman, Audrey Tautou and even Gisèle Bündchen. Quite a list for quite a fragrance!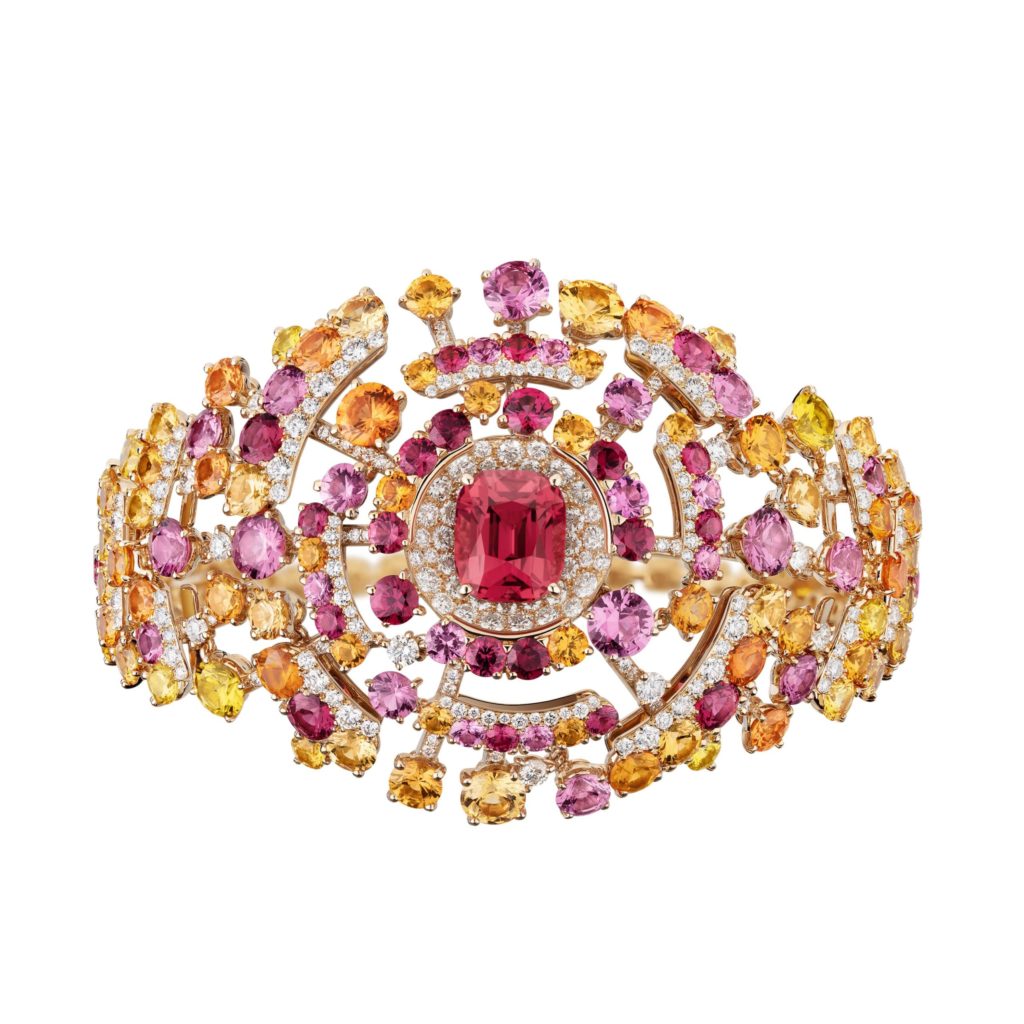 Blushing Sillage set in rose gold, diamonds, garnets, spinels, rubies, pink and yellow sapphires. The centres are spinels weighing 4.39 ct, 6.24 ct and 4.26 ct respectively. Photos: Chanel Joaillerie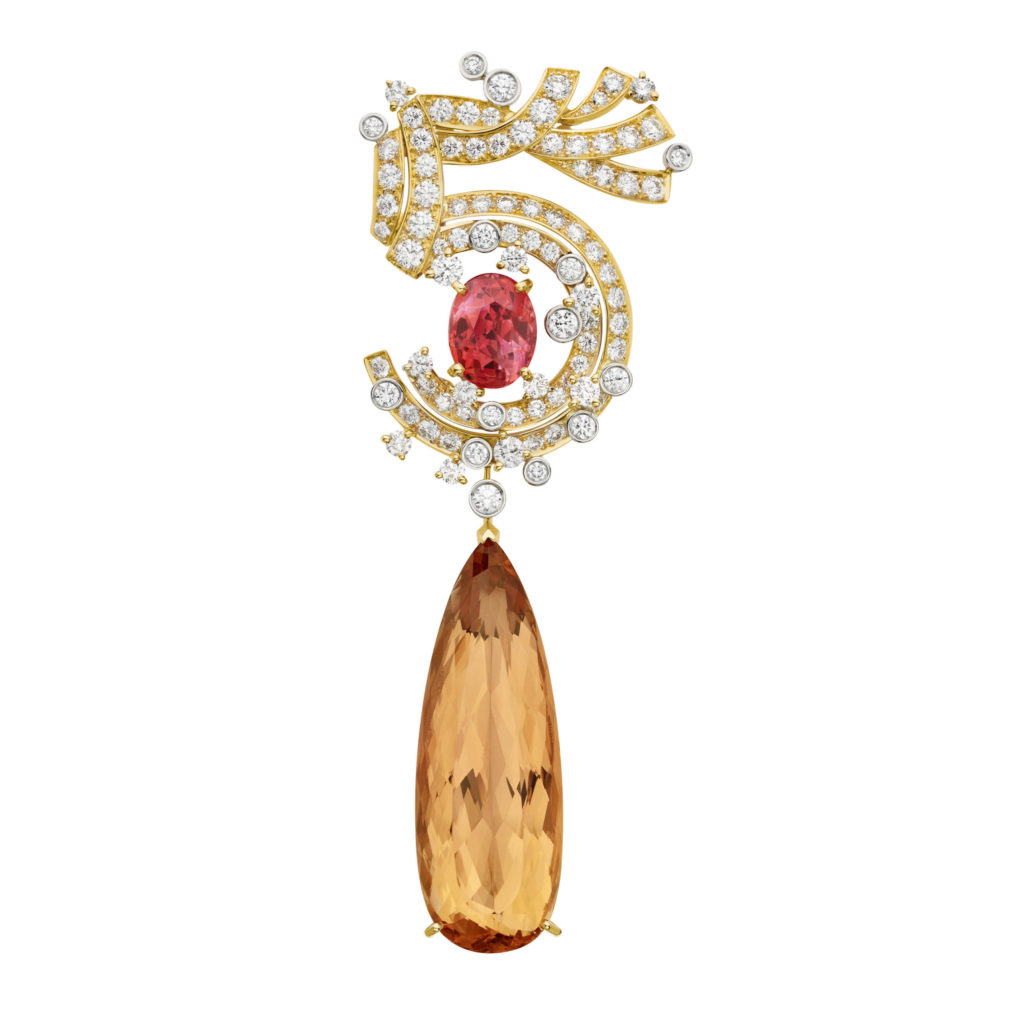 RIBBONED N°5 brooch in yellow gold, platinum, diamonds, imperial topaz and orange sapphire. 1 pear-cut imperial topaz 30,97 cts. 1 oval cut orange sapphire 4.09 cts. Photo: Chanel Joaillerie
The high jewellery collection was unveiled in late autumn 2021. Unable to go to Paris, too complicated a context, I receive the press kit for this opus of 123 pieces designed by the creative studio directed by Patrice Leguéreau. I came across a few pieces in the press, but in the end not many compared to the richness of the collection, and I immersed myself in it in December. I discovered a profusion of exceptional materials. As usual, Chanel did not go for half measures. I expected no less. Around this fetish number and the shape of the cork that evokes the one of the Place Vendôme, the creative team has imagined spectacular necklaces, rings and earrings. But there are also the flowers that make it up: Grasse jasmine, May rose, ylang-ylang and, of course, its colour, its very scent. Anyone who has smelled N°5 knows that its aroma is striking and powerful. It is one of those fragrances that lasts, that tells a story, that reveals the character of the woman who has the audacity to choose it. Imperial topaz, intense yellow sapphires, garnets, spinels, pink to orange sapphires are all reminders of its warm and powerful hue.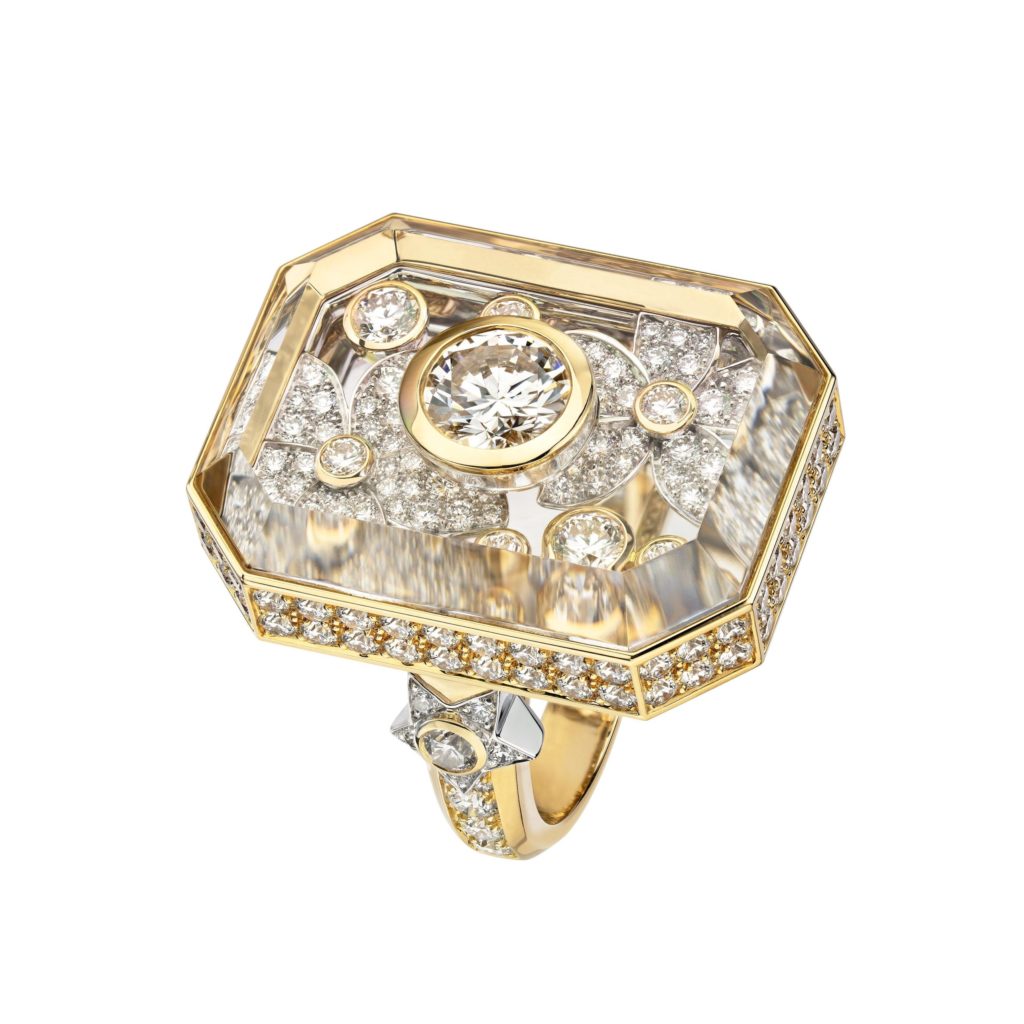 Rock crystal is everywhere in this collection. Here the Grasse Jasmine, May Rose, Ylang Ylang rings as well as the Ribonned N°5 ring set with a 1.01 ct spinel. Photos: Chanel Jewelry. Photos: Chanel Jewelry: Chanel Joaillerie
GOLDEN BURST necklace in yellow gold, platinum, diamonds and imperial topaz. 1 emerald cut diamond 4.51 cts D FL. Photo: Chanel Joaillerie
The transparency of the bottle is expressed in the rock crystal that the house has been using for many years. The play of superimpositions is revealed, the light glides over the stones, illuminating here a facet, diffusing elsewhere the colours of the gems in the colourless quartz. As the brand finishes preparing the collection it will unveil in July 2002 – I am only impatient! -i suggest you discover the most emblematic pieces of this latest collection.
Bracelet, brooch and Golden Sillange ring in yellow and white gold, diamonds respectively 1 emerald cut diamond 3.09 cts D IF, 1 asscher cut diamond 3.19 cts D VVS2.1 pear cut yellow diamond 3.07 cts FVY VS2 and 1 asscher cut diamond 1.53 ct F VVS1. Photos : Chanel Joaillerie
BUBBLY STOPPER bracelet in white gold, yellow gold, diamonds, imperial topaz and cultured pearls. 1 emerald cut imperial topaz 47,06 cts. Photo: Chanel Joaillerie
See you soon!