From 27 October 2013 to 15 February 2014, the Bowers Museum in Santa Anna, California, is presenting an exhibition dedicated to the Parisian jewellery house Van Cleef and Arpels.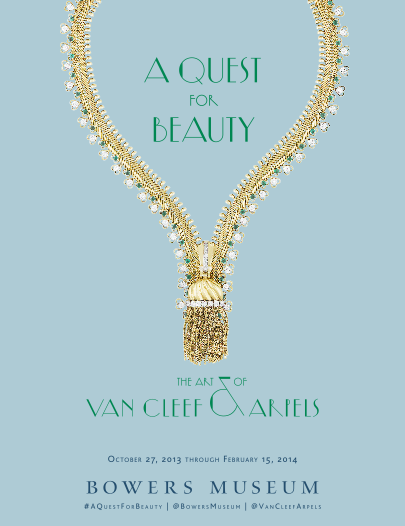 Through a selection of more than 200 pieces that retrace the history of the house since its creation in 1906, the public will be able to discover and rediscover the key pieces that have contributed to the house's reputation. It will also be possible to admire some very beautiful pieces from private collections.
Pastilles" brooch in platinum, yellow gold, diamonds and rubies in a mystery setting, 1951. Collection and photo: Van Cleef and Arpels.
Necklace "Zip" transformable into a bracelet, 1955. Yellow gold, diamonds and emeralds. Collection and photo: Van Cleef and Arpels.
Necklace in platinum, diamonds and pearls, part of the wedding set of Princess Grace of Monaco, circa 1955. Private collection of Princess Grace of Monaco, Principality of Monaco. Photo by Patrick Gries for Van Cleef and Arpels.
If you have the opportunity to visit California, don't hesitate to go and admire this exhibition, as well as the one dedicated to the Aurora "Butterfly of Peace" collection exhibited at the Natural History Museum in Los Angeles.
In addition, the museum offers an iPhone application to access the history of the exhibits. In addition, social network users can share their visit using the hashtag "#AQuestForBeauty". Finally, a catalogue is available for $45 (excluding shipping) for those who would not have the chance to visit this exhibition.
See you soon!