I am echoing this evening a press release that has amazed many gemologists. Indeed, the auction house Sotheby's will offer in a few weeks a fascinating piece. So, of course, it takes a lot to amaze gemologists who are used to seeing beautiful stones on a regular basis, but I couldn't avoid reporting this news!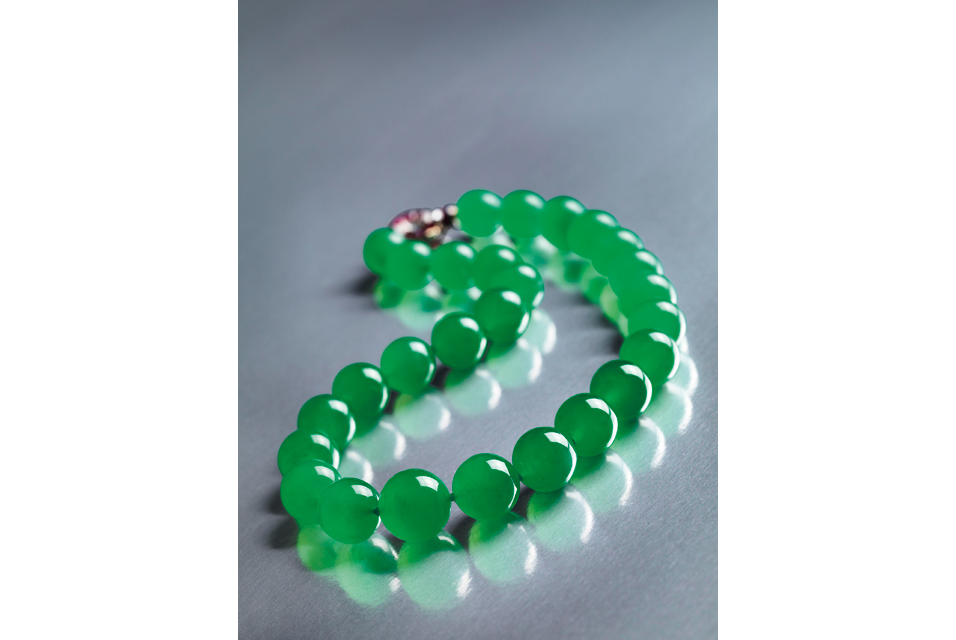 The Hutton – Mdivani jadeite bead necklace will be offered for sale on March 7 in Hong Kong.
The Hutton – Mdivani necklace has a special history: its current name comes from one of its owners: Barbara Hutton. She was the heiress of the business empire started by her father: Frank Winfield Woolworth. The trace of this necklace is found in the archives of the House of Cartier in 1933, where this string of pearls is recorded. That same year, Cartier received an order to design a clasp to accompany this necklace. Indeed, this necklace was given to Miss Hutton by her father on the occasion of her marriage to Prince Mdivani. She will wear it publicly for the first time at her 21st birthday party. The necklace remained in the possession of the Mdivani family for fifty years.
This necklace is currently the highest quality piece of jadeite available. It is a real feat to have such high quality beads on one line. In this regard, it is possible to believe that the beads in the necklace have been cut from a single block of the highest quality jadeite available. Indeed, what makes this necklace exceptional is the combination of several factors: the colour but especially the texture and the volume of the pearls since they go from 15,40 to 19,20 millimeters.
I had the opportunity, several years ago, to see a particularly beautiful strand of jadeite pearls. The pearls were only 8 millimetres long, and a piece of this quality cost almost €500,000. So the necklace that will be sold on 7 March can only amaze me.
The question that arises is to know the origin of this necklace before it comes into the possession of Cartier. It seems that it dates from the end of the 19th or the very beginning of the 20th century. This type of piece was only worn by the ruling class in China, the Qing family and some representatives. However, there does not seem to be any further information on its provenance. It is possible that it may have come from the imperial treasury, but there is no certainty.
Regarding its price, it was first sold in 1988 for 2 million dollars, and resold in 1994 for 4.6 million dollars. Today, it could exceed $12 million. The sale on April 7 will be a moment not to be missed!
Edit: The necklace was finally acquired by Cartier for the modest sum of 27.44 million dollars.
See you soon!