Although René Lalique's pieces are not always an event at a sale, they remain sought-after and highly rated pieces. In short, they are a sure bet to boost the profits of a sale. So if there are several at the same time that are offered for purchase, it becomes interesting. And if these are rare pieces because they are rarely seen in the auction rooms, you have to pay attention to what is going to happen in the audience and on the phone. Because the real bidders are often not physically present at the sales.
For example, on 13 May, Sotheby's will offer four pieces by this designer at its "Magnificent Jewels and Noble Jewels" sale in Geneva. These are remarkably well preserved and have good estimates. Let us add that they come from two private collections, that they are rather atypical and that the Geneva sales are generally successful. All good reasons to hopefully see the bids soar!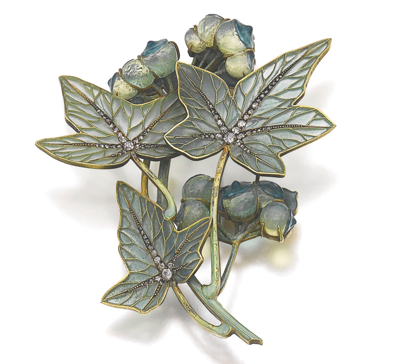 This brooch on the theme of the white vine is in gold, enamelled using the plique-à-jour technique, with rose-cut diamonds and glass paste. It is lot 389 of the sale. It is signed "Lalique" on the reverse of one of the leaves and weighs approximately 26 grams. It is in a very good state of preservation and is estimated at between $45,000 and $75,000. Photo: Sotheby's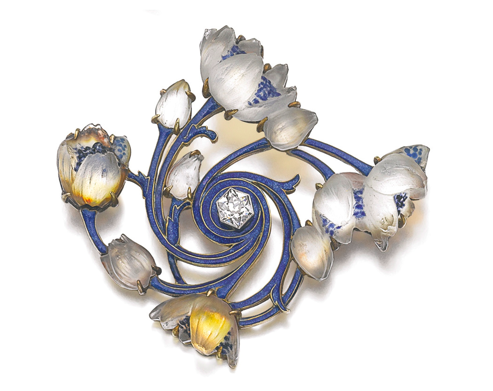 This brooch, which can also be worn as a pendant, represents a spiral of flowers, which are made of glass paste. In the centre is a hexagonal diamond. It is accompanied by a necklace, signed by the artist. The brooch is signed on the back. The hallmarks show that the gold is 750 thousandths. Finally, the branches are covered with a translucent blue enamel. It measures approximately 5.3 cm and weighs 38 grams. It is estimated at between $67,000 and $101,000. Photo: Sotheby's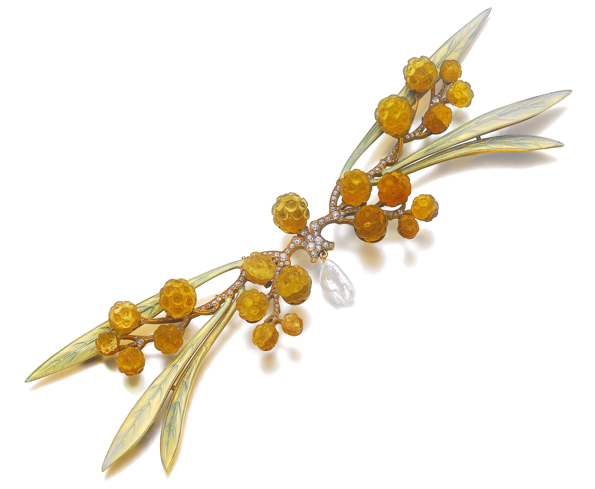 Lot 391 is a fantasy-inspired bodice front. It is made of 750-millimetre gold and the "wings" are decorated with iridescent translucent enamel. There are also rose-cut diamonds and cut glass balls representing berries. Finally, a fine freshwater pearl measures 6.20 – 8.85 x 14.80 mm. This one is certified by the world-renowned gemmological laboratory, the SSEF. The report of the pearl's expertise N°72357 is attached to the piece. The brooch is signed "Lalique" twice on the back and weighs approximately 83 grams. Finally, the seller encloses a photocopy of an old purchase invoice for this piece dating from June 1911. Sigrid Barten's book "René Lalique, 1890-1910" where very similar pieces are presented on pages 378 and 412-413. This book was published by Bonn in 1989. Photo: Sotheby's
This particularly beautiful (and beautifully preserved) piece is estimated at $118,000 and $152,000.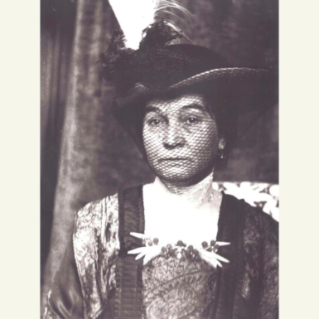 This photo is from the current owner's archives and shows his grandmother wearing the brooch. Photo: Sotheby's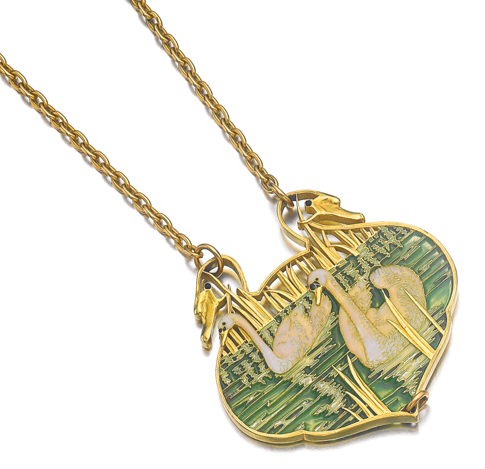 The last piece signed "Lalique" in the sale is lot 392. It is a pendant and chain, in 750 thousandths gold, weighing 64 grams. The chain is not signed "Lalique" and is certainly later. No stones, it is a remarkable work of enamelling. There is a ring, perhaps there was a pearl before… This pendant is estimated between $67,000 and $90,000. Photo : Sotheby's
See you soon!