When you enter the Grand Palais, under the glass roof, you are greeted by a pool and its water jet, an alley situated in the perspective of this pool takes you to a small garden and behind it, you discover an alley devoted exclusively to jewellery. In this setting, you can admire in turn the spaces dedicated to the houses of Cartier, Boucheron, Chaumet, Van Cleef and Arpels and Giampiero Bodino. Come and visit!
In the most important space of the event, the house of Cartier presents an incredible Cartier Royal collection. The stand, designed as a palace, presents more than a hundred pieces highlighting incredible gems, a sort of daydream for a passionate gemologist… Royal is the adjective that best characterises this collection. When I received the press kit, the first thing I thought was that I would have difficulty making a selection among the profusion of magnificent visuals that make it up. But you have to choose. So I suggest you discover some of the wonderful pieces and stones that make up the collection…
The cushion emerald – 26.60 carats, the cornflower blue sapphire – 29.06 carats, the purple ruby – 10.17 carats and the absolute pure diamond – 30.21 carats. Photo: Nils Herrmann © Cartier 2014
Creation drawing of the Pamir necklace and the Tajikistan spinel pear – 49.74 carats. Photo: © Cartier 2014
Creation drawing of the Serpent necklace set with two pear-shaped emeralds of over 200 carats each, which are part of the five Chivor emeralds. Photo: © Cartier
Platinum, an oval Mozambique ruby of 15.29 carats, a rose-cut diamond of 3.51 carats D IF, a pear-shaped rose-cut diamond of 5.10 carats E VS2, ruby balls, pear-shaped rose-cut diamonds, calibrated diamonds, brilliant-cut diamonds. The ruby choker and the diamond necklace can be worn separately. Photo: Nils Herrmann © Cartier
At Van Cleef and Arpels, it's time for a fairytale. The space dedicated to the presentation of the Peau d'âne collection takes us into an imaginary world that Jacques Demy would certainly have loved. The scenography takes us into a world populated by fairies, princess necklaces and invites us to become again a big child whose toys are multicoloured stones and diamonds. I told you about the collection inspired by the restoration of the film "Peau d'âne" and I can assure you that it is really worth a visit. Let's also mention that the house offers some particularly sublime antique pieces. Magical!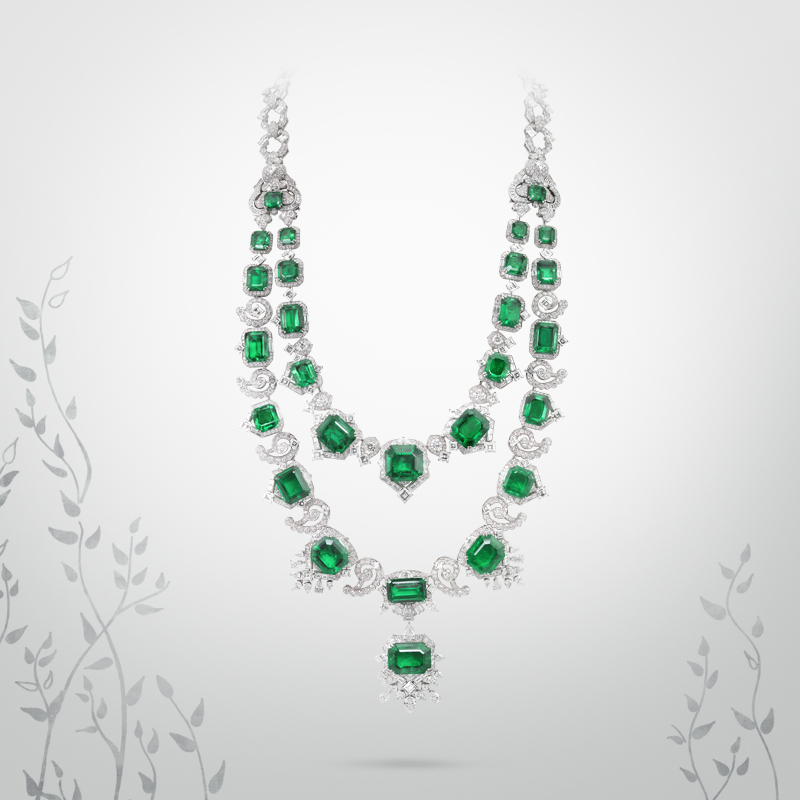 Emeralds in Majesty" necklace from the " Peau d'âne" collection. 29 perfectly matched emeralds make up this imposing necklace. Photo: VCA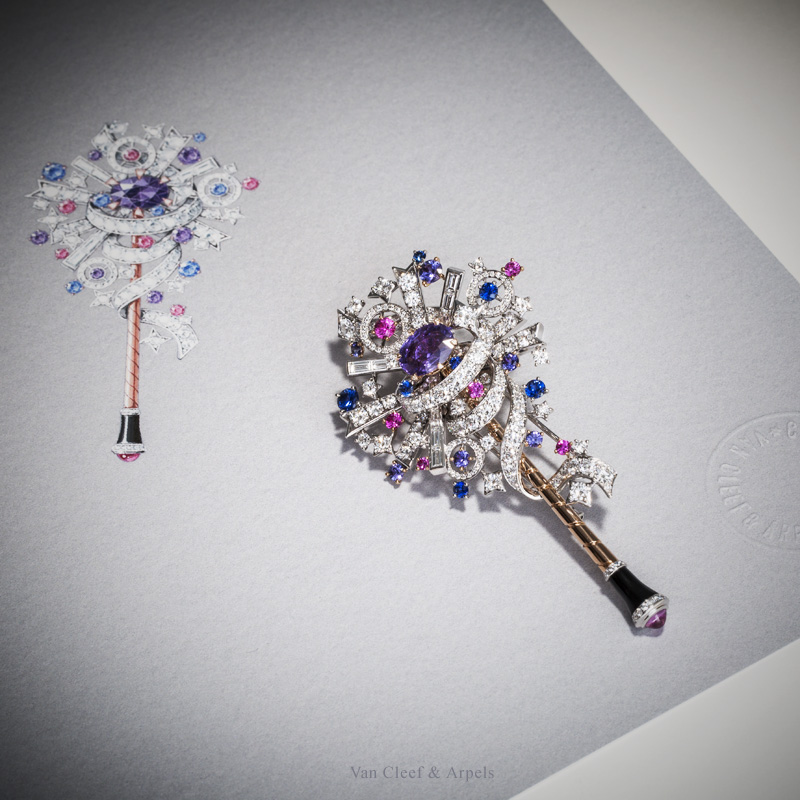 Brooch "Magic wand" from the Donkey Skin collection in white and pink gold, diamonds, coloured sapphires, onyx and a Madagascar sapphire centre weighing 3.64 carats. Photo: VCA
Next, let's dive into the aquarium imagined by Chaumet. The stand is designed as a water bubble in which the twelve sets imagined by the house are surrounded by a blue light. Needless to say, you feel good in it, like (for those who practice) a deep-sea dive. Here, the water is sublimated: fluid, frosty, icy, torrential, lakes at sunset… Here, it inspires the fifty-three pieces that make up Claire Devé-Rakoff's first collection.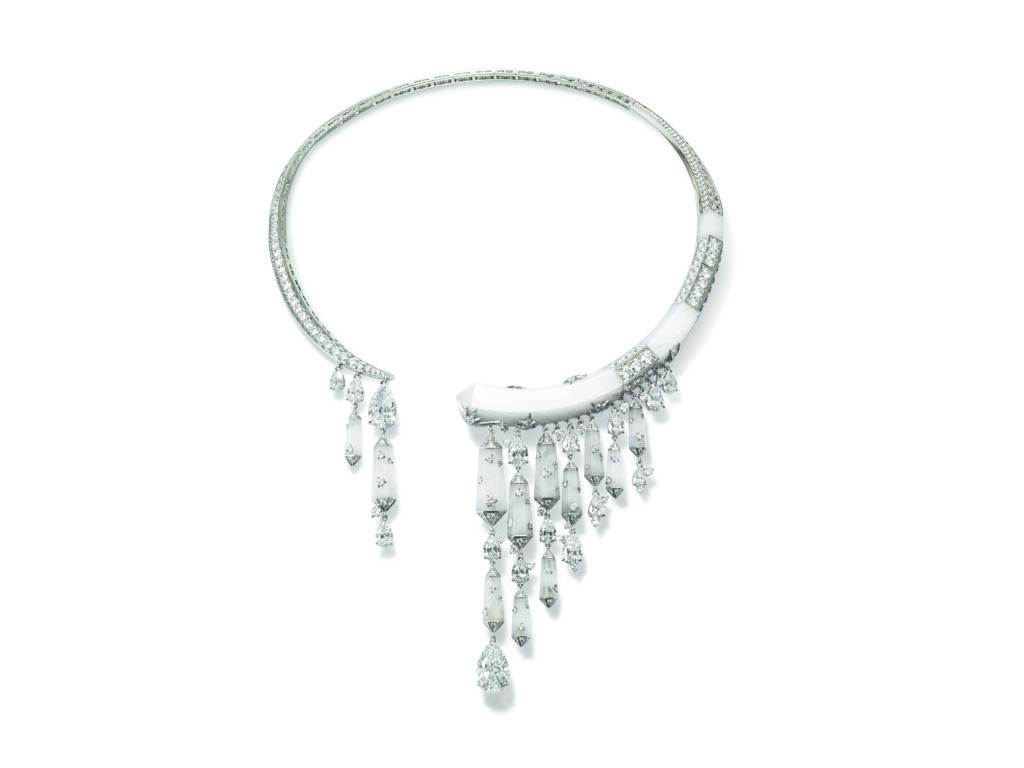 Ring "reflets éphémères", blue and yellow sapphires in gradations are reflected in the water under the golden moon of a daffodil diamond. White gold ring set with diamonds, blue and yellow sapphires and a 5.10-carat oval sapphire from Madagascar. Photo: Chaumet "Eau d'hiver" necklace. Nature stands still. Blocks of rock crystal and diamond crystals sculpt fantastic shapes, between rocks and comets. Necklace in platinum, white gold and frosted rock crystal, set with diamonds including three pear-shaped EVVS2 diamonds for 2.76 carats, two pear-shaped EVVS1 diamonds for 1.36 carats, two pear-shaped DVVS2 diamonds for 1,46 carat, one FVVS2 pear diamond for 0.58 carat, two FVVS1 pear diamonds for 1.01 carat, four DVVS1 diamonds for 2.46 carats, one DVVS2 pear diamond for 3.63 carats and one DFL pear diamond for 5.03 carats. Photo : Chaumet
Beauté de givre" earrings. White opals are transformed into the roundness of an aurora borealis. Water droplets crystallize into a cloud of diamonds and shades of purple sapphires. White gold earrings set with diamonds, purple sapphires, faceted amethyst balls, two oval purple sapphires from Madagascar, one of 1.27 carats, the other of 1.33 carats, and two cabochons of white opal from Ethiopia for 17.36 carats. Photo: Chaumet
Boucheron's ode to light and travel to distant lands. Louis Boucheron was, like many of his colleagues, insatiably curious, a traveller and a lover of gems and jewellery. In his time, stones had to be sought far away, a time of travel by train, boat or elephant. "Dreams of Elsewhere" therefore characterises the spirit of travel to the confluence of other cultures that the house wanted to give to this new high jewellery opus.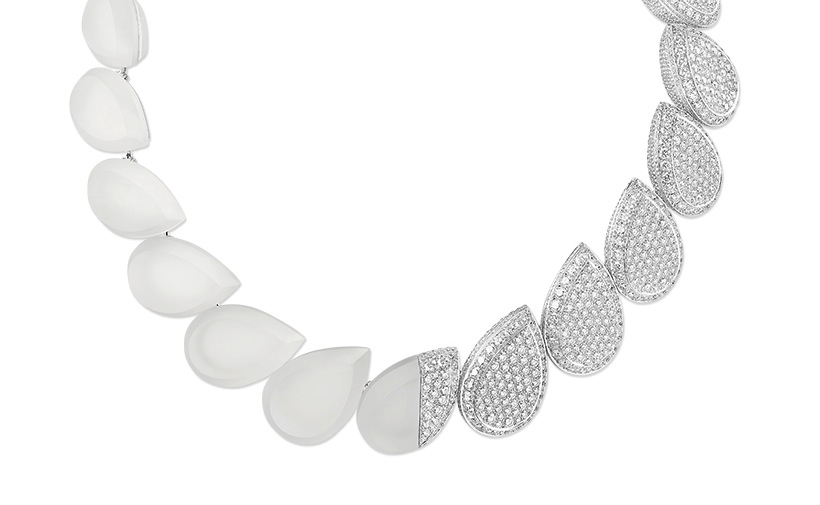 Brushes of China" necklace in white gold, rock crystal and diamonds. This necklace is one of my favourites in the collection. Photo: Boucheron
"Reminiscent of Louis Boucheron's travels, the Trésor de Perse set erects in majesty exceptional cabochon sapphires, including two "sugar loaf" cabochons, as well as a historic Burmese oval. Their deep blues, some of which reveal dazzling little silks, are surrounded by the subtle play of form, colour and light of chalcedony and diamonds, and the remarkable transparent effects of rock crystal. Photo and text: Boucheron
I end this second article with the presentation of a new designer, Giampiero Bodino. A shadowy designer for major houses, he has been artistic director of the Richemont group since 2002. The Biennial's setting is small but the pieces are amazing, surprising, luminous, demented… Giampiero Bodino is proposing some sixty pieces of high jewellery, which will be sold exclusively in Milan. The French workshops have worked on the creation of the jewels of a collection that will make history. To witness the birth of a house is always an event that should be talked about, especially when the birth is so sparkling.
Corona" necklace. Photo: Laziz Hamani for Giampiero BodinoOdea to the art of mosaic so dear to Italy, "Mosaico" bracelet, white gold, jade and diamonds. Photo : Laziz Hamani for Giampiero BodinoThe "Paolina" necklace features cameos made from ancient shells. Rose gold, diamonds, and rubellites complete this jewel. Photo : Laziz Hamani for Giampiero Bodino.
See you soon for the rest!