This week, during a discussion in an auction room, I realised that the notion of a "mount" ring was not always obvious to everyone. And that it was necessary to explain what it means when you come across pieces signed "mount + brand name" or "MT + brand name", in antique shops or in auction catalogues.
In the jewellery sector, the houses all have more or less different commercial positions:
Pure "retailers", they do not manufacture, do not have a workshop but sell ranges and lines of jewellery. They do not have master marks.
Jewellers or "creators", they make the pieces they sell, often custom-made, and possibly small series. They may have shops or work in their own rooms. The pieces they make are often numbered and signed. They have a master stamp.
Then you have the "big houses" which have often, over the years of existence, developed different ranges: high jewellery, series and of course special orders known as "made-to-measure". The houses have in-house and subcontracted workshops, and therefore a master hallmark. The different departments have engraving files. Thus, according to the number, the house can find in its archives to which range the jewel belongs, in which year it was made… etc.
Example of engraving in a yellow gold "Love" diamond ring from Cartier. This ring is part of the current models of the house of Cartier. The number allows to know if the piece is authentic or not. This piece is not a "made-to-measure" piece, it is part of the jewellery sold in the house's boutiques. Photo: Cartier
This type of engraving is visible in the jewellery of all jewellery houses, in order to certify the objects but also to follow the production internally. As the pieces are engraved, they can be traced during and after the manufacturing process.
And then there is the "made-to-measure". This includes special and often unique orders for private customers. In addition, it is very common for customers to come with personal stones. They will ask for a personalised creation or the adaptation of an existing model with their own gems. At this point, we leave the classic production cycle and the engraving is not the same. Since the company does not supply the stones, it will make the setting, in other words, the metal piece.
In these conditions, the piece will be engraved MT + brand name to specify that only the setting was made in the workshop and sold by the company.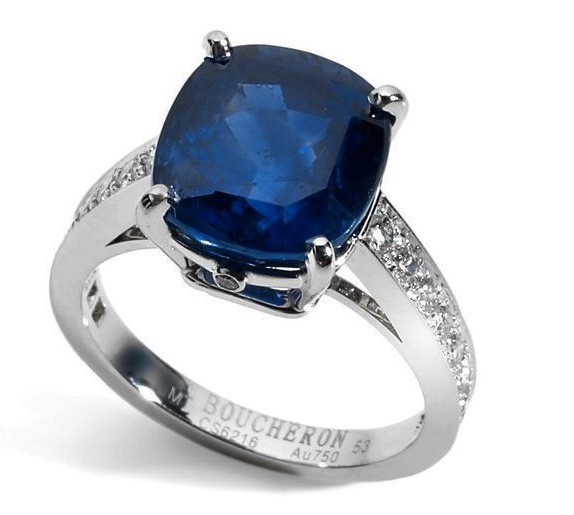 White gold ring, signed MT Boucheron, with an 8.03 ct SSEF certified Burmese sapphire in the centre. It was sold at Artcurial in July 2012. Photo : Alain Truong
I hope these explanations will help you to better understand this notion.
See you soon!