The National Museum of the Indian Nation (Smithsonian) – which is located in New York – has been hosting a beautiful exhibition on Navajo jewellery for the past few months, and more specifically an exhibition dedicated to a family of jewellers: the Yazzie family.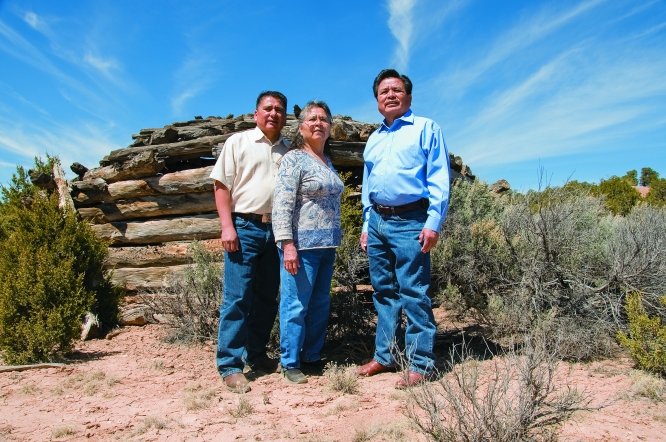 Several members of the Yazzie family: Raymond C. Yazzie and Lee A. Yazzie, photographed in front of the hogan (traditional Navajo habitat) belonging to their grandparents. The hogan was built in the late 19th century. Photo: © Kiyoshi Togashi
The family, originally from Gallup, New Mexico, is well known for its intricate designs. The Navajo people are famous for their culture. Jewellery is an integral part of their everyday clothing and celebrations. Over the past fifty years, the Indian nation has shown a commitment to preserving its culture and maintaining the link between generations. In the field of jewellery, this is reflected in objects with an aesthetic marked by traditional motifs and materials. This reflects the strength and deep roots of this culture in the United States.
This video, edited by the museum, introduces you to the work of this family and provides a closer look at some of the pieces in the collection.
The work of the two brothers – Lee and Raymond – like that of their younger sister Mary Marie, mixes gold, silver, turquoise, coral and various hard stones. These jewels have a strong symbolic meaning. They reflect elements of nature, wildlife, and are intended to bring well-being to the wearer. The exhibition will allow you to admire more than 300 pieces made by several members of this family. In addition, this event aims to give you a better understanding of Navajo art and culture, as well as the symbolism behind these objects.
Sun Face Brooch , Raymond C. Yazzie, 2013. Lone Mountain turquoise, 585 ‰ gold, silver. Collection of Lloyd and Betty Van Horn. Photo by Scott Hill.
Bracelet, Raymond C. Yazzie, 2005. Silver inlaid with coral, turquoise, lapis lazuli and 585 ‰ gold elements. Collection of Mark and Martha Alexander. Photo by Michael S. Waddell.
Ring by Lee A. Yazzie (2003). Turquoise and silver. Collection of Gene and Ann Waddel. Photo: © Kiyoshi Togashi.
Necklace by Lee A. Yazzie (2012). Lone Mountain turquoise, silver. Collection of Jeffry and Carole Katz. Photo © Kiyoshi Togashi.
Ring, Raymond C. Yazzie, 2006. Opal, coral, lapis lazuli, jade, Blue Gem turquoise, Orvil Jack turquoise, gold 585 ‰. Collection of Leota and Phil Knight. Photo: © Kiyoshi Togashi.
Ring, Raymond C. Yazzie, 2012. Coral, Lone Mountain and Orvil Jack turquoise, opal, sugilite, yellow gold 585 ‰. Collection of Janice Moody. Photo by Michael S. Waddell.
Greetings bracelet, by Raymond C. Yazzie, 2002-2003. Gold, turquoise and various gemstones. Collection of Daniel Hidding. Photo: Gregory R. Lucier, WindSong Studio, LLC.
Gold and lapis lazuli bracelet, by Lee A. Yazzie, 1984. Photo: Ernest Amoroso, NMAI.
The exhibition began at the end of November 2014, and will close on January 10, 2016. Needless to say, if you are in New York in the next few months, a visit to this museum is a must. A richly illustrated catalogue will allow you to prolong the experience.
See you soon!