The Museum of Applied Arts and Sciences in Sydney has been hosting an exhibition on the history of jewellery since September 2014. This is one of the most ambitious exhibitions for this museum, with more than 700 pieces presented to the public. And so, an event that I thought it would be interesting to echo on the site. This exhibition is held at the Powerhouse Museum in the city.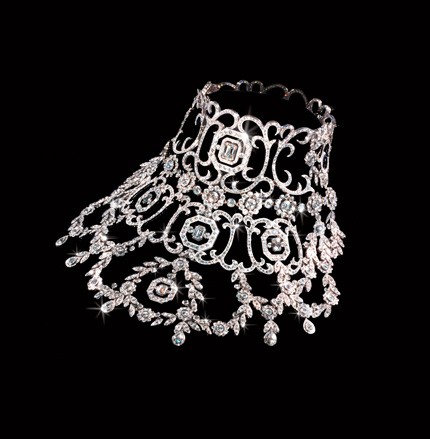 Necklace worn by Nicole Kidman, in Baz Luhrman's film "Moulin Rouge". The necklace was designed by Stefano Canturi, it is made of platinum and diamonds (more than 1300 stones). It is the most expensive piece produced for a film. It was sold at auction at Christie's in 2001. Photo: Powerhouse Museum
Maasai women wearing traditional glass bead ornaments. Photo: Powerhouse Museum
A jeweller working at a bench. Photo: Powerhouse Museum
Jewellery reflects our tastes and desires, but it also bears witness to our loves, our mourning and even our fears, worn as talismans. Thus, the museum will present you with extremely precious pieces such as a diamond brooch worn by Cate Blanchett for the Oscars or mourning pieces that tell the intimate story of families.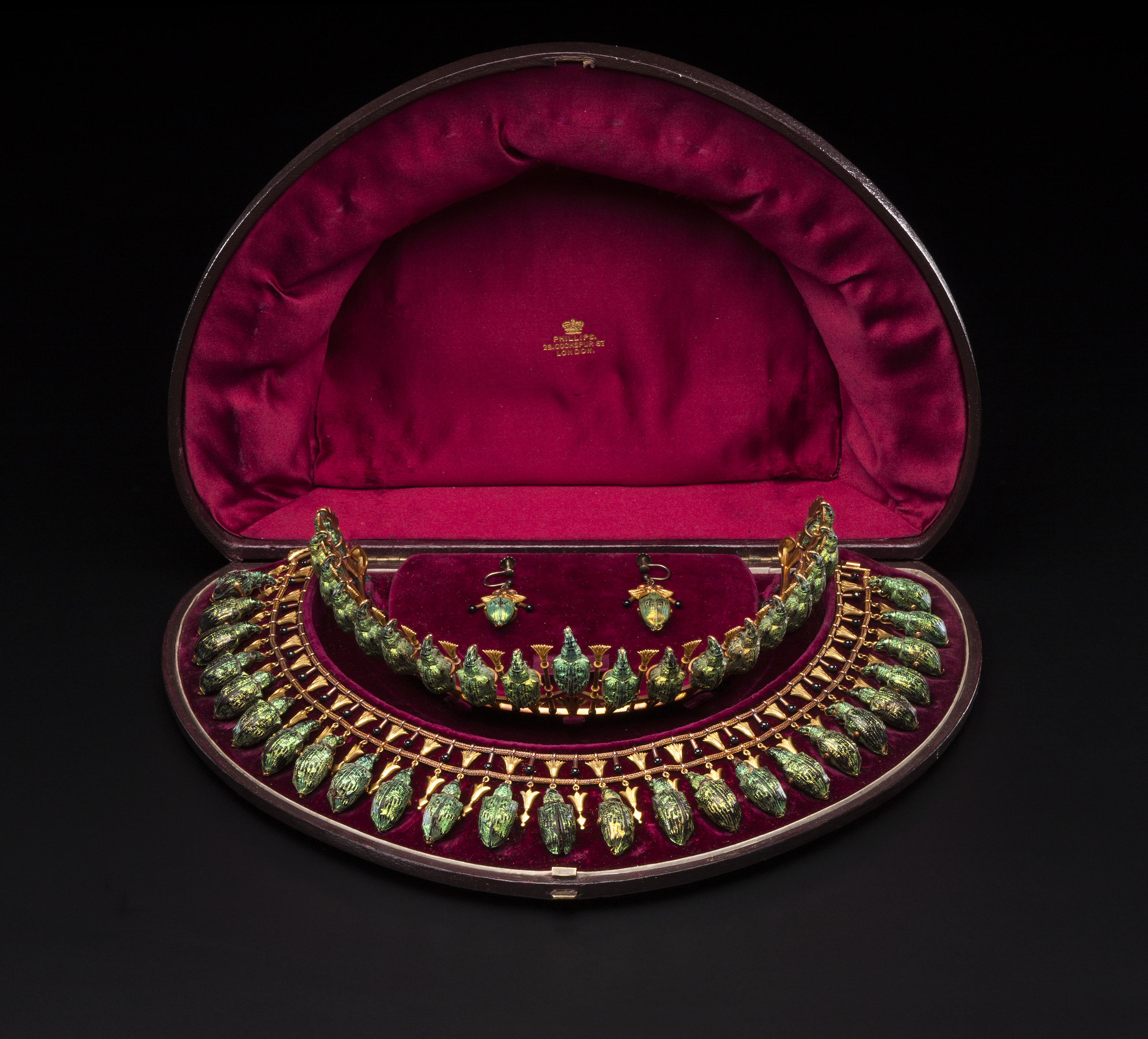 The Lady Grandville Parure, gold necklace and natural Lamprocyphus augustus beetles. Phillips, London, ca. 1884-1885.
The use of insects, particularly beetles from Latin America, reflects nineteenth-century European interest in exotic flora and fauna. With their bright colours and natural iridescence, these animals replaced gems on many sets in the 1880s. This set belonged to Castila Rosalind, wife of Lord Granville, Foreign Secretary of England. The beetles in it were given by the Portuguese Ambassador to celebrate the signing of the Berlin Conference Treaty in 1884. Collection: Hawkins Family Collection. Photo: Geoff Friend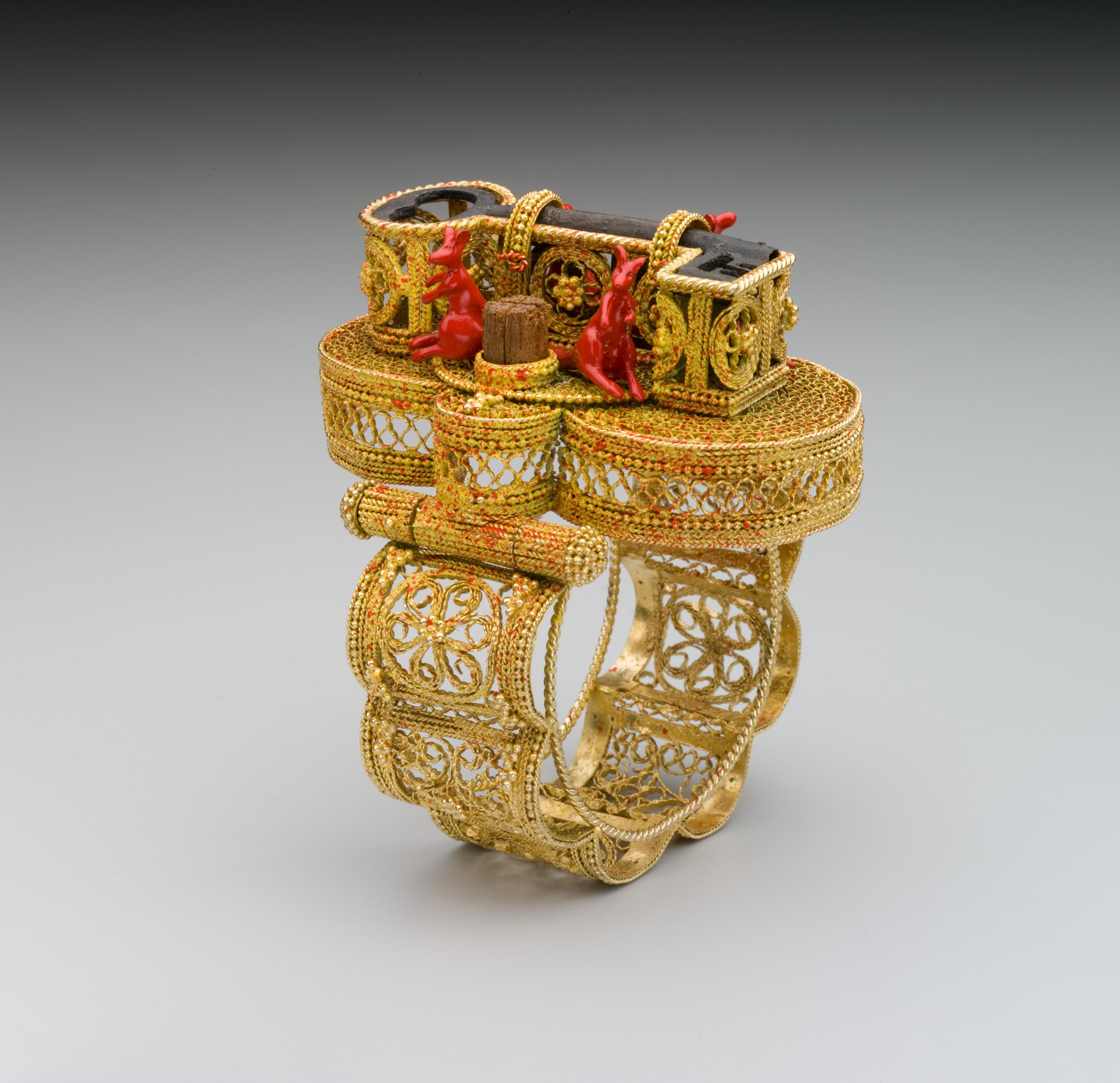 A reinterpretation of a mid-sixteenth century Indonesian bracelet. Silver gilt, copper, wood, plastic, Robert Baines, Melbourne, 2004-2005. Collection: Powerhouse Museum, Acquired with funds from the Yasuko Myer bequest in 2011. Photo: Geoff Friend.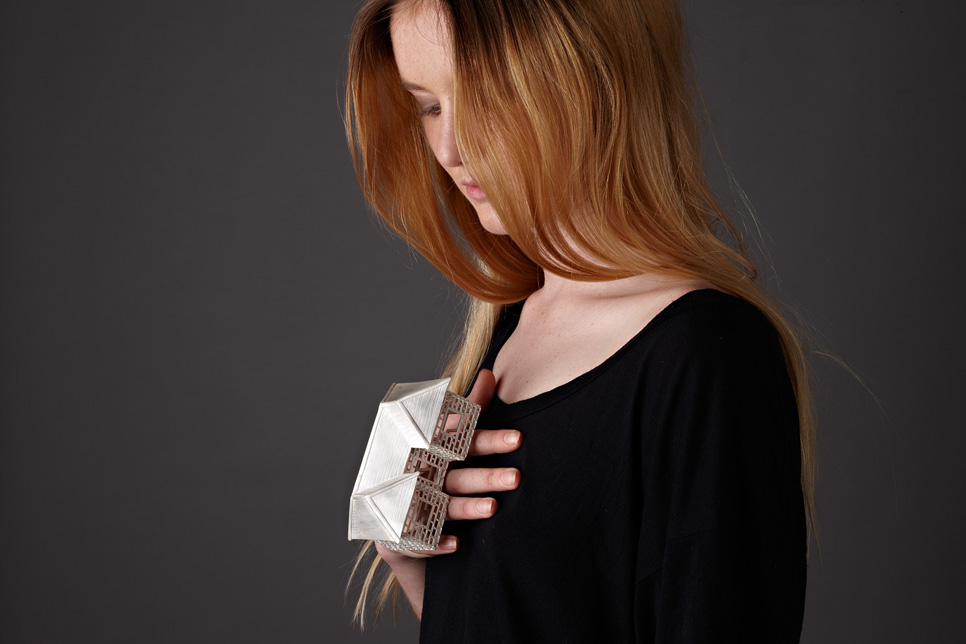 Maison ring by Katheryn Leopoldseder, Australian jeweller. Photo: Katheryn Leopoldseder
The pieces on display range from ancient Egyptian to contemporary designer jewellery. The idea of presenting a wide panorama of jewellery is attractive and the museum's selection is rather sharp. The public will be able to navigate between several themes:
Belief and Magic: jewellery as a talisman to counter bad luck or the evil eye, to protect oneself from illness and bad luck, but also to testify to religious beliefs.
Love and Death: the jewel as a witness to a budding love, engagement or marriage. But also as a witness to the loss of a loved one and a marker of mourning.
Nature and Culture: nature as a source of inspiration but also as a provider of elements that make up the jewel: wood, stones, feathers, shells, coral… So many elements that can be used to enrich jewellery.
Stylistic renewal : ancient times, the rediscovery of antiquity from the 18th century onwards, and the use of motifs from vanished civilisations in the creation of jewellery. These include pieces that revisit ancient Egypt and Greece.
Gold: the discovery of gold mines in Australia in the 1850s had a profound effect on jewellery design in that country. But it also encouraged the arrival of many immigrants. The museum proposes to take you on a journey of discovery of Australian jewellery design and asks the question: what is the Australian style?
Social status and wealth: jewellery has long been reserved for the elite. And therefore to wealthy families. Some materials are more valuable depending on the territory: jade in Asia, diamonds in Europe or the United States… Jewellery as a social marker.
Man and adornment: men have had (and still have) a predominant place in societies. How do they assert themselves? Princes, kings, tribal chiefs, they all wore elements of adornment that distinguished them from their subjects.
Modernity and Change: The 20th century brought a new wind to jewellery, with the arrival of new materials from the industrial revolution. It is interesting to see and to understand how tradition acclimatises to new things. One thinks of Art Nouveau, Art Deco and the psychedelic movement of the 60s and 70s.
Contemporary Creation: the last forty years have seen a lot of change in the design studios. This part of the exhibition presents several designers of our time.
Bracelet, acrylic, polyester, polyurethane, Peter Chang, Glasgow, Scotland, 2004.
Collection: Powerhouse Museum, acquired 2005. Photo: Geoff Friend.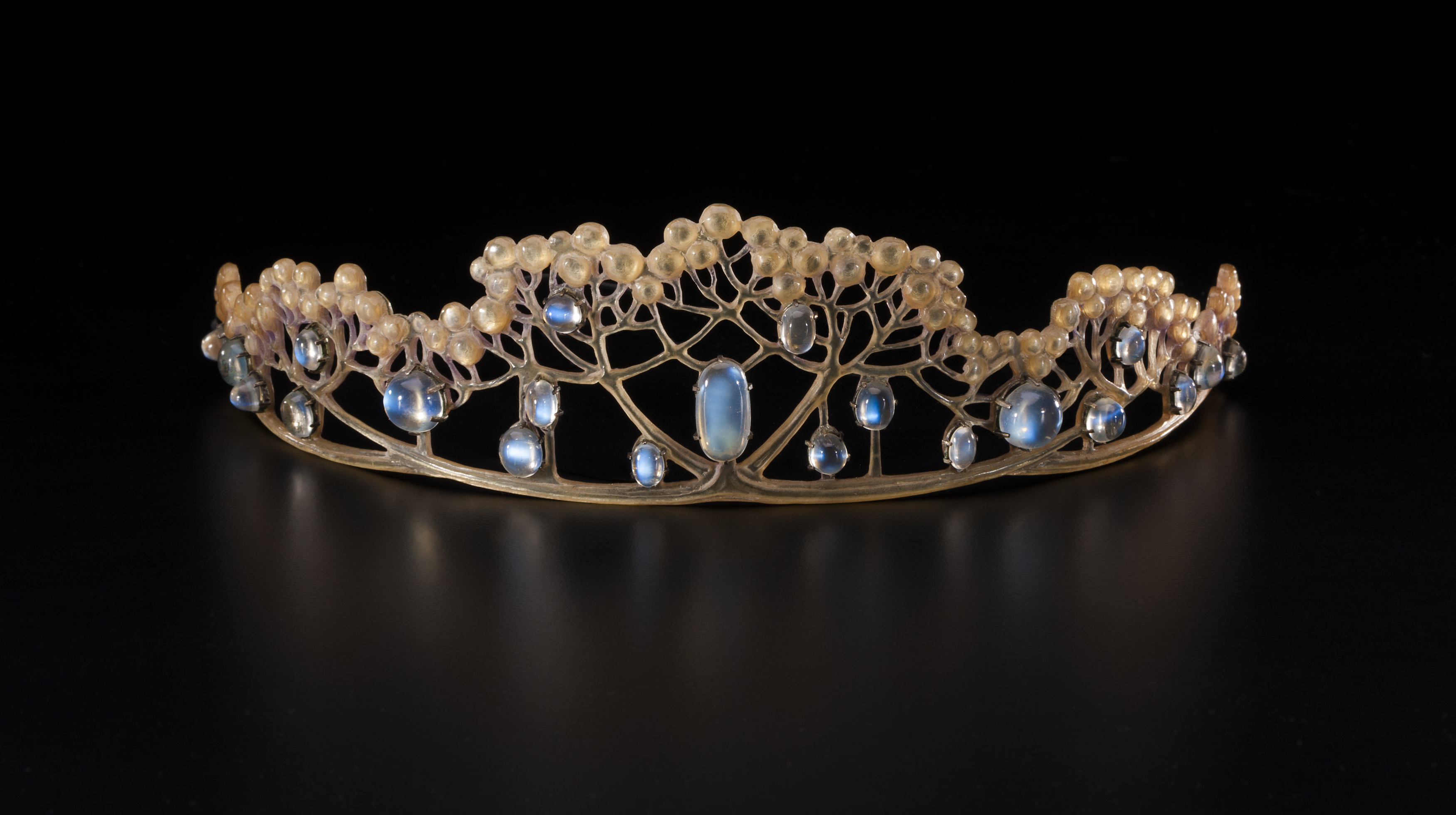 Tiara, blonde horn and moonstones, F. J. Partridge for Liberty & Co, England, circa 1900. Collection: Hawkins Family Collection Photo: Geoff Friend.
This exhibition would not be possible without the support of numerous public and private partners. These include the National Gallery of Australia, the Art Galleries of NSW, Victoria, South Australia and Western Australia, the Gallery of Modern Art (GOMA), and the Museum of Old and New Art (MONA).
Sunflower necklace in treated aluminium, Yuri Kawanabe, Sydney, 1994.
Collection: Powerhouse Museum, acquired with funds from the legacy of Yasuko Myer, 1994. Photo: Sue Stafford.
Quartz and glass necklace. Photo: Powerhouse Museum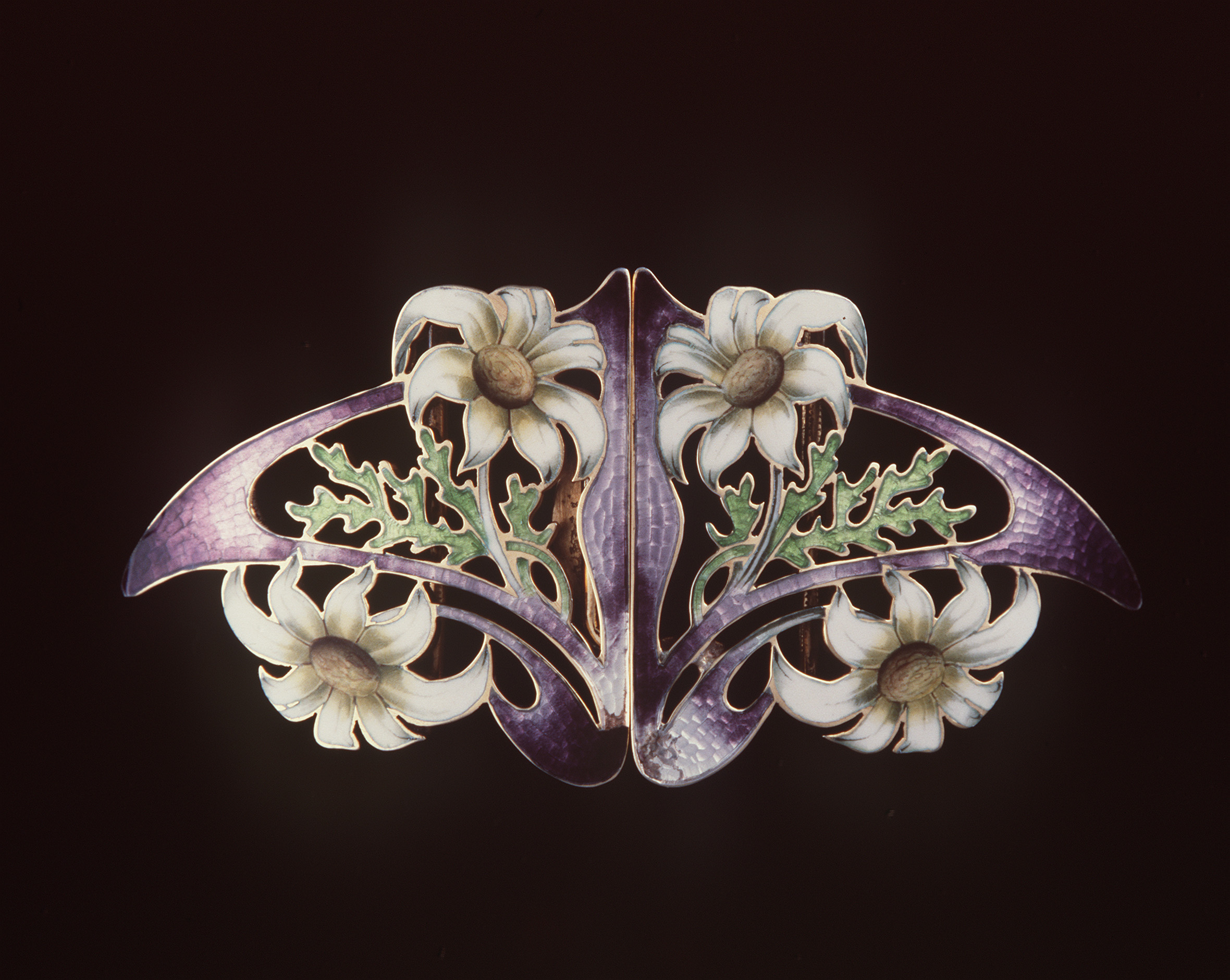 Enamelled silver belt buckle, depicting Australian wild flowers. Deakin and Francis, Birmingham, England, 1909-1910.
Collection: Powerhouse Museum, acquired 1910, Photo: Geoff Friend.
Eva Czernis-Ryl, curator of the exhibition, said: "Everyone has a connection with jewellery, regardless of time or culture. They are intimate objects that enchant, surprise and stimulate the imagination."
The exhibition is on view until September 2015, in Sydney. If you are ever in Australia, you should visit the Powerhouse Museum.
See you soon!