Every year, the world of jewellery and watchmaking meets in Switzerland for a week-long show. The greatest houses and the most prestigious workshops meet to present new collections, technological advances and daring materials in order to seduce the press and above all buyers from all over the world. It was especially for this show that Graff Diamonds presented the most expensive watch of the show at 40 million dollars. At the centre of this high jewellery piece is a 38-carat D Flawless pear-cut diamond.
The Fascination watch was unveiled during Baselworld. The central diamond can be worn as a ring or brooch. Photo: Graff Diamonds.
Proof of this craze, no less than 150,000 visitors and more than 4,300 print and web journalists were accredited to cover a show where excess is religion and where more than 1,800 exhibitors were waiting for them. Despite this, a 3% drop in the total number of buyers should be noted, according to the figures communicated by the organisers. It should also be noted that the Freiburg show was held at the same time, which inevitably attracted visitors and buyers who usually go to Switzerland at this time.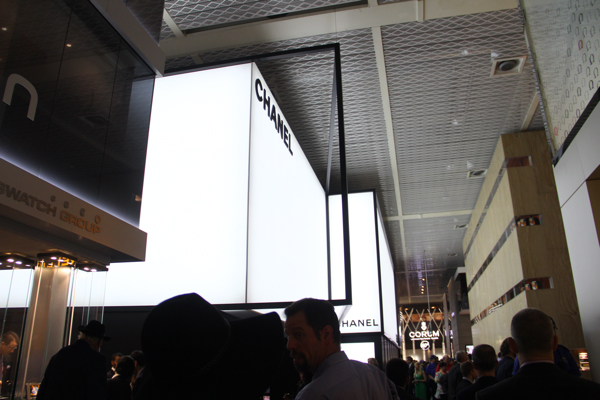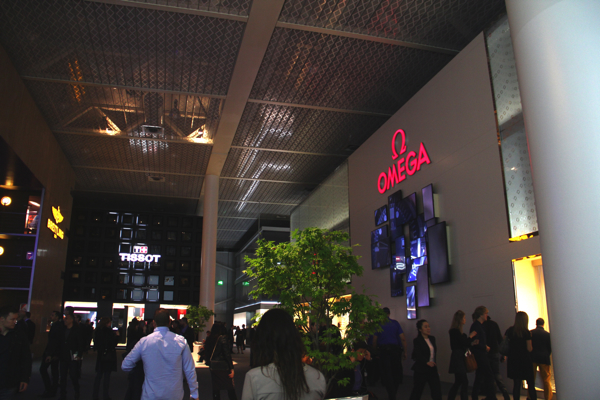 Atmosphere in hall 1 where the crowd of buyers and journalists was dense. Photos: Constance Chabrol
It had been four years since I had the opportunity to go there. And it was with even greater pleasure that I returned to Messeplatz and its lively atmosphere. It has to be said that attending Baselworld is a parenthesis in another world. Luxury is on display without restraint, the brand spaces are often veritable museums where works of art rub shoulders with the installations of the world's most renowned designers. Numerous models show the latest creations of the jewellers and most of the meetings take place in refined private salons. It's impossible not to love this show and its particularly pleasant atmosphere.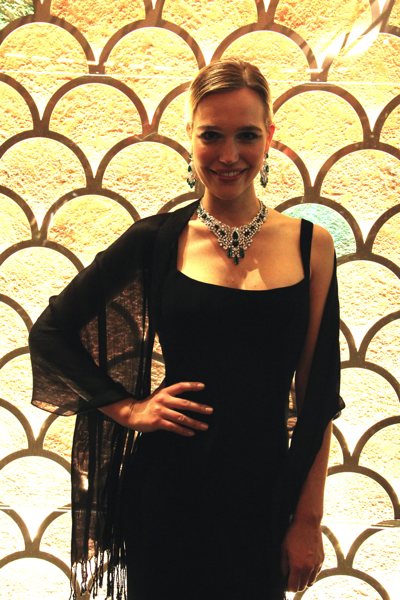 Presentation of exceptional jewellery in front of Graff Diamonds. Photo: Constance Chabrol
For the occasion, I had a rather targeted and organised route. On the programme was hall 3, The stones and pearls hall, focused on gem and diamond dealers from all over the world. An ideal way to take the pulse of this sector after the Hong Kong show, which many dealers described as disappointing. The Chinese market is rather shy once they get out of the coloured diamonds that panic the Asian clientele. Not to mention the fact that the Russians have seriously retreated with the important variations on the rouble. Many merchants acknowledged that they work among themselves, with an old and reliable clientele, but that securing the loyalty of new buyers is increasingly complicated by the profusion of sellers and goods.
After collecting our badges from the press centre, crossing hall 1 and its grandiose stands dedicated to the greatest watch and jewellery brands, we arrived in hall 3, with its calmer and more hushed atmosphere. Here, the most beautiful stones, with the most desired geographical origins and the most reliable certifications in the world of gemmology, with a profusion of official documents from the SSEF, Gübelin and GIA, to name but a few, rub shoulders. Needless to say, you can observe and admire too many exceptional stones per square metre here. A gemologist's paradise!
The Basel fair allows you to spend time with the dealers in the buying offices. Here, a large natural ruby (30+ carats) from Mozambique is seen with Allen Kleiman of A. Kleiman & Co. A San Francisco-based dealer, he took a lot of time to show us his collection and some of his stock. Photo: Constance Chabrol
First observation, cat's eye chrysoberyls are absolutely everywhere. For several months now, they have been very often seen at auctions where prices are increasingly high. The show did not deny this fact, everyone was showing them in the windows. And this, although the more "traditional" asteriated stones (rubies and sapphires) were more discreet this year. Secondly, African material, mainly from Nigeria and Mozambique, represented the majority of the stones on display. Thus, rubies, tourmalines, garnets and spinels were absolutely present in all the stands.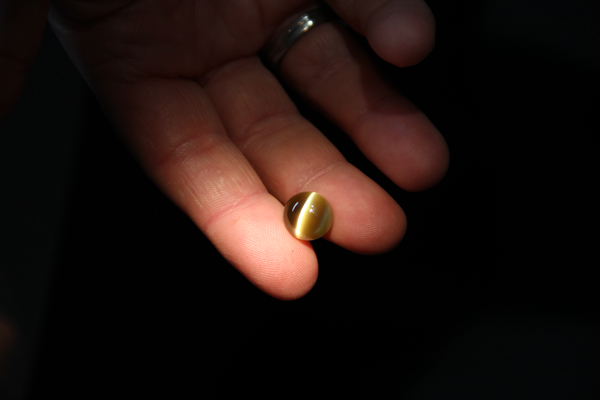 Cat's eye chrysoberyl in Allen Kleiman's hand. Photo: Constance Chabrol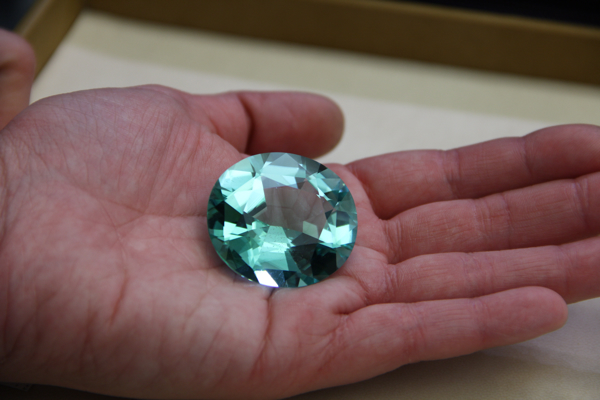 This was perhaps one of my most beautiful meetings of the show. I had wanted to meet the Nomad's for a long time, whose stones have been impressing me for a while now. It's done! And I have to say that I was not disappointed by the trip with them. Here, an impressive natural blue tourmaline from Mozambique (SSEF) of over 130 carats. And suddenly, my hand seemed very small. Photo: Constance Chabrol
Prices that were once "correct" for African materials are now very high and it does not look like this will change in the coming years. Many traders have mentioned this problem, which makes it difficult for them to acquire quality raw materials. Firstly, new pockets or deposits have to be found, but above all, the liquidity to acquire them has to be available. And today the Sightholders system set up by De Beers for diamonds – for many years – is being extended to coloured stones. Mainly through an auction system such as the one set up by Gemfields, which allows greater speculation on gems. While demand is certainly high, let's not forget that streamlining sales volumes inevitably drives up prices. Less material, more demand and ultimately higher prices. A logical conclusion. Nevertheless, if the top of the range has to be expensive because it is rare, we will have to watch carefully for price adjustments in the beautiful middle range, and more precisely in the smaller stones ranging from 3 to less than 10 carats, which are apparently more accessible.
But Basel is above all an opportunity to see large stones quite easily. It should also be noted that the so-called "historical" stones are still very popular with buyers: Burmese or Kashmir originals are still in demand for corundum. The same is true for old emeralds from Colombia. Once again, the "untreated" makes the difference. And many of the stones had double or triple certifications.
This antique emerald from Colombia was presented to us by Emmanuel Piat, a coloured stone dealer based in Paris. With several holes, it cannot be cut today. The company uses it to show gemologists and buyers the action of traditional oiling in this type of material. Depending on how you look at the gem, the drill hole disappears, the oil acting as an optical seal. A curiosity! Photo: Constance Chabrol
Platinum ring with diamonds and a pink spinel centre of 11.33 carats from Vietnam. This stone – certified natural and untreated by the Parisian laboratory Gem Paris – was exhibited on the Piat stand. Photo: Constance Chabrol
The show was also an opportunity to see many fine pearls and cultured pearls. Conch pearls are always successful but we noted a certain decrease in the volume of melos pearls. Dealers specialising in these materials mentioned the predominance of Chinese freshwater pearls for many years, but put their impact on the market into perspective. If you try to keep to the highest quality, you will find buyers. It should also be noted that pearls from the Philippines and Australia are still in great demand. In this particular sector, the Hong Kong show was a success. Asian customers are very fond of pearls.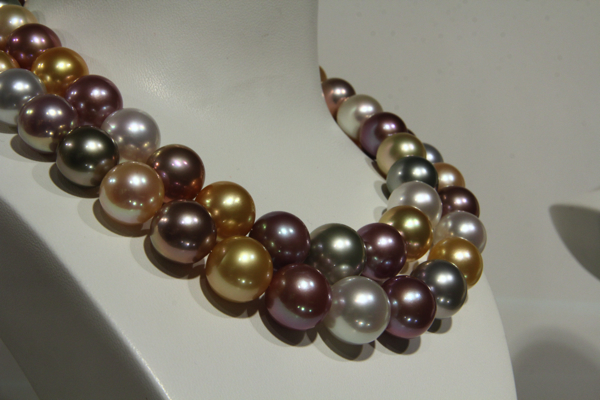 These two necklaces were presented to us by the Parisian pearl specialist Alain Boite. Freshwater pearls, gold pearls, Tahitian pearls and white pearls from Australia are combined to great effect. Size is important in pearls where the most beautiful pieces seen on the show have diameters of over 15 mm. Photo: Constance Chabrol
Of course, we took some time to admire the latest collections and novelties in the halls dedicated to jewellery. Many interesting pieces but very classic collections. Our favourite is undoubtedly Jewellery Theatre , whose work will be the subject of an article on the site very soon. We will retain massive pieces, very worked, coloured and frankly atypical. But above all, jewellery that tells stories and that cannot leave you indifferent.
Mushroom ring in gold, diamonds and garnets by Jewellery Theatre. Photo: Constance Chabrol
In conclusion, I would say that this was an interesting show, but without any great novelties. From a purely gemological point of view, there were no major discoveries of deposits for a while, so no truly atypical stones. On the other hand, we were able to observe some very beautiful and remarkably cut material. Proof that lapidary know-how is of crucial importance for the promotion of quality gems. The presence of the world's major laboratories attested to the growing interest of the profession in certifications that bring significant added value to gems. One absence noticed by the French traders was that of the Laboratoire Français de Gemmologie, which had its rightful place at the show. We very much hope to see them exhibiting in 2016. When we know the important level of knowledge of this laboratory, it would be only normal. In terms of jewellery and watchmaking, we admired some very beautiful pieces. French jewellery is a symbol of elegance and know-how, but German, English, Swiss and American jewellery houses presented remarkably well executed models. We would have liked to see more pieces that were less conformist and more daring. But the high jewellery collections are coming in a few months and I am already convinced that we will be amazed by the presentations! See you in 2016.
See you soon!