For this third Career Talk, I asked Clémence Merat, who works in London, to tell us about her career and her job. She very kindly agreed to do so. So I'm taking you to England!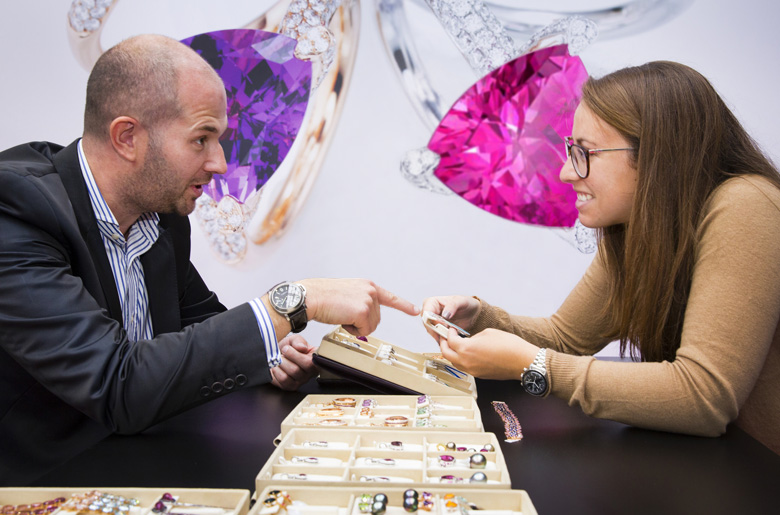 Clémence with Mr. Peter Ungar, an agent representing international jewellery houses, at the IJL 2014. Photo: Clémence Merat.
Hello Clémence, can you quickly introduce yourself?

My name is Clémence Merat, I'm from Paris and I've been living in London for a little over 4 years now. I am a gemmologist by training and I work as the Jewellery Department Manager at William&Son, a British luxury goods brand.
What did you want to do as a child?
I wanted, like all girls I think, to be a school teacher for a while, and then a fireman, and also an architect. I'm a long way from that.
And finally, what is your current job? And what exactly do you call it?
I am Head of Jewellery at William&Son. Our brand sells luxury products such as watches (Breguet, etc.), silverware, leather accessories and others. I am in charge of the jewellery department. I create the collections with the help of my designer and different workshops, and I sell them in the shop.
We are, at the moment, a small company (about 30 employees) so we are all very multi-tasking. We also offer our customers a design service (more than just custom-made). In these cases I look for the stone via my dealers, I have our designer make a drawing and I take care of the manufacturing of the piece by my workshops.
Are you the first in your family, or do you have people in your circle who work in this sector?
I am the first in my family to go into this business, although all the women in my family have always loved jewellery. My great-grandmother, whom I knew, was the first woman in France to start her own business. It was a brand of women's lingerie. She received the Légion d'Honneur for that. So I think I got my creative side from her.
What was your classical education?
Not so classical… I had a Bac économique et social. I studied Art History and its market in Licence at IESA, then I did a Master's at the Sorbonne and the second year at the LSE in London. I studied gemology at the Gemological Institute of America (GIA) in London at the same time as my final year of the Masters. I finished my studies in July 2011 with a Masters degree and a specialist diploma in Diamonds and Coloured Gemstones. I am a Graduate Gemologist.
And at what point did you decide to go into jewellery?
During my degree, I did some internships in several sectors of the art market.
One day, as a favour to the person who is now my fiancé, I replaced her at a jewellery expert's (Mrs Laure Nejman, at Maître Giafferi). I spent the day surrounded by jewellery and I loved it. I immediately thought that jewellery could be something I would never tire of.
So I started looking for an internship in this sector and I ended up at Christie's in the jewellery department with Me Marie-Laurence Tixier for a 3-month internship. I stayed there for a year. I loved it!
What do you like about this professional sector?
I always think that when you are a young girl, you don't necessarily think about jewellery. It's something that comes later in life.
As soon as I had the opportunity to discover this field and its professions I completely fell in love with it. The magic of stones, their inclusions and their secrets, that's really what stayed with me after I finished my studies. I also love the fact that it's a small business and that most people in this industry are passionate; we all speak the same language.
I also have a love for tradition I think. The family jewels, their meanings. Despite the fact that I've moved into the retail world, I'm still very attached to antique jewellery. I've launched a Vintage Corner in our London shop where you can find unsigned vintage pieces (from the 1920s to the 1980s).
You are from Paris, I suppose you worked in France before leaving? You tell us.
I started my career after my studies in London. When I was in France, I did various internships like the one at Christie's. I also started my own brand of art. I also launched my own brand of costume jewellery, Jewels By Sam, which worked mainly by word of mouth with one private sale a month in Paris. When I went to London to finish my studies I had to stop.
You now work in London. Is it really different from France?
Yes, it really is. I got the job I have now at the age of 22 (I am 26 now). I would never have been given such a chance in France. In England, there are jobs and it's easier to get fired than in France. So I think it's easier for an employer to give anyone a chance, and then it's up to the employee to try to do their best and prove themselves to keep their job.
Can you tell us about your company and how it works?
William&Son is a small family business. Mr William Asprey, my boss, started this company 15 years ago, just after his father sold Asprey (the English brand) to the Sultan of Brunei. We have 2 shops and a design studio on Mount Street in Mayfair.
Since then William&Son has evolved a lot. We are a luxury goods and hunting rifles and equipment brand. Each department has a director in charge of product development and sales (and everything in between). We sell the following products: jewellery, watches, silverware, leather accessories (we have our own leather factory in London), glassware (decorative glass and crystal items), cufflinks, pens. In the other shop: shotguns and hunting clothes (cashmere and tweed clothes for which we also have our own factories). We also have an export department which handles large special orders with foreign countries, either for international royal families or for corporate orders. Finally, we have the Queen's Royal Warrant, which means that the Queen sources certain products from us, a quality mark, as well as British Made which is highly respected internationally.
We are about to expand considerably as in a few weeks we are moving into a much larger shop (6 times the size of the one we currently occupy). As a result, we have recently started hiring a lot of new sales staff (which we didn't have before). So I recently got an assistant in the jewellery department.
How is your work organised, and more precisely, what is your working day/week like?
I work from 9am to 6pm with 1 hour for lunch, Monday to Friday. My office is in the shop, so that's where I receive customers and suppliers. During a normal week, I receive a few customers and suppliers and I communicate a lot by e-mail.
Recently I have been actively preparing the launch of our new Beneath the Rose collection. Once the products had been delivered to me from the workshops, and after quality control, I worked with our marketing team on preparing the launch. We photographed them and prepared an advertising campaign of 5 images that will be published in international magazines and newspapers(Tatler, Haper's Bazaar, Etc.). We have also done a press launch at the Browns Hotel in Mayfair. We will launch the collection in-store in June when we open our new shop on Bruton Street, just off Bond Street.
Do you ever travel? If so, please tell us.
Yes, I travel a lot for the buying part of my job. I go to BaselWorld every year to keep up to date with trends and it's an opportunity to see my various suppliers and workshops internationally. I regularly go to Vicenza Oro, and Hong Kong Gem and Jewellery Show to meet new workshops, new stone and diamond dealers, and to discover new manufacturing techniques. I recently returned from the Tucson Gem Show where I was able to buy new stones and meet new international suppliers.
Are you thinking of coming back to work in France? Or would you prefer to continue in another country?
Initially, London was a stepping stone to New York. 4 years later I am still in London and New York is still on my radar. In the meantime, I've settled here so going to New York is less easy, especially as it involves moving with my fiancé, and visas. But I'm not giving up on the idea. I'll come back to France, but not right away. I want to see a lot of the country before I go back.
I suppose you must have an anecdote, or a story, to conclude this portrait?
I've already told you a few, but here's a funny one: I interviewed William Asprey in Paris, in the bar of his hotel. He was in Paris for the weekend with his wife. They both ordered Gin & Tonic, so that's how relaxed the interview was. Well, it didn't fail, the next morning I got a phone call: I had the job!
Finally, what advice would you give to a young person who wants to do this job?
I would advise a young person venturing into this field to do internships, to trust their instincts, to persevere and to work hard.
I would like to thank Clémence Merat for taking the time to answer my many questions in detail and with enthusiasm. And I hope you enjoy this new interview. If you wish to contribute to this column, do not hesitate to send me an email. I look forward to hearing from you!
See you soon for a new portrait!