A few weeks ago, I asked Samuel, jeweller and gemologist, to tell me about his career and share his experience in jewellery when he decided to take a break from his profession. I found it very interesting to have his perspective on this sector. It was with great kindness that he lent himself to the game. Have a good read!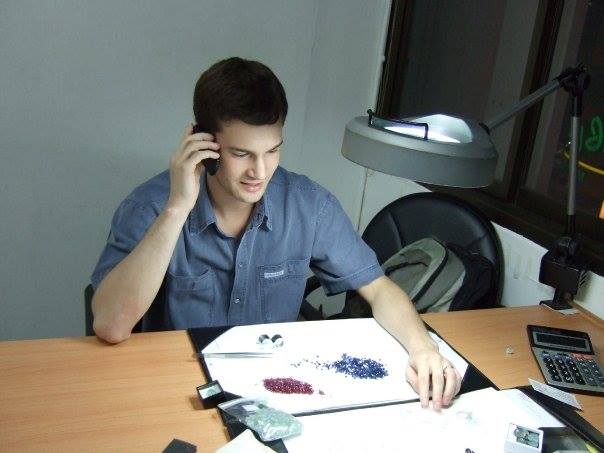 Photo: Samuel B.
Can you introduce yourself quickly?
My name is Samuel, I am 31 years old and married. I am a jeweller and gemmologist by profession.
When did you decide that you wanted to work in jewellery?
In 3rd grade, in France, you have to do a compulsory internship in a company. So I did my three-day internship with a jeweller. I really enjoyed working with metal and precious stones.
Did you have any family in this profession?
Not at all
And finally, how did it come about? Did you start an apprenticeship?
After the 3rd year of secondary school, I looked for an apprentice master to do a CAP (vocational training certificate) in alternation, which I was lucky enough to find.
I was just 15 1/2 when I started.
Isn't it too hard to go from school to work?
It's obvious that the rhythm changes. There are fewer holidays, a boss, lots of responsibilities… Fortunately, there were weeks of classes from time to time. It's easier to make the transition from studying to working full time and it's very smooth.
What specific course (diplomas) in jewellery did you follow?
As far as jewellery is concerned, I started with a CAP in precious metals with a jewellery option (3 years, no longer available). Then I took a complementary mention in jewellery (1 year).
Do you think you learn better at school or in the workshop?
In the workshop of course. You learn so much quicker with a good tutor by your side.
Do you have one or more outstanding memories of your apprenticeship? If so, do you want to tell us?
There are many memories. You see so much in 7 years of apprenticeship.
There is one small anecdote from my early days: I had a medal on which I had to change the lock. I put on the new clasp, soldered it and then put it in the dryer. And surprise, I only found the lock when I got out of the dryer, the medal was a piece of junk and it dissolved … always tricky when it belongs to a customer.
What more can I say? I had the chance to make Adriana Karembeu's wedding rings for example, or to make jewels that were sometimes surreal in terms of value with stones costing several hundred thousand euros or even more than a million euros for a ring..
You have done gemmology. Why did you do it?
I got into gemmology because it's a passion since my childhood. Every time I went on a trip with my parents, I always bought rough stones as souvenirs. Little by little, I built up a small collection of minerals. So I guess this passion for stones has been there since I was young.
What course of study did you follow in this field?
Specifically in gemmology, I started with a mention complémentaire de gemmologie (1 year), followed by a BP gemmologue (2 years) and then I went to do the AG program of the AIGS in Bangkok (6 months)
It's a fact, you like stones. They sometimes involve travelling. You tell us.
For stone enthusiasts, travelling is important. It allows us to see first hand how they come out of the mines, how they are processed, how they are sold etc. These are things that are difficult to get hold of.
These are things that are difficult to observe from France. And then, it's so enriching to travel, to discover new cultures, new people, each with a different story.
You lived abroad, in Thailand. How was it?
It was great, a life so different from France with lots of encounters with different cultures and nationalities. The years spent there were really interesting.
Do you miss it? Or do you prefer living in France?
Yes, I miss this country. I love this country and its neighbours in South East Asia. I will most likely end my life there.
Tou have chosen to take a "break" from your job. Can you tell us what made you make this choice?
Probably the lassitude of the workshop after 15 years at the ankle. I felt like changing my horizon and it is sometimes good to take a break to recharge your batteries, strengthen yourself and start again. And it's always interesting to discover new things and meet new people in a completely different world.
Do you plan to return to this profession?
Yes, I certainly will. I am too much in love with beautiful gems to put them aside in my life forever.
What advice would you give to a young person who wants to start in this business?
The most important thing is to start in the right place with the right people. By that I mean that if you have the opportunity to have an exceptional mentor like I did, it's just perfect to learn quickly and well!
And if not, don't be afraid to move around in this business and learn in different places with different people to get the best experience possible.
See you soon!