Il y a quelques semaines, j'ai proposé à Samuel, joaillier et gemmologue, de me raconter son parcours et de partager son expérience dans la joaillerie alors qu'il a décidé de faire une pause dans la pratique de son métier. Je trouvais cela très intéressant d'avoir son regard sur ce secteur. C'est avec une grande gentillesse qu'il s'est prêté au jeu. Bonne lecture !
Few weeks ago, I have asked to Samuel, jeweller and gemologist, if he was agree to tell me his career and to share with us his experience inside the jewelry industry in France. I think his view is truly interesting cause he has decided to make a break et to change his way to work. So, it's with kindness that he was therefore used to my QandAs game. Enjoy !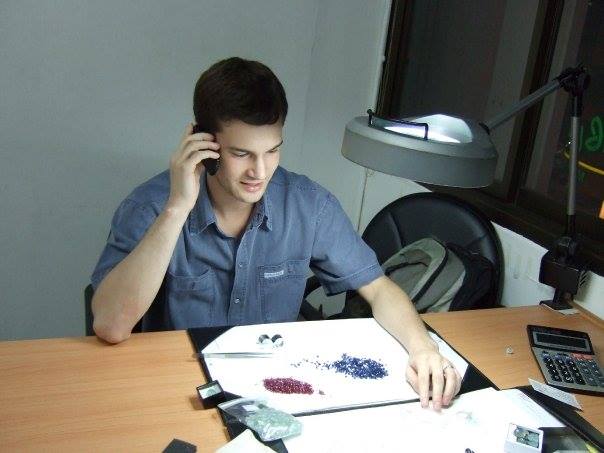 Photo : Samuel B.
Peux-tu te présenter rapidement ?

Can you introduce yourself quickly ?
Je m'appelle Samuel, j'ai 31 ans et je suis marié. Je suis joaillier et gemmologue de métier.
My name is Samuel, I'm 31 years old and I'm married. I'm jeweller and gemologist.
À quel moment, t'es-tu dis que tu voulais travailler dans la joaillerie ?

When have you decided to work in jewelry industry ?



En 3e, en France, il faut réaliser un stage obligatoire en entreprise. J'ai donc fait mon stage de trois jours chez un joaillier. Le travail du métal et des pierres précieuses m'a beaucoup plu.
During the ninth grade, in France, you have to do a internship in a company. I have made mine with a jeweller. Work with metal and gemstones was really enjoying. And so…
Avais-tu de la famille dans ce métier ?

Familly in this industry ?
Pas du tout
None
Et finalement comment cela s'est-il concrétisé ? Tu es entré en apprentissage ?

And, finally, how have you realized your plans ?
Après la 3eme, j'ai cherché un maitre d'apprentissage pour faire un CAP en alternance, que j'ai eu la chance de trouver.
After my ninth grade, I have searched a mentor to learn this craft. I wanted to make a Vocational Qualification in Jewelry (NVQ). By chance, I have found one and I have begun my apprenticeship.
Quel âge avais-tu ?

How old were you ?
J'avais juste 15 ans 1/2 quand j'ai commencé.
I was just 15 years old when I made this career choice.
Ce n'est pas trop dur de passer de l'école au monde du travail ?

It wasn't too hard to change from school to professional world ?
C'est évident que le rythme change. Il y a moins de vacances, un patron, de nombreuses responsabilités… Heureusement qu'il y avait les semaines de cours de temps en temps. C'est plus simple pour passer des études au travail à plein temps et ce tout en douceur.
Obviously, the pace isn't the same. Less holidays, a boss and more and more responsibilities… But, fortunately, we had some full weeks with lessons in a professional school. So, it was more simple to change between full-time scholl to quite full-time work.
Quel parcours spécifique (diplômes) à la bijouterie as-tu suivi ?

What are your options ?
En ce qui concerne la bijouterie, j'ai commencé par un CAP métaux précieux option bijouterie (3 ans et qui n'existe plus). Puis j'ai passé une mention complémentaire en joaillerie (1 an).
Just about jewelry, I have made a Vocational Qualification about « precious metal for jewelry » (Three years, doesn't exist now). Then, I have made a complementary diploma in one year specially dedicated to jeweller's craft.
Tu penses que l'on apprend mieux à l'école ou à l'atelier ?

And, so, what have you prefered ? School or workshop ?
À l'atelier bien sur. On apprend tellement plus vite avec un bon maitre d'apprentissage à ses cotés.
For sure, at the workshop. We learn so much quickly with a good supervisor.
As-tu un ou plusieurs souvenirs marquants liés à ton apprentissage ? Si oui, tu veux bien nous raconter ?

Have you some unforgettable memories linked to your apprenticeship ? If yes, are you agree to tell about ?



Il y a beaucoup de souvenirs. On voit tellement de choses en 7 ans d'apprentissage.
Il y a bien une petite anecdote de mes débuts : j'avais une médaille sur laquelle je devais changer la bélière. Je mets la nouvelle bélière, la soude puis la met au déroché. Et surprise, je n'ai retrouvé que la bélière à la sortie du déroché, la médaille était de la camelote et elle s'est dissoute … toujours délicat quand ça appartient à un client.
Que dire de plus ? J'ai eu la chance de fabriquer les alliances de mariage d'Adriana Karembeu par exemple , ou bien de faire des bijoux parfois surréalistes en terme de valeur avec des pierres à plusieurs centaines de millier d'euros voir à plus d'un million d'euros pour une bague …
There is so much memories. I have seen so much amazing thing during 7 years in this workshop.
I have a little anecdote that I can tell you. I was just a beginner. I had to work on a pendant because it was truly old. After the weld, I made it inside acid to clean it. And… finally, the pendant have disapeared cause it was false. It was difficult to explain this to the customer…
What can I add ? I was lucky to make the wedding rings for Adrianna Karembeu or to make rings with high-values stones over more one million euros.
Tu as fait de la gemmologie. Pourquoi ?

Why have you decided to learn gemology ?
Je me suis mis à la gemmologie car c'est une passion depuis mon enfance. À chaque voyages avec mes parents j'achetais toujours des pierres brutes en souvenirs. Petit à petit, j'ai constitué une petite collection de minéraux. J'en déduis que cette passion pour les pierres est là depuis mon plus jeune âge.
I have always loved gems. Since I was a child. During all the travels with my parents, I bought some rough stones in remembrance. So, I have finally made a little collection. Study gemology was a logical consequence.
Quel parcours d'études as-tu suivi dans ce domaine ?

What is your gemology background ?
Spécifiquement en gemmologie, j'ai commencé par une mention complémentaire de gemmologie (1 an), suivi d'un BP gemmologue (2 ans) et ensuite je suis parti faire le AG program de l'AIGS à Bangkok (6mois)
Just for gemology, first, I have made a complementary diploma in one year (doesn't exist now), then I have graduated with a « Gemologist » professional certificate (The only state diploma which exists in world is the french one, you can study it in two years) and finally, I have decided to go to Bangkok to study in the AIGS. I have the Accredited Gemologist diploma.
C'est un fait, les pierres te plaisent. Elles impliquent parfois de voyager. Tu nous racontes.

You love gemstones and it's necessary to travel to find its. Tell us please ?



Pour les passionnés de pierres, les voyages sont importants. Cela nous permet d'aller voir sur le terrain comment elles sortent des mines, comment elles sont traitées, comment elles sont vendues etc.
Ce sont des choses qui sont difficiles à observer depuis la France. Et puis, c'est tellement enrichissant de voyager, de découvrir de nouvelles cultures, de nouvelles personnes ayant chacunes une histoire différente.
For people who love gemstones, it's really important to travel. From France, it's quite impossible to see gemstones mining, treatments and burners, gemstones markets… It's completely different abroad.
Then, it's so enriching to discover new and different way of life and new people with a completely other vision on life and world.
Tu as vécu à l'étranger, en Thailande. C'était comment ?

You have lived abroad, in Thailande. I mean it was totally different from France ?
C'était top, une vie si différente de la France avec beaucoup de rencontres de différentes cultures et nationalités. Les années passées là-bas furent vraiment intéressantes.
Perfection ! The life was so different from France. I have met so much people from different way of life and nationality. It was so enriching to change my country for a time. Years in Thailand were really interesting.
Est-ce que ça te manques ? Ou préfères-tu vivre en France ?

Thailand seems to miss you a lot, no ?



Oui, ce pays me manque. J'adore ce pays et ses voisins dans le Sud-Est asiatique. J'y finirai très certainement mes jours.
Right ! I miss this country a lot. Cause, I love it and all the countries in the South-East Asia. For sure, if I can finish my days over there, I will make it !
Tu as choisi de faire « une pause » dans ton métier. Tu nous expliques ce qui a provoqué ce choix.

Why have you decided to make a « break » in your career ?



Surement la lassitude de l'atelier après 15 ans à la cheville. J'ai eu envie de changer d'horizon et il est parfois bon de faire une pause pour se ressourcer, se renforcer, et repartir de plus belle. Et c'est toujours intéressant de découvrir de nouvelles choses et de faire nouvelles rencontres dans un univers complètement différent.
Certainly a sort of weariness after quite 15 years to work in workshop. I wanted to change my way of work. Sometimes, it's good to make a « break » for re-energize himself and set out again. More, it's always interesting to discover new things and new people inside a completely different professional world.
Est-ce que tu comptes revenir à ce métier ?

But, you will come back to jewelry industry ?
Oui très certainement. Je suis trop amoureux des belles pierres précieuses pour les mettre de cotés dans ma vie pour toujours.
Oh yes, certainly. I'm too passionated by gemstones to forget its for the whole life.
Quels conseils donnerais-tu à un jeune qui veut démarrer dans ce secteur pro ?

What advices can you give to a young person who wants to work inside this professional world ?



Le plus important est de démarrer au bon endroit aux cotés des bonnes personnes. Je veux dire par là que si on a la possibilité d'avoir un maitre d'apprentissage ou « mentor » exceptionnel comme cela a été le cas pour moi c'est juste parfait pour apprendre vite et bien !
Et sinon de ne pas avoir peur de bouger dans ce métier et d'apprendre dans des endroits différents avec des personnes différentes pour se faire la meilleure expérience possible.
It seems simple to say that, but the most important thing is to begin with the good people in the good places. If, like for myself, you can find the good mentor made for you, it's perfect to learn and practice perfectly your craft.
And, of course, it's important to move (not too much and not too quickly) to meet and learn with different people to earn the best experience.
**********
Je remercie encore Samuel pour le temps qu'il m'a accordé et je vous dis à bientôt pour une prochaine rencontre.
Thank you so much, Samuel, for your kindness to answer to my different questions. Soon, a new interview on the blog.
À bientôt !
See you soon !