The "Bleu de Jodhpur" collection last year, today "26 Vendôme", so many jewels thought by the artistic director of the house Claire Choisne and her team for a few years as so many favourites for the pieces that I had the chance, this year again, to admire.
By presenting pieces that are very different from each other, inspired by plants or animals, or even geometric jewellery and a piece of clothing, the house signs this year an astonishing, atypical collection that takes us on surprising paths. For the greatest pleasure of the eyes.
Beyond the aesthetic exercise, we must salute the talent and technical skills of the jewellers, lapidaries, setters and polishers who have gone from challenge to challenge in order to translate the preliminary work of the designers into volume and thus give life to the pieces. For it is indeed a highly technical opus that was presented to us. But I expected no less from a company that had introduced sand and marble in its previous collection.
Here, intaglios, superimpositions of materials, very precise adjustments and plays of transparency punctuate this new journey. I propose you to discover the pieces that seduced me the most in addition to those presented on Instagram.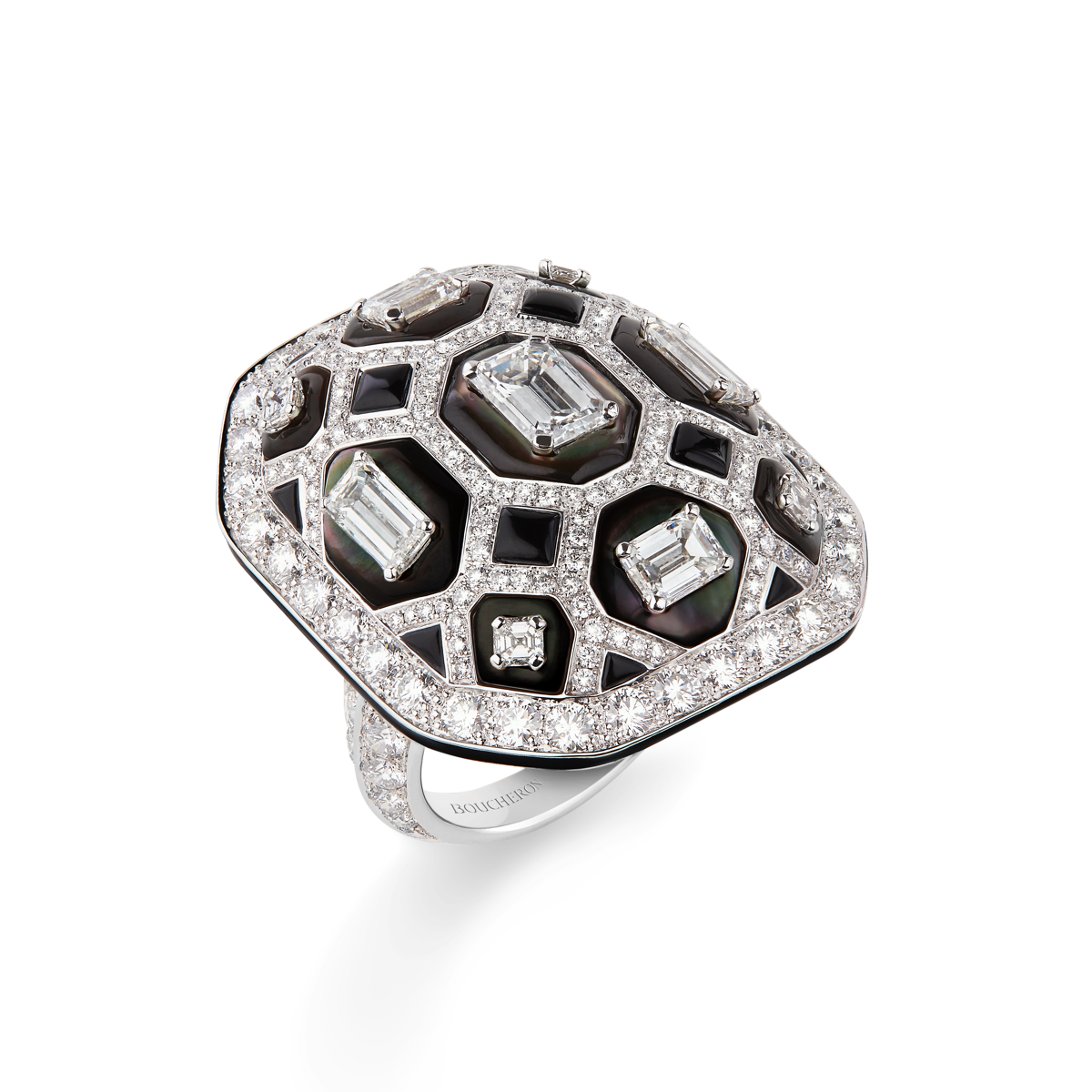 Vendôme argentique" ring in white gold, diamonds, mother-of-pearl and onyx. Photo: Boucheron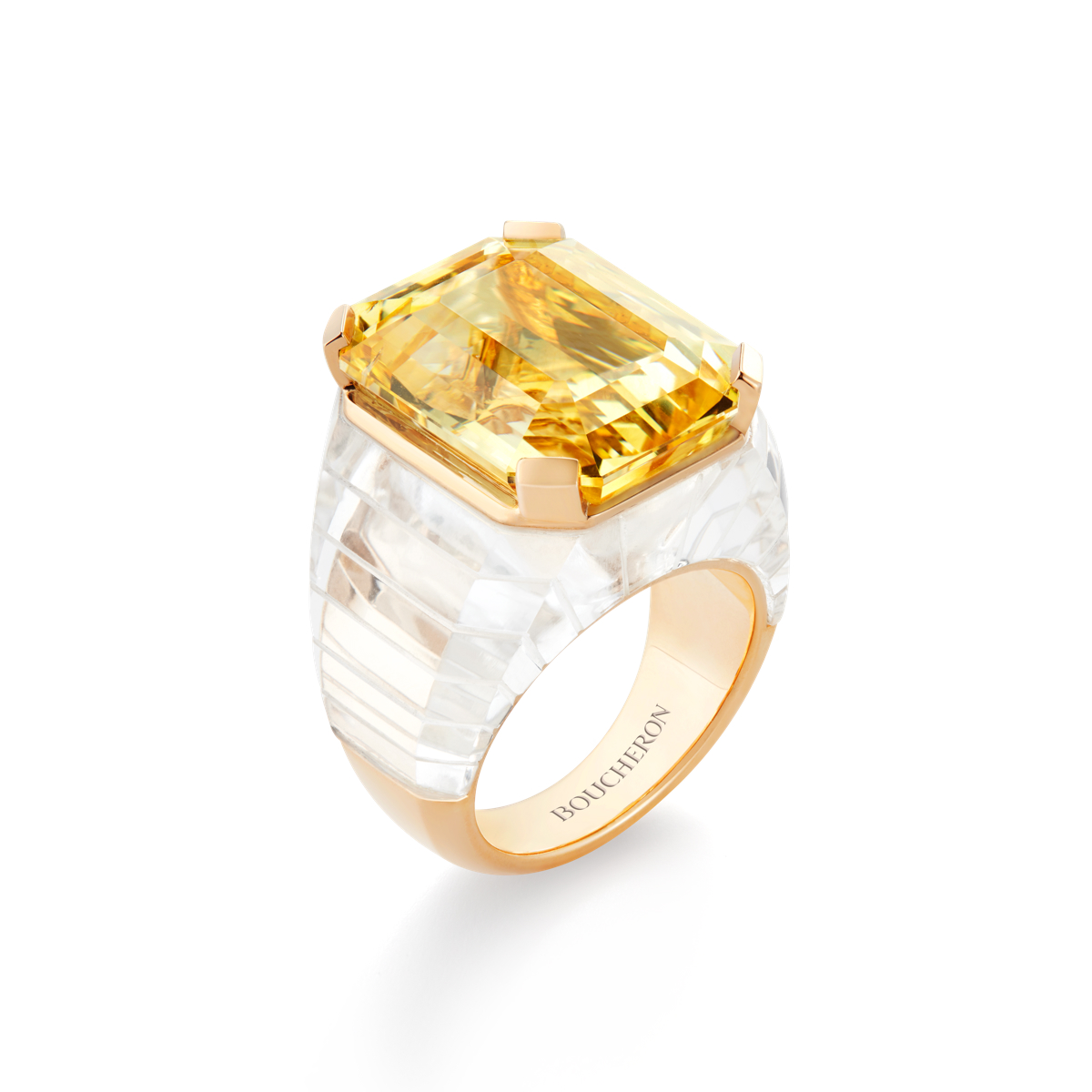 "Vendôme Chromatique" ring in yellow gold, rock crystal and 28.83 ct yellow sapphire. Photo : Boucheron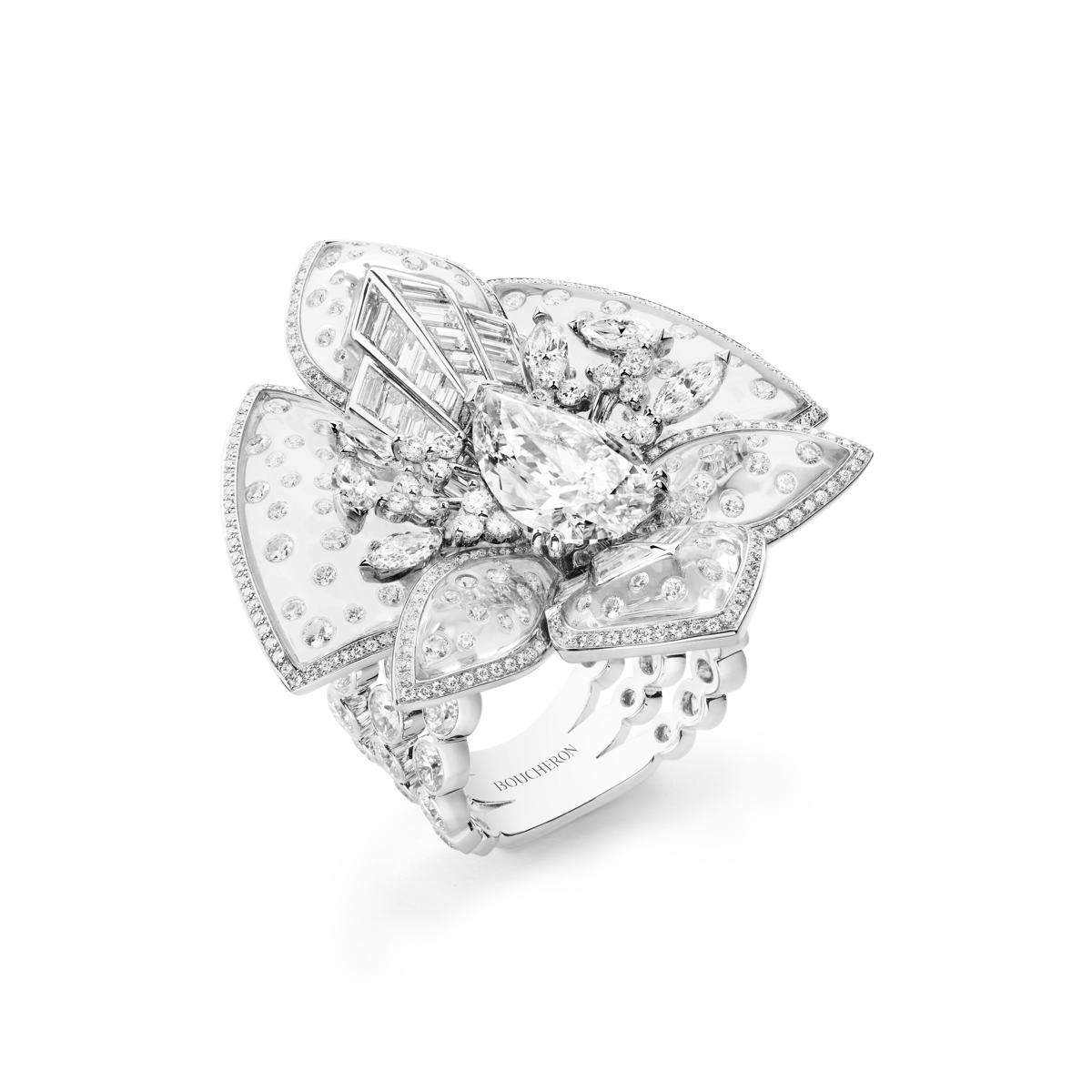 Ring "Lys radiant", in white gold, rock crystal, diamonds including a 3ct pear centre. Photo : Boucheron
Necklace "Graphic ribbon" in white gold, diamonds, onyx, lacquer and emeralds including a 4.45 ct Colombian centre. Photo: Boucheron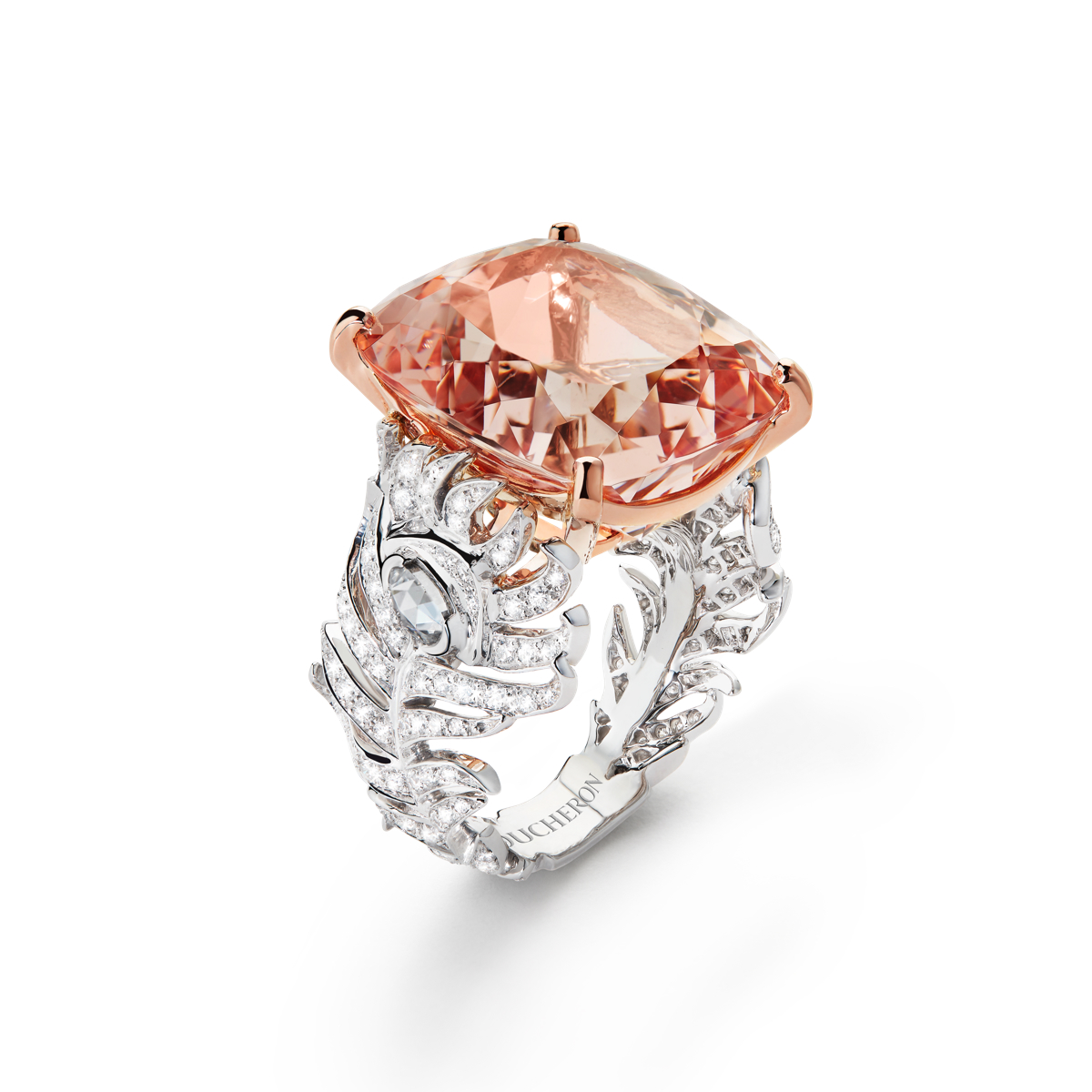 Plume de Paon" ring, in white and pink gold, diamonds and a 24.37 ct morganite centre. Photo: Boucheron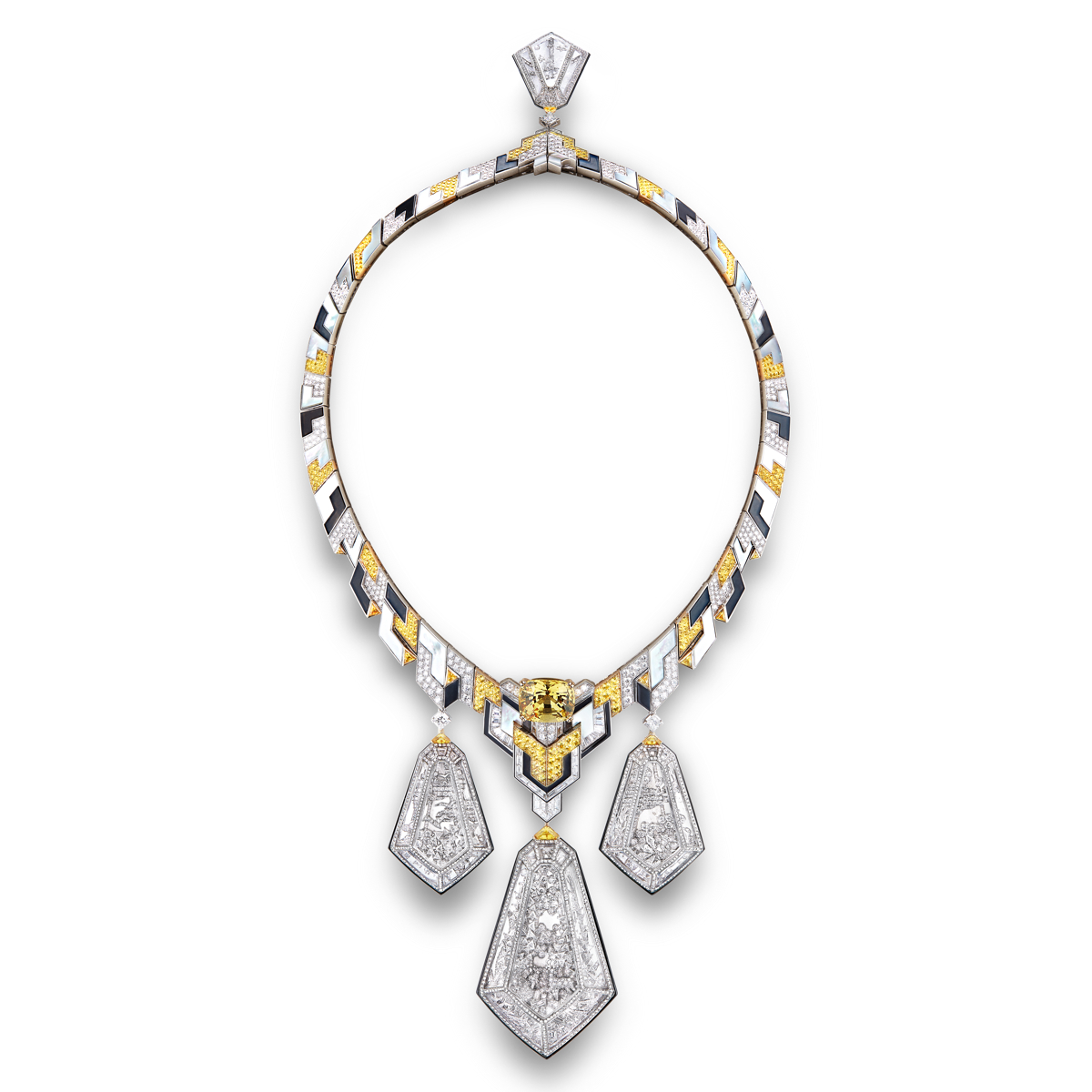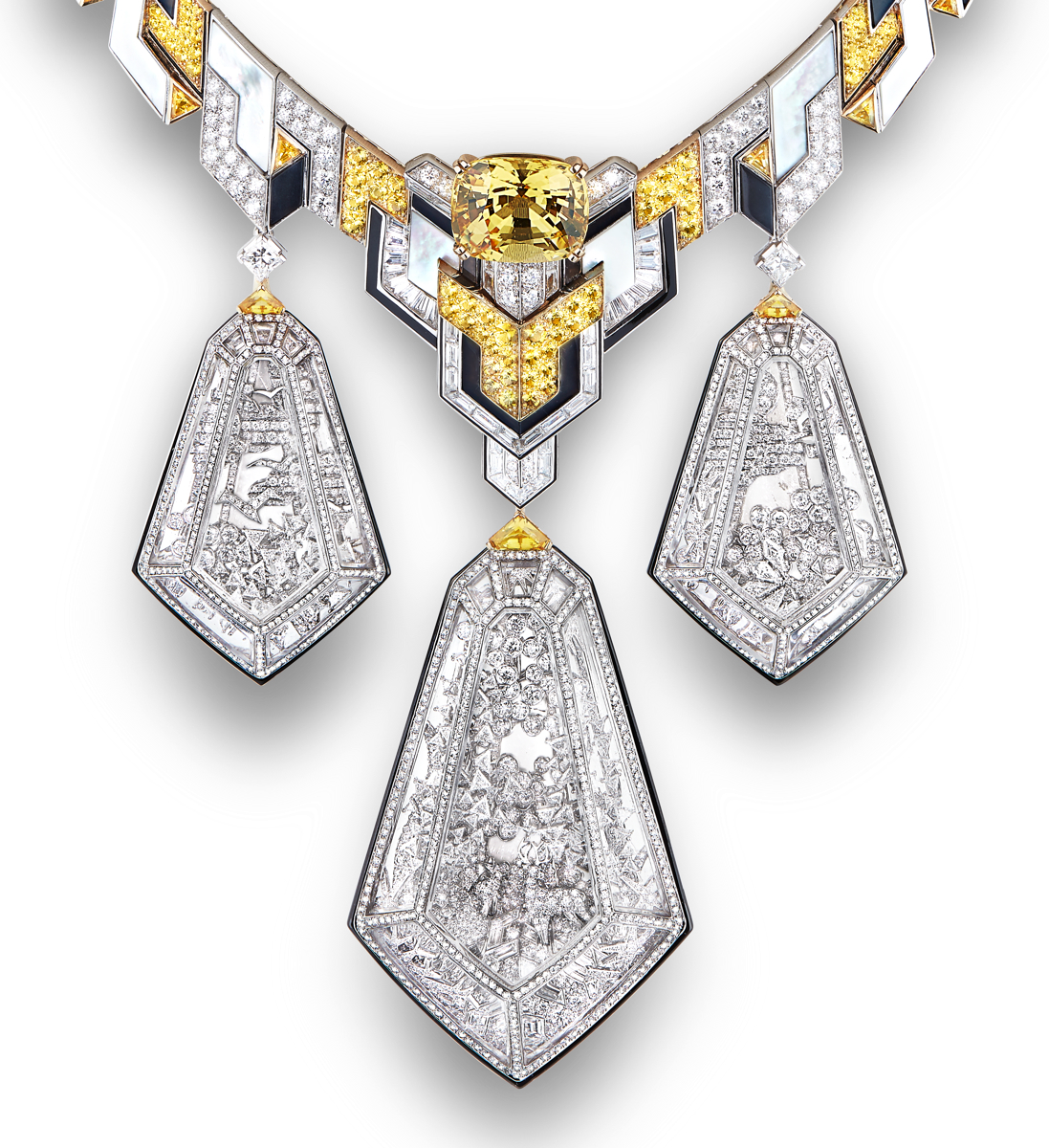 The first address of the House since Frédéric and Gabrielle Boucheron moved there in 1858, 152 de la Galerie de Valois has a special significance for the family. The incredible "Hôtel Particulier" necklace, a major piece in the collection, features alternating pavings of yellow and white diamonds, grey moonstones, white mother-of-pearl and lines of onyx, reminiscent of the graphic design of the floorboards. In the centre of the necklace, a magnificent 21.80 carat yellow sapphire shines like the sun peeking through a half-open shutter. Finally, three rock crystal pendants reproduce the view of the gardens of the Palais-Royal from the flats of 152. A last pendant closes the necklace and represents the starry sky. Extraordinarily sculpted and made up of hundreds of diamonds, three bucolic scenes, as if observed through windows, form a triptych that is both romantic and realistic. Photo : Boucheron
Plissé de diamants" brooch, white gold, diamonds and black spinels. Photo: Boucheron
See you soon!