There are some exhibition announcements that cannot leave you unmoved. So let me deviate from the main theme of the site to tell you today about a collection that will be on view in Paris for a month and that you shouldn't miss.
From 16 November 2016 until 17 December, the Maison de la Culture du Japon is offering you an insight into the work of Kunihiko Moriguchi, Ningen Kokuho or Living National Treasure, and known for his remarkable work in the creation and manufacture of kimonos.
From triangle to circle, Kunihiko Moriguchi, 2012. Photo: © Kunihiro Shikata
Born in 1941, he spent his childhood in Kyoto where he studied Nihonga, traditional Japanese painting. As a young adult, he left for France at the age of 22 and entered the École Nationale des Arts Décoratifs. This led to a close friendship with the painter Balthus, who invited him to join him at the Villa Medici. It was during this period and influenced by artistic exchanges that he took the decision that would mark the whole of his work: to devote himself fully to yûzen, a very particular dyeing technique used for ceremonial kimonos and which consists of creating the motifs and colouring them by applying rice paste. Japanese craftsmen still perpetuate the technique with a very high level of excellence: the Moriguchi workshop is one of them.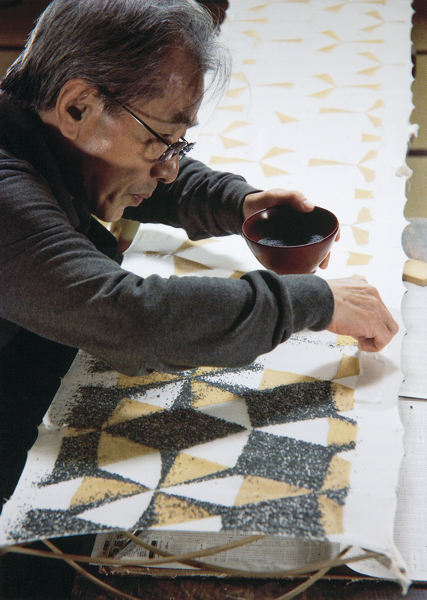 Kunihiko Moriguchi. Photo: © NIKKEI VISUAL, INC.
In 1966, he returned to Japan and apprenticed with his father. He then gradually defined his signature: geometric and abstract patterns perfectly executed and respecting the technical and traditional processes of yûzen. His kimonos, with their sensual motifs, quickly became very successful and were even acquired by the world's greatest museums: VAM (London), the MET (NY) and the LACMA (LA).
In 1973, he received the Asahi Shimbum Prize at the 20th Exhibition of Traditional Japanese Arts. In 1992, he was awarded the Fine Arts Prize of the Japanese Ministry of Education. In 2007, it was the ultimate consecration of a career as he was designated a National Living Treasure.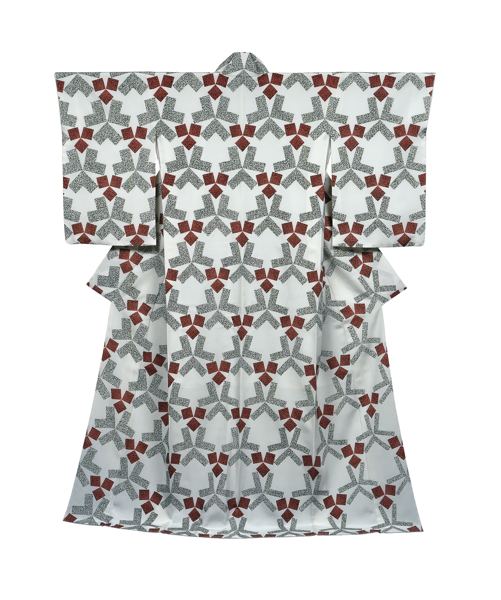 Fructification, Kunihiko Moriguchi, 2013. Photo: © Kunihiro Shikata
This is the first French retrospective of his work. You will be able to discover a set of 26 kimonos from the first one dating from 1966 to the one, never seen before, designed for the exhibition. Paintings and creations in the field of design and applied arts are added to document 50 years of creation.
The artist will be present on 16 November at 6.30pm for a lecture. The event lasts for one month (16 November / 17 December), with free admission from 12 to 20 hours from Tuesday to Saturday. It is made possible by NMMA Kyoto and Galerie Jeanne Bucher Jaeger.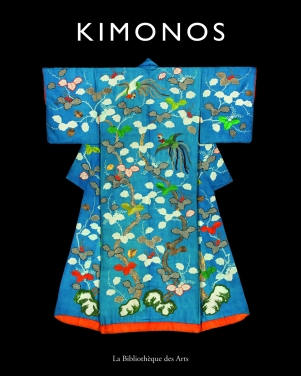 The book from the Arts Library. Photo: BdA
To go further and discover the remarkable diversity of Japanese kimono designs, I can't recommend enough the magnificent book by the Bibliothèque des Arts on the impressive Khalili Collection, which traces 300 years of history of this very special garment.
See you soon!