Bi, China, Western Han Dynasty (-206 BC, +9 AD)Bi. Taipei National Palace Museum. Photo: © Taipei National Palace Museum
A rich cultural season has begun in Paris. And more particularly a season that is all about jewellery. After the Biennale and the sublime Van Cleef and Arpels exhibition at the Hôtel d'Évreux, we absolutely had to satisfy our ferocious appetites. If the Musée d'Orsay with its remarkable exhibition on the Second Empire keeps all its promises, the Musée Guimet – in its turn – offers us an event of very high quality.
Perfume bottle in jade, gold and enamel. Signed Cartier Paris, it dates from 1925. It was part of the W.K. Vanderbilt collection and is now part of the Cartier Collection. Photo: © Nick Welsh, Cartier Collection, Cartier
For the first time, 330 pieces made of jade or composed in part of jade are on public display at the Musée des Arts Asiatiques Guimet in Paris. The curatorial team has taken up the challenge of bringing in objects from fifteen national and international institutions, including the renowned National Palace Museum in Taipei, which contributes more than a third of the exhibition.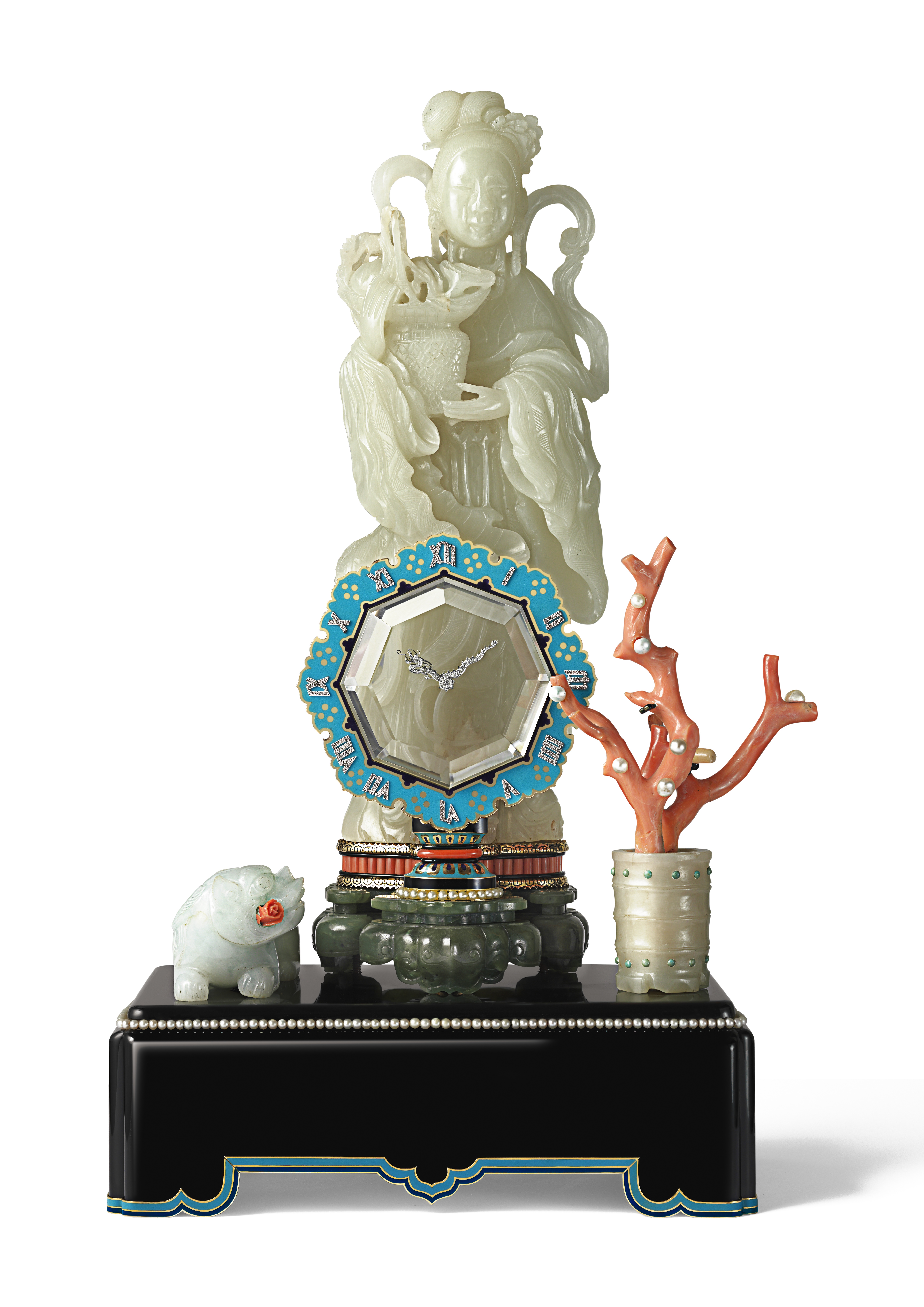 Mystérieuse clock, Cartier Paris, 1931. Platinum, gold, 19th-century carved jade, rock crystal, onyx, nephrite, diamonds, pearls, turquoise, coral and coloured enamels. Cartier Collection. Photo: © Marian Gérard, Cartier Collection
This stone has a very special symbolism in China and Asia in general. Confucius described it as "the image of goodness" and traces of its use can be found as early as the Neolithic period, with jades dating from the Longshan period (2300-1800 BC) engraved with poems for the Emperor Qianlong. Asian culture attributes many virtues to it, such as curative powers, which gave it its name. Indeed, the Portuguese and the Spanish believed that this stone could cure the kidneys:"pedra des ilharga" or"piedra de hijada" which will give Jade in French. The same etymological meaning is found in Nephrite (one of the varieties of jade) – from Latin nephriticus – which is found in the term used to describe the medical study of kidneys: nephrology. It is often described as a treasure and a Chinese proverb says that one can value gold but not jade because it is priceless. One can therefore understand the values that objects made of jadeite or nephrite can reach at specialised auctions held in Hong Kong…
Dragon brooch, Cartier Paris, ordered in 1924. Gold, platinum, diamonds, sapphires, 18th- or 19th-century jade. Cartier collection. Photo: ©Nick Welsh, Cartier Collection
The exhibition features pieces that showcase a wide variety of shapes and designs. Although these stones were desired by the Asian and Oriental courts, the European courts discovered them – and became fond of them – as early as the 17th century, like Mazarin, who owned a remarkable bowl, or the Empress Eugenie, who created the Chinese Museum at Fontainebleau. Indeed, the sacking of the Summer Palace in Peking on 18 October 1860 will feed many collections in Europe.
Jade necklace with platinum, gold, diamond and ruby clasp, signed Cartier Paris and commissioned in 1934 by Barbara Hutton. Cartier collection. Necklace, Cartier Paris, ordered in 1934. Photo: © Marian Gérard, Cartier Collection, Cartier
Later, Art Deco would enhance it even more and jewellery would greatly enhance it, as did the House of Cartier, which lent some very rare pieces for the occasion, such as the necklace made by Barbara Hutton in 1934 and bought by the House for more than 4 million dollars at Sotheby's in 2014.
The exhibition runs until 27 January 2017. I strongly encourage you to go and discover it, I believe – very sincerely – that you will not regret your trip.
See you soon!