In a few days' time, Christie's will be offering in Paris the dispersal of Diane de Castellane's collection and by extension the memories of an architectural folly of the Parisian Belle Époque: the Palais Rose, a sort of unrestrained homage to the Petit Trianon, which was destroyed in 1969, built by her great-grandfather Boniface de Castellane and his wife Anna Gould (whom he divorced in 1906). For those who wonder about the relationship, Victoire de Castellane is Boniface's great grandniece.
Ruined by his divorce, he had to leave the Palais Rose and reinvented himself as an antique dealer. His keen taste in works of art enabled him to advise clients from all over the world and to make a new fortune. He contributed greatly to the enrichment of museums across the Atlantic through the private collections he helped to build.
The flat of Diane de Castellane and her first husband, the Duke of Mouchy, was a condensed version of the family's history. It contains precious objects, including rare furniture and paintings. But also some jewels and fashion accessories coming from great Parisian houses like Van Cleef or Cartier. I suggest you discover this!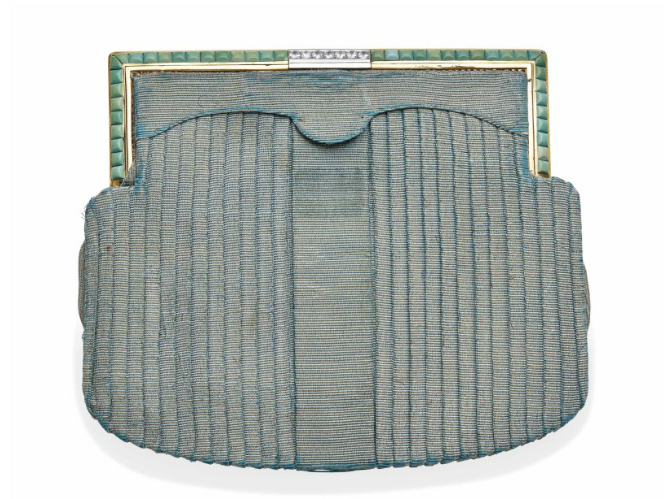 Lot 6: Evening bag by Van Cleef & Arpels, fabric, gold and platinum, diamonds and turquoise. Circa 1940. Estimate between €6000 and €8000. Photo: Christie's
Lot 12: Janesich evening bag, gold, diamonds and enamel, circa 1930. Estimate between €4000 and €6000. Photo: Christie's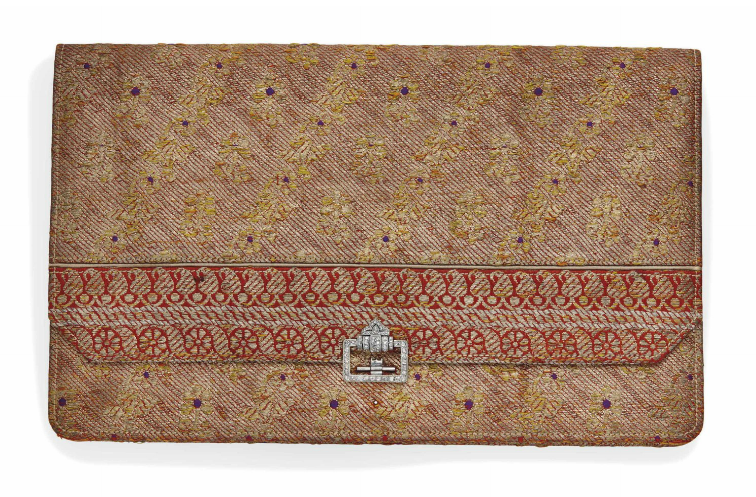 Lot 15: Lacloche Frères evening bag, platinum and diamonds. Estimate between €4,000 and €6,000. Photo: Christie's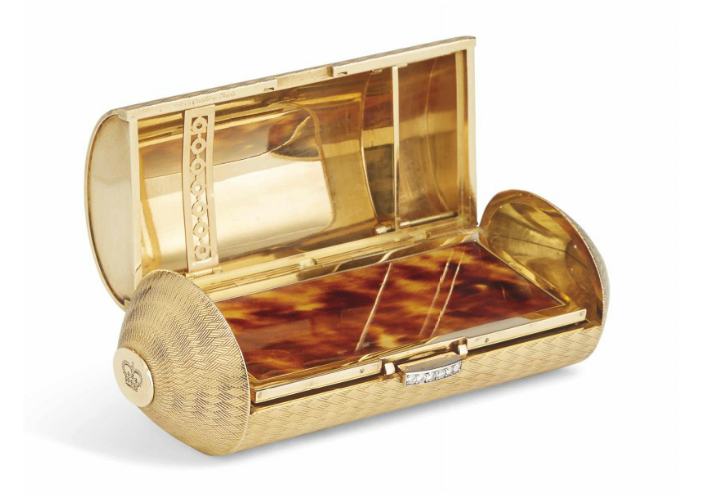 Lot 17: Gold, diamond and tortoise shell Art Deco kit by Cartier Paris. Estimated at €10,000 to €15,000. Photo: Christie's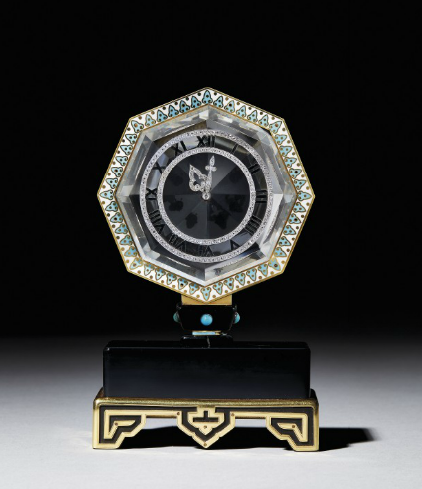 Lot 18: A rare mystery clock signed Cartier circa 1923. The octagonal cut rock crystal dial, the hands set with small rose-cut diamonds, the Roman numerals framed by two lines of rose-cut diamonds, white, turquoise blue and black enamel border, the rectangular onyx base (cracked) resting on geometrically decorated feet surmounted by a series of onyx (broken and missing), enamel (missing) and turquoise elements, mechanical movement, circa 1923, 18K (750) yellow gold setting, French hallmark, in its original case (very damaged) Estimated at €150,000 to €250,000. Photo: Christie's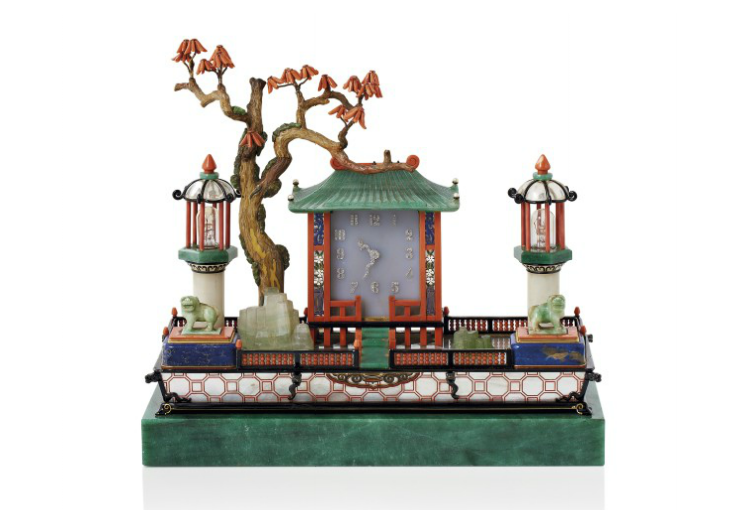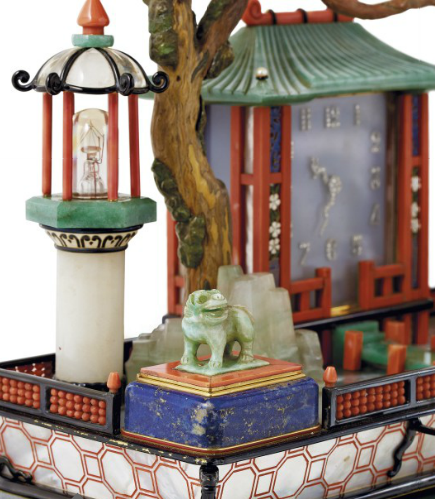 Lot 19: Cartier "Japanese Garden" desk set commissioned by Anna Gould in 1926. The coral and aventurine quartz pagoda dotted with pearls and polychrome enamel decoration housing the grey agate clock with diamond-set Arabic numerals, the hands representing a diamond-paved dragon, the rock crystal garden (cracked), surrounded by a black lacquer barrier decorated with coral beads (missing) and enhanced with dragon heads, two of which are used to hold the penholder, and enhanced with a mother-of-pearl mosaic decorated with rocks, two lanterns in quartz, aventurine quartz, coral and black enamel housing small bulbs (110 volts), a tree punctuated with coral flowers, a pontoon of aventurine quartz and coral and two sculptures of Fo lions on a lapis lazuli base revealing two inkwells, the rectangular base in aventurine quartz, with a custom-made lapis lazuli, aventurine quartz, onyx and coral penholder made by the House of Cartier in 2017 (not shown), in its cathedral case. Estimated between €1 and €1.5 million. Estimated between € 1-1.5 million. Photo: Christie's
See you soon!