I am very happy to offer you a new portrait in the "Career" category. Today, I invite you to meet Claire-Laurence who works in Dublin, Ireland, and who tells you how she arrived in this country and how jewellery has taken such an important place in her life! This is also an opportunity to discover some of the beautiful pieces she will be selling on May 9th.
1- Can you quickly introduce yourself?
My name is Claire-Laurence Mestrallet, I am 34 years old and I am French. After spending ten years of my life in Geneva, I moved to Dublin following a great professional opportunity and arrived here a little over a year ago.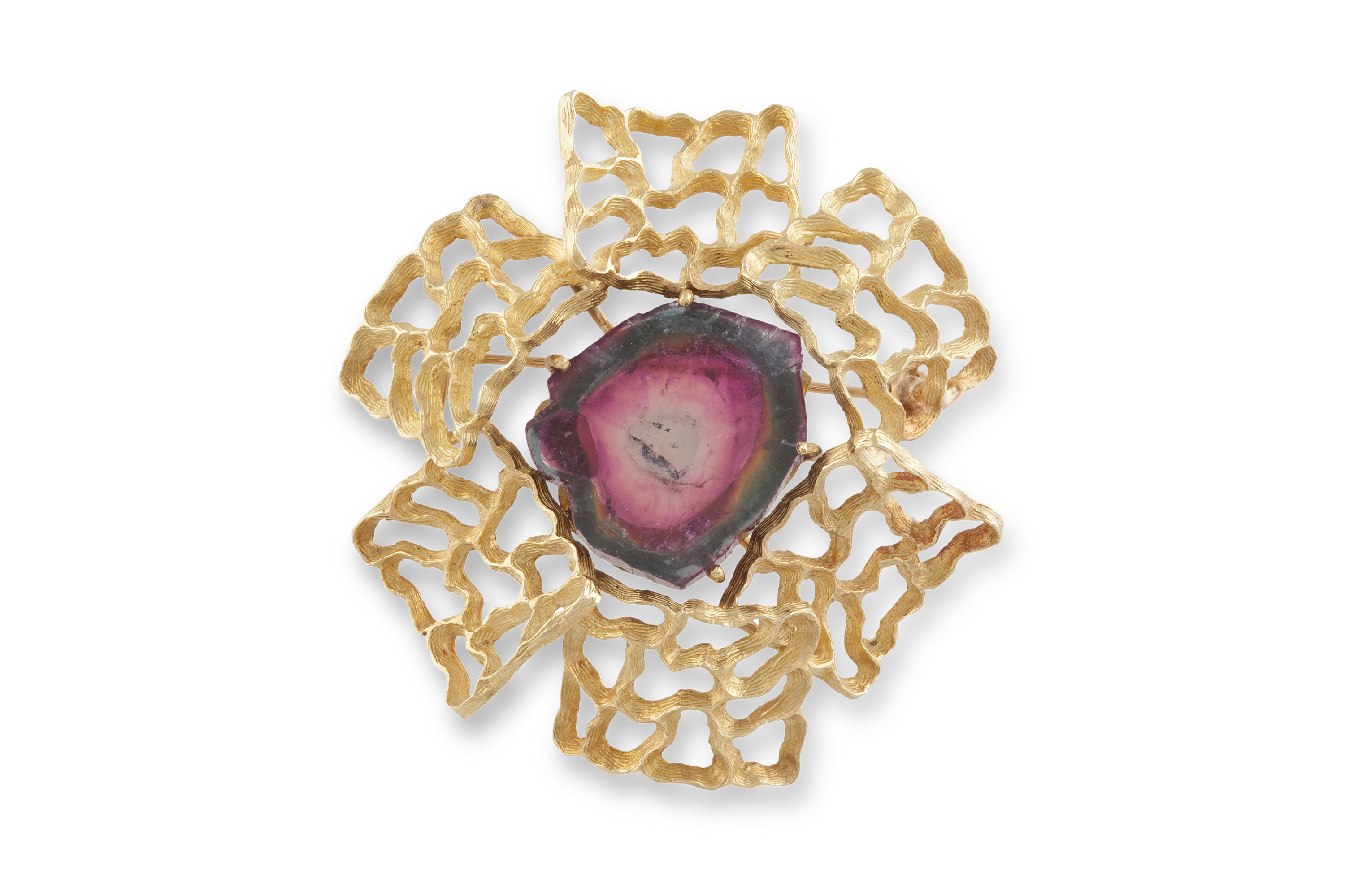 Lot 16: Gold and tourmaline brooch, signed H. Stern, circa 1970. Estimated at €1000-1500. Photo: Adam's
2- What job did you want to do when you were a child?

When I was very young, I wanted to be a wildlife photographer. As a teenager, I wanted to be a fashion photographer… Finally, photography is now one of my hobbies.
3- And finally, what is your current job?
I now work in Dublin for Adam's Auctioneers. I am the director of their jewellery department.
4- What studies did you follow?
When I was thirteen, I was sent to boarding school in England. I took my A-levels and International Baccalaureate at St Clare College, Oxford. Then I went to Germany for a year to perfect my knowledge of the language at the Goethe Institute. Finally, I entered EFAP (French school for press officers). I spent a year in Paris and then two years in New York where I obtained my Bachelor's degree in Communication with a specialization in Arts and Art History.
Lot 17: Gold, diamond and turquoise bracelet, circa 1970. Estimated at €2,500 to €3,500. Photo: Adam's
5- And more specifically, what is your educational background in relation to the field of jewellery and gemology?
When I was in New York, I was an intern at a lifestyle and art magazine called Whitewall. It was just starting up, so I helped launch it. One day I interviewed an important Christie's executive for the magazine and I kept in touch with this person. I asked about an internship opportunity with them and that's how I got my foot in the door of the auction industry. I started with four months in the press relations department followed by five months in the events department. At the end of my internship and a week before I graduated, they offered me a job. I became the personal assistant to the person who managed the jewellery department in Geneva. I packed my bags and moved to Switzerland two weeks later. I loved the job and having access to incredible pieces. I discovered a new passion. Finally, I enrolled at the GIA and took my diploma by correspondence to become a gemologist.
6- Can you tell us about your career path and how you got to where you are today?
I first worked for two and a half years at Christie's as a personal assistant to the director of the jewellery department and then I moved from the auction sector to the commercial sector. I joined a three-generation family business specialising in diamonds, coloured stones and antique jewellery. My tasks were to manage the stock and prepare trade shows. After two years, my job evolved towards sales. I had the opportunity to build up my own network of buyers. I was 25-26 years old and did a lot of engagement rings for my friends and their friends. It was a lot of fun! After four and a half years, I left and became a "jewellery expert" at Bonhams where I worked between London and Geneva for a year and a half. I then lived in London for a while and came back to Switzerland. I travelled a lot in the company's offices to carry out evaluations in order to compile catalogues. Finally, I became head of the jewellery department at Adam's in Dublin.
7- You work in an auction house. Can you tell us about your company and how it works?
My company, Adam's auctioneers, has been in existence since 1887. It is the oldest auction house in Ireland and also the leading one in the country. Our main departments are Irish Art, Watches and Jewellery, Stylish Furniture and Irish Historical Documents. We also occasionally have private sales. We are based solely in Ireland but have an international network of buyers and sellers.
Our record sale in jewellery was a Cartier diamond river (1930s) which was estimated at $70,000 to $90,000. It finally sold for $210,000 in May 2015. But our proudest achievement was a painting by a local painter, Jack B. Yeats, which sold for over €1.2 million in 2011. This was the highest price ever achieved for a painting by an Irish painter in Ireland!
Lot 56: Gold and gemstone necklace (garnets, topaz, zircons, spinels, sapphires), early 20th century. Estimated at €3,600 to €4,600. Photo: Adam's
8- How do you organise a typical working day/week?
My days are rarely the same and that's exactly what I like. Of course, there is a routine for the preparation of each sale. But here, my job brings together three or four functions that would be quite separate in a larger house. I do the valuations for our local clients. I travel most often to Ireland, England, France and the larger European cities to appraise pieces and to see with the sellers if their jewellery can be included in our upcoming sales.
Once my sale is closed, I start cataloguing, sometimes with historical research for the more unusual lots. Then comes the time for photography with our in-house photographer, finalising the catalogue and sending it to print.
Once the catalogue has gone to the printer, marketing takes over. I go to London to meet potential buyers and present our best lots, I prepare press releases for the Irish press as well as advertising inserts for the local press. The upcoming May sale will be my fourth at Adam's and I have lots of ideas for future events… indeed when the sale is over, a new one is coming! Nothing really stops and that is the beauty of auctions. As my director often tells me "pain has no memory". This is completely true, because the next day, the previous one is forgotten and we are already working on the one to come.
9- Jewellery is a world that is little known to the general public, even if things are gradually changing. Can you tell us what motivates you to work in this sector and what you like best about your job?
It may be a bit of a cliché, but I am passionate about jewellery and it is precisely the love of jewellery that motivates me on a daily basis. There is always something new to learn and every day is interesting. There is never a dull moment! I like to travel and I also like to be in contact with my customers. This is what motivates me and makes me want to continue. I also like the fact that I work in a smaller auction house because it is also a daily challenge to find new clients and outstanding lots. So I'm really happy when the pieces I've been entrusted with are sold and when I can tell our clients that Adam's was the right solution for them.
10- What do you like least?
It's a very masculine world and it's sometimes difficult to be taken seriously. It's also a job that requires a lot of overtime and I couldn't do it if I wasn't passionate about what I do.
11- Let's go back to your job: what are the main trends in the auction sector today? Isn't the profession becoming more complicated to practice in the current climate of over-certification of gemstones?
This is almost a trick question for me because the Irish market is completely different from the rest of Europe, particularly in terms of fashion. Since I arrived, I have tried to bring that "European" flavour to the market but I also have to take into account the tastes of my customers and the fact that the Irish like cultured pearl necklaces or basket rings… which are very difficult to sell in London today. They don't take too many risks with jewellery. For example, it is interesting to see that a diamond ring is not necessarily the initial choice for an engagement ring and that coloured stones are very popular here. Generally speaking, the Irish are connoisseurs of jewellery and they know what they want.
On the subject of certificates, I think this is a very good thing as it helps to reassure the owner and the buyer. Unfortunately I have had to give bad news since I started so a quality certificate is always a plus! A few months ago, a customer came in with a sapphire weighing more than 10 carats, with an alleged Burmese origin. In fact, this origin was not accompanied by a certificate. The stone had been purchased fifteen years ago and was sufficiently saturated in colour that she could expect a significant value from this gem on the current market. I had the stone sent to London and it turned out to be synthetic. I had my doubts when I saw it but I wanted to see my initial opinion confirmed. So going to a quality lab is a very important step!
Lot 89: retro gold and diamond bracelet, circa 1940. Estimated at €2,700 to €3,700. Photo: Adam's
12-Auction sales have becomemore glamorous in recent years. How is this managed in the selection of pieces and the preparation of catalogues?
I agree that auctions have become more trendy and glamorous but this is not really the case in Ireland and it is precisely this touch that I try to bring. I have, for example, introduced partnerships in the jewellery catalogues and invite a celebrity (sometimes fashion but not always) to make a selection of their favourite pieces. This allows us to make the catalogues more attractive but also to reach a different clientele. I'm trying to introduce designers who are not well known in Ireland like Margherita Burgener and I have several other ideas for the coming months. Finally, I am developing social media as I think this is crucial. I am building relationships with jewellery and fashion bloggers. I need people to talk about my sales in Ireland and elsewhere!
13-What are your favourite signatures?
I am in love with Suzanne Belperron. I think she has been ahead of her time and always ahead of the curve. None of her pieces disappoint me and I find that she always brings something extra to the woman who wears it. I also love the Taffin pieces designed by James de Givenchy. His creations are bold and original, I would love to own them all. I am also a fan of Suzanne Syz's "pop" jewellery, so chic and unique! And, of course, I appreciate the creations of Margherita Burgener who knows how to play with colours and adapt to all trends.
14-An unforgettable moment to share here: a remarkable sale, a stone you will never forget… etc.?

When I was working in sales in Switzerland, I sold a magnificent bracelet signed Bulgari. Set with the most beautiful rubies, sapphires, white and yellow diamonds… The design was classic but it was timelessly elegant. Remarkably articulated, I don't think many craftsmen can replicate that today. We sold it for almost €1 million and I will never forget it.
At Bonhams we sold the Hope spinel and I must say that this piece was so special and rare that it was an honour to be part of it. (The stone sold for $1.4 million, nda).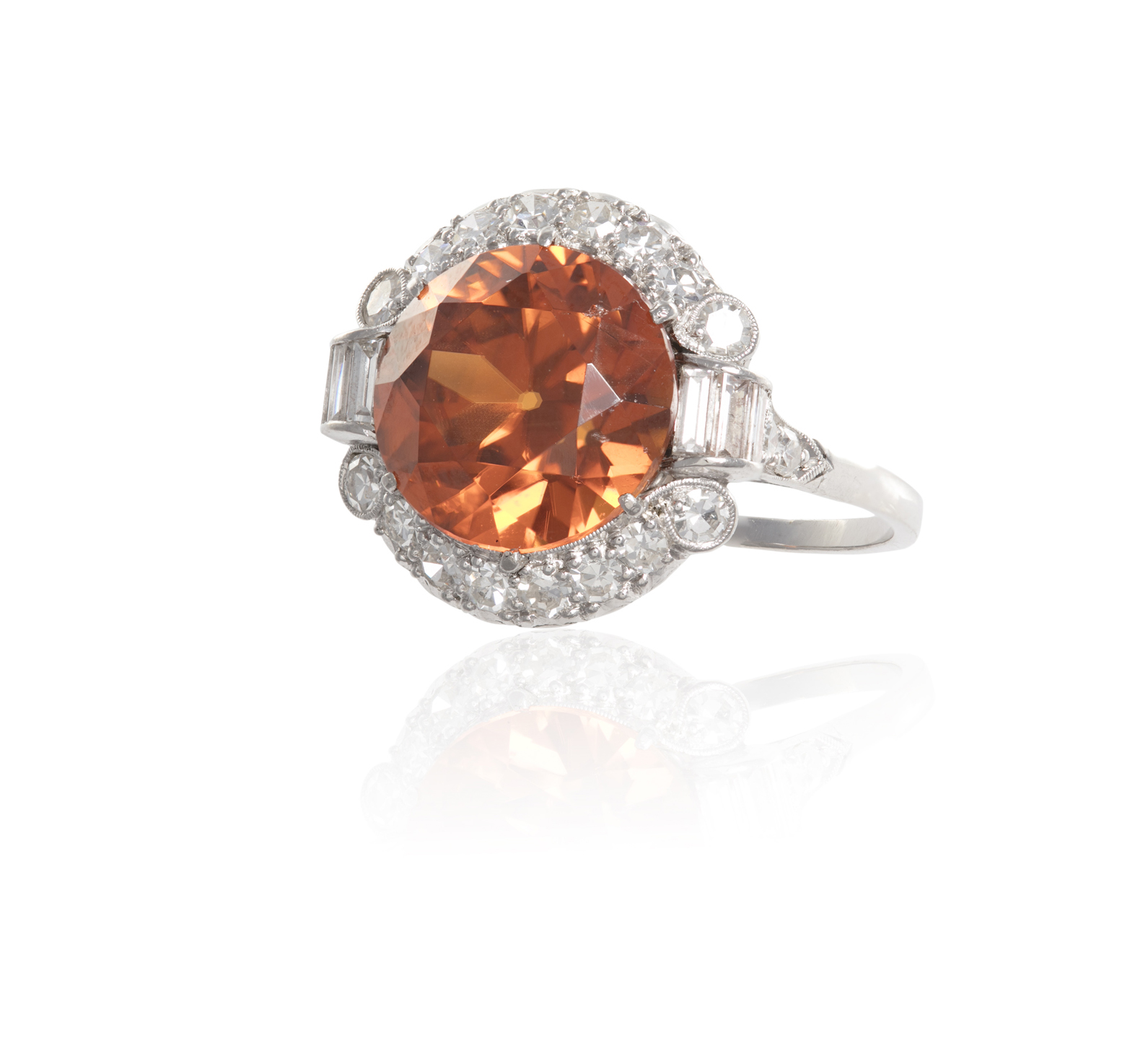 Lot 194: 6.2-carat Art Deco Platinum, Diamond and Orange Zircon Ring. Estimated at €1,800-2,800. Photo: Adam's
15- How do you see your profession evolving? Does the Internet necessarily change the way auction houses operate and the attitude of sellers/buyers?
For an auction house like Adams, which is well known in Ireland and abroad for its art sales but less so for its jewellery sales, the Internet is a wonderful tool! Catalogues are available online as well as the ability to bid and social media gives us a visibility that we didn't have before. My sales depend on this. Some of my pieces, posted on IG, have been seen on the other side of the world and bought by those same people. This would not be possible without the internet. We don't have representatives in other countries but we can reach customers all over the world because of it. It also requires us to be even more professional in the way we catalogue because customers who buy from abroad do not go to see the piece(s). They trust us and rely on our expertise. So I can't just rely on the Irish market to value the jewellery we offer and I have to be very aware of the global market. However, my clients are also looking for the best deal possible, so it's a balancing act.
16- What advice would you give to young people who want to enter this sector?
I would say that whatever field you want to work in, you have to do it with love, passion and hard work. Of course knowing people in a sector helps, but if you don't, don't be shy and knock on doors even when they seem daunting. I have never been "helped" to get an internship or a job but I have always been willing and persistent to get what I wanted to do.
Finally, and this is a very important point for those who want to enter this sector, I would say that it is crucial to have a recognised gemmologist diploma but that the most important thing is also experience. You have to see stones, many stones. Diamonds as well as coloured stones. The more you see, the more you will refine your intuition. For antique jewellery, you have to read as many books as you can. I love art and I love jewellery; when I go to an exhibition, I always pay special attention to the jewellery on the paintings. It remains the best source of education in the history of jewellery.
*****
To follow Claire on Instagram, it's here: @clm_adams_auctioneers
See you soon!