The first time I met André Stevens, he talked to me about minerals. He told me why he became interested in them and why he collected them. He talked about the colours and shapes that questioned him. Then I discovered photos of specimens that, if they looked real, raised questions in my mind. Before I understood. And especially before I knew that André is a pastry chef by trade.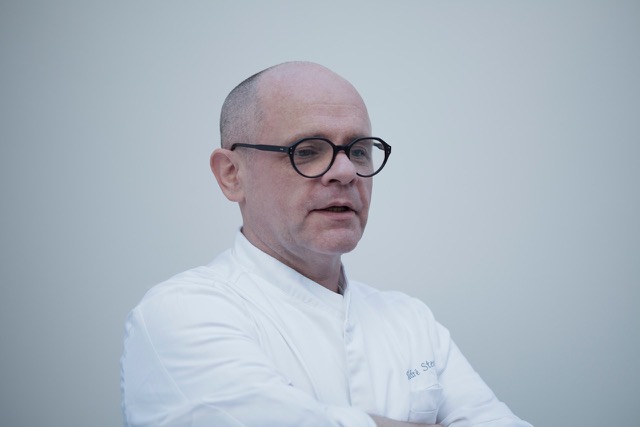 André Stevens. Photo: Daniel Adric
His relationship with food began very early, as a child, in his grandfather's garden. Here, vegetables and fruit are grown following the cycle of the seasons. Naturally. Without additions. If they are not eaten right away, at harvest time, they end up in jars to be eaten later in the year.
When I ask him what makes a good pastry chef, he replies that you have to be at the heart of the product. First of all, there is an artisanal dimension and a selection of raw materials. You need good ingredients, selected for their taste and natural qualities. Added to this is a know-how and an obvious desire to share that will complete the equation. Because a cake must please and make people happy. It must be good without being complicated.
André Stevens entered the pastry business following in the footsteps of his father, who already practised this profession. Having long been fascinated by the artistic field, he entered the Lycée Jean Moulin in Vincennes at the age of 15, where he obtained his CAP in pastry-making. he came first in his school in the "Un des Meilleurs Apprentis de France" competition and was ranked second in the Ile de France region. He then decided not to join the family business immediately and went to England. He spent a few months in London to perfect his technique but also to discover other horizons.
On his return, he opened a tea room in Neuilly with his father, "La Maison Stevens". It was 1986 and he was 21 years old. Alongside his job, music began to play an important role in his life. He had been collecting records for a long time and even had a collection of 15,000 albums.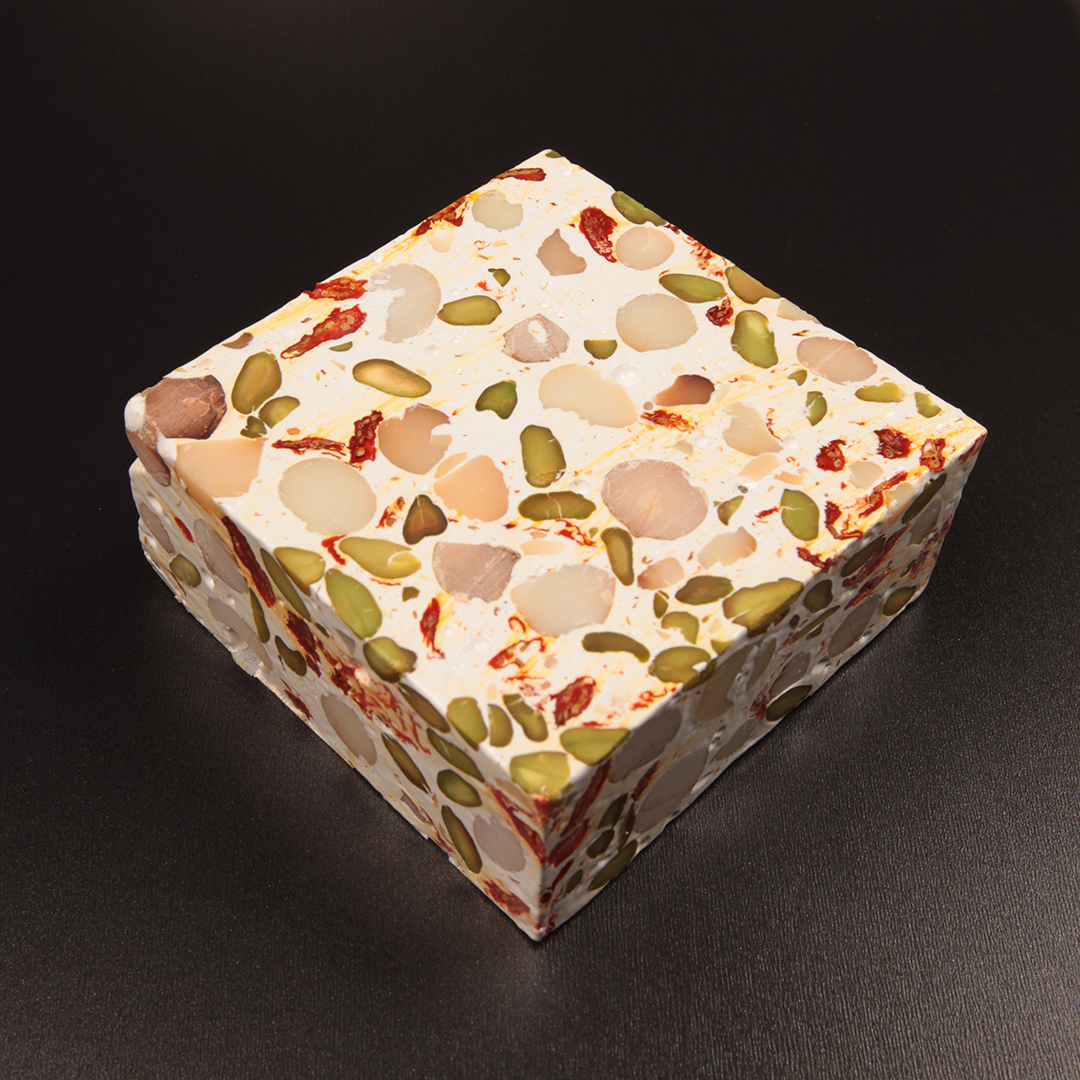 Nougat Terrazzo. Created by André Stevens. Photo: Antoine Audiau
And when you love music, those who make it are never far away… From one meeting to another, he began to manage a few artists. As a lover of electro, reggae and funk, he crossed paths with figures from the world of music such as Lee "Scratch" Perry. The cellars of the Lycée Saint-James in Neuilly were used as a rehearsal space for his friends. Then André set up a small studio in a corner of the family's pastry shop laboratory. He was a regular visitor to L'Hôpital Éphémère, an artists' squat in the 18th arrondissement of Paris where FFF and Human Spirit rehearsed. He met Juan Rozoff who had just signed to Universal and whose album Jam Session was remembered by many. He worked on the production of his second album. Then Ken Norris whose work he will follow and produce the first album: Modern Folklore which I advise you to discover. It was an intense period, André worked night and day, while the family business was growing. Two years later, he decided to sell "La Maison Stevens". The next few years were devoted to his family.
After a five-year break, he decided to return to his profession. He then entered "La Maison du Danemark", a place not to be missed on the Champs-Élysées. His meeting with Pierre Gagnaire was decisive and convinced him to make pastry his only field of expression. This was followed by several professional experiences under the orders of several great chefs and pastry chefs such as Christian Constant, Jean-François Piège, Jacques Genin and Philippe Conticini. Then, in 2004, he joined the Hôtel de Crillon and became Jérôme Chaucesse's Sous-chef pâtissier (MOF 2015).
It was his reunion with his teenage friend – Antoine Audiau, graphic designer and photographer – that made him want to get back in touch with the contemporary artistic world. And with minerals… With the tenacious idea that the raw structures of gems offer a field of new ideas for the conception of pastries and allow to extract oneself from the forms that are the norm. The purchase of a first pyrite in 2010 inaugurates his collection. It very quickly became a "Mango-passion caramel" as greedy as it was unexpected! With him, a baryte rose is transformed into a chestnut cream and a group of aragonite crystals is reinvented as a quince sorbet when he is not initiating series with the Parisian photographer Daniel Schweizer around fruit and sugar.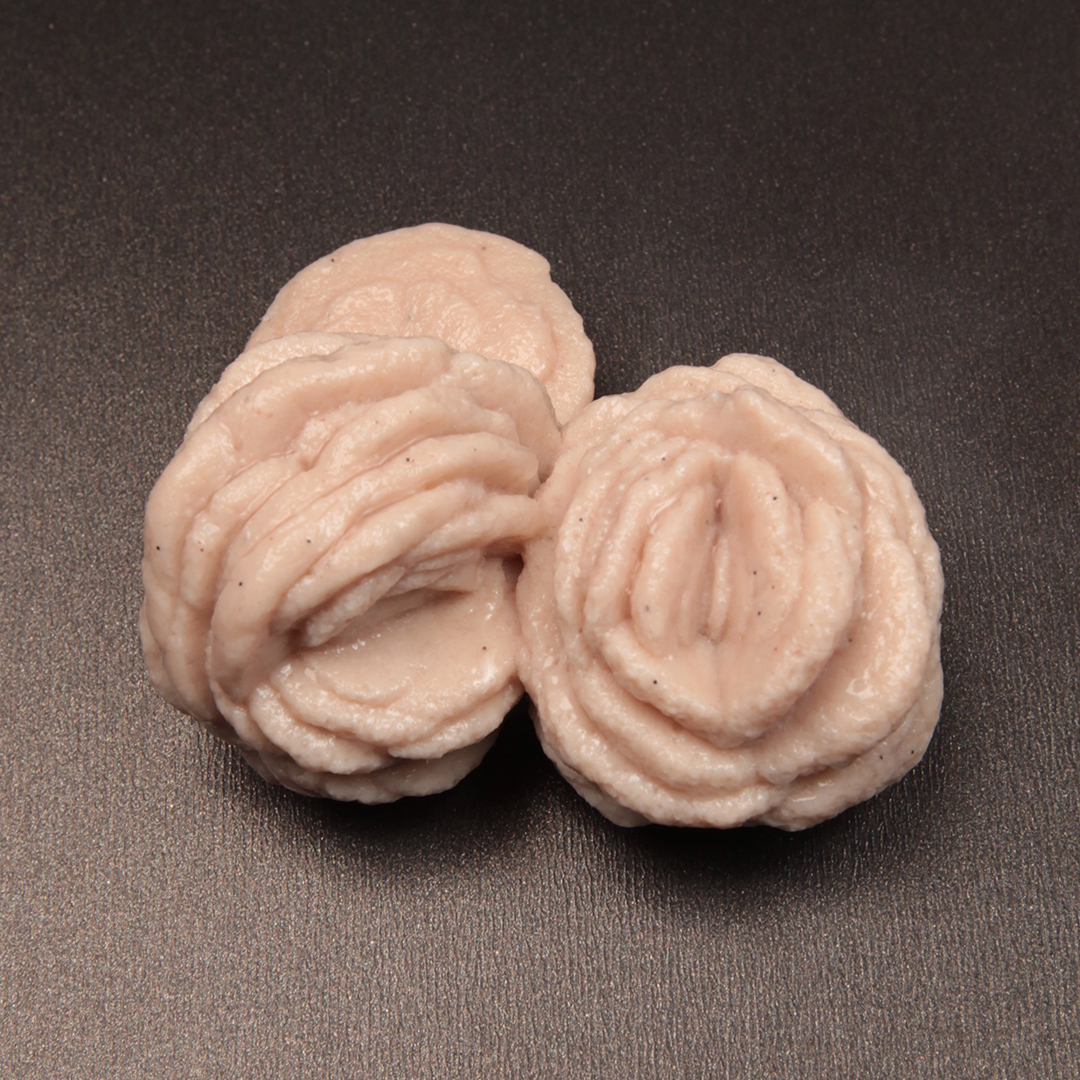 Chestnut cream. André Stevens creation. Photo: Antoine Audiau
In order to carry out his search for mineralogical specimens, he immersed himself in the world of mineralogy and geology. He visited Parisian museums, meeting curators and collectors such as Alain Carion on the Île Saint-Louis. He also forges links with professionals in the art trades to respond to problems such as the taking of prints. It is thanks to the know-how of experienced craftsmen that he can imagine transposing complex crystalline structures such as an Arkansas quartz "rose" into confectionery… But he also surrounds himself with several pastry chefs who collaborate on this project, such as François Daubinet (Consultant, Paris), Aurélien Houillon (Geneva) or Joachim Bendacha (Lyon).
A perfectionist, André's work offers an original approach to dessert. By transposing the classics of pastry into nature's treasures, he weaves through this project a link between design, photography and contemporary art, thus arousing curiosity. There is no doubt that natural riches will continue to inspire him. And here, we are already looking forward to discovering them and… to taste them!
Follow André on Instagram : @andre_stevens and on Facebook: @andrestevenspatissier
Follow André on IG : @andre_stevens and on Facebook: @andrestevenspatissier
See you soon!