September promises to be an exciting time for lovers of jewellery, whether classic or contemporary. In addition to theMedusa exhibition at the MAM Paris which lasts until November 2017 and the Parcours Bijoux which will last from the end of September to the end of November (we'll talk about it soon), the Galerie La Joaillerie Par Mazlo will be presenting the exhibition "Sacrés Outils" (from 8 to 30 September 2017), dedicated to the relationship between the craftsman and his tools, in order to better understand the importance of these tools in his artistic development. Through pieces by contemporary French and European jewellers, you will have the opportunity to discover artists who are less well known to the general public in France and whose work largely deserves this spotlight. At the same time, Guillaume Delaperriere will show you Bombay through a video installation. He collaborates with cultural institutions such as the Montreux Jazz Festival, the Opéra de Paris and authors such as Xavier Veilhan, and will plunge you into his personal sound universe.
Gabi Veit, Geschoepfe/Creatura, 2016. Spoons, 925 silver, 5 to 20 cm long. Photo: Federico Cavicchioli
Juanjo Garcia Martin, Holy Brooch, 2016. Brooch: methacrylate, wood, paper, gold leaf, electric circuit with led diode, polymer clay, 925 silver, copper.75 x 78 x 30 mm. courtesy of Juanjo Garcia Martin
But the event will also be an opportunity to put into perspective the gradual disappearance of the manual tool in favour of the digital one, which today replaces the artisan jeweller in many stages of the manufacturing process. The question of the presence of CAD and the loss of know-how is today a real challenge for companies in the sector. It therefore makes the positioning of the exhibition, its questioning and the creative answers provided by the designers present all the more interesting.
Robert Mazlo, Brunelleschi, 2013. Ring, unique piece. Green gold 750 ‰, platinum, "bull's head" diamonds, rock crystal. © photo: Bob Ivanovitch.
So Scott and Lisa Cylinder – jewellery artists in Oley, Pennsylvania – imagine jewellery that incorporates old, found or donated tools and recontextualises them, then giving them a new legitimacy. "It'sabout soul…the objects we use have been touched by someone. Once you see these particular objects, you associate them with a time in your life. There is sweat and effort on the tool that a person has used to create an object. (…) The human touch is part of what our work is about and is the reason we select the objects," Lisa said in a 2014 interview, summing up their studio philosophy perfectly.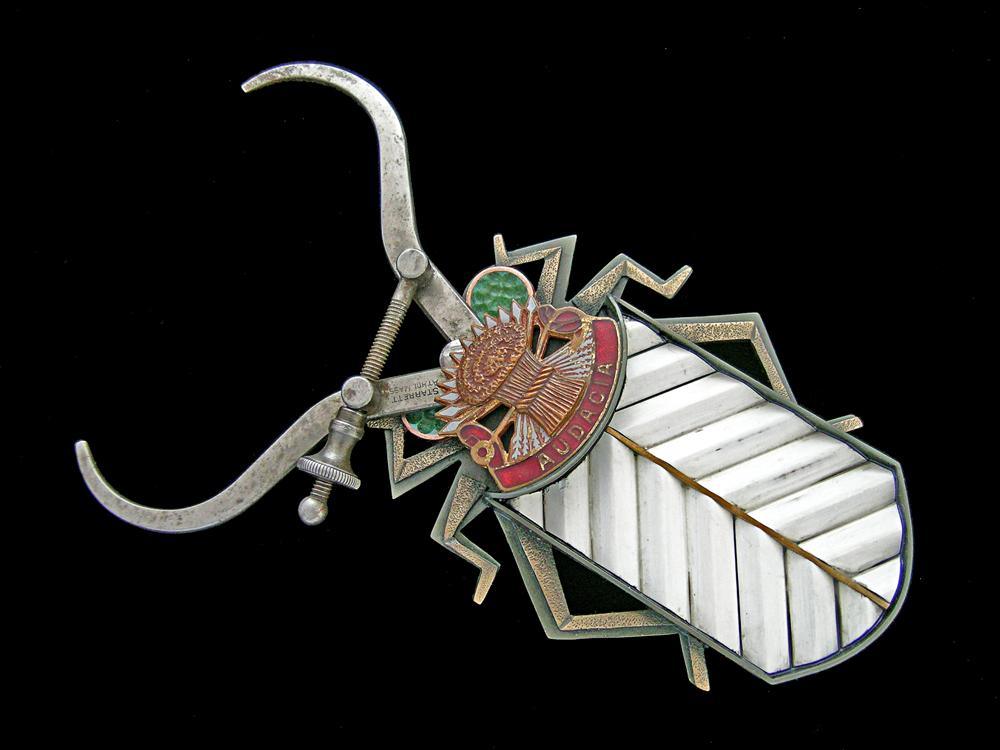 Lisa & Scott Cylinder, Audacia Beetle. Brooch, 2016. Vintage Starrett caliper, vintage enamelled military medal, bronze, pencils, nickel silver, epoxy resin. 139.7 x 82.55 x 12.7 mm. Photo: Courtesy of Lisa & Scott Cylinder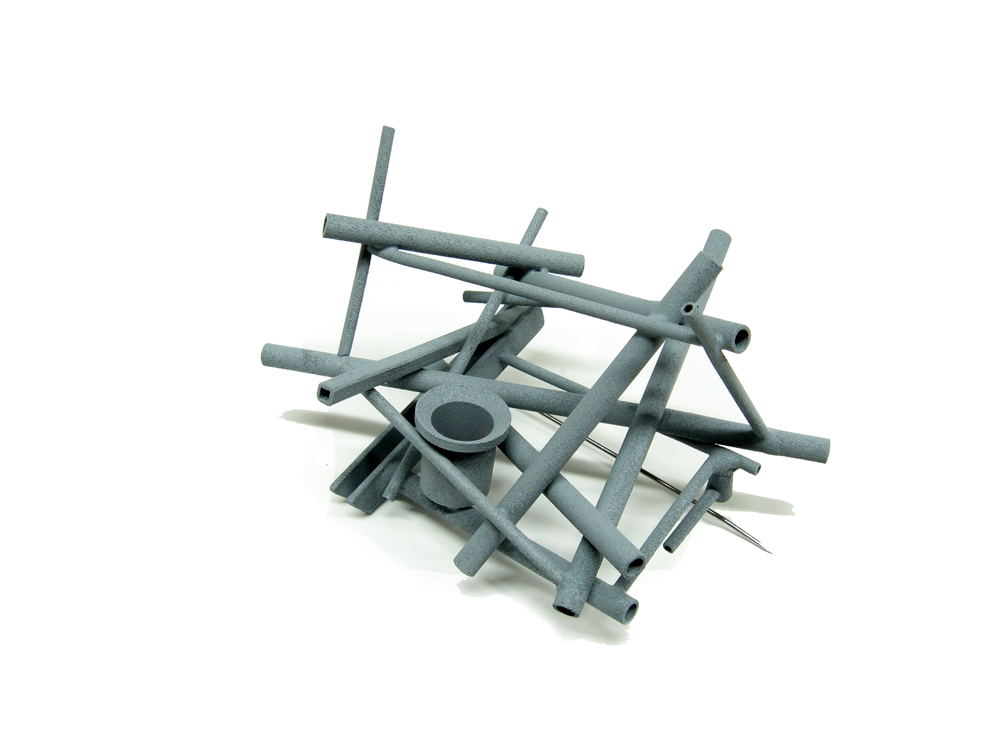 Fabrizio Tridenti, Untitled. Brooch, brass, steel, acrylic enamel. 2010. 71x 85 x 56 mm. photo: Courtesy of Fabrizio Tridenti
Juanjo Garcia Martin, a self-taught Spanish artist, will present pieces from his latest collection entitled Mares de Asfalto, dedicated to the urban environment. He too diverts found objects, mixing gold and silver with more unusual materials in jewellery such as methacrylate, acrylics, resins, copper, alpaca or even organic materials such as wood or natural stones.
Carla Garcia Durlan(Quars d'una), Tool 5 "TIRALINEES INFINITES". Brooch, 2016. Wood, plastic, rubber, nickel silver, ink, acrylic paint. 80 x 85 x 15 mm. Photo: Courtesy of Carla Garcia Durlan (Quars d'una)
Robert Mazlo is originally from Beirut, Lebanon. It was there, in his family's workshop, and then at theIstituto Benvenuto Cellini in Valenza-Pô, in northern Italy, that he trained. While following the jewellery tradition (old cut gems, complex and refined textures, green gold alloys), his works cultivate a taste for the assembly of heterogeneous elements, precious or antique, profane or religious. Non-conformist and far from the classic (and often boring) motifs of jewellery, he imagines unique pieces that put the work of the jeweller at the centre of the object.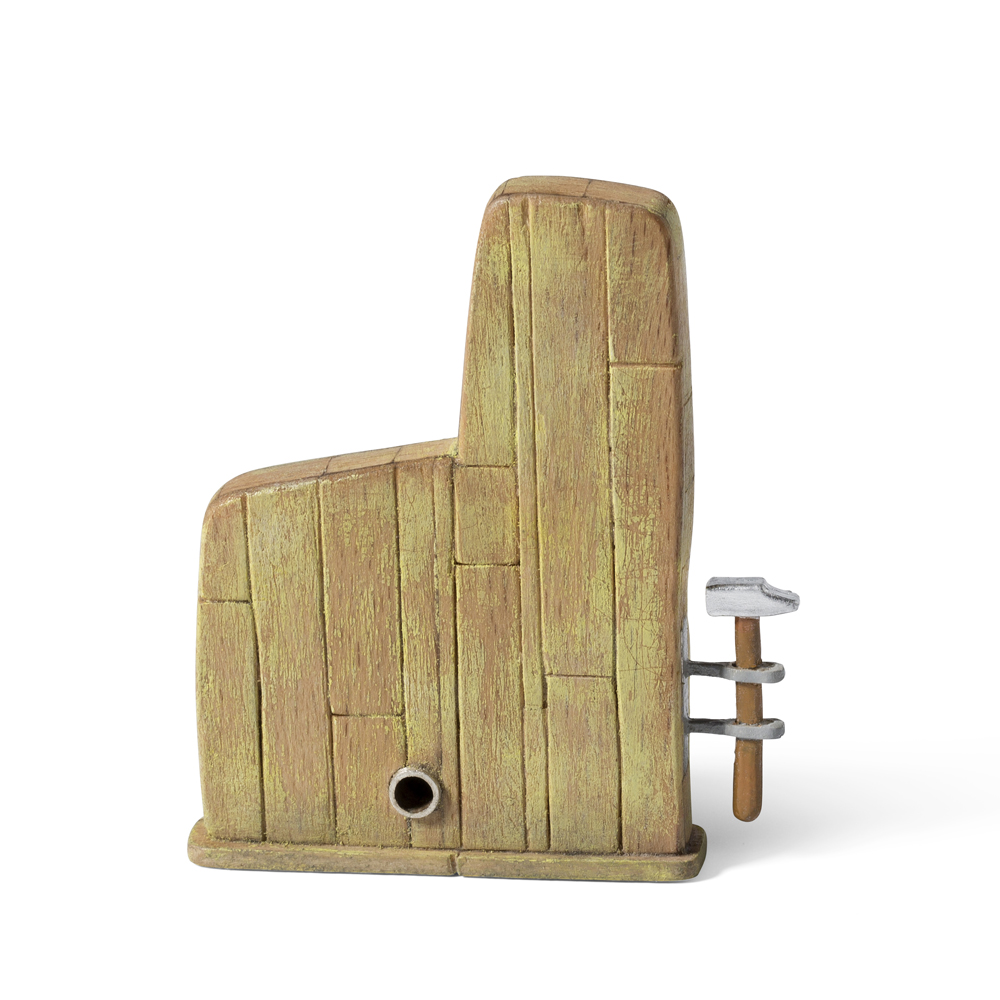 Xavier Monclús, Cas fuster. Brooch, 2015. Brass, silver, wood, plastic, enamel paint and acrylic. 5.4 x 4.8 x 1 cm. photo: Xavier Monclús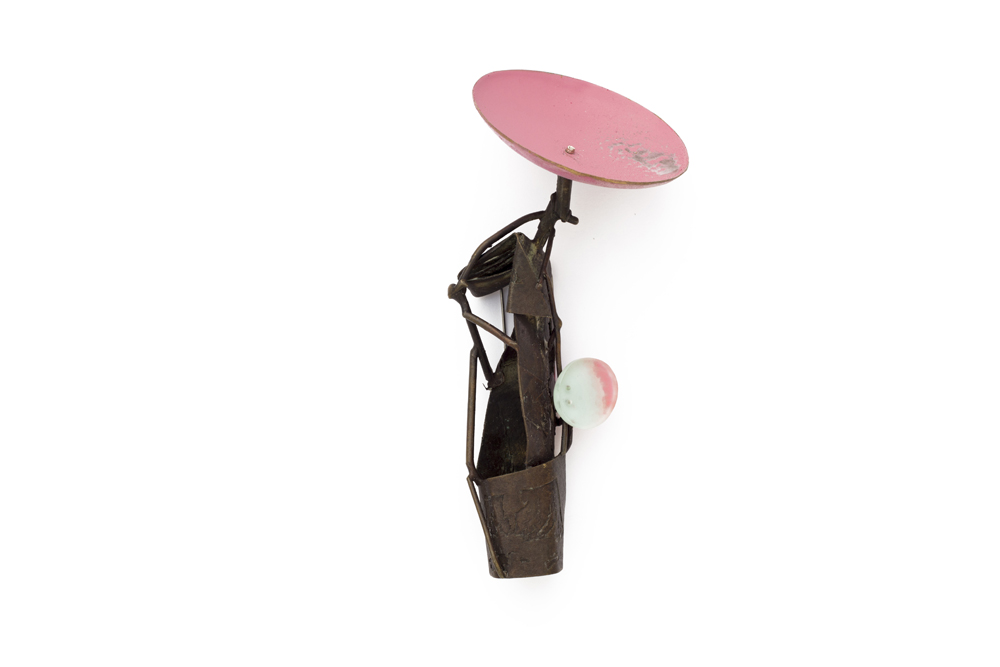 Clara Niùbo(Quars d'una), Martell d'orelles (Hammer with ears). Brooch. Brass, plastic, paint, silver. 2016.130 x 60 x 50 mm. photo: David Vicen.
But the exhibition will also allow you to explore the work of Xavier Monclús, who has been living and working on the island of Menorca in Spain since 2013. He offers a more childlike and figurative style of jewellery largely inspired by the surrealist movement. Jo Pond – an English artist based in Staffordshire – recycles all sorts of objects from the industrial heritage (boxes, buttons, coins, cans, keys, etc.) proposes jewellery that changes our perception of everyday objects and does not hesitate to associate them with gold and diamonds. You will discover the pieces of Fabrizio Tridenti who imagines jewels from industrial waste, those of the Quars d'una collective who, for the Sense Mesura project," have surroundedthemselves with tools, instruments that function as extensions of their hands and have a life of their own", thus creating pieces that are intended to be vehicles of communication. The designer Katja Prins will make you think about the place of machines in our lives and our ambiguous relationship with them. Finally, the artist Gabi Veut invites you to discover her vision of the little spoon, this everyday object that she transforms into jewellery. A necessary reflection at a time when we are infused with technology on a daily basis!

Katja Prins, Inter-Act. 2010, brooch: silver and onyx reconstituted. ± 10 x 9 x 4 cm. photo: Francis Willemstijn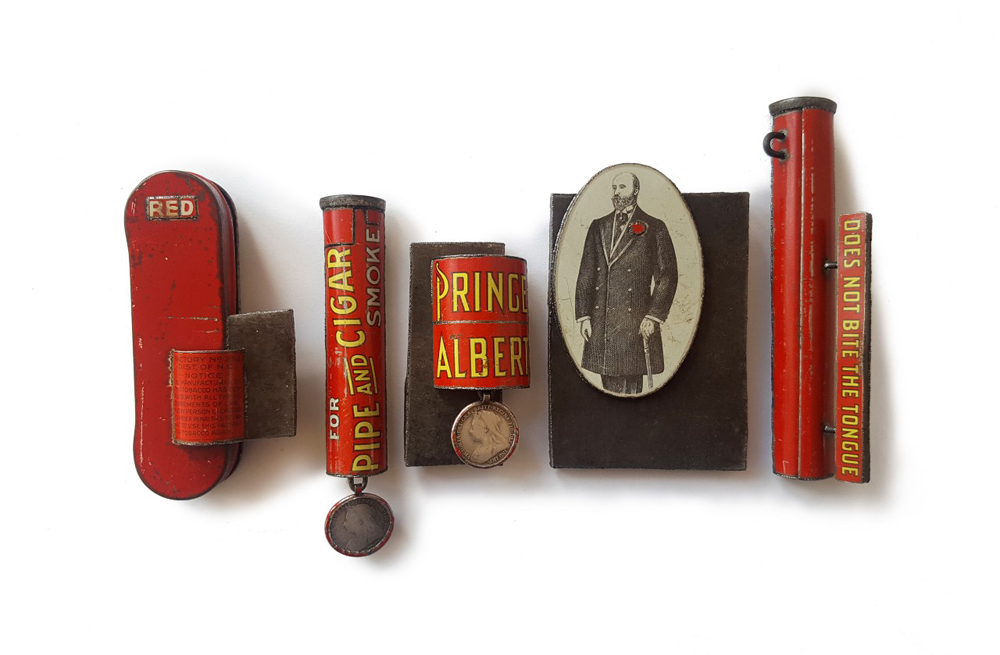 Jo Pond, Prince Albert Collection. Brooches: tobacco and Altoids boxes, steel, iron. 2016, 12 x 10 cm for the largest piece. photo: Courtesy of Jo Pond
The event will take place from 8 to 30 September at LA JOAILLERIE PAR MAZLO, 31 rue Guénégaud in the 6th arrondissement of Paris. Not to be missed!
See you soon!