If there is an exhibition organised as part of the Parcours Bijoux that I am particularly looking forward to, it is the one I am about to tell you about. "Triptych: Life, Love, Death" will open on October 13 at the Galerie La joaillerie par Mazlo, which I mentioned a short while ago for the excellent and remarkable"Sacrés Outils" event that has just closed its doors. I sincerely hope that you were able to go and that you will go and discover the one that is coming up.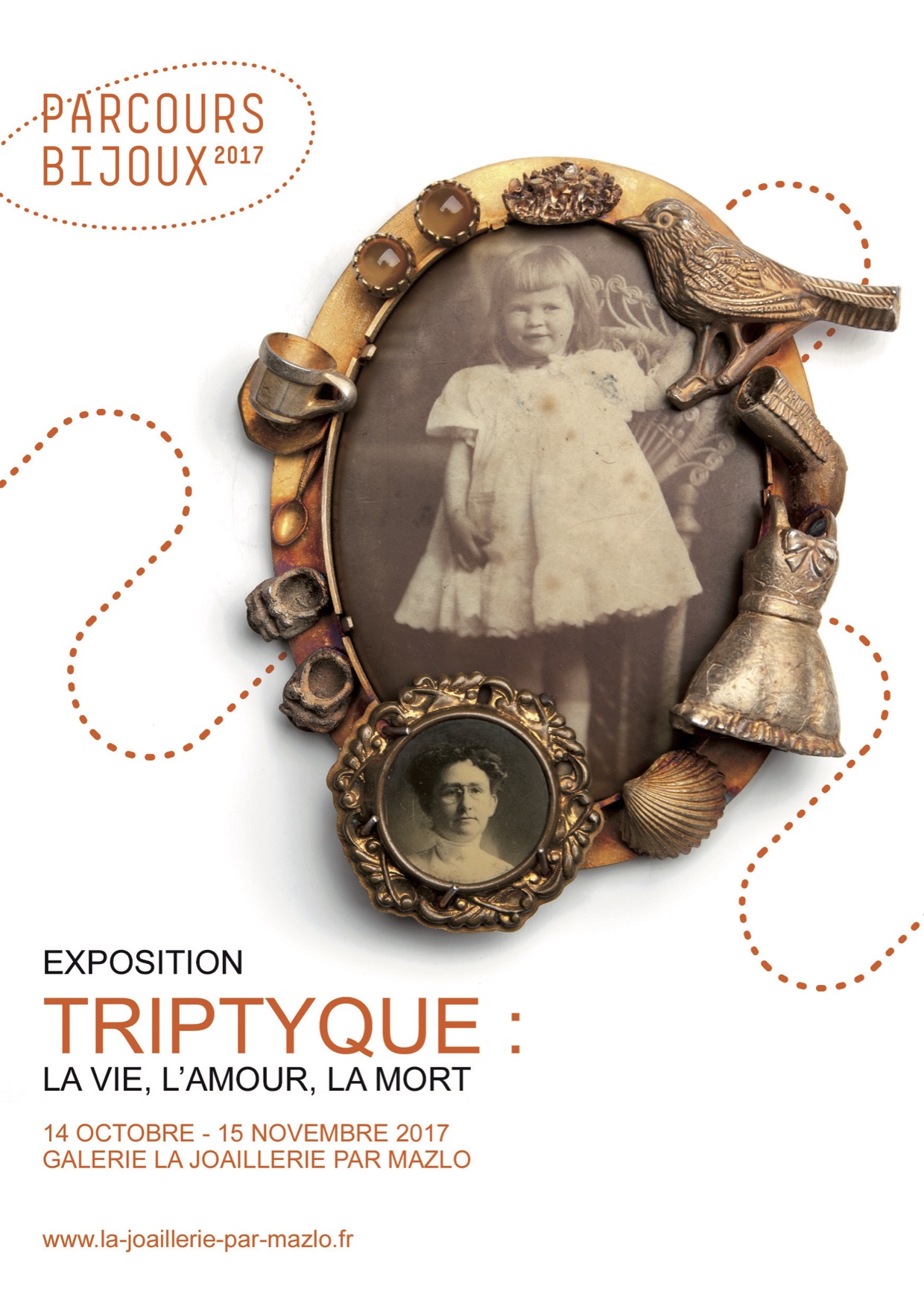 But let us return to Triptych. By inviting six contemporary creators to exhibit their pieces, which are based on the theme of our passage on earth, the gallery invites visitors to question the intrinsic value of jewellery, which is an intimate marker that we carry with us and which aims to outlive us. For a long time, jewellery was above all an intimate element, a good luck charm, a talisman against the evil eye, but also (and this is still the case) a marker of happy and important events in one's life, such as engagements, baptisms and weddings. It is therefore deeply linked to the life of the wearer and even more so if we refer to the mourning jewellery which, until the advent of photography, offered the possibility of preserving painted portraits and hair of the dead.
Three pendants by Zoe Arnold: Birth, Life and Death in oxidised silver, mother-of-pearl, zinc, photo, raw Madagascar corundum and jade, 2017. Photo: La Joaillerie by Mazlo
Serenade brooch by Lisa and Scott Cylinder in silver, bronze, nickel silver, amaranth, paint, celluloid and antique saxophone key, 2017. Photo: La Joaillerie by Mazlo
Alongside this, jewellery is intended to be seen and admired. It is often an essential part of a woman's outfit, but also of a man's. This raises the question of reliquary jewellery, which is certainly intended to be seen but also to preserve secret and often intimate elements that one does not wish to reveal. Would jewellery be a sort of bridge between private and public life, and therefore exposed? These are just some of the questions that the exhibition poses, offering creative and narrative answers that are worth exploring.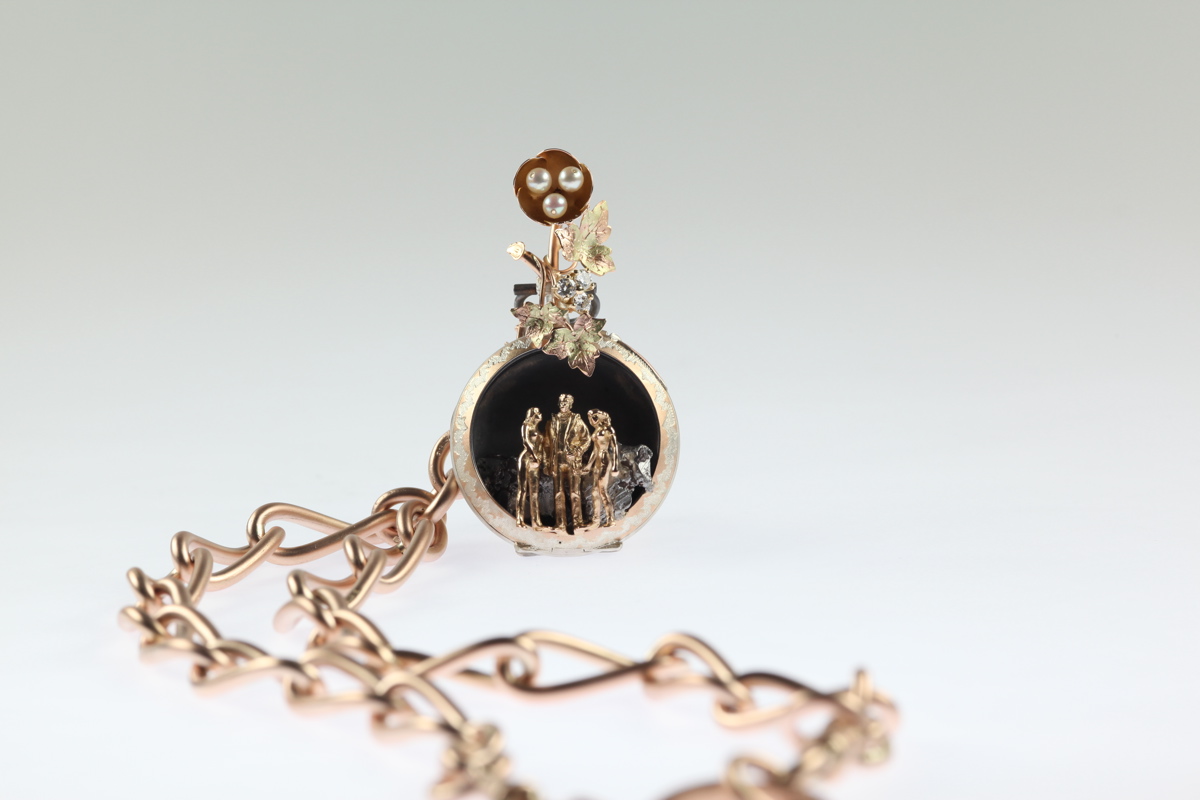 Memento Mori Life, Love, Death pendant/pin by Robert Mazlo in silver, gold, meteorite, pearls and diamonds. Photo: Bob Ivanovitch
Memoria Aperta N.5 brooch by Barbara Paganin: silver, photography, porcelain, glass, sapphire and gold, 2011-2013. Photo: Alice Pavesi Fiori
Among the various designers, you will find Scott and Lisa Cylinder, whom you discovered in the previous exhibition, or Robert Mazlo, whose work between jewellery and alchemy is always fascinating. More personally, I was intrigued and captivated by the pieces by the duo Robin Kranitzky and Kim Overstreet as well as the playful pieces by Asagi Maeda. Finally, the pieces by Zoe Arnold and Barbara Paganin interested me because of their aesthetics, which are close to some of the mourning jewellery I have been admiring for several years now.
Live each day brooch and base by the duo Robin Kranitzky and Kim Overstreet: wood, acrylic, brass, copper, paper and acetate, 2017. Photo: La Joaillerie by Mazlo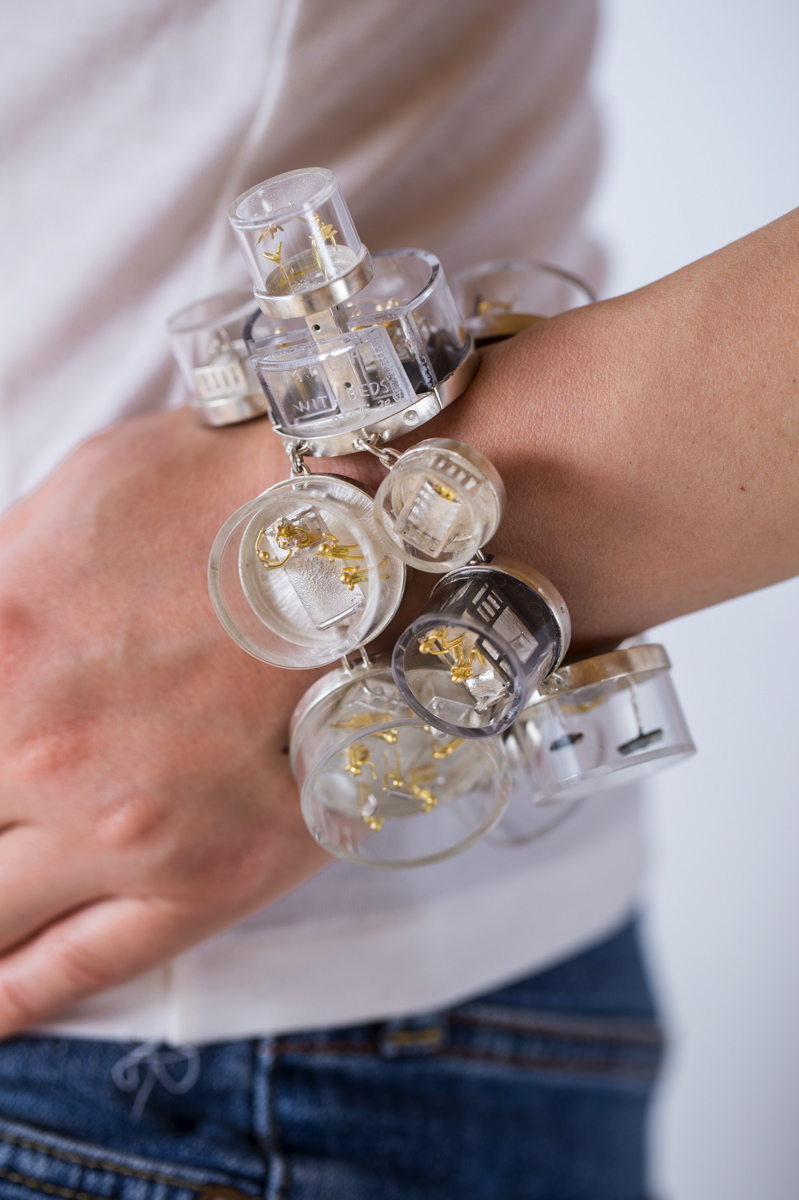 My life with beds bracelet by Asagi Maeda in silver, gold, acrylic glass, tourmaline, opal and various beads, 2017. Photo: La Joaillerie by Mazlo
The event will be complemented by a photo exhibition by Eric Antoine but also by the presentation of the 1350°C project which mixes photography, jewellery, ceramics and enamelling. This project by Hector Olguin and Cynthia Ayral explores the erotic theme between European representation and the Japanese imagination of the Edo period between the 16th and 19th centuries. This research questions the elusive but also timeless character of eroticism, the starting point for the appropriation of desire. Erotic jewellery is still taboo nowadays, even if it is more assumed. I take advantage of this article to remind you of the Medusa exhibition, which will end in three short weeks, and which will teach you a little more about these jewels, whose secretive nature is indisputable!
The 1350°C project worn. Photo: La Joaillerie by Mazlo
The exhibition "Triptych: life, love, death" will last for a month, until 15 November 2017. The gallery La Joaillerie par Mazlo is an amazing place that I can only invite you to discover. Located a few streets from the Pont Neuf, in a charming neighbourhood, the place always offers a relevant and sharp reflection on contemporary jewellery. So don't miss it!
See you soon!