Instagram is magical in that it allows me to discover different, timeless but above all inspiring artists day after day. The magic happens when I can go to the studio and discover the way of working, the philosophy and everything that makes up this particular universe.
Marianne Guély
In the studio, rue de Provence. Photo: Marie Chabrol
This is what happened with Marianne. I don't know exactly when I discovered her work or if it was she who first started following me, but I know that I was very quickly captivated by what she was showing through the small format photos on the platform. It was after a high jewellery presentation at the Place Vendôme that I contacted her to find out if, by chance, the paper busts were one of her creations. In the end, it was not his work but the idea of a meeting was set in motion! So it was made a few weeks ago in her very pretty shop at 46 rue de Provence in the 9th arrondissement of Paris where she imagines and designs some of her creations with her team.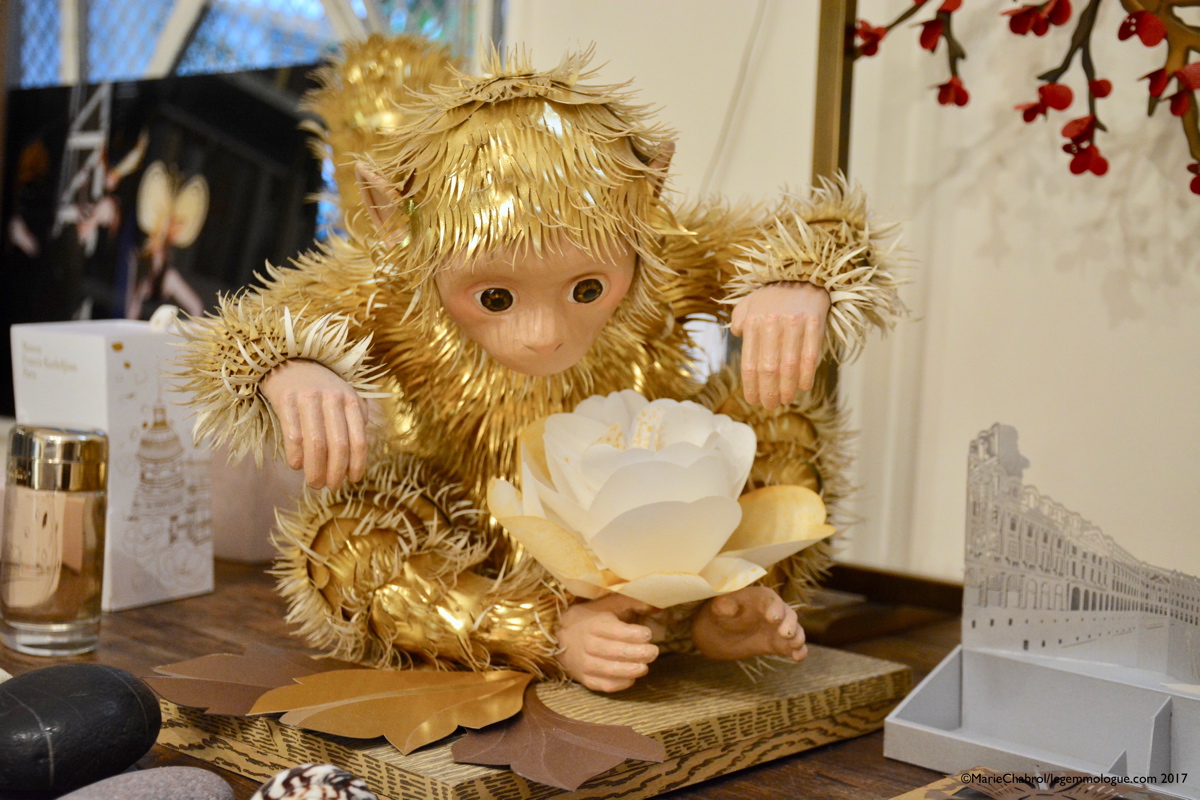 This little paper and leather monkey came back from Hong Kong. It was part of a scenography created for the Chinese New Year at the LandMark Mall in January 2016. The workshop has, among other things, made 62 monkeys like this one. Photo: Marie Chabrol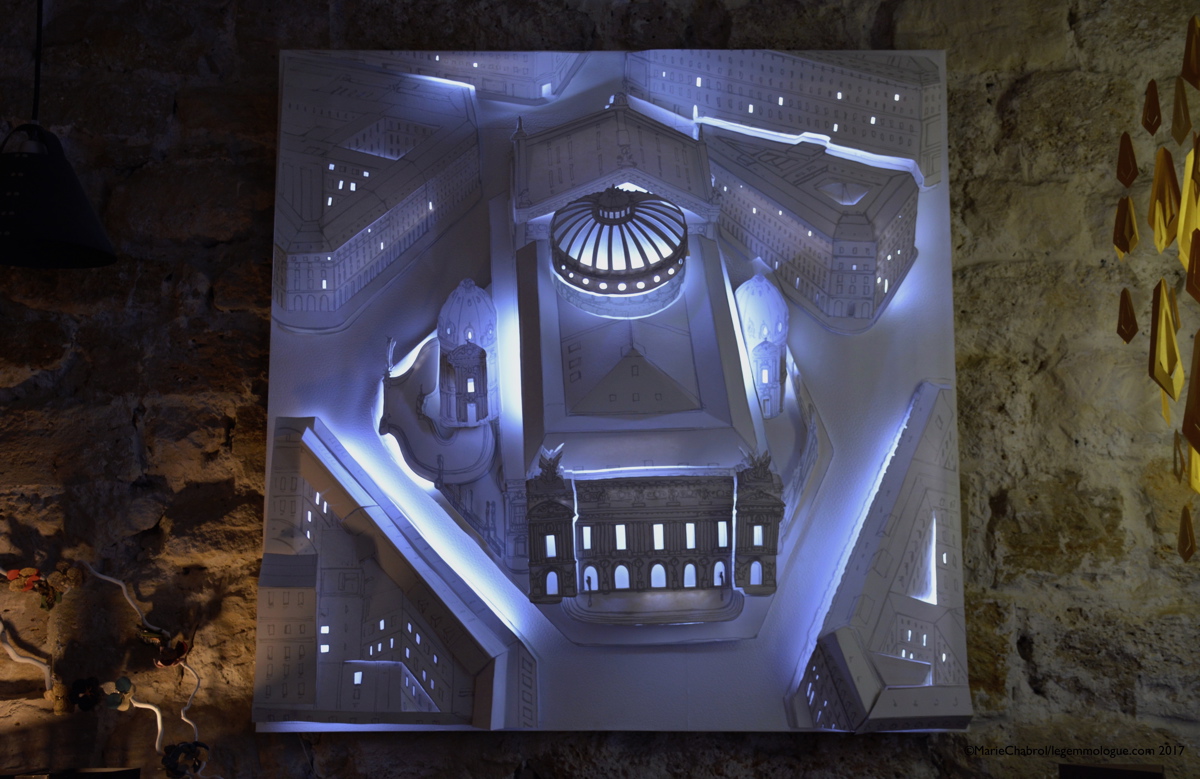 You'll recognise the Paris Opera House on this illuminated model! Photo: Marie Chabrol
Marianne and her partner Vincent Blot, as well as the studio, are very gentle and poetic. Paper structures are placed here and there, in a joyful creative disorder. There is colour, sometimes pastel, sometimes brighter, gold, silver, thousands of references of papers from all over the world that skilful hands transform into flowers, lanterns, screens, magical and marvellous creatures… It is therefore easy to understand why the greatest luxury houses (including those of high jewellery) call on the talents of this unique workshop, whose story I wanted to tell you.
Vincent Blot. Photo: Studio Marianne Guély
Detail of the elements making up a large paper and LED light. Photo: Marie Chabrol
Detail of a set for the launch of the Dior J'Adore perfume. Here, the paper is gilded with gold leaf. Photo: Marie Chabrol
Shaping the paper petals for the decor created for the launch of the perfume Dior J'Adore. Photo: Studio Marianne Guély
Marianne has been using paper for almost thirty years. Her passion for paper began with the books she collected in her family and later with the paper she used for her models while a student at the Olivier de Serres School (ENSAAMA) from which she graduated in 1989. Paper became her favourite medium, it is light, it has volume, it lets the light through. It offers a wide range of possibilities and above all it is not very expensive, thus giving her the relative right to make mistakes and then start again.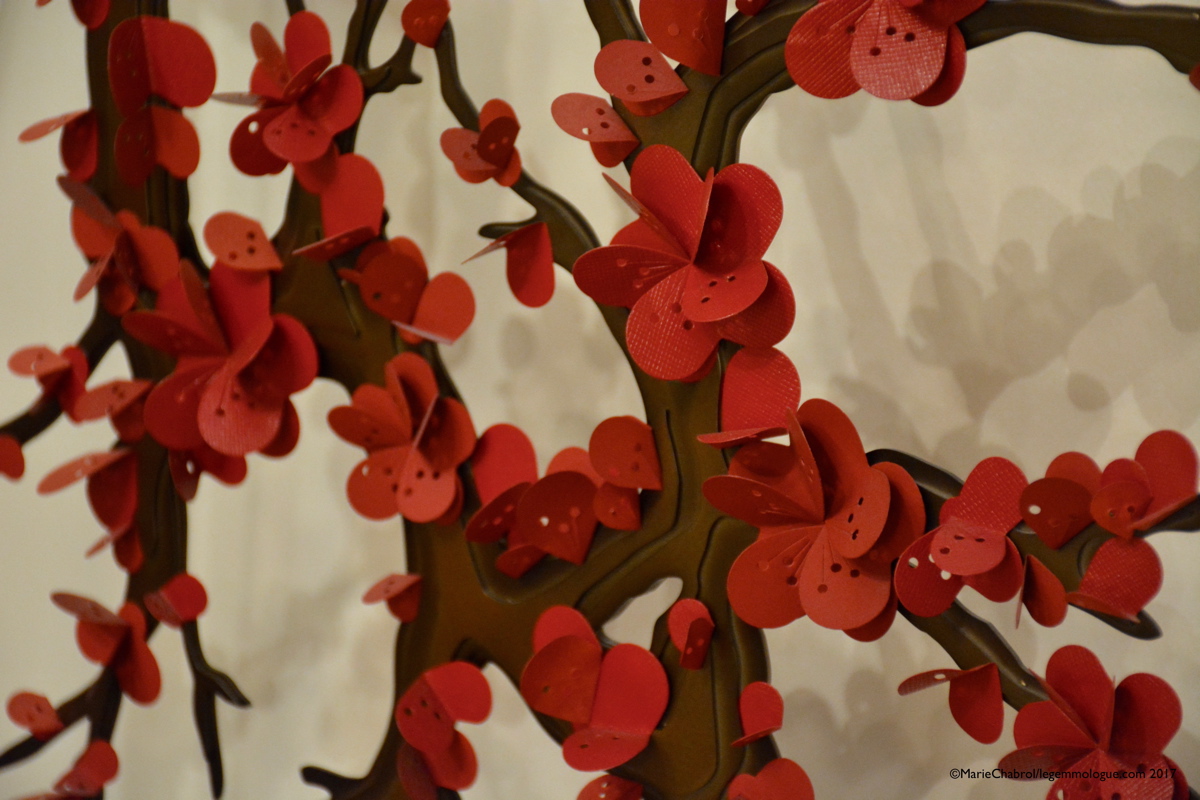 Creation of a window display for the Cartier shop network for the Chinese New Year 2014 on the theme of the cherry tree. Declination of the concept in the form of podiums for shopping malls – Asia. February 2014 – China, Hong Kong, Taiwan, Singapore, Australia, USA. Photo : Marie Chabrol

Paper design of 5 olfactory paper touches inspired by the Cartier bestiary for the Laboratoire Précieux du Printemps de la Beauté. Techniques used: cutting, embossing, hot foil stamping and micro-perforation. Photo: Marie Chabrol
For a while, she worked with agencies, then very quickly on a freelance basis and in 2001, she launched her own business by opening the Studio Marianne Guély. The shop in the 9th arrondissement was opened about ten years ago and has since been supplemented by a workshop of several hundred square metres in Aubervilliers for the creation of monumental structures . This is Marianne's core business: from the proposal to the creation of entire scenographies and stagings, sometimes gigantic, entirely made of paper. Then, miniaturisation, the design of objects, universes for windows and invitations. But be careful, her job has nothing to do with printing and she is not a graphic designer either. It's a bit of all that at the same time, with a tenacious desire to design pieces that offer exceptional durability, objects that will be kept or even exhibited because they are first and foremost objects of art.
Book made for Cartier containing a wearable paper tiara. Photos : Marie Chabrol
In 2005, she was commissioned by Baccarat to design a new collection for Philippe Starck on the theme of "Beauty and the Beast". From that date on, everything went very quickly for her and the studio, which has since signed marvellous decorations such as, most recently in the jewellery sector, "La nature de Chaumet" (2016), the Piaget space during the SIHH (2016) or the decorations for the new boutique of HRH Jewels.
Creation of a paper luminary. Photo : Marie Chabrol
Creation of a decoration in the workshop. Photo: Studio Marianne Guély
But how are these structures made? Because that's the question you ask yourself when you see them. Technology has since complemented the entirely manual work of the workshop and laser cutting is now a great help in the realisation of projects. But the vast majority of the work is still done by hand, including, and this is a particularly important stage, the installation of the elements in places that can be in France but also abroad, since some unique structures have recently travelled as far as South Korea… This is no small organisation!
Creation of a pen box for Van Cleef and Arpels (2014). Photo: Marie Chabrol
Creation of mini-books for the house of Cartier featuring iconic creations such as the famous ladybird brooch in gold, enamel, coral and diamonds. Photo : Marie Chabrol
I can only invite you to pass by Marianne's workshop and admire the structures on display. In her hands and those of her close collaborators, paper – this seemingly unpretentious material – becomes playful, joyful and opens the doors to incredible worlds. Do not hesitate to meet her if you have a project, she and her team will know how to answer your requests with creativity and accuracy. If there is a meeting that I am happy to have made and a universe that I am delighted to be able to make you discover, it is indeed this one!
Towards the rue de Provence. Detail of the cut-out screens. It's time to come back to reality. Photo : Marie Chabrol
*****
Studio Marianne Guély
46 rue de Provence, 75009 Paris
vincent@marianne-guely.com (scenography)
See you soon!