The fourth edition of Un Bijou Pour Noël closed its doors a few days ago. If you followed me on social networks(Instagram and Facebook) during the event, you discovered some of my favourites from the different exhibitors. But I didn't publish all the pictures I took during the event. So I propose you a small retrospective of the pieces that seduced me the most with many unpublished pictures. I hope that you will enjoy this selection and that it will make you want to treat yourself to the selected jewellers and designers. On the programme, amazing stones, high quality French products, artists' jewellery and – above all – workshops and designers that I particularly appreciate for their kindness!
Marina is of Colombian origin and has been living in Paris for several years now. As an independent designer, she has worked for several big houses. Since 2015, she has been producing her own pieces and proposes her vision of jewellery through sober and airy pieces.
White gold and cultured pearl ring.
Butterfly ring in white gold and diamonds.
Marina Cabanel
41 rue Saint-André-des-Arts
75006 Paris
Tel: 09 50 98 56 13
Email: mc@marinacabanel.com
*****
I have been following Aude's work for several years. In love with colours and materials, she proposes a classic and luminous jewellery. Beautiful stones, careful manufacturing and pieces for all occasions.
Earrings in gold, pink sapphires and diamonds.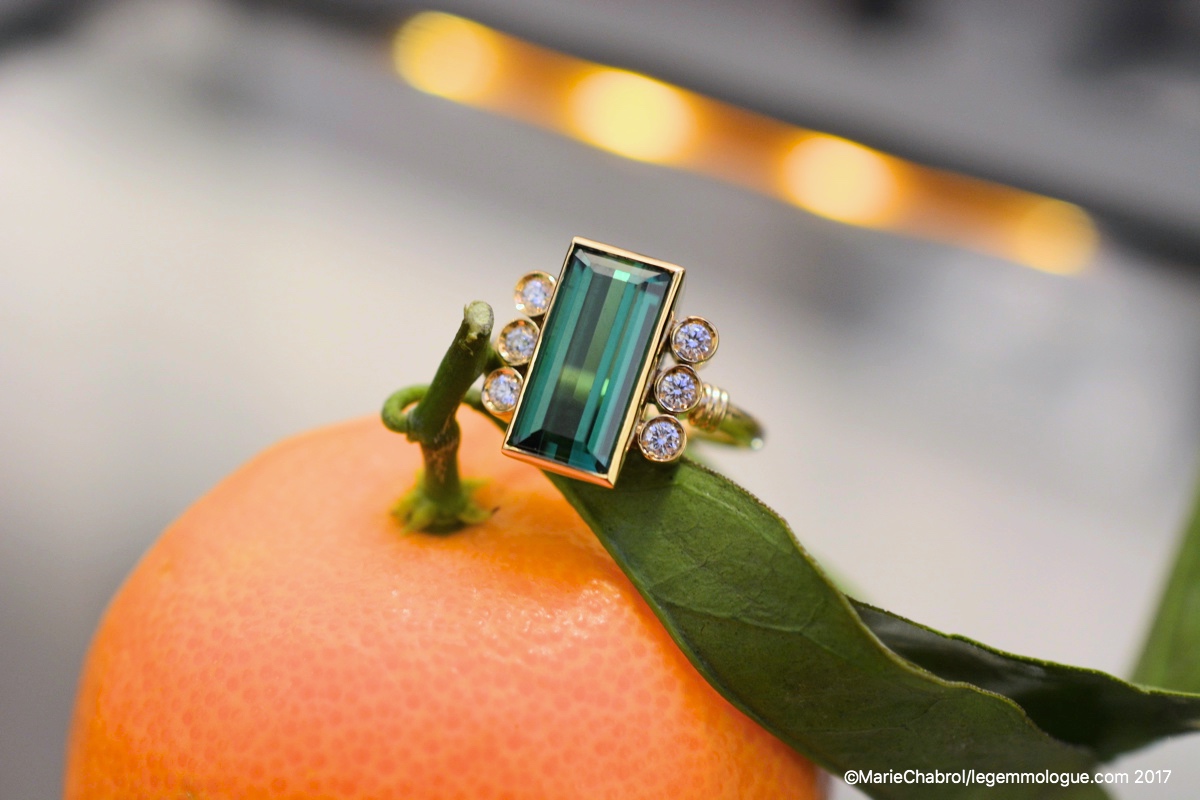 Ring in yellow gold, diamonds and 6-carat green Mozambique tourmaline.
3 place Henri IV
94220 Charenton-le-Pont
Tel: 06 81 65 46 43
*****
Nathalie creates unique jewellery, strong pieces with a real personality. A true artist's jewellery awarded since 2017 by a title of Maitre d'Art.
1- Gold, lacquer and Australian opal pendant. 2- Yellow gold, ruby and tourmaline cabochon ring of 9.25 carats and 3- Yellow gold and Italian micromosaic ring of the 19th century.
Nathalie Bonnemaille
65, rue des Granges
25000 Besançon
Tel : 03 81 82 06 64
*****
The designer Thu-Thao Le Thi is behind the name of the house. If you follow me in my wanderings and encounters, you have already seen pictures of her pieces here. I particularly like her Silex collection, which I find aesthetically interesting, like this bracelet. But I can only encourage you to discover her work!
Silver and apatite bracelet.
Phone: +33 6 87 73 91 13
*****
Marie-Caroline Lagache's work has pleased me for many years. I love her refined and very colourful jewellery. They are as joyful as she is!
Rings in gold, diamonds, citrine and spessartite garnet.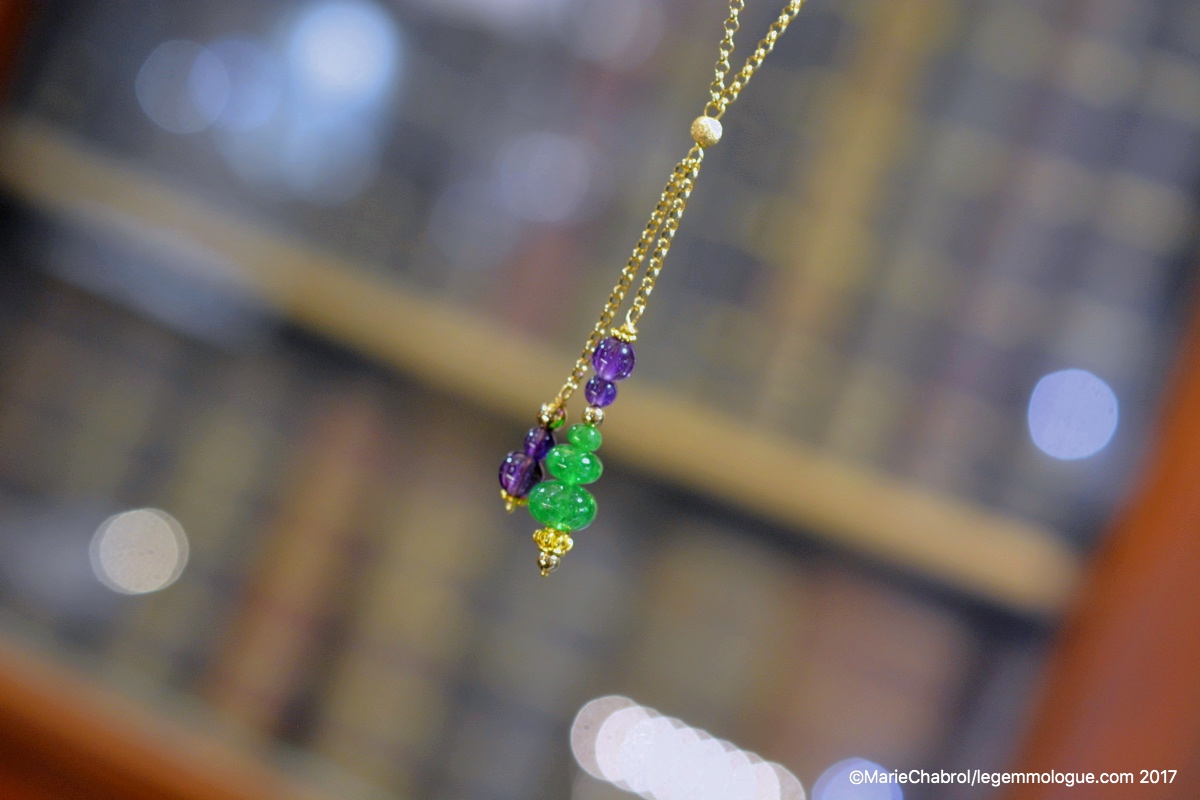 Necklace in yellow gold, amethysts and tsavorite garnets.

Tiber
Tel: 06 18 49 61 11
Email: mclagache@tiber-joaillerie.com
*****
Marc Alexandre / Gabriel Leibacher
If Marc's work is not unknown to you because I speak to you about it quite often, Gabriel's work is certainly more so. After several years in Alsace, he joined Marc's workshop to work with him. As much in love with opals and beautiful materials as his partner, he proposes a playful jewellery and objects like art pens.
Gold and Australian opal ring by Gabriel Leibacher.
Marc Alexandre/ Gabriel Leibacher
37, rue Lafayette
75009 Paris
Tel: 01 40 16 08 71
*****
Sandrine is undoubtedly one of the revelations of the show. A jeweller and gemologist for over 25 years, she creates objects for the great houses. But it was the desire to highlight materials rarely used in jewellery that led her to create her first and very successful collection! The public was not mistaken, as she won the "visitors' favourite" prize.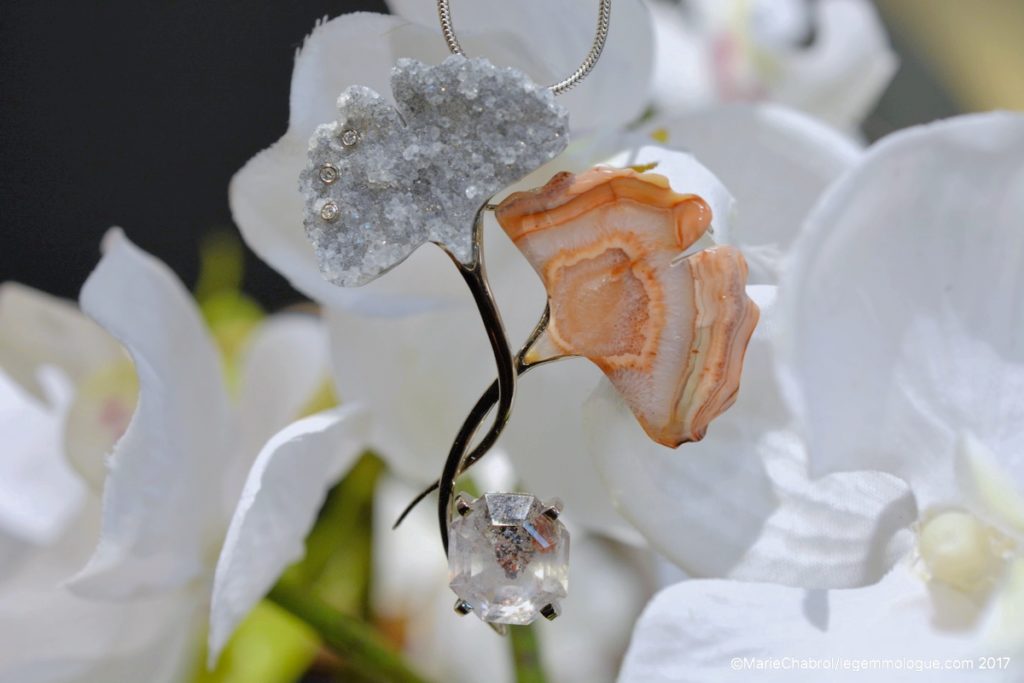 1- Aki pendant in gold, diamond, agate and microcrystallised quartz cut in the shape of leaves in our workshop, quartz with haematite inclusions from Madagascar, 9.59 cts. 2- Tourmente pendant in white gold, agate and quartz with inclusions of 10.37 cts. 3- Rayonnate pendant in yellow gold and fluorite of 31 g cut in our workshop. 4- L'Eclaircie pendant in white gold and fluorite, 25.7 g.
Sandrine Huet
Tel : 06 63 57 00 14
Email : sandrine@sh-c-p.com
*****
Muriel Beigbeider
Like the other jewellers selected in this article, Muriel uses materials that give a lot of warmth to her own creations. Here again, the stones have a real purpose in her creative process.
Yellow gold, fossil coral and sapphire pendant
Ring in white gold, sapphires and quartz with haematite inclusions
Maison Beigbeder
Tel: 06 79 61 08 68
email: muriel.beig@mac.com
*****
I have known the Bianchi company for about ten years now. Located in Eastern France, the company specialises in jewellery and watches. A nice EPV certified address to know!
Yellow and white gold, diamond and vanadinite pendant.
68 route de Metz
57280 Maizières-lès-Metz
Phone : 03 87 80 37 42
Email : mariabianchi@hotmail.fr
*****
If you are looking for classic jewellery with contemporary touches and beautiful stones, this address will certainly please you. The house often chooses atypical materials, stones with stories and offers very pretty jewellery.
Ring in yellow gold, diamonds and a rare orange tourmaline from Madagascar for 1.75 carats.
Christine Escher
Westminster Hotel
13, rue de la Paix
75002 Paris
Tel: 01 46 26 02 20 / 06 07 80 62 30
See you soon!