Jewellery can be divided and categorised into many different segments. Artist's jewellery is a form of jewellery that is often little known to the general public and reserved for well-informed collectors – such as Diane Venet – because it is exclusively signed by personalities from the art world who have only rarely approached this medium, reserving it for gifts or one-off experiments. Picasso, Jeff Koons, Calder and Niki de Saint-Phalle have all produced pieces ranging from rings to pendants. Less impressive than the mobiles kept at the Fondation Beyeler (Calder), the Stravinsky Fountain a few metres from Pompidou (Niki de Saint-Phalle) or the Lobster hanging in the King's and Queen's Apartments at Versailles (J. Koons), these pieces are nonetheless interesting for what they tell us about the artists and their creative paths.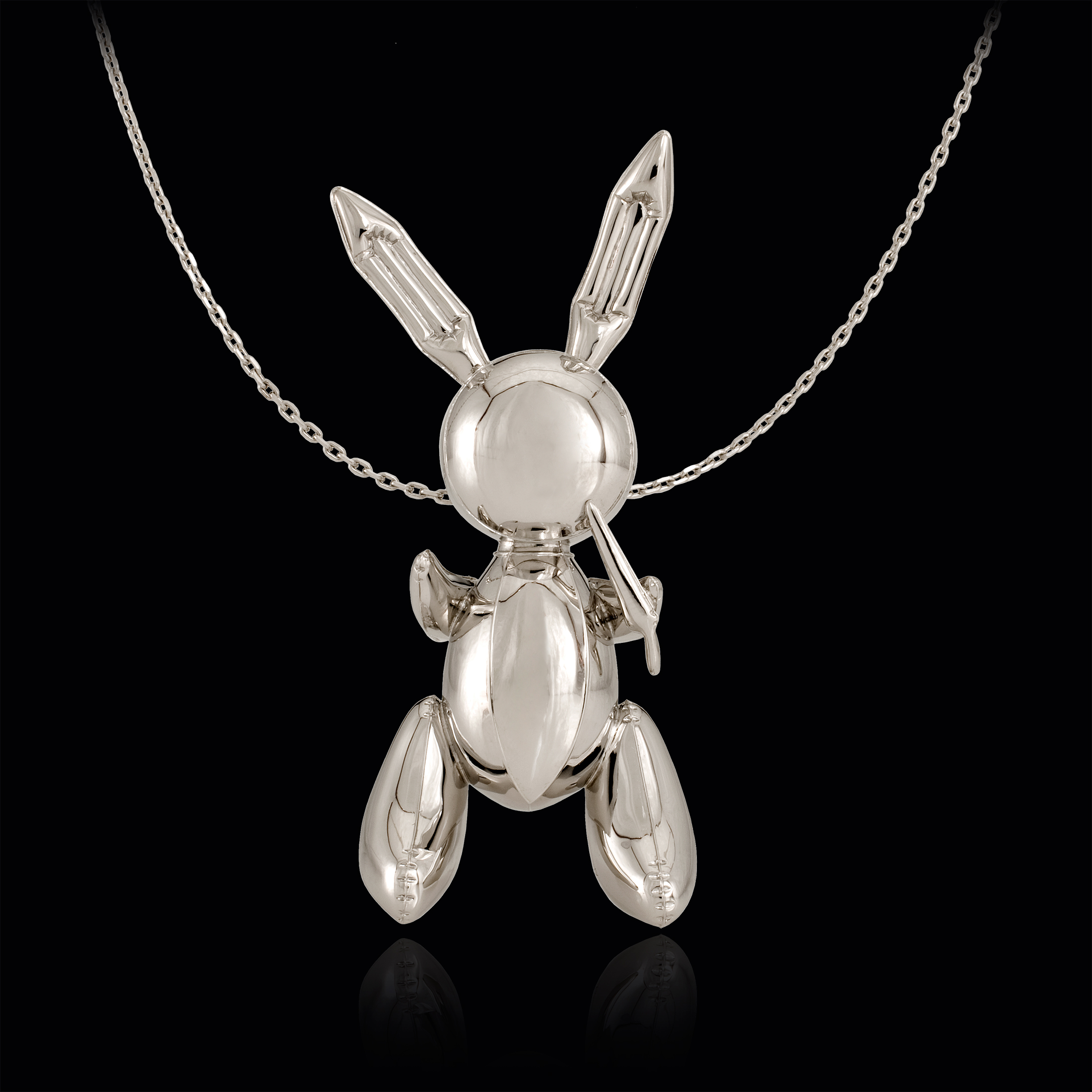 Rabbit Pendant Necklace, 2005-2009, Jeff Koons. Platinum necklace. Edition 11/50 with Stella McCartney. Photo: Coll. Diane Venet
For the past month, the MAD Museum in Paris has been offering visitors the chance to discover one of the most complete collections on this subject, that composed by the audacious Diane Venet. The exhibition, which brings together more than 230 pieces, a mixture of her own collection and loans from various museums and artists, makes up her ideal jewellery box. But before I tell you more about this collection, I need to tell you a little more about the person behind it and why I didn't mention her earlier on the site.
Inclusion, 1972, Arman. Brooch – Steel nails, polyester resin, silver. Unique piece. Photo: Coll. Diane Venet
Like the Medusa exhibition at the Palais de Tokyo, I have been to the exhibition three times. I discovered it on the evening of the opening (you can find it in my front page stories on my Instagram account), but there were far too many people to enjoy this exhibition that I had been waiting for without expecting it. I am no stranger to artist's jewellery. After years in the jewellery business and some diligence at auctions, these are pieces that have become more commonplace in fine auctions. But if these pieces have been in the shadows for a long time, they are now in the spotlight and the prices are all the higher, even if they do not rival the millions of euros that can be expected from paintings and sculptures by these same signatures. While these jewels are gradually becoming an investment, they are still accessible.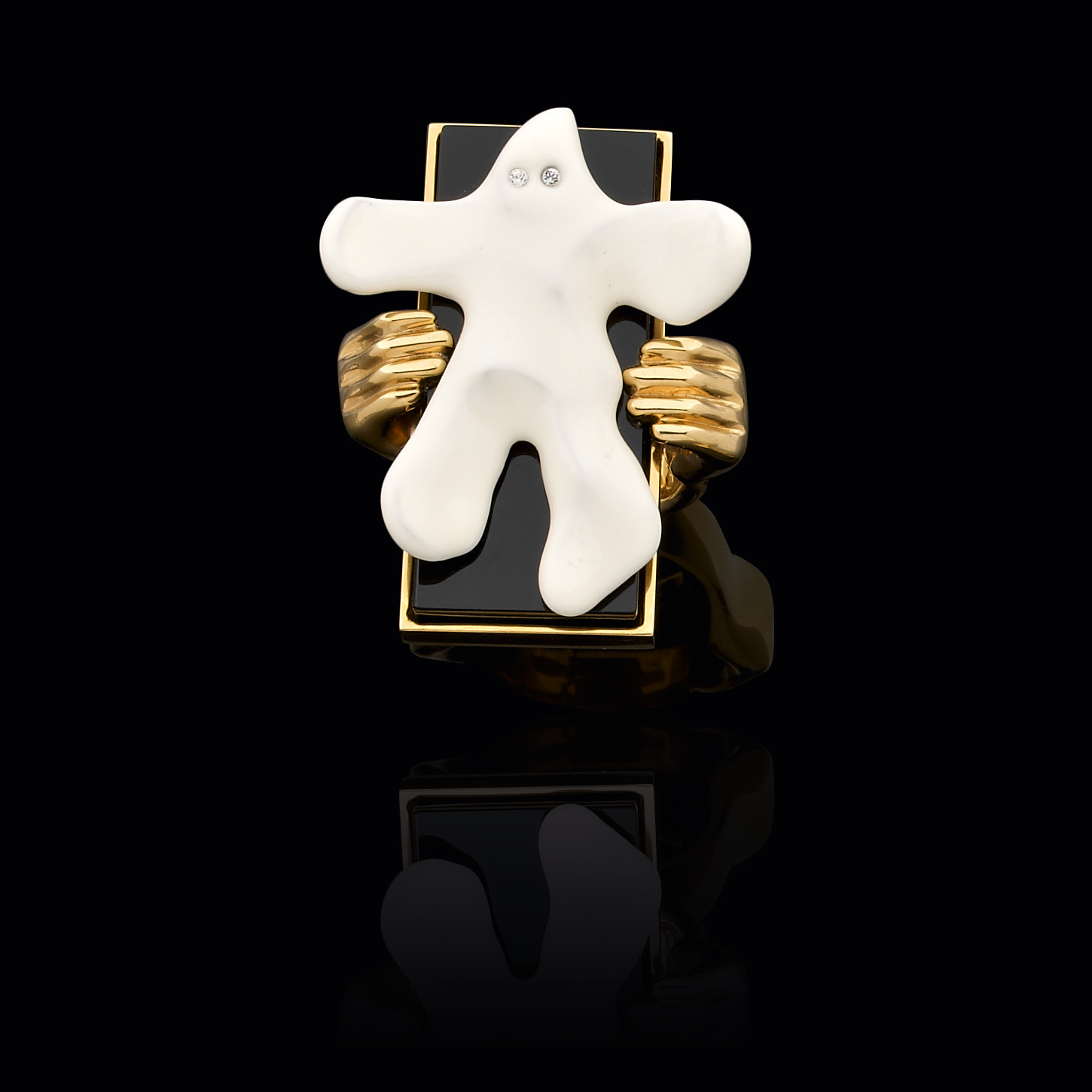 Prototype, 2012. Large ring in silver gilt, onyx and white enamel. Made by Cleto Munari for Sandro Chia. Photo: Coll. Diane Venet
But let's get back to the exhibition. It was necessary to go back to understand it better because the pieces are very different from each other and the dialogue between them is not always obvious. This is also where the interest lies in the museum's sober and effective scenography, which has chosen simplicity to present the jewels. The showcases are at eye level, the pieces are grouped by theme (faces, colour, religion, the great modern artistic movements or kinetic art) and the result works quite well if you don't expect to see complex pieces of jewellery or exceptional gems. Because it's not! Here, we are talking about silver, gold, sometimes small gemstones, enamel, lacquer, plastic, resin or acrylic. So, in order to tell you about it, I had to integrate and digest this set, sort out the more common pieces to decide on my favourites. It is now done!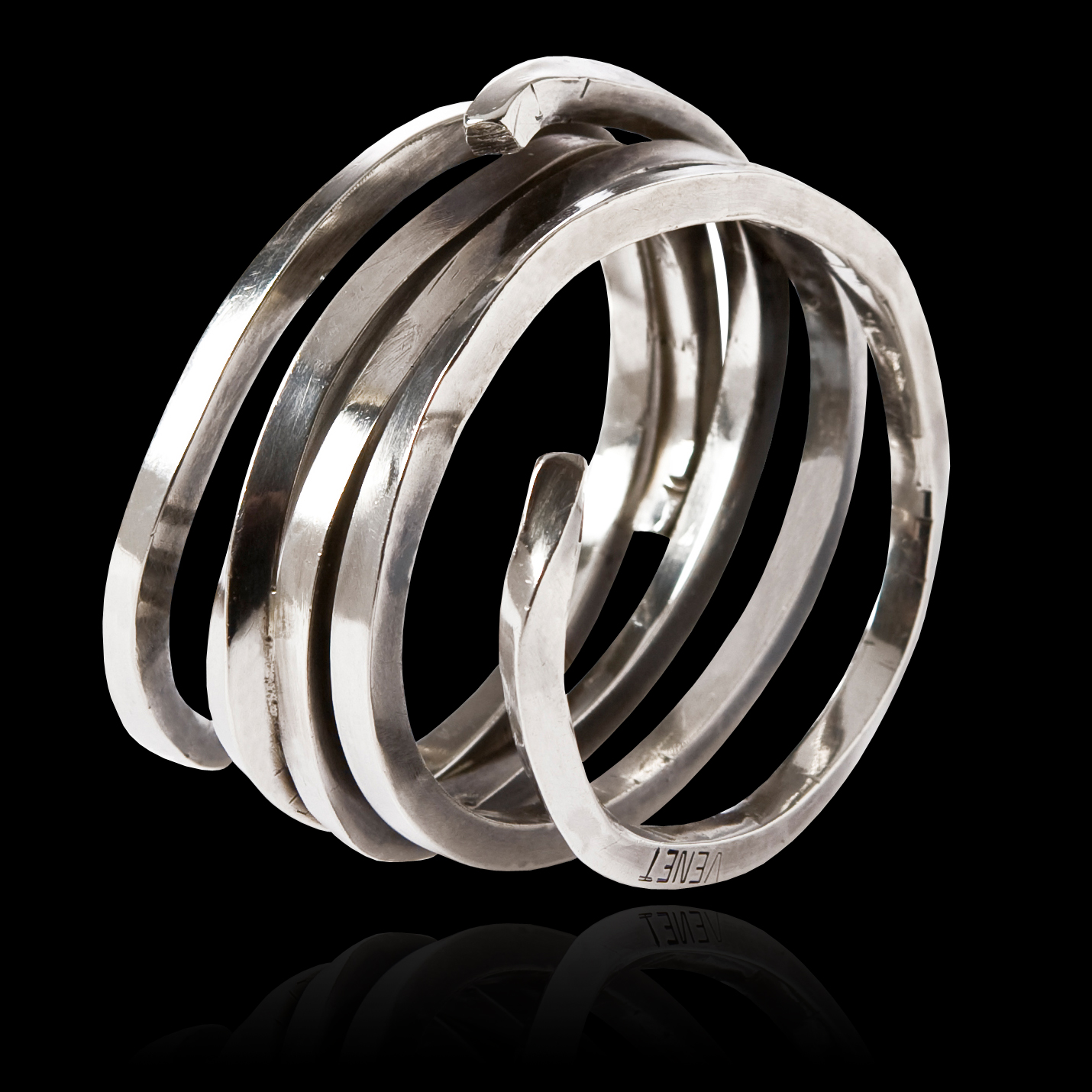 Two Indeterminate Line, 1992. Bracelet – Silver. Unique piece. By Bernar Venet. Photo: Coll. Diane Venet
This collection was born when Bernar Venet, Diane's husband, wrapped a silver wire around his finger to make a wedding ring. This gesture, which reflects the sculptor's deep affection for his future wife, also shows that everything can be jewellery. In making this ring, Diane Venet discovered the emotional charge that lies behind these rare objects, which often have touching stories. This is what has guided her in her acquisitions ever since.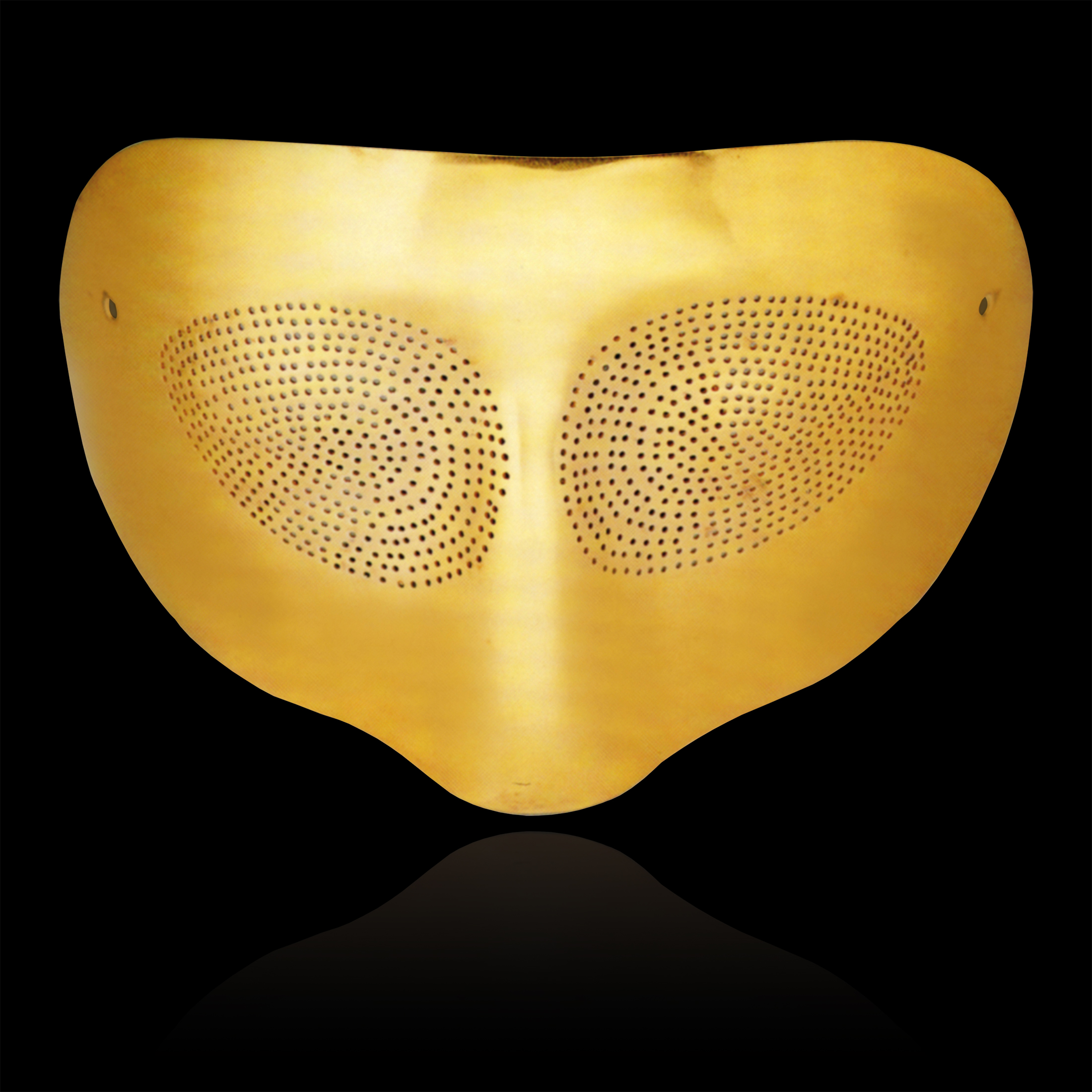 Optic Topic, 1974, Man ray. Mask – Gold, 9.7 x 18 cm. Edition 79/100. Photo: Coll. Diane Venet
Finally, and this is one of the most interesting aspects of this event, the artists presented have only rarely made their own pieces. As artists, they are not jewellers and generally do not know how to allow their experiments to be worn. Among the exceptions was Alexandre Calder, but he was also known for turning the smallest piece of metal into objects or jewellery. Silent (his wife says he could stay silent for days), he translated what he could not verbalise into art. The exhibition therefore presents the work of the workshops that worked in the shadows in the image of François Hugo. He was the craftsman responsible for translating the ideas of Jean Arp, André Derain, Picasso, Max Ernst and Roberto Matta into portable jewellery. But we must not forget the work of the Giancarlo Montebello workshop in Milan, which produced the Pomodoro brothers, Man Ray, Pol Bury and the great Niki de Saint-Phalle.
Brooch, 2000, Lynda Benglis. Brooch – Silver, 2.5 x 12 x 5.5 cm. Unique piece. Photo: Coll. Diane Venet
Also, run to MAD Paris. You have until July 8 to see the exhibition and it would be a shame to miss it. Finally, don't forget to buy the book. It traces and explains even more the constitution of this collection and Diane Venet's stylistic choices. At 39,90 €, it would be a shame to miss it! Enjoy your visit!
See you soon!