I am happy to resume my Career Portraits with a person I have been wanting to interview for a long time. Victoire Winckler, the Director of the Jewellery & Watches Department of the Tajan auction house, has agreed to take part in a question and answer session about her career path. I invite you to discover her to better understand her daily life in the auction house.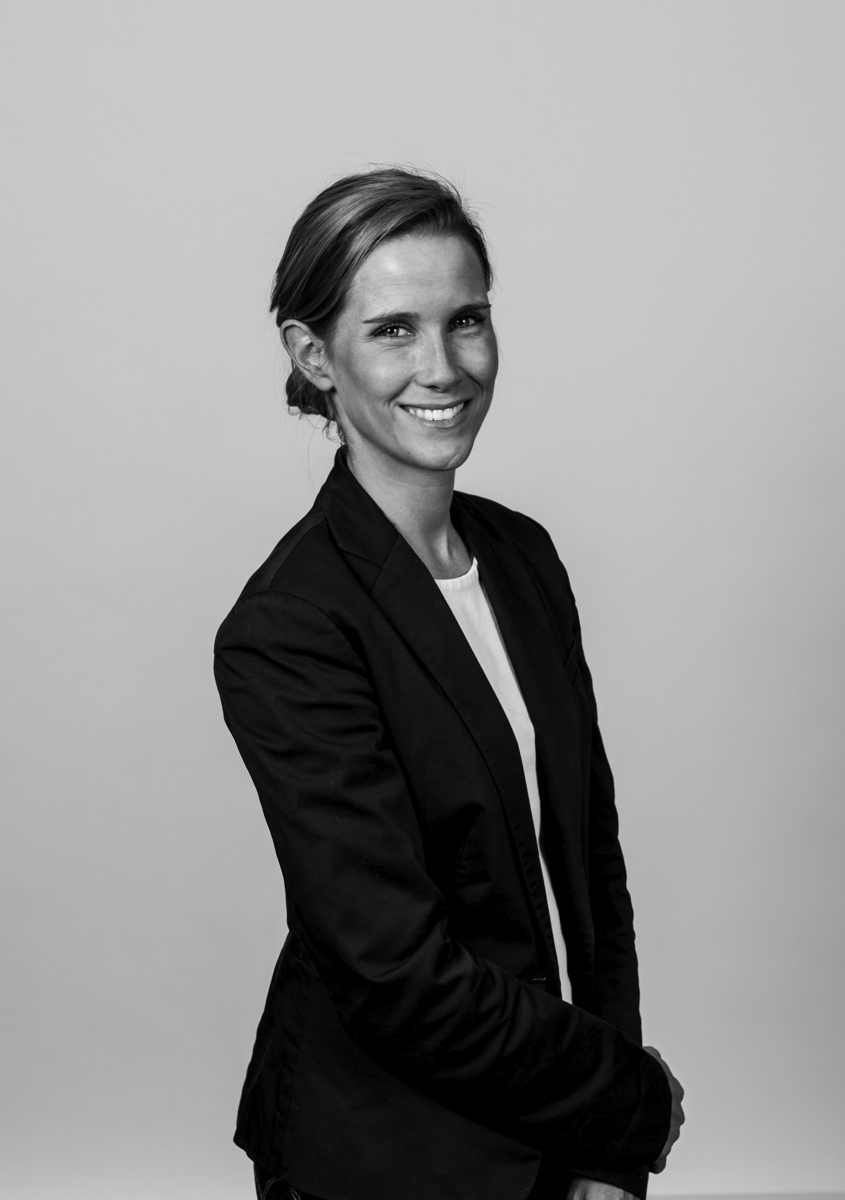 Mrs Victoire Winckler. Photo: Tajan
1- Can you quickly introduce yourself?
My name is Victoire Winckler, I am thirty-two years old, I have three children and I have been in charge of the Jewellery & Watches department at Tajan since 2015.
2- What job did you want to do when you were a child?
It has absolutely nothing to do with my current job. But in a completely different field, I would have liked to be a fighter pilot.
3- How did you get to this position?
I studied art and I was lucky enough to have a friend who was an intern in the jewellery department of this company. She had stars in her eyes when she talked about it. I was at the end of my studies and I needed an internship to complete my course. So I spontaneously contacted Mr Loic Robin-Champigneul, who was in charge of the interns at the firm (now Director of Sales at Tajan ). As luck would have it, he was looking for someone and I came in this way. First as a "little hand" if I may say so, then I wanted to stay and I asked if it could be done. I was starting to really like jewellery and I was passionate about my work. There was a possibility of getting a job in the department. So I started working more closely with Géraldine Richard, who is now a consultant in the watch department, and Gabrielle Moral, who was running the jewellery department at the time. So as an intern, then a fixed-term contract, then a permanent contract and since 2015 as head of the department. I have progressively evolved in the company since 2009.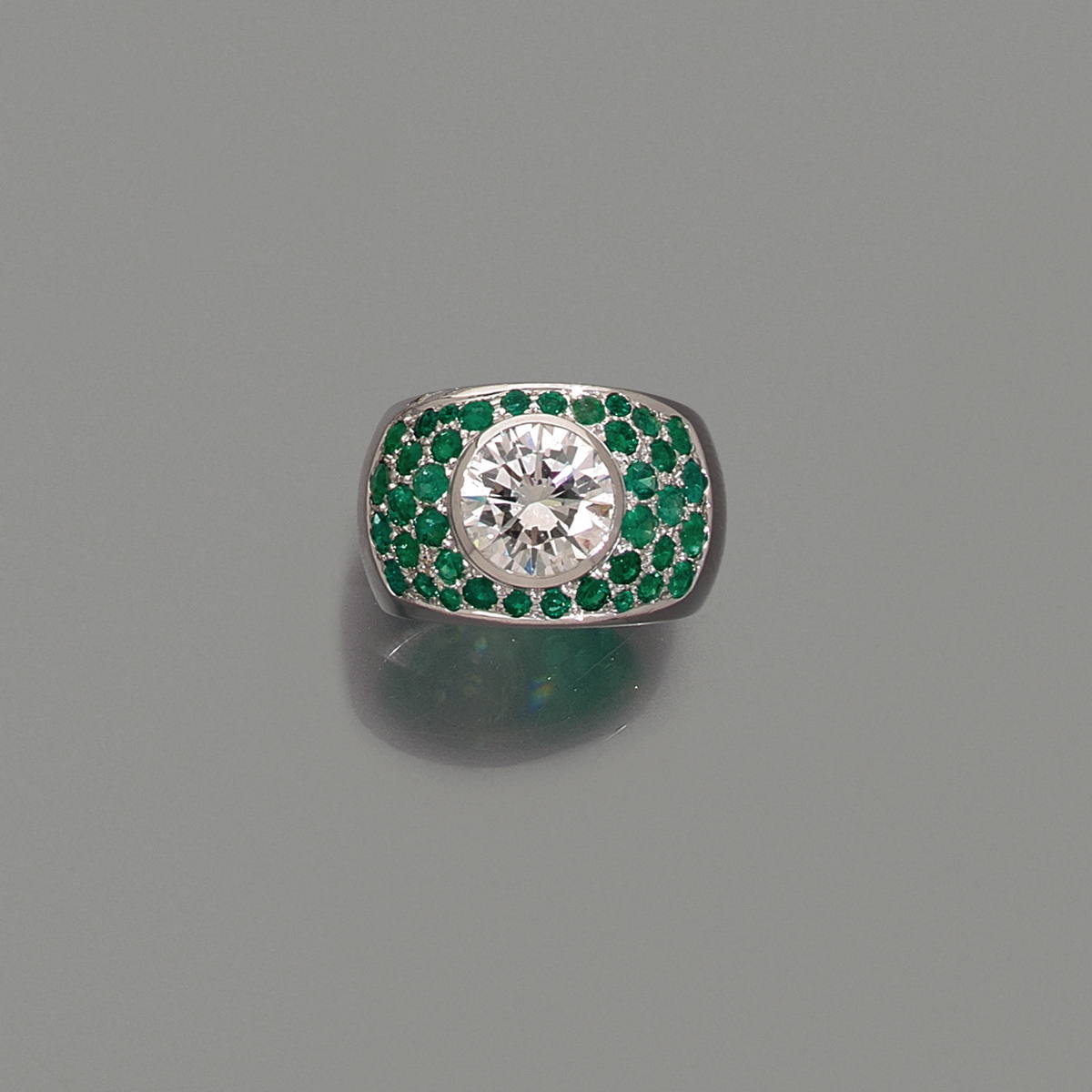 Sale 1653 – lot 96: white gold diamond ring with emeralds. French work. Weight of the diamond: 3.83 carats. The diamond is accompanied by an opinion of the LFG Laboratory stating according to its opinion: G colour, VS2 clarity. Sold for €48,750. Photo : Tajan
4- What studies did you follow ?
I studied plastic arts at Paris 8. But it was too broad, general and not specific enough. It was difficult to choose a field afterwards. But it allowed me to understand that I didn't want to work in a gallery, for example. Then I joined the EAC in cultural mediation as a professional year. And it was at the end of this year that I joined Tajan as an intern.
5- And more specifically, what is your educational background in relation to the field of jewellery and gemology?
I learned about jewellery at Tajan, in relation to our various experts. But I followed the ING course in evening classes and intensive sessions. I started this while I was at Tajan. I wanted to stay, they were interested in my profile and I progressed rapidly in the field of jewellery. So I wanted to specialise even more. And it was necessary to obtain a diploma in the speciality I wanted.
6- Why jewellery and not another field?
Certainly by chance, at least at the beginning. Thanks to this friend who had told me about her absolutely wonderful internship. But I've always had a special feeling for jewellery. Although I don't have anyone in my family in this particular field. My parents instilled in me a taste for beautiful things and objects, for art, for paintings and especially for the family tradition of jewellery. Moreover, jewellery encompasses history and it is a field that fascinates me. Jewellery pieces tell a lot about a period, about a person. They say a lot about a family and a world.
Sale 1653 – lot 180: Important ruby and diamond ring, circa 1910. Platinum setting. Weight of the ruby: about 5.22 carats, it is accompanied by a report from the SSEF laboratory stating in its opinion: origin Burma, without trace of heat treatment.Sold for 171 000€. Photo : Tajan
7- Let's get to the heart of the matter, is there a typical day or week?
This is a difficult question because everything depends on the period we are in: the preparation of the catalogue, client meetings with people who come to present pieces to us for a possible sale, the time of shipping.
When we are in the time of the expertise, there is a whole relational context to set up. Jewellery is special and intimate. We touch on theemotions. Many of our private clients are not in a simple sales process. Because selling a piece of jewellery is not completely trivial and there are often many reasons for doing so: financial reasons, financing a new project, etc. You have to be very careful with people and treat them individually, get into their history, show them that we will take care of this particular object, that it is not just a simple commodity. So there are days with a frantic rhythm of appointments and expert appraisals.
There is the whole communication part where we spend time with Romain Monteaux-Sarmiento (Communication Director, nda) and Julie Garcia (Digital and Webmarketing, nda) to know how to promote sales. We then think about advertising media, partnerships and targeted advertising.
There is the whole cataloguing part, where I spend weeks in the photo studio to make compositions that will be included in our catalogue. A lot of things go into the catalogue: the customer, but also the price of the piece, its aesthetics. The pieces are photographed in sheets and not individually. It is therefore necessary to think, to try and to decide quite quickly because the deadlines are often short.
Finally, the exhibition and sales part. We have a real advisory role with customers, who need us to listen to them. We have to listen to what they are looking for, not all of them are collectors or big dealers with a sure and assertive taste. A private individual looking for a stone, for example, wants to be guided. Customers who have seen a piece in a photo but who ultimately want something else. And then there are the hectic days of sales, with bids and telephone calls. But it's a thrilling moment that concludes weeks or months of work. So, in reality, we have a lot of typical days that are repeated every quarter because in the Jewellery & Watches department, we have four sales a year.
8- Can you tell us what motivates you to work in this sector and what you like best about your job?
First of all, it's the discovery of new pieces when customers bring them to us. There is everything but it is fabulous to discover something and new stones every time.
Each item is special and unique, and that's really magical. Two diamonds can look the same and yet be so different. They are unique and that is the beauty of jewellery. And then each person is unique too. There is also the magic of the auction, you can find something that your neighbour will not have. The moment of the sale is exciting, the heart races when you are on the phone with the customers. You almost feel as if you are bidding for yourself, there is an excitement. You are kept in suspense by the final result of the sale. I particularly like the cataloguing and creation aspect. It's the business card of the sale, of the house. It is an essential element at Tajan. Here, we make a point of producing high quality catalogues, like art books, to highlight the pieces for the clients, to show them the care we take with their objects. Because without sellers, there are no buyers and vice versa! And this is what represents all the work we have done in the previous weeks.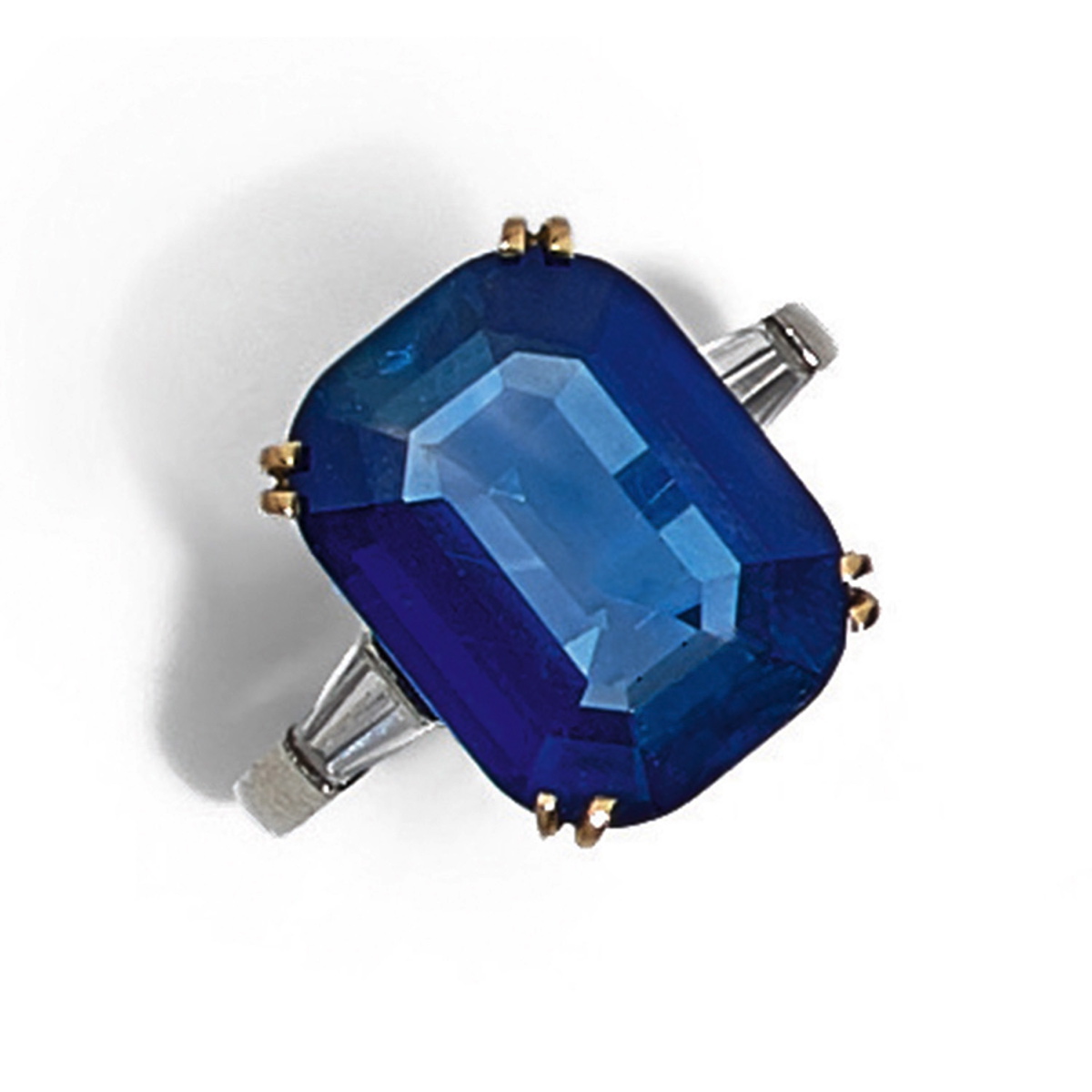 Auction 1616 – lot 293: an important ring with a rectangular double clawed sapphire set with two troïdia diamonds. Weight of the sapphire: 7.89 carats, it is accompanied by a certificate from the SSEF Laboratory stating in its opinion: Kashmir origin, without trace of heat treatment and an opinion from the GEM PARIS Laboratory stating in its opinion: Kashmir origin, without trace of heat treatment. Sold for €309,000. Photo : Tajan
9- And what do you like least?
The most complicated part of the department is the shipping, i.e. the shipping of goods around the world. Nowadays, with the Internet, you can buy from anywhere and this requires you to pay close attention to the laws and rules of each country so as not to create problems for buyers when they go through customs. At Tajan, we do not have a dedicated department, so each department is responsible for shipping its own objects. If there is one thing that is less exciting than the others, it is certainly the administrative burden associated with this stage.
10- How would you describe your job in 2018? Sales are more glamorous, more international: how do you manage this international context on a daily basis?
You have to be very flexible, adapting to each customer and their culture. Once the catalogue is online, we are visible everywhere. But we are not going to deny this wonderful visibility. But it can be double-edged. The word given is not as valuable today as it was in the past. This was the case several years ago. An expert would give his or her point of view and that would be authoritative. Nowadays, people only swear by certificates. For example, at Tajan, as soon as we sell a diamond of more than one carat, we have it certified by the Laboratoire Français de Gemmologie (LFG). The word of the expert is important but not always sufficient to reassure a potential client. People are looking for natural, untreated, almost "organic" in a way: fine pearls, unheated stones, very little included. The financial aspect and the notion of "investment" is very important in the current context of auctions. Private buyers want to be reassured, to have guarantees on the possibility of resale. Also, a signed piece is often a guarantee of quality. Professionals work differently because they already have a very detailed knowledge of the market.
11- Let's go back to a lighter subject. Do you have a signature that you prefer? What periods do you like?
At Tajan, and I am speaking on behalf of myself and the whole team, we have a huge crush on antique art deco jewellery. Our hearts go wild when we see them. Art Deco remains a guarantee of quality, of know-how that is being lost, except in very high jewellery. These are jewels that we like immediately. When we handle them, there is such excellence in the workmanship, such finesse, that we can only be admiring.
As for the signatures, I would mention Boivin and Belperron, whom I discovered when I joined the department. It is fabulous to find such strong jewels that are so rarely copied. You only have to see one and you know that there is a strong probability that it is one of these two great designers. Belperron said "my style is my signature", she didn't sign everything, we had to be able to recognise her. She was fabulous, a woman in a man's world. And then for me the great houses Van Cleef & Arpels, Cartier, Boucheron follow. I particularly like the period from art deco to the 1950s. I have to mention Mellerio for the antique jewellery which has an incredible craftsmanship that I particularly appreciate. It may seem classic, but these great names are still around today.
Sale 1522 – lot 262: Important Suzanne Belperron bracelet, circa 1936. It is made of a cushion-like curved pattern enhanced with rubies and brilliant-cut diamonds. French work. The bracelet comes with a certificate of authenticity from Mr Olivier Baroin. One of the rubies has been tested by the GEM PARIS Laboratory stating according to its opinion: origin Burma, without trace of heat treatment. This lot is part of a set whose different pieces were sold separately in the sale. Sold for 175 960€. Photo : Tajan
12- An unforgettable moment to share here: a remarkable sale, a stone you will never forget… etc. ?
When we were doing our sales in Monaco, we had a necklace of fine pearls, old, quite damaged. It would have needed to be peeled (an operation which consists of removing the surface layer of a damaged fine pearl to restore its brilliance. This skill is now almost extinct.) Its estimate was €8,000. At the sale, the room and the buyers on the phone were in an uproar. In the end, this jewel went for more than 200,000 €, it was spectacular. I remember this sale well because I had just started in the business. The client was amazed by the result. We were at the beginning of this new era of fine pearls. It was a moving moment.
13- What advice would you give to a young person who wants to do the same job? What do you have to pay attention to?
You have to seize your chance and create it. The jewellery industry is a fabulous world, but you have to hang in there, be very open and very rigorous because jewellery is a delicate object. You have to adapt to the customer, listen to him and his story. Because a jewel is worn and is an intimate object. It has gone through the ages and fashions. The emotional question is very important. You can't dissociate jewellery from the human side, which is extremely important. But for that, there is no training. It's a question of personal attitude and education.
I think it depends on the person, so you have to be humble. Here we work as a team with an expert who has many years of experience, who worked with Françoise Cailles and who knows how to explain as well as transmit. Adapting to customers means learning how to deal with disappointment. Knowing how to refuse a piece that won't sell rather than sell it is not a trivial act. It is better to transform it or pass it on. To do this, it is necessary to know the jewellery and the manufacturing techniques. A basic knowledge of jewellery can also be a prerequisite.
14- I would like to end this interview with a question about the future. I would like to know if you would make a bet on the future with certain signatures. Which houses could break auction records in the coming years?
This question is quite complicated because it is difficult to predict the evolution of the market. Clients want signatures, unique and important pieces. There is little interest in modern pieces at the moment. Buyers are looking for an invoice, a know-how. A piece that represents an investment minimises the risks. Even when it's a coup de coeur.
So I don't know if it's a gamble, but one of the first beautiful pieces of jewellery I saw was a Mellerio and I have a particular affection for this house. I would dream that they would regain a real visibility in the auctions. It is a very beautiful house, with a beautiful emotion, a remarkable workmanship. I visited the archives one day and I loved this place so much. I have fond memories of that visit. I would really like it to come back to the forefront of the auction scene.