There was a time when Basel was the undisputed capital of jewellery and watchmaking worldwide. But the proliferation of trade fairs, changing consumer habits and the extreme democratisation of the jewellery sector have greatly weakened a show that was nevertheless considered to be the unmissable event in the sector. Many journalists no longer attend. As did several important houses that decided it was time to think and communicate differently.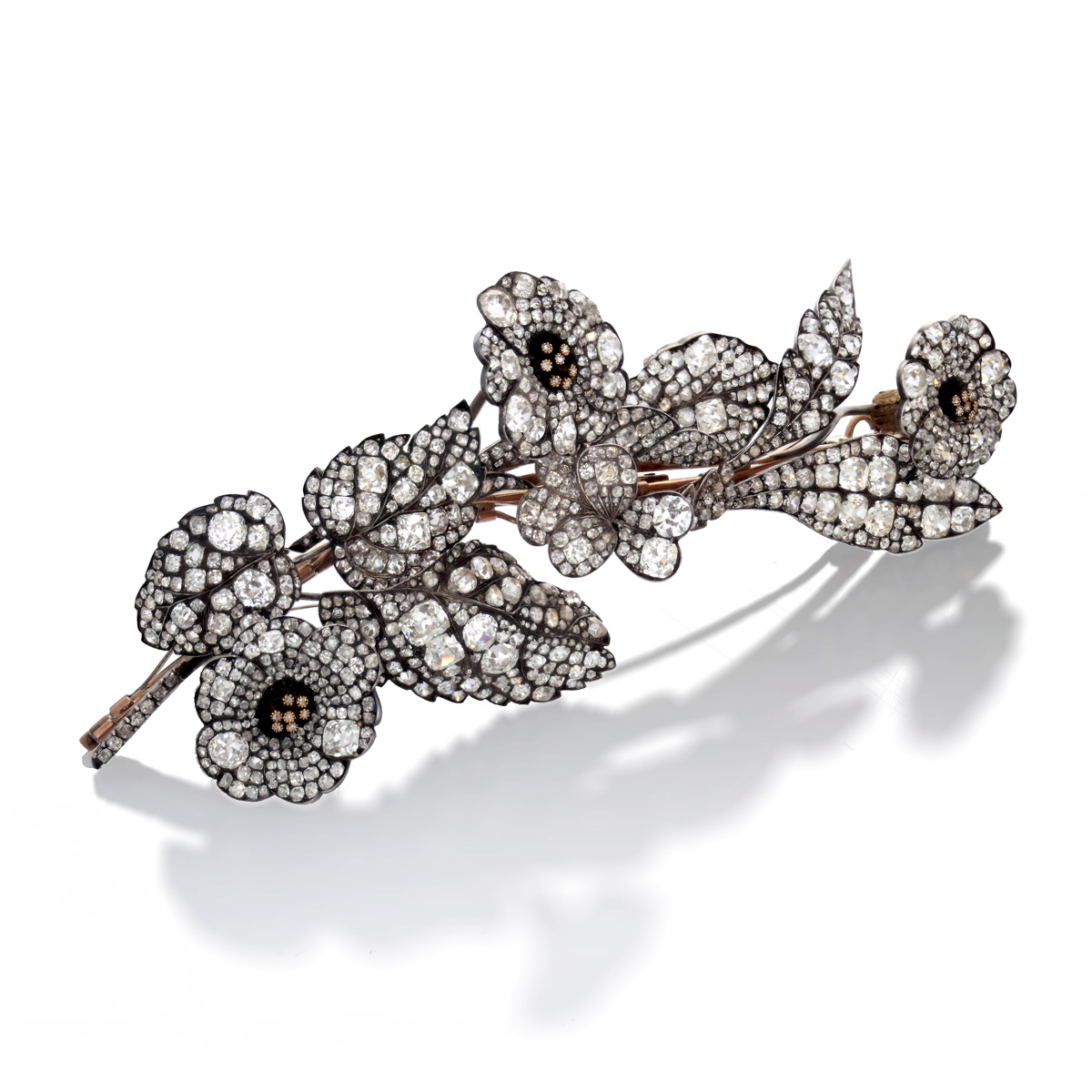 Front of a gold, silver and diamond corsage. Photo: Faerber Collection – GemGeneve
The Amarante bracelet by Neha Dani will be on display at Diarough. The clustered petals feature a mesmerising collection of 18 stunning bright pink diamonds amidst 12,000 smaller natural pink diamonds, the largest gathering of these gems in one piece of jewellery. Photo: Neha Dani – GemGeneve
And it was from this obvious observation that the GemGeneve project was born, an intimate, smaller, more restricted show focused solely on high quality. But a show that is nevertheless open to the public and of course to buyers and collectors from all over the world. The Swiss capital will therefore be the scene of a glittering week between this eagerly awaited fair and the exceptional sales of Sotheby's and Christie's. See you at Palexpo from 10 to 13 May 2018.
Thomas Faerber & Ronny Totah. Photo: GemGeneve
The initiators of this first edition make the project highly desirable for anyone who frequents and knows the fine jewellery sector intimately. The two men have known each other for almost 40 years, a professional friendship long enough to know what works in this industry:
Thomas Faerber is the fourth generation of a family business with an impeccable international reputation. Faerber specialises in exceptional stones, especially historic gems. One of its greatest successes was the recovery and subsequent sale to the Louvre of the diamond and emerald set commissioned from François Regnault Nitot by Napoleon for his second wife, Archduchess Marie-Louise. For this, among other things, Mr Faerber was awarded the medal of the Ordre des Arts et des Lettres for his contribution to French culture.
Natural, untreated Kashmir sapphires and pearls. Photo: Ronny Totah – GemGeneve
Ronny Totah has been in Egypt, Paris, Lausanne and Geneva, where he is now based and has been associated with Eric Horovitz since 1990. He is a trader of the finest gemstones and learned his trade from Teddy Horovitz, a legend in the jewellery industry. Horovitz & Totah's passions include rare cashmere sapphires and fine pearls. His passion for gemmology has led him to become involved with recognised professional associations such as the ICA (which publishes the InColor magazine that I regularly write about and work with) and the SSEF, which is now one of the most respectable laboratories.
"It is all these years during which we have built up relationships of trust with the players in this industry that have enabled us to think of GemGenève and to ensure that they follow us. As well as four world-renowned gemmological laboratories: GIA, Gübelin Gem Lab, SSEF and GemTechLab."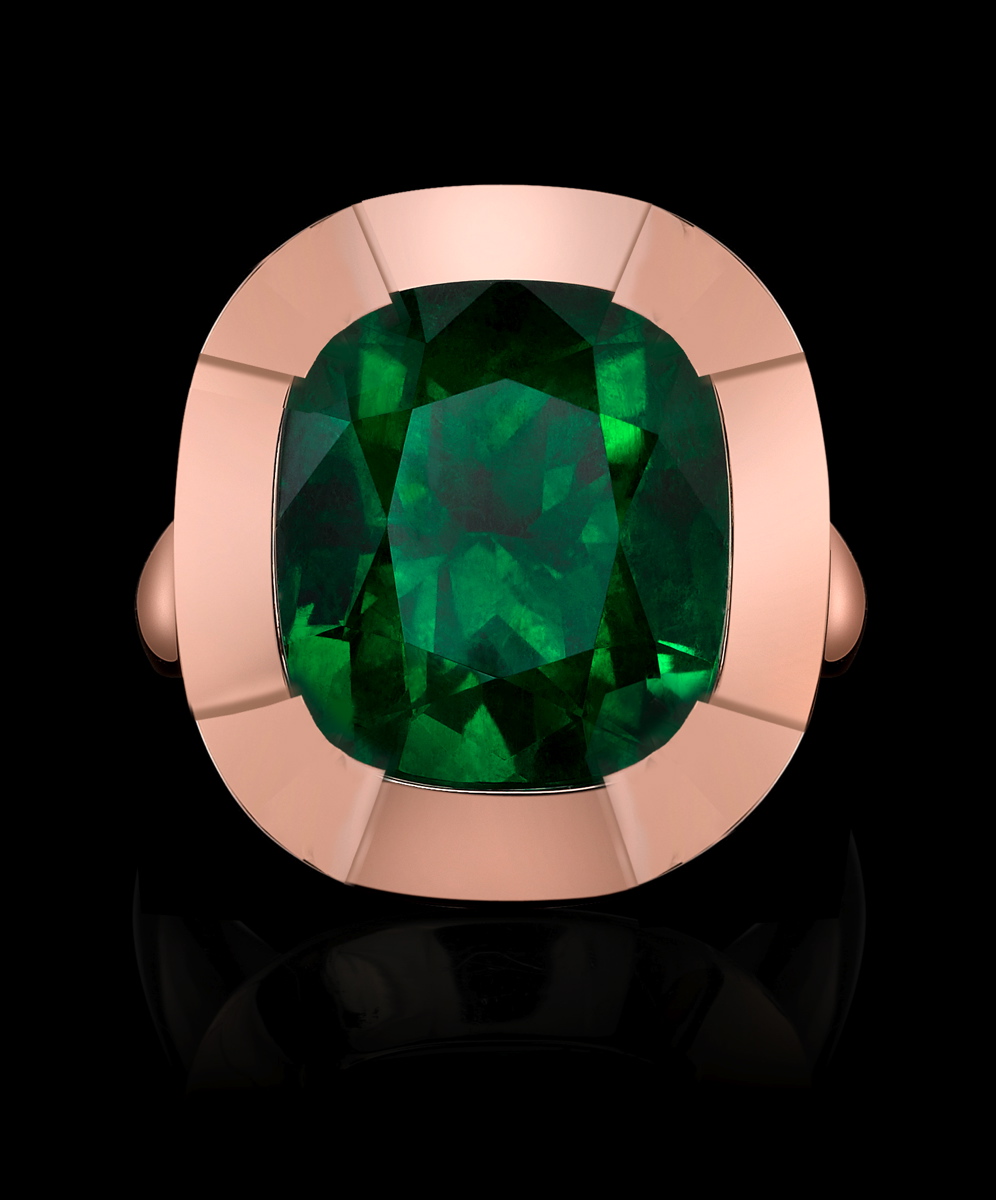 11.36 carat gold and Colombian emerald ring from the Style of Jolie collection by Robert Procop and Angelina Jolie. Photo: Robert Procop – GemGeneve
On the programme, a little over a hundred exhibitors chosen for the quality of their collections and their stones, aDesigner Showcase area curated by the internationally renowned journalist Vivianne Becker. Among the big names announced, we find the American jeweller Robert Procop who will present his collaboration with Angelina Jolie, including a suite of emeralds totalling over 215 carats. But that's not all, the houses of Nomad's, Alain Boite, Paul Wild, Pat Saling, Ernst Färber and Véronique Bamps, to name but a few, will be present. A very fine line-up for a first edition that the industry is looking forward to with some impatience.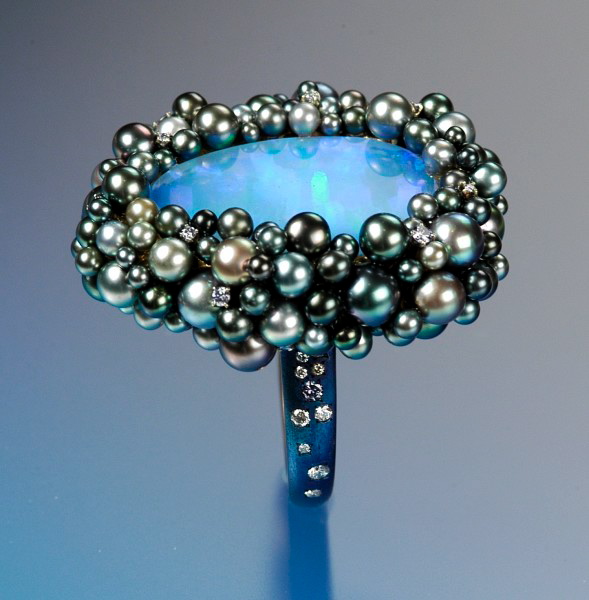 Ring in gold and steel, opal, diamonds and pearls by Sean Gilson. Photo: Sean Gilson – GemGeneve
Gold, silver and diamond earrings. Photo: Faerber Collection – GemGeneve
The words "transparency" and "integrity" have been hammered into the heart of the show's communication since the beginning. The show aims to represent the best in the sector. A necessary challenge in an industry that is now seeking to appear less opaque in the eyes of the general public, multiplying the announcements in this direction for many months. By choosing Geneva to host this new event, the organisers have chosen a city with an established reputation in this field. We must therefore wish the best to this first edition and hope that it will not be lost if the success, which we have no doubt, is there.
See you soon!
Cover image: Gold and emerald box by Suzanne Belperron, Pat Salling collection. Photo: Pat Salling – GemGeneve