On the occasion of the event " Le Carré Joaillier", which will take place from 14 to 24 June 2018, I invite you to discover the designers who will participate in the ephemeral boutique at 5 place Saint-Sulpice. Today, I'm taking you to meet someone I've been following for a long time now: jeweller and designer Marie-Caroline Lagache.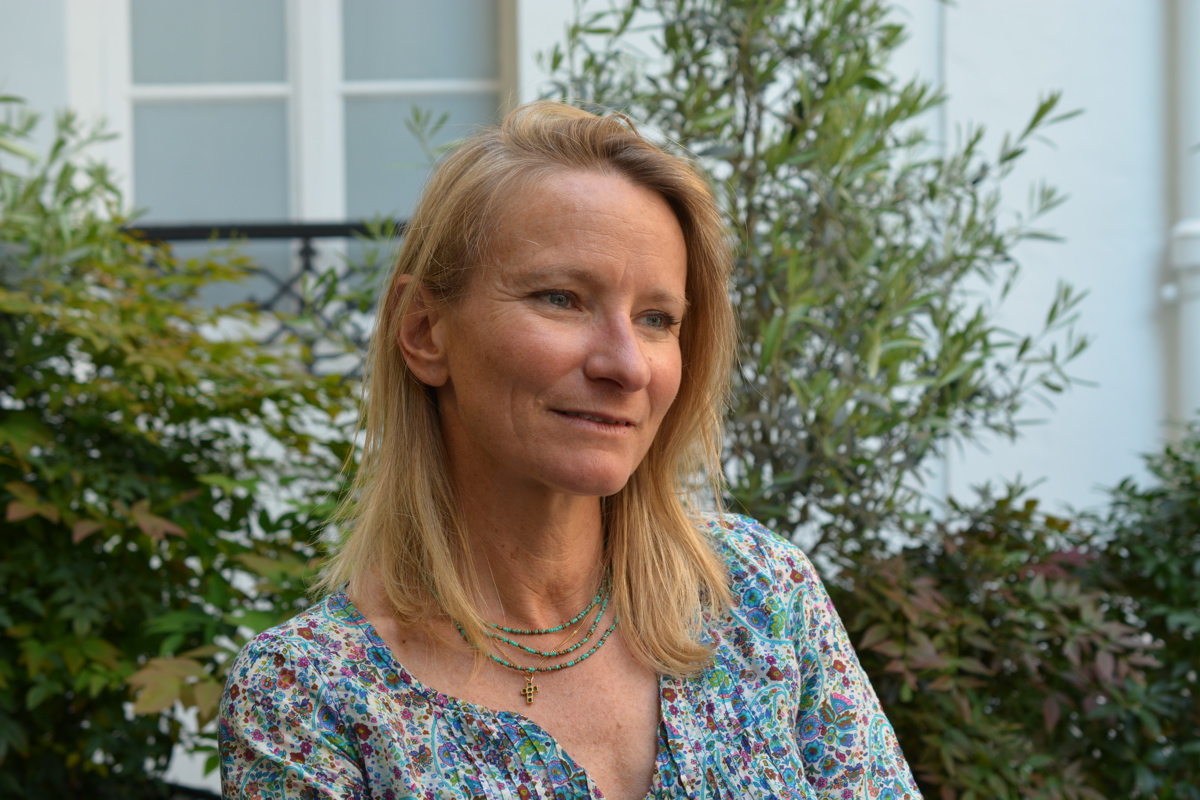 Marie-Caroline Lagache. Photo: ©MarieChabrol/legemmologue.com 2018
*****
Before returning to jewellery and deciding to make it her full-time profession, Marie-Caroline spent almost fifteen years in the financial sector in France and abroad. When the time came to consider a career change, she decided to pay tribute to her family history and to reconnect with the stones that her father and grandfather had loved so much… Far from Paris, the story begins in Lille.
A shop called "Au soleil d'or", such was the name of Robert Lagache's jewellery shop. Well known to the people of Lille, this shop specialised in sales and repairs. It was here that Hubert Lagache got his training and it was through his family that he entered the jewellery business. From this old shop, some archives remain and above all a name – Tiber – that Marie-Caroline's grandfather had given to a watch in honour of his son: Tiber for "little Hubert".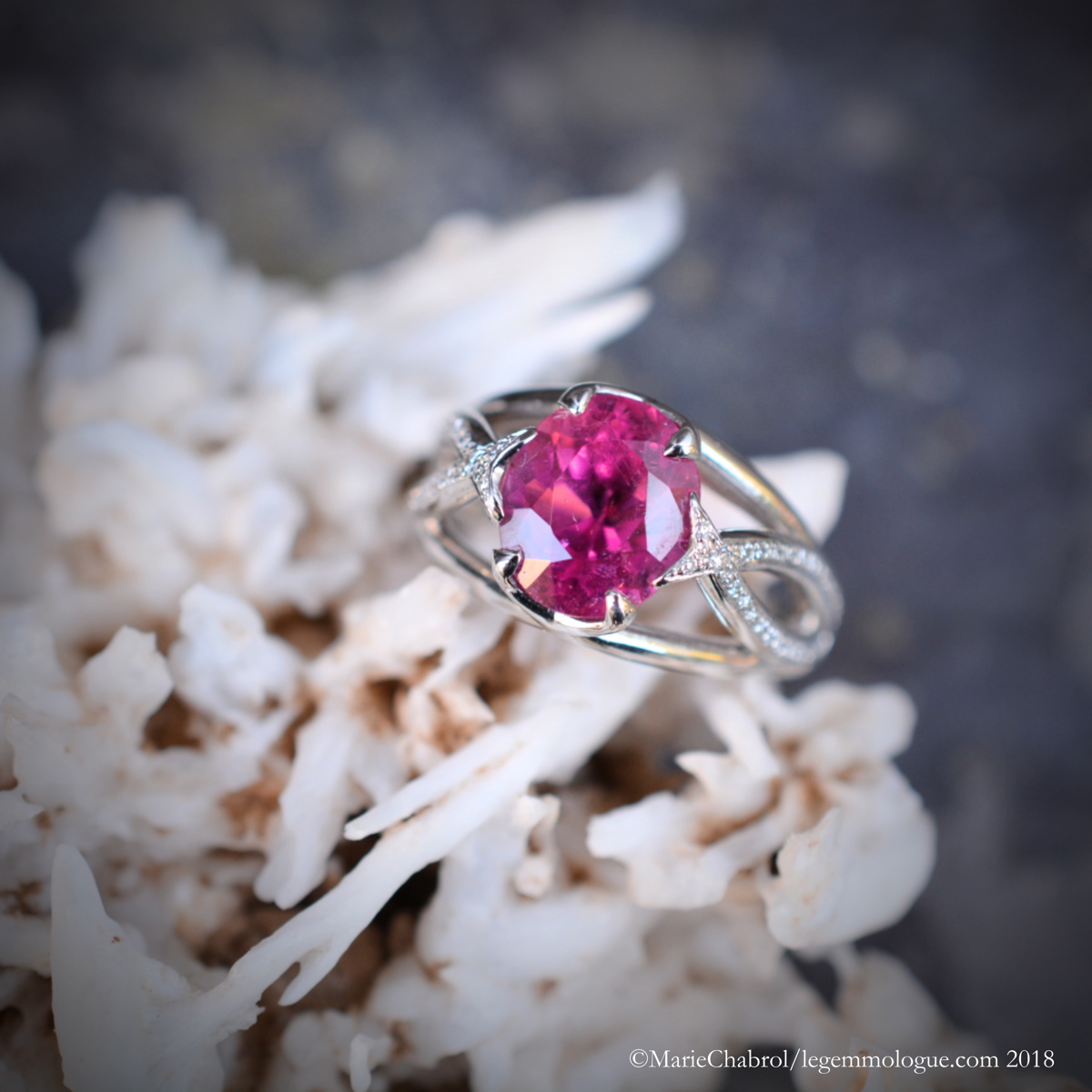 White gold, diamond and pink tourmaline ring. Photo: ©MarieChabrol/legemmologue.com 2018
As chance would have it, his father – Hubert – developed a passion for stones and minerals at an early age. And his path crossed that of Daniel Piat. At the time a gem trader, he met him during one of his tours in the North of France. Very quickly, a great friendship was born between the two men. Hubert Lagache, who wished to leave Lille, responded positively to Daniel Piat's request, who had just obtained the very first "very good" mention in the very recent gemmology diploma awarded by the Laboratoire de la CCI de Paris (today, the Laboratoire Français de Gemmologie is attached to the UFBJOP ). In the wake of this diploma, he founded the Association Française de Gemmologie in 1961.
"Among so many beauties that nature gives us, one of the most lasting is the sumptuousness of precious and fine stones

Daniel Piat
Daniel Piat decided to initiate a travelling course for the 11,000 jewellers in the provinces and to bring the discipline out of the closet. What battles it took to make this possible! Ignoring the critics, the first course was given in Nice by Hubert Lagache. This was the beginning of a very long adventure that would see the creation of the National Gemmological Institute a few years later. Mr. Lagache would become the teacher who is still celebrated by the gemologists who had the chance to study with him.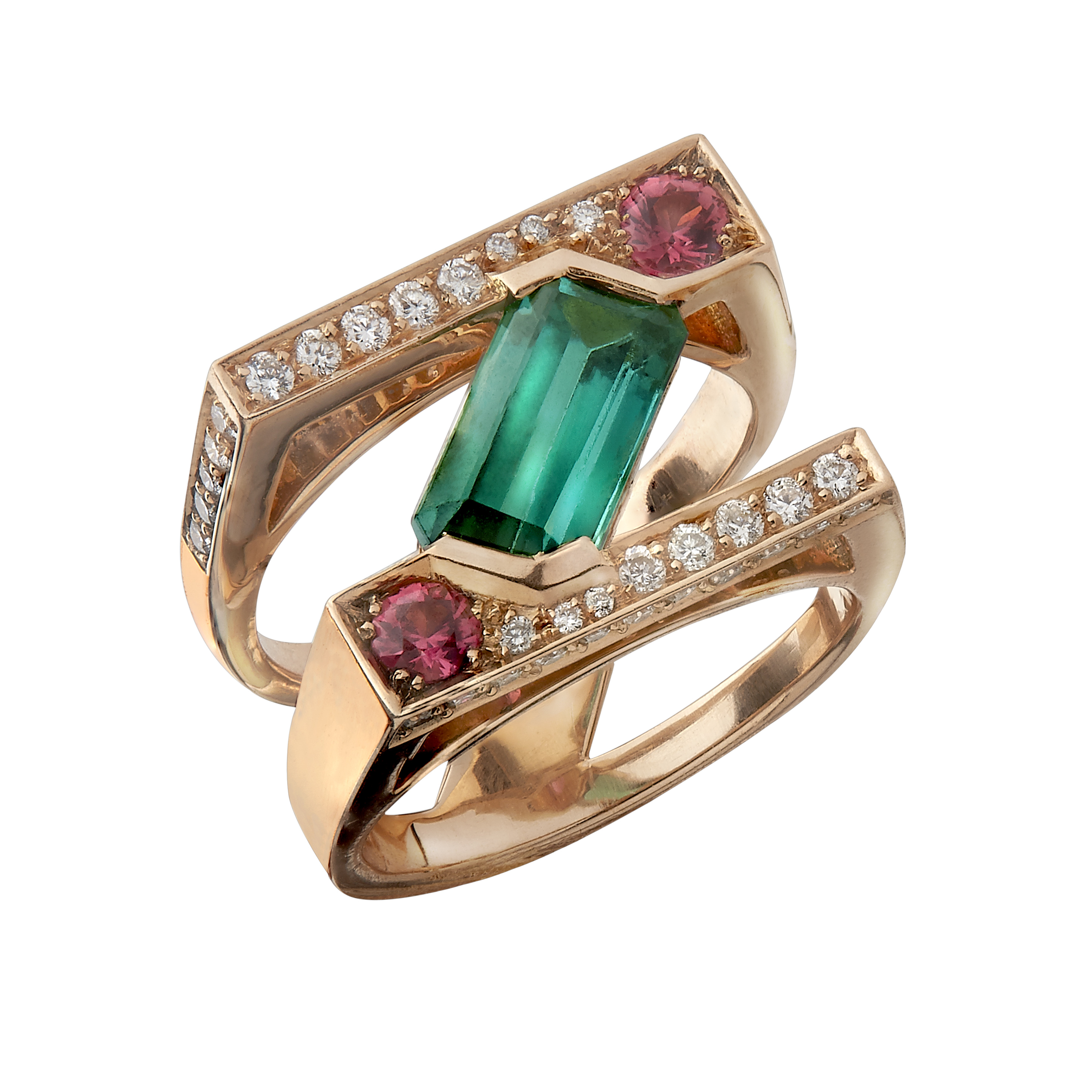 Bridge" ring in pink gold, diamonds, spinels and green tourmaline. Photo: ©MarieChabrol/legemmologue.com 2018
But back to Marie-Caroline. Stones and minerals have always been a part of her life. First of all through her father. But it took her a few years away from them to decide to return to them. She first chose financial analysis, which she combined with her Spanish studies. Rigorous, logical and passionate about analysis, this is where she will blossom professionally. Adventurous and curious, she did not hesitate to choose positions abroad: in Morocco, in London…
In 2009, she decided to stop her career in finance and to give up a very nice job. Then she went on a trip: Australia, New Zealand and a pilgrimage to Compostela. While tidying up the archives of the shop in Lille, she found Tiber watches and letters from her father. It was decided that she would go into the jewellery business. As a first step, she enrolled at the ING to obtain a gemmologist's diploma and reconnected with something that had never left her: drawing. Her father told her that she could create jewellery, and that's what she's going to do!
"I felt a need to express my creativity. It's something that everyone has in them. You just have to listen to yourself a little bit because everyone is capable of creating… You just have to find your field of expression, I chose jewellery."

Marie-Caroline Lagache
Gold, zircon and rhodolite garnet earrings. Photo: ©MarieChabrol/legemmologue.com 2018
She then flew to Bangkok and trained at the AIGS and in a local workshop. After the stones, she had to understand how to make jewellery. On her return to Paris, she joined Piat for a few months as a replacement. At the end of 2010, the machine is launched and Tiber Joaillerie is officially created.
Marie-Caroline imagines, designs and creates fine, playful, extremely colourful and joyful jewellery. The stones are beautifully highlighted and are the hallmark of her jewellery. Vivid pink tourmalines, bright red spinels, luminous green tsavorites and mysterious blue tanzanites are just some of the gems favoured by the designer. But she also exploits little-known riches, not hesitating to mount the most important cabochon-cut pezzotaite in a pendant, setting cobalt spinels long before they became trendy and skilfully mixing materials and colours. She invites you to discover her vibrant and lively jewellery. Through her work, you will perceive her passion for gems and her taste for travel. Jewellery that does not leave you indifferent. The perfect combination!
See you soon!
*****
From 14 to 24 June 2018
5 Place Saint-Sulpice, 75006 Paris