And that's it, Couture Week is underway. Although the festivities officially begin on the evening of Sunday 1 July, several houses have chosen to present their latest collections in a slightly calmer, more serene atmosphere. Since the opening of the Paris boutique, I've taken particular pleasure in coming to discover the new pieces designed by Jeremy Morris for the house started by his father. At the end of June, this presentation was absolutely unmissable, because it was so incredible. Of course, being a gemologist is a plus when you go to an event where the materials are of such high quality. But you also have to know how to let yourself be dazzled. And that's what I invite you to do by looking at the visuals that follow.
For this new collection, there's no unnecessary storytelling. Jeremy Morris has selected some particularly beautiful and sometimes unusual stones. But above all, stones with a soul. Burmese rubies, Colombian emeralds, Paraiba (Brazilian) tourmalines with delicate blue and green hues, black Australian opals with sublime reflections. But we could also tell you about this green diamond or this colourless diamond weighing over 32 carats. Finally, we could mention the perfect pink coral and natural turquoise that adorn the Berry range launched a few weeks earlier. There's no need for long speeches when it comes to beauty, so here are the pieces that caught my eye.
Earrings in white gold, diamonds, paraïba tourmalines and black opals, 21.60 carats. Photo: David Morris
This ring is pretty incredible. Its lightweight design makes it extremely comfortable to wear, despite the remarkable centre stone represented by this 31.82-carat D Si1 diamond. Pink and purple diamonds add a lot of light to this ring. Photo : David Morris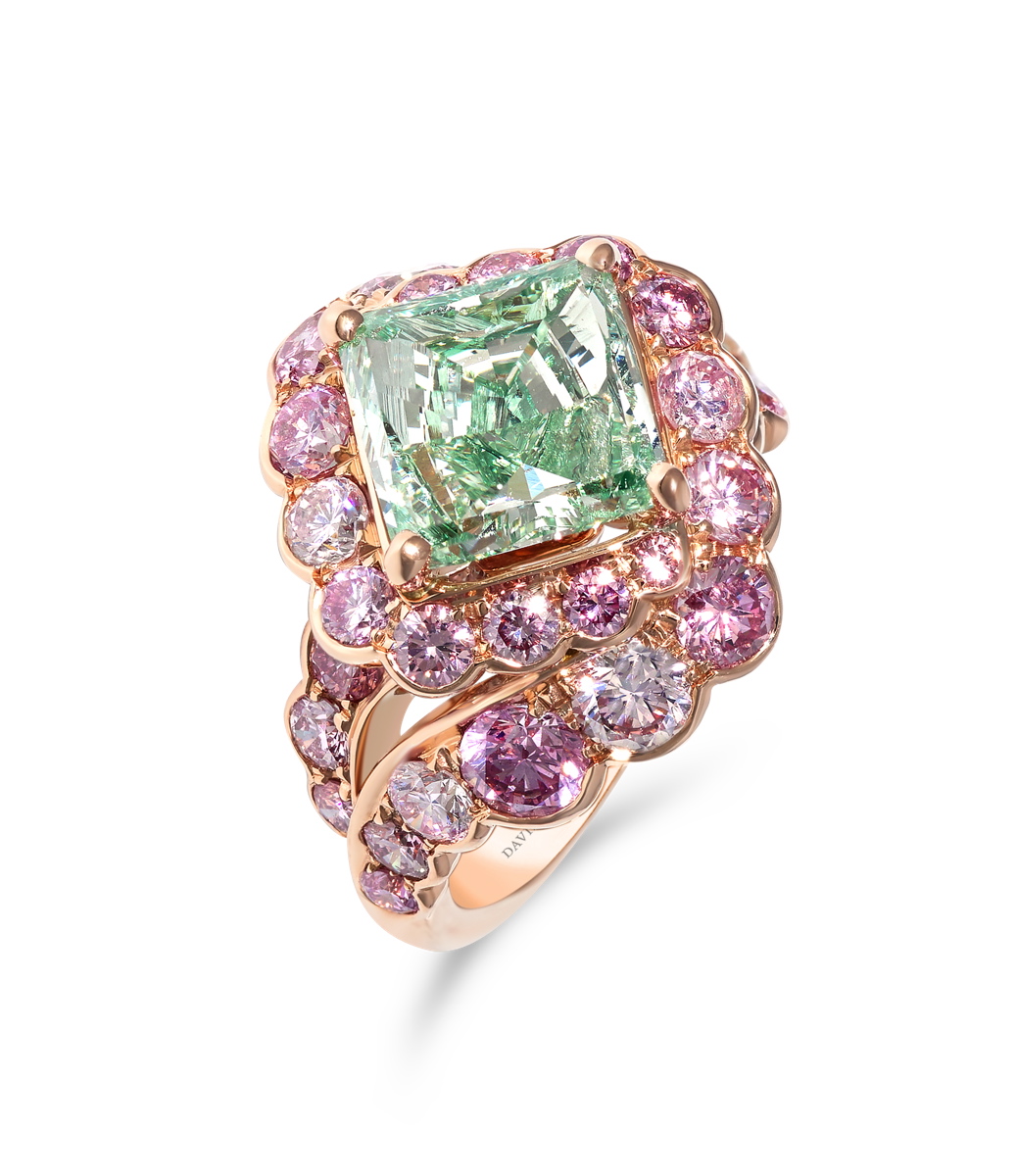 Green diamonds are extremely rare. The one chosen by David Morris is a little wonder of nature. This 3.04 carat stone, graded fancy intense green by the GIA, is accompanied by pink diamonds totalling more than 3 carats. All set in rose gold. Photo: David Morris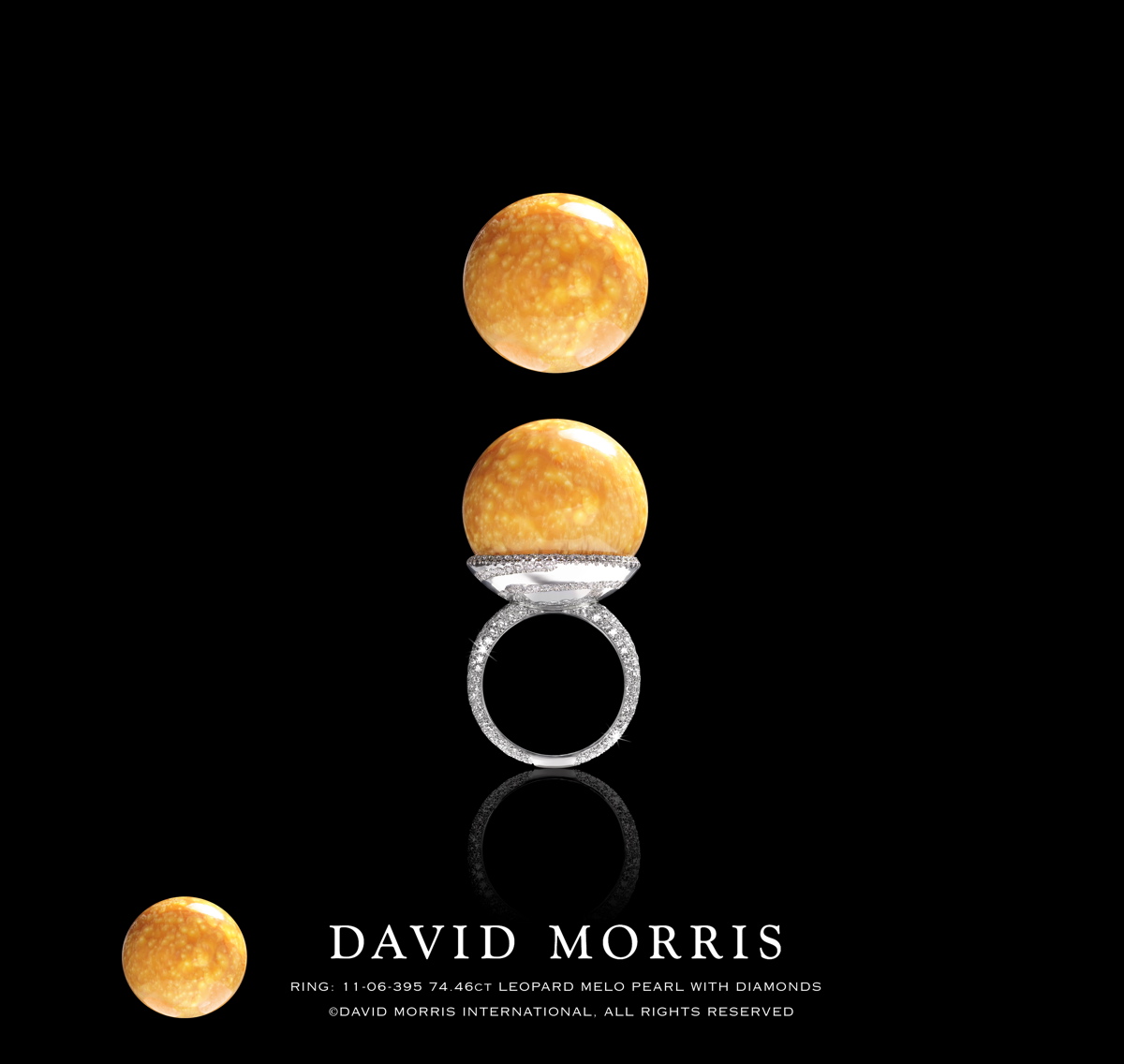 Among the exceptional pieces, this ring in white gold and diamonds, adorned with a 74.46-carat Melo pearl, was not to be missed. A pearl that is perfect in every way is extremely rare. This material, which comes from a gastropod called Mélo, is a fine pearl that is little known to the general public. Its very high price and the difficulty of sourcing it make it rare on the market, and all the more bewitching for that. This particular pearl is a real marvel. You can see it on video in this Instagram post made during the presentation. Photo: David Morris
11.77-carat white gold, diamond and black opal ring. Photo: David Morris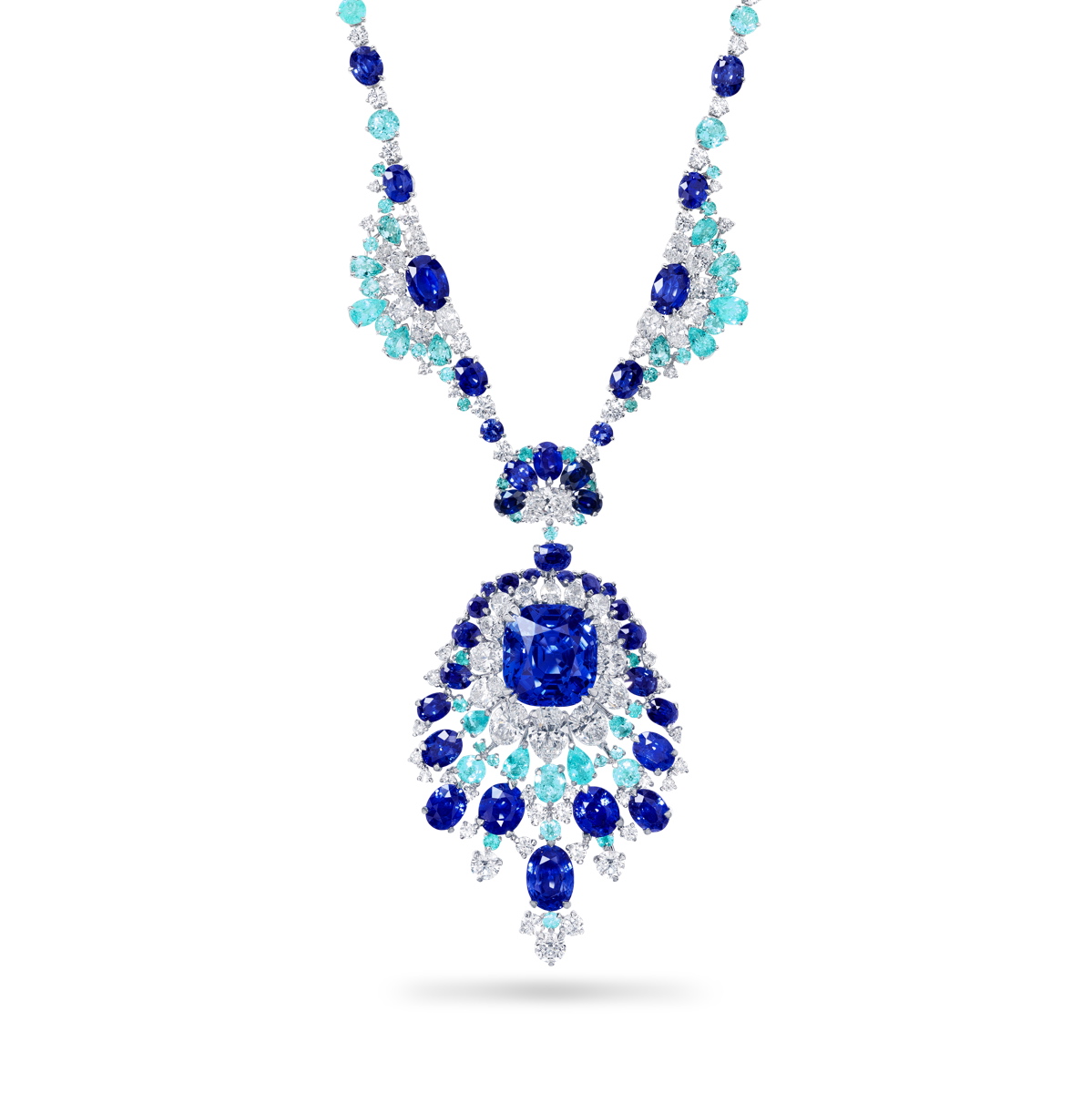 This necklace is one of the highlights of the new collection. It is adorned with diamonds, Paraiba tourmalines, Sri Lankan sapphires and a 46.10-carat central Burmese sapphire (natural and certified by the Gübelin laboratory). Photo : David Morris
Ring in white gold, diamonds, spinels and a violet pink sapphire centre, natural and untreated, weighing 19.89 carats. A particularly stunning stone. Photo : David Morris
Earrings in white gold, diamonds, pink sapphires and paraïba tourmalines for 22.34 carats. An astonishing combination of colours, very Davis Morris, for an eye-catching result. Photo : David Morris
See you soon!