For several years now, the fashion house and high jewellery manufacturer has been constantly inspired by and reinterpreting key elements from the life of Gabrielle Chanel in jewellery. The life of the woman who created and wore the house is a virtually endless source of inspiration, so intense was her life. After the lion, after a cruise on the Flying Cloud, after the sprays of wheat that decorated her homes… the design studio turned to her collection of Coromandel lacquerware that she kept in her flat on the rue Cambon.
"I have loved Chinese screens since I was eighteen… I thought I would faint with happiness when, for the first time, I went into a Chinese dealer's shop and saw a Coromandel… Screens were the first thing I bought…"

Coco Chanel in " Chanel Solitaire " by Claude Delay – Gallimard – 1983 p.12
Chanel surrounded by her screens. About 1937. Photograph by Lipnitzki and Roger-Viollet. chanel / Lipnitzki / Roger-Viollet
The story goes that she owned 32 screens. Eight of them remain today and are kept in the historic flat of the house. It was also often said that Boy Capel was the source of this passion. He was the one who introduced her to a world she had always dreamed of knowing…
VIBRATION MINÉRALE bracelet in yellow gold, platinum, green and blue lacquer, mother-of-pearl and diamonds. Photo : Chanel fine jewelry
The fine jewellery collection presented a few days ago at the Grand Palais includes some forty pieces, all made in France. It is divided into four chapters: the Orient, Fauna, Flora and Minerals. With these different themes, the house explores the traditional motifs of the Coromandel, the famous Chinese lacquerware created in the 17th century, whose bold colours are one of the stylistic signatures of these famous art objects. The house's creative team has therefore chosen extremely bright colours: red spinels, luminous emeralds, coloured enamels, brilliant lacquers, sparkling diamonds and mirror-polished gold to catch the light even more. Playing on details and asymmetries, the pieces require careful study as they are so richly composed. Careful observation is required, here mother-of-pearl, there fine marquetry, elsewhere a gradation of coloured sapphires…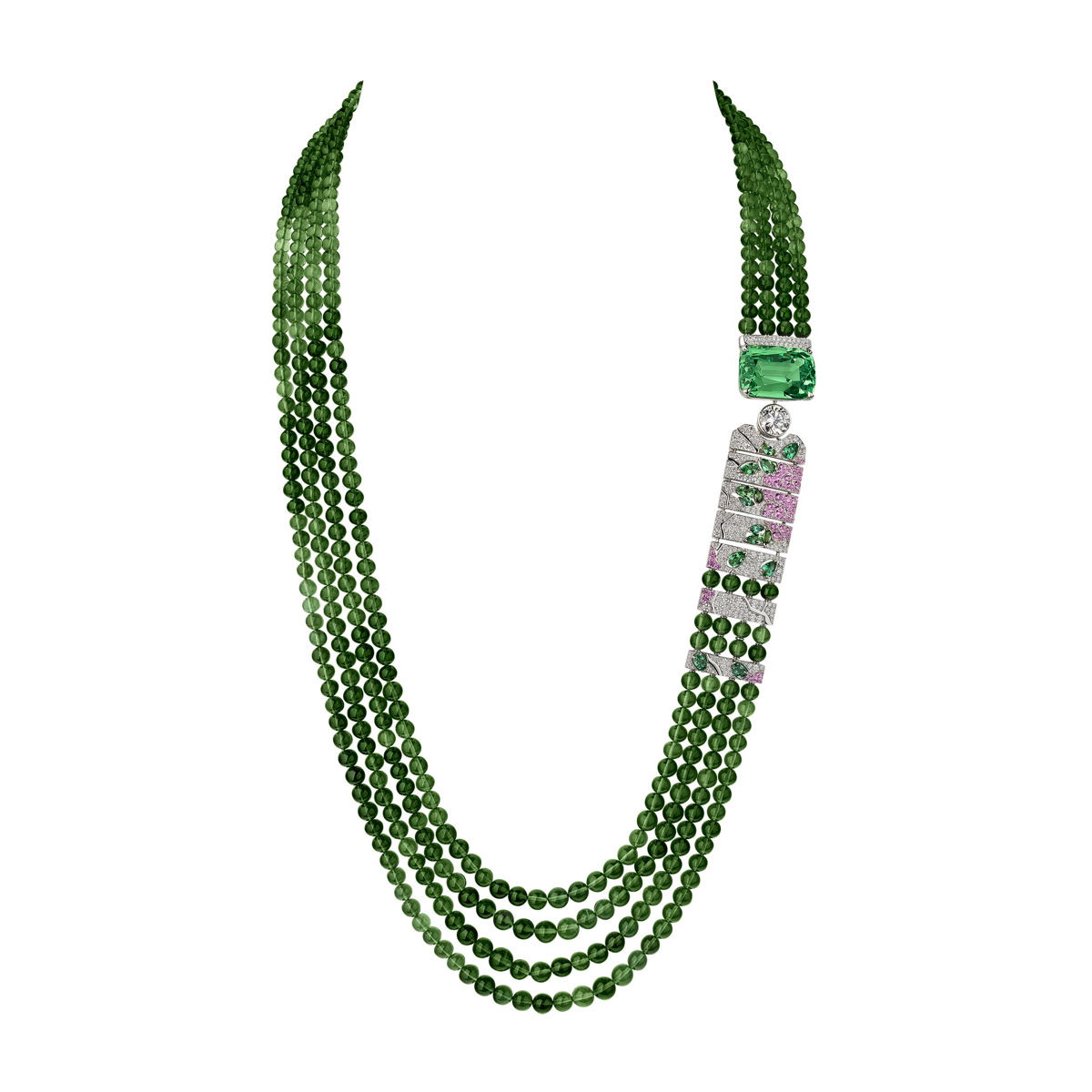 Necklace ÉVOCATION FLORALE in white gold, green tourmalines, garnet, diamonds, pink sapphires. Photo : Chanel Fine Jewelry
This collection, perfectly integrated in the Chanel imaginary, is a great success. The techniques used are always perfectly mastered and one can feel the craftsmen behind these pieces. There is no doubt that the production of this opus required patience and meticulousness. But the result is worthy of the attention that was paid to it in the workshop. Bravo !
RECTO / VERSO bracelet in white and yellow gold, yellow diamonds, diamonds, sapphires and onyx. Photo : Chanel Fine Jewelry
ÉVOCATION FLORALE ring in white gold, mint garnet, diamonds, pink sapphires and green tourmalines. Photo : Chanel Fine Jewelry
ÉVOCATION FLORALE necklace in white gold and diamonds. Photo : Chanel Fine Jewelry
CALLIGRAPHIE FLORALE watch in white gold, platinum, rubies, emeralds, orange sapphires, black spinels and diamonds. Photo Credit : Chanel Fine Jewelry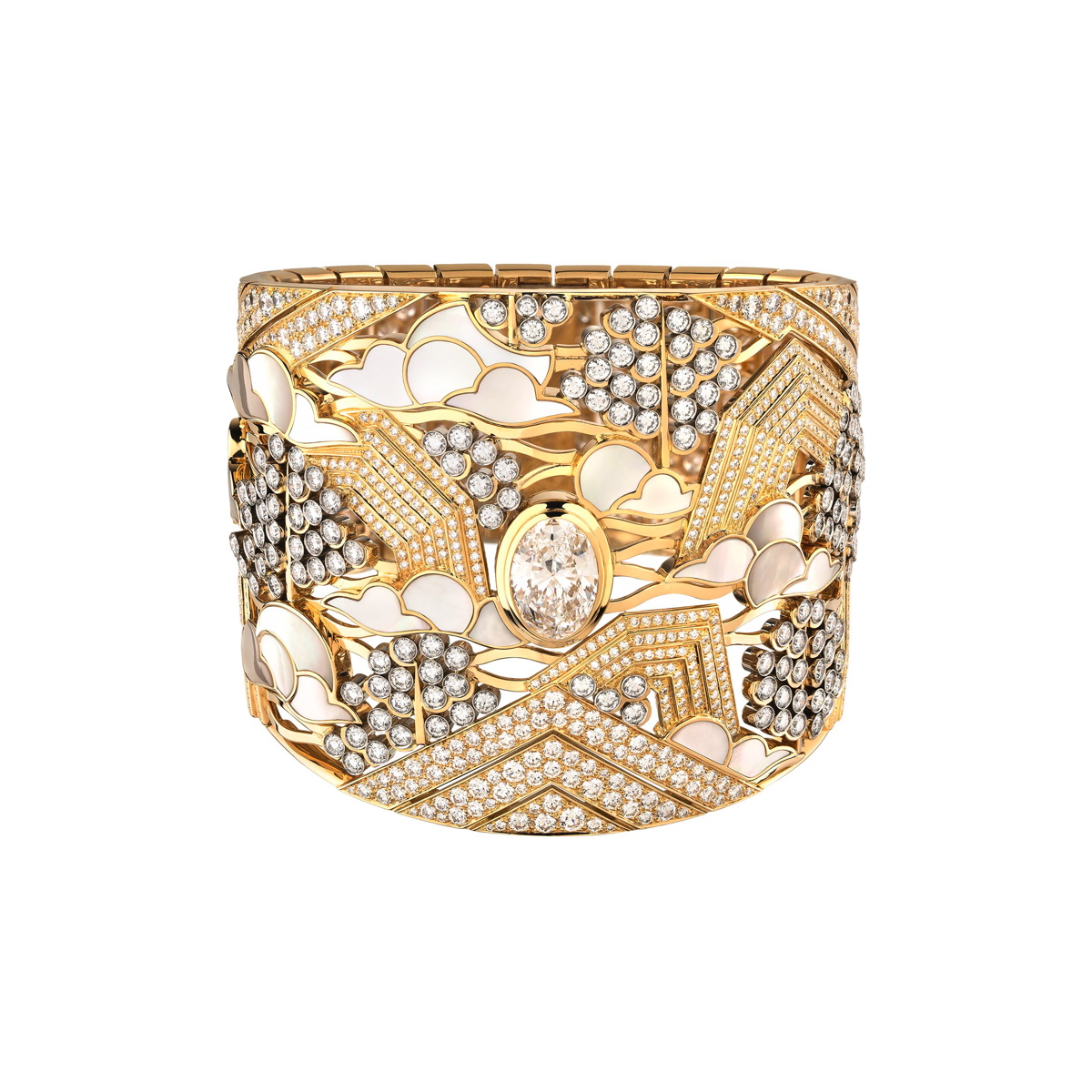 HORIZON LOINTAIN bracelet in yellow gold, platinum, diamonds and mother of pearl. Photo : Chanel Fine jewelry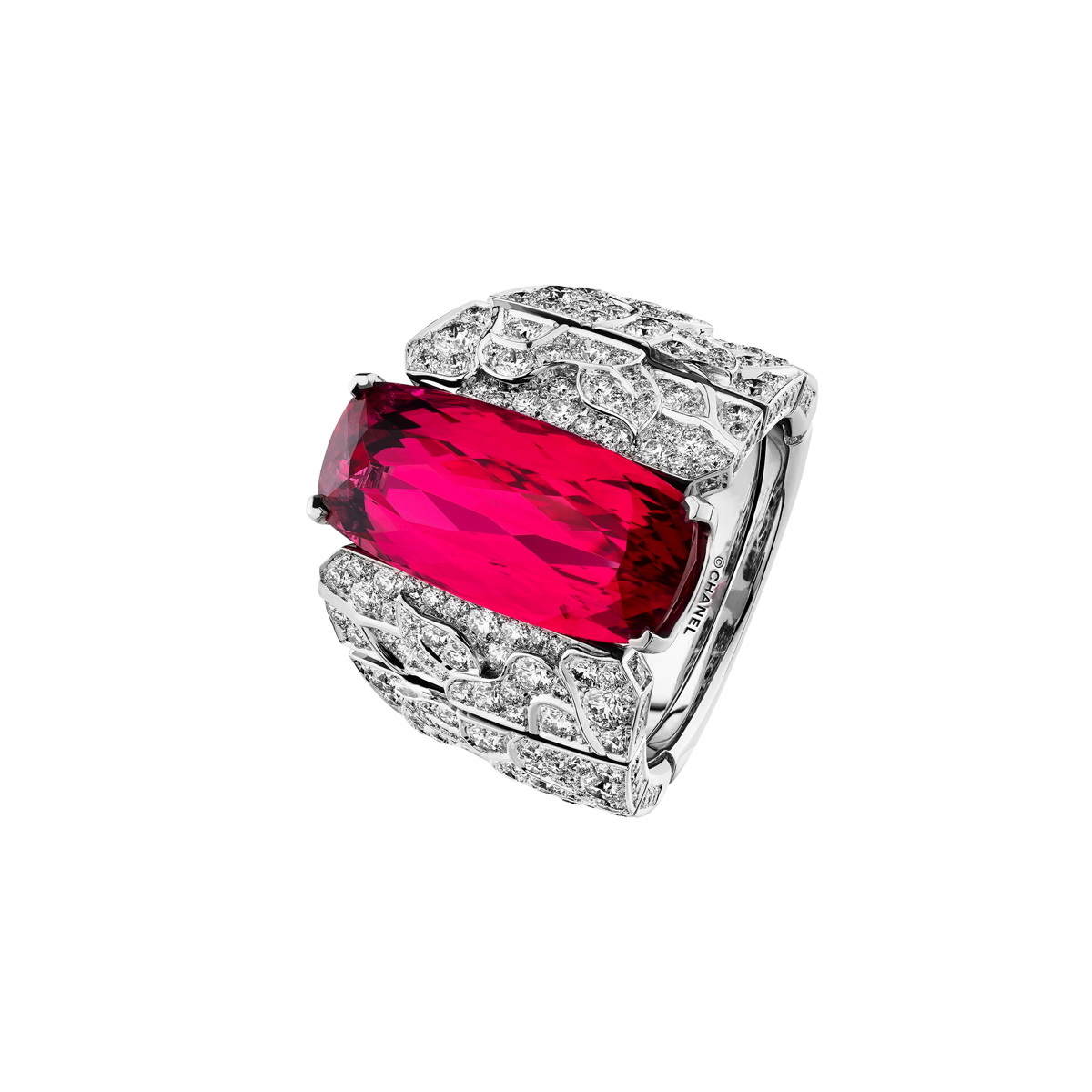 ÉVOCATION FLORALE ring in white gold, pinkish red spinel and diamonds. Photo : Chanel Fine Jewelry
See you soon!