A short while ago, I met the sparkling Tiphaine Brajeux over a coffee at the Pointe Drouot. A long exchange, a lot of common points and the opportunity to offer you a new career portrait with a young passionate and enthusiastic person with a really interesting background. So I'm taking you to meet Tiphaine and her company ICYMI. Enjoy your discovery!
Tiphaine in her office in the 9th arrondissement of Paris. Photo: ©MarieChabrol
1- Can you quickly introduce yourself?

My name is Tiphaine, I just turned 30 and got married. I am the founder of ICYMI, Bijoux Anciens d'Aujourd'hui, a website selling antique jewellery. I am a gemologist, graduated from the GIA in New York.
2- What job did you want to do when you were a child?

When I was little I wanted to be a fashion designer, but I quickly realised that I had neither enough talent for drawing nor enough creativity to be really good at it. It's important to be lucid!
3- And finally, what is your current job?

Today, I am President of ICYMI. I do everything! I'm a gemmologist, I'm in charge of purchases and sales, I'm a photographer, a graphic designer, I take care of communication, I manage shipments, etc…! A real Swiss Army knife… The only thing I don't do is the accounting.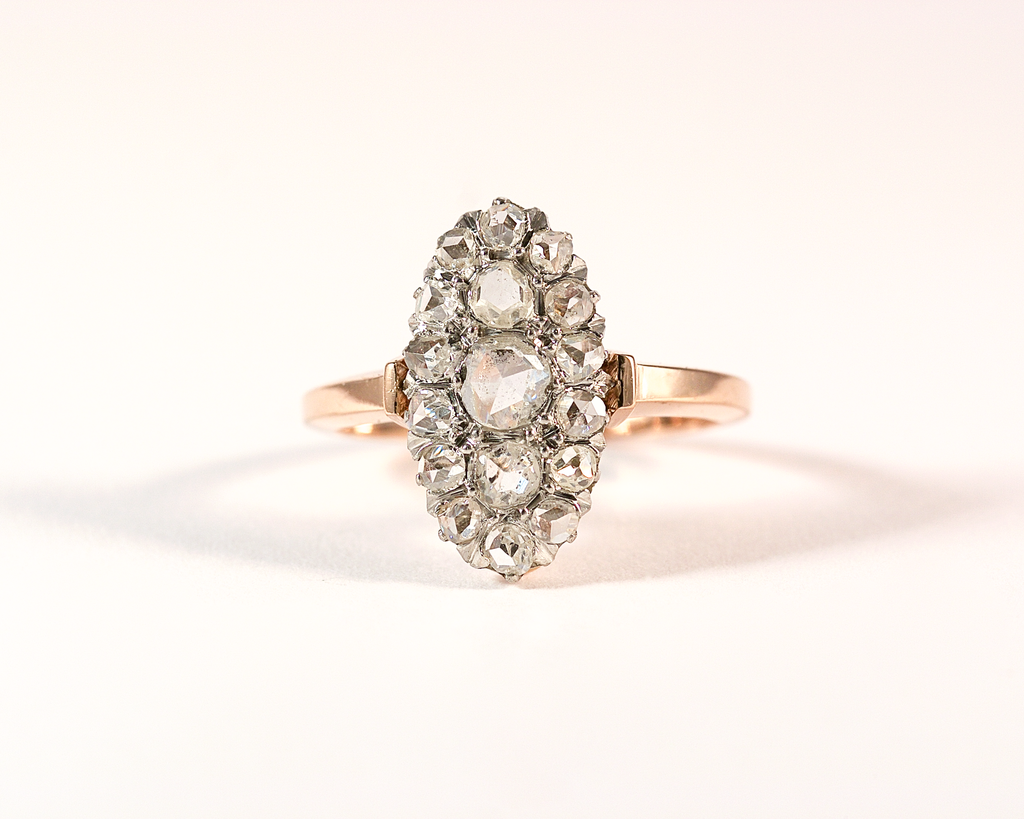 Marquise ring in gold and diamonds. Photo : ICYMI
4- What studies did you follow?

After passing my baccalaureate in 2005, I was accepted into the Double Licence in Law and Art History at the Sorbonne. I then took the Master 1 Business Law – Art History option, also at the Sorbonne, and finally the Master 2 Art Market. After five years at the Sorbonne, I went to New York to follow the Gemological Institute of America's training to become a Graduate Gemologist, which lasts 6 months. Without doubt the best part of my studies!
5- And more specifically, what is your educational background in relation to the jewellery industry?jewellery and gemology?

In terms of pure training, obviously the GIA is the only degree related to the field of jewellery and gemmology. During my studies I did many internships which allowed me to refine my "professional project", I started with several internships at Gros & Delettrez where I really discovered the world of jewellery and where I understood that I liked it and that I could have a career in this world. I then did an internship in the jewellery department at Christie's with Marie Laurence Tixier, then my final internship with Paul Louis Flandrin, owner of his gallery in Paris, an antique dealer specializing in antique jewellery and silverware. Finally, on my return from New York, I did an internship in the jewellery department of Philips de Pury in London. At each internship, I was able to understand what I liked to do and what I didn't like, and this helped me to make better choices. For example, I realised that being an expert was not necessarily for me and that being a dealer seemed more exciting and adventurous.
Enamelled gold bracelet "more than yesterday and less than tomorrow". Photo: ICYMI
6- Can you tell us about your career path and how you arrived at the position you hold today? to the position you have today?

After my (many) internships, I met, thanks to a friend at Drouot, a great antique jewellery dealer: Alain Chassard. At the time, he was looking for someone to analyse the diamonds that came up for sale to see if they were worth buying. He liked my GIA diploma and we started working together. As time went by, I only dealt with diamonds and I supervised all the sales in Paris, in the provinces and abroad. We bought antique jewellery of very high quality, sometimes unsigned or unidentified. Mr Chassard is, among others, specialised in Boivin and Belperron jewellery. We also went to fairs around the world, Miami, New York and Hong Kong, several times a year. We followed all the jewellery auctions, including the big sales in Geneva by Christie's and Sotheby's. In addition to the auctions, I was in charge of a large part of the company's administration, managing purchases, sales, invoices, mailings, diaries..
After five years, by dint of absorbing all the sales catalogues, I saw a lot of "small" jewels that I liked but which did not interest us commercially. I told myself that these pieces of jewellery, even if they were old, were not at all out of fashion and that a young girl of my age could perfectly well wear this kind of thing, with jeans, a white tee shirt or a little dress without looking like a Christmas tree or giving the impression of having robbed her grandmother's jewellery box!
I thought to myself that there was something to be done, that we had to explain, and prove that we could buy gold, platinum and gemstone jewellery for reasonable prices. And that you didn't have to choose between gold-plated metal jewellery and the Place Vendôme. Thanks to my savings, I was able to get started and start building up my stock. It took me 8 months to build up my stock, take photos of everything, create a clear and complete e-commerce website and I launched ICYMI.fr in December 2016.
7- Tell us about your company, how it works and what you want to put forward with it?

ICYMI, which is the acronym of the English expression "In Case You Missed It" offers three services:
1 – the sale of antique jewellery. These are jewels that I buy all over France, that I restore when necessary, but that I do not transform and that are sold on the site.
2 – reCreation. When I see jewels that are pretty but out of fashion and unimportant, I like to think about how I could redesign them. For example, turning a tie pin into a ring or a brooch into a pair of earrings or a pendant.
3 – Made to measure. Icymi also offers 100% custom-made creations, on demand, for any budget. Generally, this concerns engagement rings.
For all the jewels (except the custom-made ones), I imposed myself to stay in a range between 50€ and 2000€. The aim is to prove that precious jewellery does not have to cost tens of thousands of euros and is not necessarily (always) the gift of a lover… You can offer it to yourself but also have it offered to you..
Gold, dendritic agate and diamond brooch. Photo : ICYMI
8- What is a typical working day/week like?

Actually, each week depends on the rhythm of the auctions. As I buy a lot in auction rooms, when there are a lot of auctions, I have to keep up with the pace!
As a general rule, I start the week by looking at all the sales taking place in France in the coming week, including weekends, often well over a hundred. I make a note of the lots I like so that I don't forget them and can participate in the sale.
When I receive jewels, I have to clean them (which can take a lot of time!) to give them back all their shine, write the description of each jewel (weight, dimensions, size), take pictures of them and finally, put them on sale on the website.
With each new piece of jewellery, I have to communicate on social networks so that people don't miss the new items and so that I can answer questions and send more photos if necessary. It is also necessary to communicate even if there are no new items so that ICYMI's presence on social networks is permanent. This is often easier said than done!
Generally, when I arrive at the office in the morning I check my emails and the website, social network and traffic notifications. At 11am I try to go to Drouot if there's a sale I'm interested in, and when I get home I check again on the sales taking place in the afternoon, to make sure I don't miss anything. In between auctions, I take care of the mailings, I take photos, I prepare the jewellery cards, I update the content of the website and I try to prepare the next posts that I intend to share on the social networks.
9- Jewellery is a world that is not very well known by the general public even if things are gradually changing. Can you tell us what motivates you to work in this sector and what you like best about your job?
I have two loves. Drouot and antique jewellery. I discovered antique jewellery through Drouot and I would like to keep these two constants as long as possible in my professional life.
I love the village feel of Drouot, sometimes it feels like a little anthill. There is everything, young people, old people, rich people, not so rich people, very stylish and trendy people or on the contrary very classic people: but everyone finds what they want. Of course, Drouot can appear to be very closed, which is more or less true, but when you manage to find your place, it's quite pleasant!
I like antique jewellery because I love history, both small and large. I love to find pieces that are precisely dated, whether by an inscription or an identifiable master stamp. When this happens I feel like I have an important piece, a little piece of history in my hands. For example, I have a ring dated 1871 and another dated 1893, I am fascinated by the fact that they have come to me! I never know what I will find or if I will be able to buy the jewellery I like. There is always excitement! In fact, what I love is the feeling of going on a treasure hunt every day
10- What do you like least?

I don't think it's anything related to my field of activity but there are two things I don't like, or less.
accounting. I've always been resistant to numbers and excel spreadsheets but I do my best to keep everything very organised and not lose anything. I know how important it is but it's clearly not my favourite activity!

digital communication. I'm not that old but I'm having a hard time getting used to new communication techniques, whether it's Instagram, Facebook or even anything to do with SEO. I'm good at using the different social networks but it's not something I'm passionate about. You have to be very regular and demanding with the rhythm of publications and subscriptions. I often find it hard to keep up with these rhythms but I do my best given the importance it can have.
Gold and pearl baby bib brooch. Photo: ICYIMI
11- Let's go back to your job: what are the main trends in the auction sector today and how is the antique trade adapting?
I can't speak for others, but for me the real big trend is social networks. Even in this sometimes old-school environment, more and more auction houses have Facebook pages and many communicate via Instagram, as do dealers and experts. For the most part, it is the "young" auction houses that are using these new means of communication.
12- Auctions have becomemore glamorous in recent years. How is this managed in the selection of pieces that interest you and how does it affect prices?
I think it's true but for the "big" pieces. As far as I'm concerned, my first motivation is to buy "well", I can't afford to buy too much because I need to be able to stay within the budget I promise. Then, I like all styles and even some particular designs. I really go by what I like and the further I get, the more I know what sells well and quickly when I put it on the site. So, even if it doesn't necessarily speak to me personally, I buy because I know it will be successful.
13- What are your favourite signatures?

Belperron is without a doubt one of my favourite designers. Having bought and held many of her creations during the five years I spent with Mr Chassard, I know her work well and I love the use she made of stones and the originality of the frames. I am very proud to be in the acknowledgements of the book by Ward and Nico Landrigan! I also really like Buccellatti, which is not a house that is very present in the sales. And of course, one can only be in love with the early 20th century pieces from the great houses of Place Vendôme! I would have dreamt of getting married with a tiara!
Gold ring with brown rose-cut diamond. Photo: ICYMI
14- An unforgettable moment to share here: a remarkable sale, a stone you will never forget… etc.?
In terms of remarkable sales, the Geneva sales are undoubtedly the best. It is always an opportunity to see exceptional pieces, whether in terms of quality or historical power. For example, diamonds of over 100 carats or a steel tiara by Cartier. And all this in exceptional conditions where it is possible to handle the pieces and observe them from every angle!
I also took part in the Paul Louis Weiller sale at Drouot in 2011, which remains a great memory! A week of sales, the whole first floor of Drouot occupied for a whole week, a logistics that I have never seen since.
I think it was in Basel where I had the opportunity to try on the Belperron blue chalcedony set, consisting of a necklace and a pair of cuffs that belonged to Duchess Wallis Simpson
15- How do you see the evolution of your profession? Does the Internet necessarily change the way auction houses operate and the attitude of sellers/buyers?
For me, given the sales channel I have chosen, the Internet is clearly essential. As far as auction houses are concerned, they have managed to adapt. Interenchères and Drouot Live have changed a lot, today you can find yourself against an American, English or even Asian buyer in a sale in Dijon or Narbonne and that makes all the difference. Fortunately, they are not necessarily everywhere, it is still possible to make good deals on small lots but for large lots, with all the advertising that the auction houses do, it has become more difficult. But it's all good for the auctioneers and the sellers. If the lot is good, they are sure to make the right price!
For me it's a real chance to be able to use Interencheres and Drouot Live, it allows me to buy everywhere in France without having to travel. Without these tools, I would be ruining myself with train tickets! I couldn't really follow a sale in Lyon and in Brest in the same day… That's really what made me decide to start!
16- What advice would you give to young people who want to enter this sector?
Multiply the internships and experiences, don't hesitate to ask questions, there are no stupid questions and above all never hesitate to knock on every door. All it takes is a well-written, kind and friendly email to potentially land an internship. You don't need an address book as long as your arm..
17- Where do you see yourself in ten years?
I would like ICYMI to still exist and to have become the reference for easy and accessible antique jewellery. That it is no longer considered complicated and risky to buy antique jewellery. I would like to have welcomed many new members to the team and to have unearthed many beautiful pieces over the years. Why not widen the selection a bit and offer beautiful antique engagement rings between €3000 and €10,000 for example!
And if not, I would love to have the chance to work or at least participate in the heritage department of a major jewellery house. I'm fascinated by the drawings of jewellery workshops, I could spend my days looking at them!
See you soon!