If the couture weeks have become a veritable paradise for lovers of remarkable centre stones, each more colourful than the last, all with the most desirable origins, two houses brilliantly impose themselves on using only diamonds. Sometimes colourless, sometimes coloured. Of course, most of the houses have unveiled remarkable diamonds, such as David Morris, Cartier and even Van Cleef & Arpels. But the prize in this respect goes unquestionably to the names that are inseparable from this stone, namely De Beers and Messika.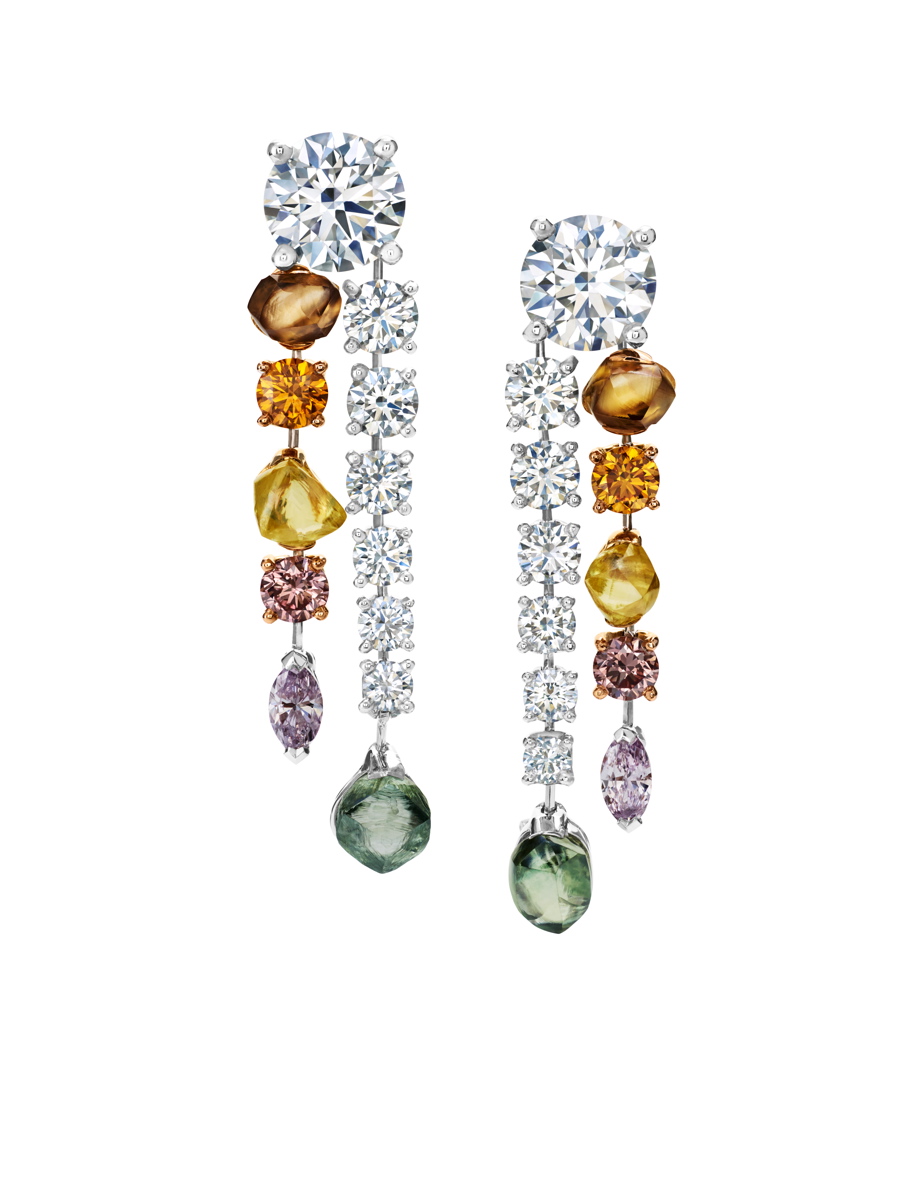 The first presented a collection entitled Diamond Legends, echoing all the imagination that these stones can represent. The company brought out the Eureka diamond from the Kimberley Mine Museum, which was at the origin of the South African diamond rush at the end of the 19th century. You may not have known it, but this diamond was supposedly discovered by a young boy named Erasmus Stephanus Jacobs in 1867 near Hopetown on the banks of the Orange River. He gave the stone to one of his neighbours, a mineral collector. In the same year, after its authentication, the stone was bought by Governor Wodehouse for £1500… In 1946, at a public auction at Christie's, it fetched £5700. It was then mounted on a bracelet. In 1966, De Beers bought the stone and offered it to South Africa. The 10.73-carat diamond (just over 21 carats before it was cut) is now on display in South Africa. It was therefore a privilege to be able to admire it in Paris for a few days.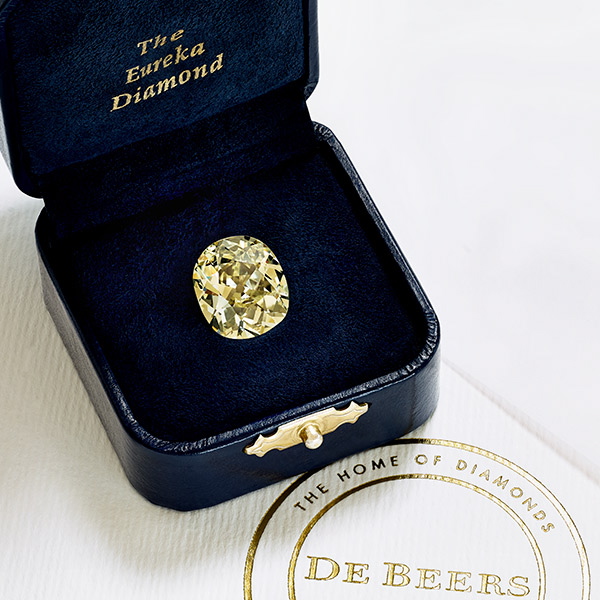 The Eureka diamond. Photo: De Beers
For these new models, the house offered us a journey punctuated by rare and perfect centre stones but also a superb panel of coloured diamonds, both rough and cut, continuing what made the success of the previous collection that we had already appreciated a lot. At Messika, one had to take the time to admire these necklaces of the thousand and one nights, intended as opulent rivers and cascades of diamonds. Here it was only a question of colourless diamonds with a truly audacious piece in its conception, a single loop bearing a 16-carat pear-shaped diamond, as if floating in suspension. A truly beautiful, atypical and surprising piece!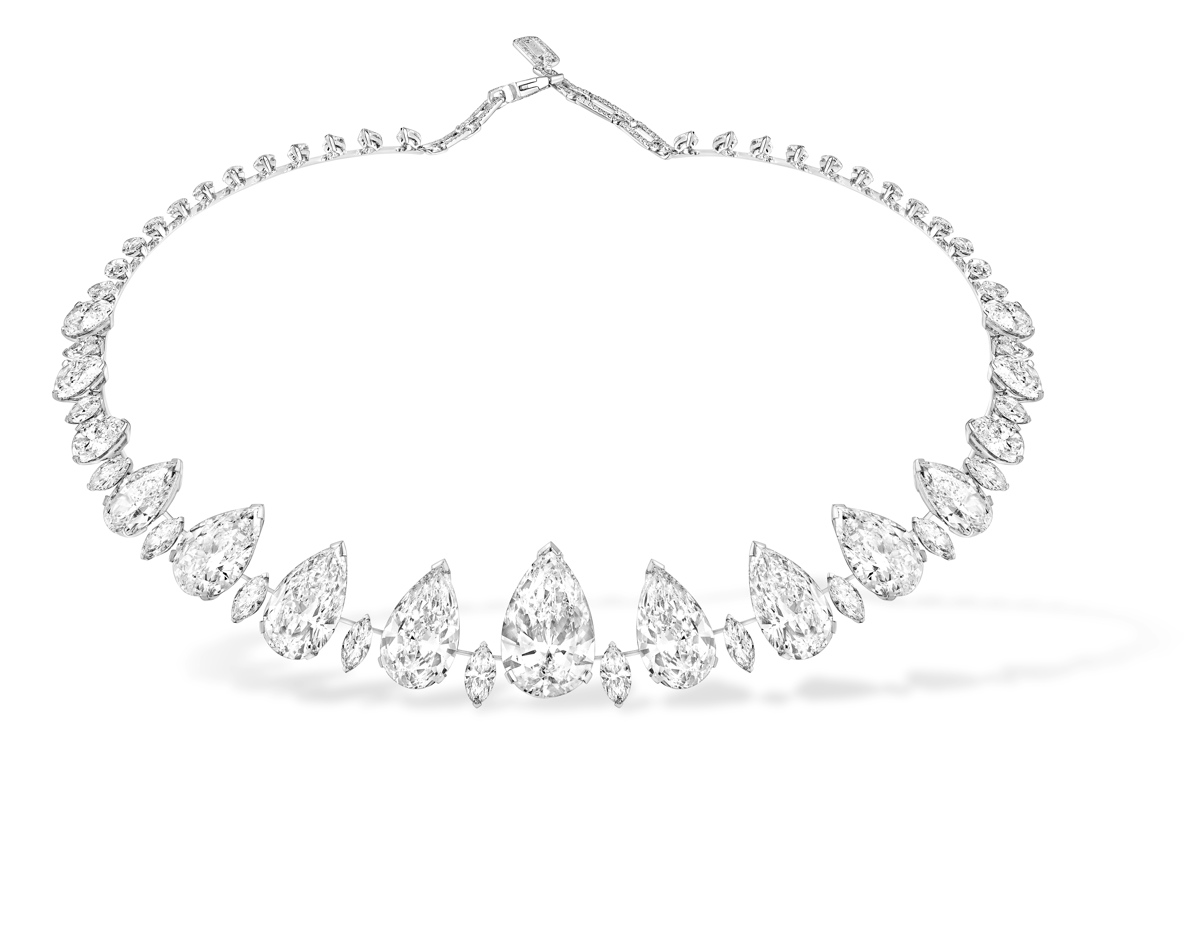 Diamond Spears necklace in white gold, diamonds: 70.88ct D-E-F / VVS-VS and 10.03ct pear centre. Photo: Messika
Vulcan pear-cut ring, an exceptional 3.53 carat pear-cut E VS2 diamond, surrounded by rough diamonds. Photo: De Beers

In addition, the stunning"Diamond Spears" necklace offers a daring take on the pear cut. The house chose to exhibit its new pieces in photographer Fred Meylan's studio, an atypical place that is a former flat renovated but completely respecting the history of the place. Its ultra-contemporary restoration provided an ideal atmosphere for this beautiful presentation.
Necklace "The Bright Falcon" in white gold and 132.20 carats of diamonds. Photo : Messika
Diamonds are definitely still the favourite stone of jewellers. And the houses are proving just how much they can be appropriated today with ultra glamorous pieces that are far from the river, which often represents a rather uninteresting jewellery exercise. Daring mixtures of sizes and colours, plays of volumes, the important thing is always to let the light sublimate one of the most beautiful wonders that Mother Nature has offered us!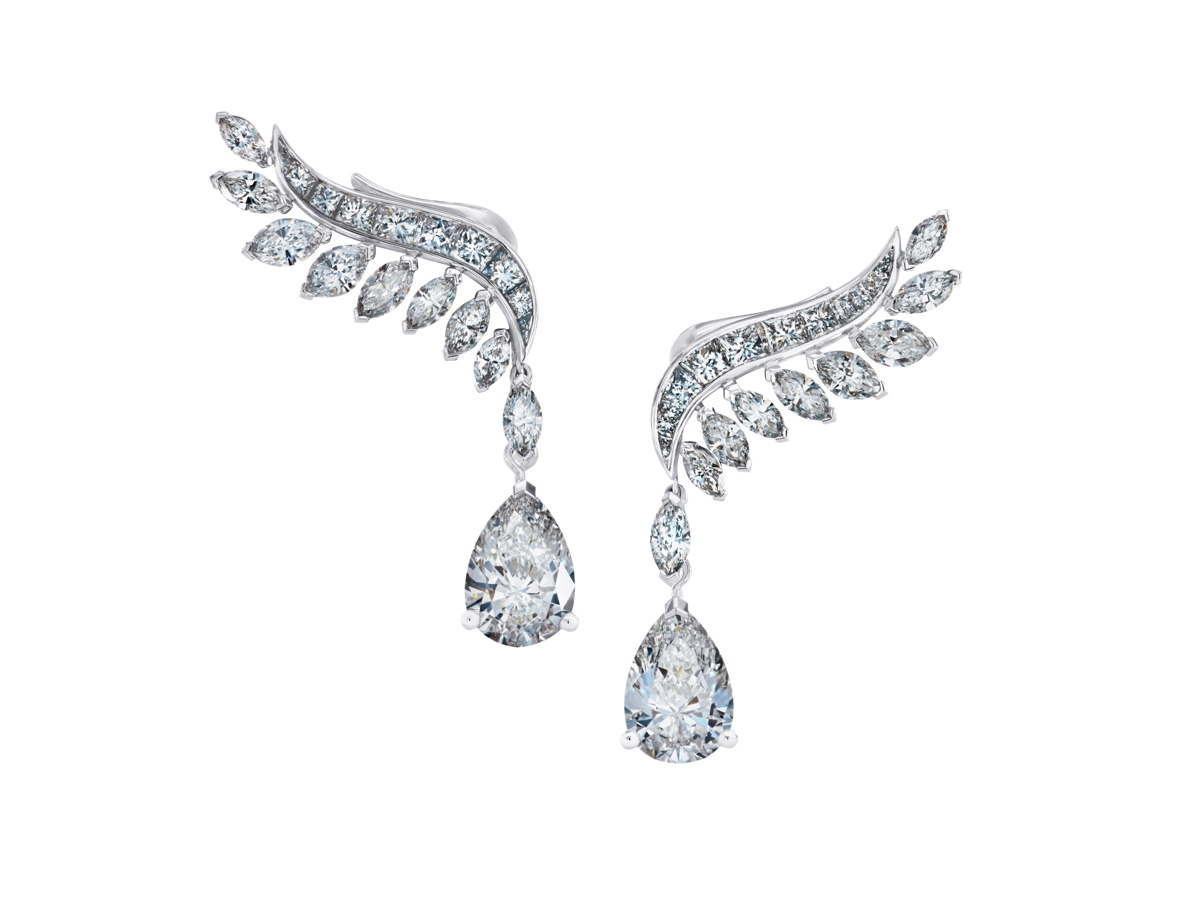 Cupid earrings, princess and marquise cut diamonds and pear cut diamonds. The pear cut diamond in the left earring is a 1.80 carat G VVS2 diamond and the pear cut diamond in the right earring is a 1.77 carat G VVS1 diamond. Photo: De Beers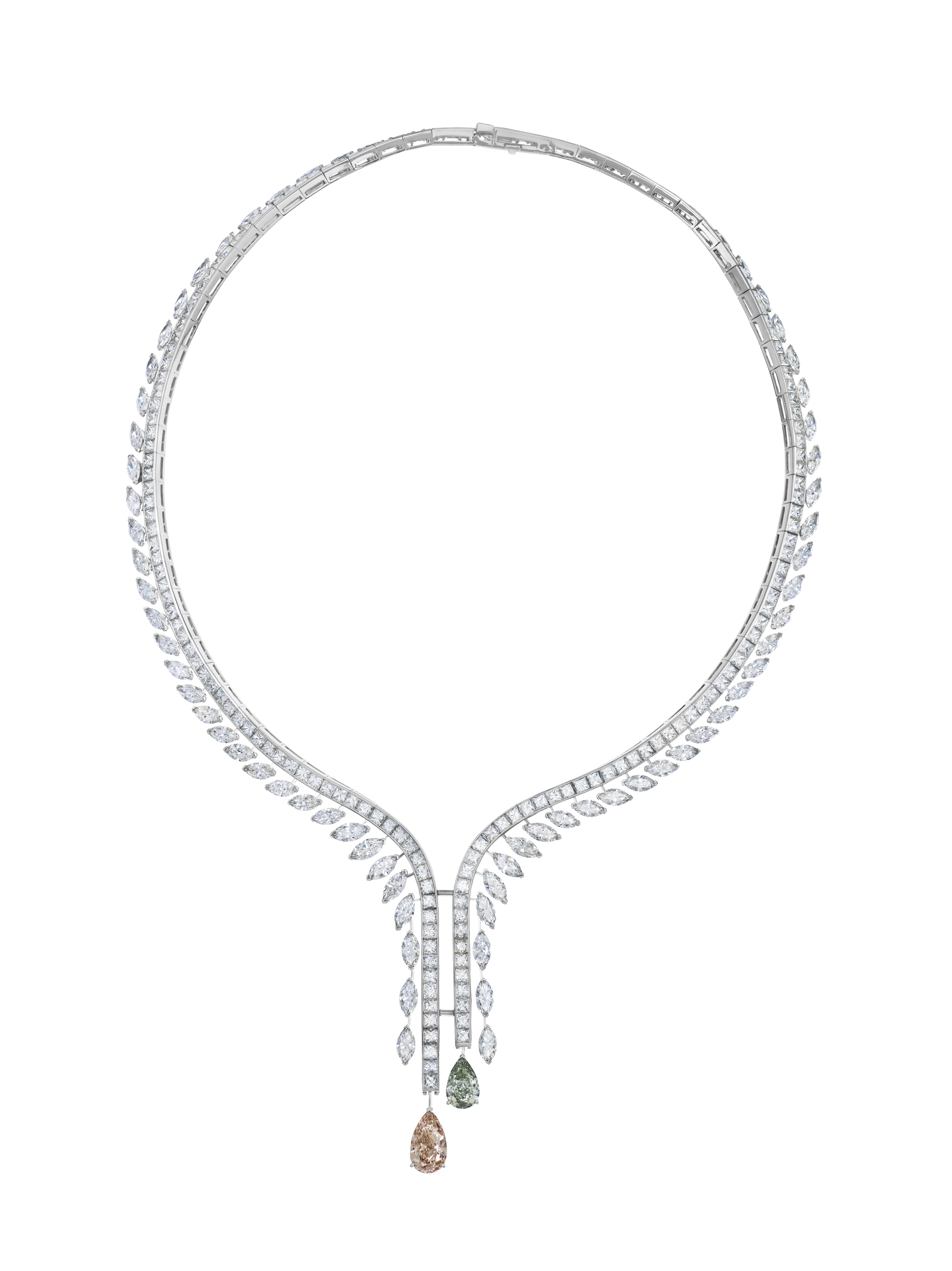 Cupid necklace, princess and marquise cut diamonds lead to a pair of fancy orange brown VS1 and fancy light grey green SI1 diamonds, weighing 3.04 carats and 2.29 carats respectively. Photo: De Beers

See you soon!