From 12 September to 8 December 2018, the famous and renowned Parisian gallery J. Kugel will be exhibiting a rare group of pieces in tortoiseshell, mother-of-pearl and gold dating from the 1720s to 1760, including the Sarao table, on loan for the first time from the Hermitage Museum in St Petersburg. A look back at a very special technique that charmed the powerful of Europe.
Nicolas and Alexis Kugel. Photo: J. Kugel
The art of piqué, for it is indeed an art with a capital A, is a technique of ornamentation on objects that characterised, among other things, Italian and European cabinet making from the end of the 17th century. But this technique was also used in jewellery during the 19th century. Well known to craftsmen who worked with tortoiseshell and ivory, this art consisted of including brass, silver or gold wires in the previously heated material, then levelling and repolishing the whole. The result was particularly surprisingly beautiful. The term "Posé d'Or" was used to describe the inclusion of flat pieces and "Clouté d'Or" was used to describe small nails used to decorate objects. In reality, it is often a mixture of these three techniques that we are given to contemplate on the objects that have been lucky enough to come to us.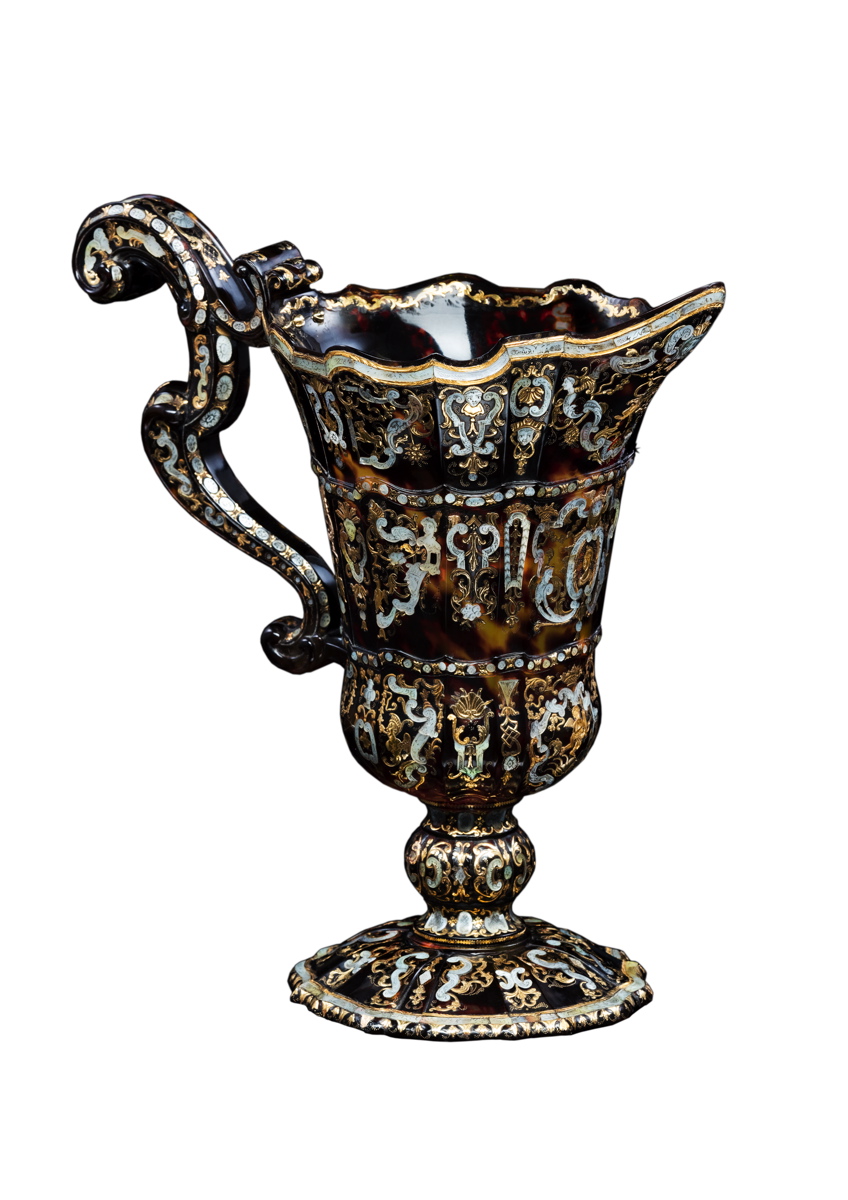 Contoured ewer with lambrequin decoration. Gold and mother-of-pearl stamped shell signed at the top of the handle: GS FN. by Giuseppe Sarao, Naples, circa 1735-1745. Provenance: Baron Henri de Rothschild (1872-1947). Photo: J. Kugel
The technique was developed later in jewellery. Some admirable examples are known on necklaces, bracelets and earrings dating from the Victorian period. It was in England that the technique developed most in parallel with the use of hair for sentimental jewellery. Among the beautiful pieces I have kept in my memory is the pair of earrings I present below: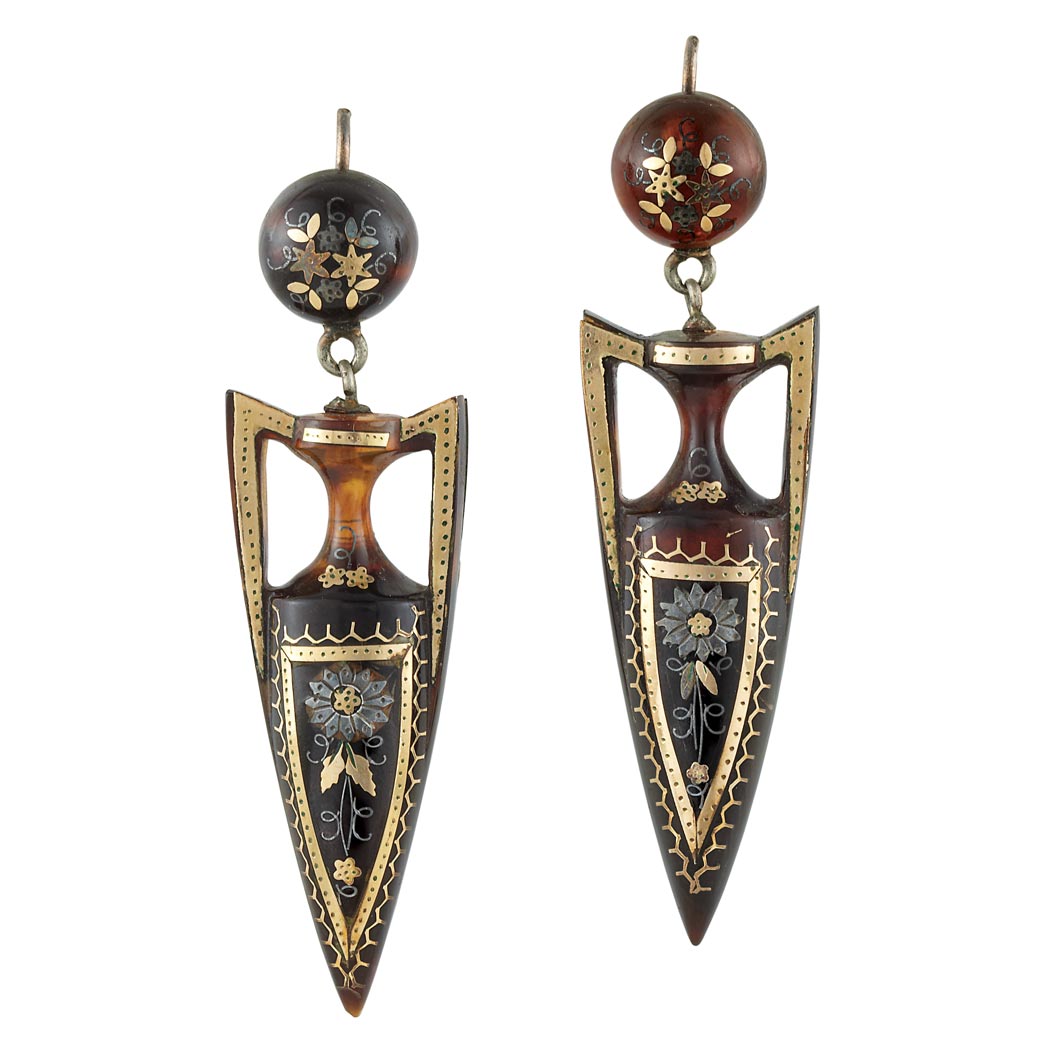 A pair of gold and tortoiseshell earrings depicting amphorae. Dating from the 1870's, from the Barbara U. Simon Collection, it was sold at D'Arcy. Simon Collection, it was sold at Doyle in 2015 for $2250. Photo: Doyle
But let's get back to the content of the exhibition that will be held in Paris. It is almost fifty pieces, some of them from the former collection of Baron Henri de Rothschild (1872-1947). These extremely refined objects were the speciality of the craftsmen who worked with tortoiseshell and were nicknamed Tartarugari. Particularly appreciated by the families of the European high aristocracy, some very beautiful pieces are known to be kept today by the British Royal Family and it is known that the Court of Naples was among the greatest patrons of these highly specialised craftsmen. It should also be noted that these pieces had no domestic use, they were only objects of pleasure which allowed to judge the fortune of their respective owners.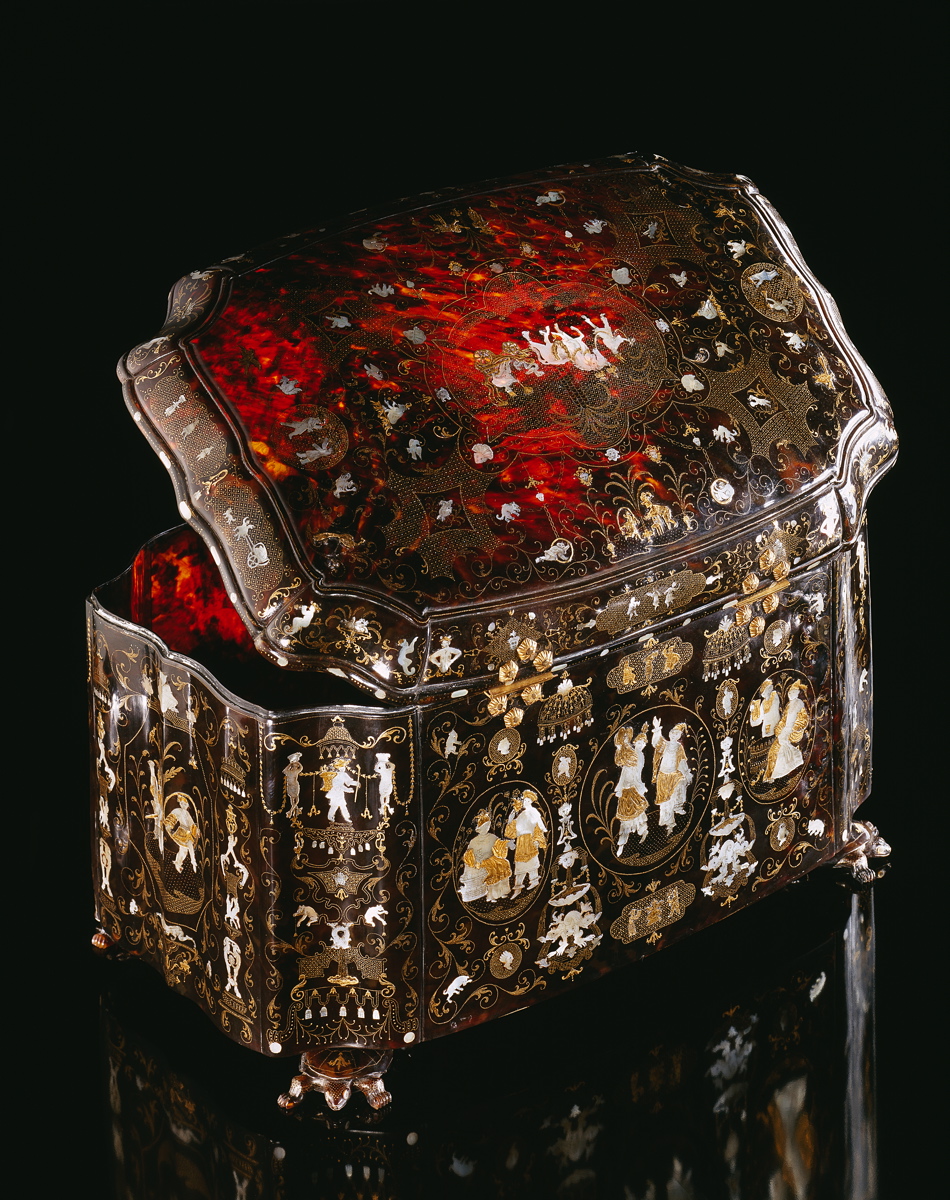 Large box with chinoiserie decoration on four turtle-shaped feet. Gold and mother-of-pearl piqued tortoise shell. Signed on the gold edge "Sarao fecit Napoli". The inside of the lid is decorated with the coat of arms of Charles of Bourbon, King of Naples. By Giuseppe Sarao, Naples, circa 1735-1740. Provenance: Sir Julian Goldsmid, Bart and his sale, Christie's, Manson & Woods, London, 8-14 June 1896, lot 1105. Photo: J. Kugel
The Paris exhibition will highlight the work of one of the most famous workshops of the Naples court: Gennaro and Giuseppe Sarao. But other remarkable workshops have left their names in history, such as Antonio de Laurentis (appointed goldsmith at the Court of Naples in 1747), Nicolas de Turris or Nicolas Starace.
Photo: J. Kugel
Free admission from Monday to Saturday from 10.30 am to 7 pm. The J. Kugel Gallery is located at 25 quai Anatole France in the 7th arrondissement of Paris.
Enjoy your visit and see you soon!