From Friday 7 to Monday 10 September 2018, the Porte de Versailles exhibition centre hosted the latest edition of Bijorhca Paris, which saw a much more precious-oriented positioning than in previous years. This increasingly international show saw the presence of 117 new brands and 59% of its exhibitors came from around the world. This was an opportunity for us, professionals and members of the trade press, to discover numerous houses and brands, to understand the current market trends and also to be able to talk directly with manufacturers and suppliers. A great opportunity to better understand all the subtleties of the jewellery sector, and there are many!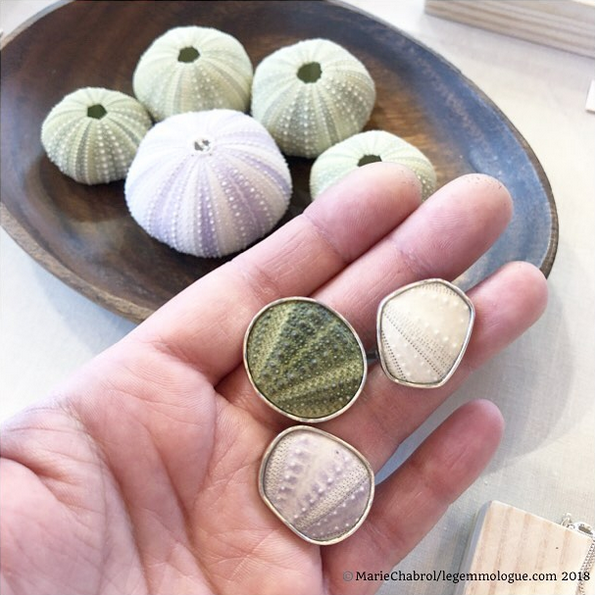 Discover the South African jewellery of Kinkel_jewels. Handmade in Cape Town, they are made of silver and the designer – Marleen van Wyk – uses elements from sea urchin shells. The result is truly amazing! Photo: ©MarieChabrol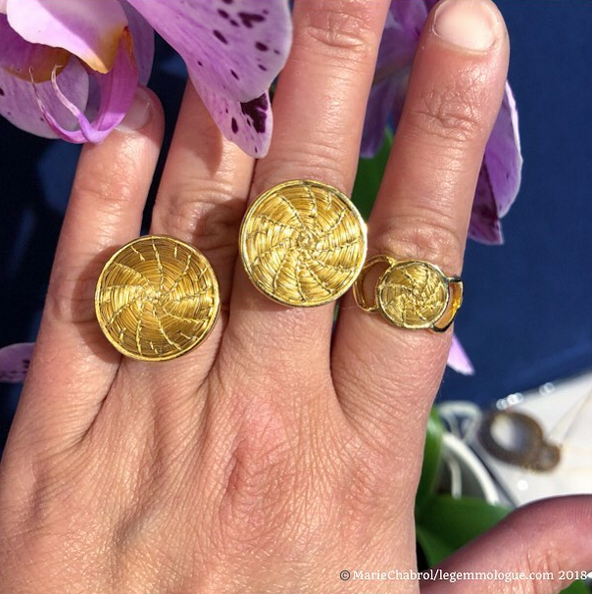 Plant gold or typical Brazilian straw work. For a particularly precious result. Seen at Mbex Bio Joias. Photo: ©MarieChabrol

If the show had become in the last few years a meeting point mainly focused on high fashion jewellery, the repositioning of the show was expected. Everyone agreed that this year's edition had a dynamism that was not present in previous years. A very good point, therefore, in a context where many fairs are struggling to satisfy exhibitors and where many houses are leaving fairs (including the most prestigious ones such as SIHH) in order to find themselves unique commercial resources exclusively thought out for their images. With this September edition, the precious and couture sectors, which often tend to communicate little, have managed to find many points of dialogue such as training or customer information.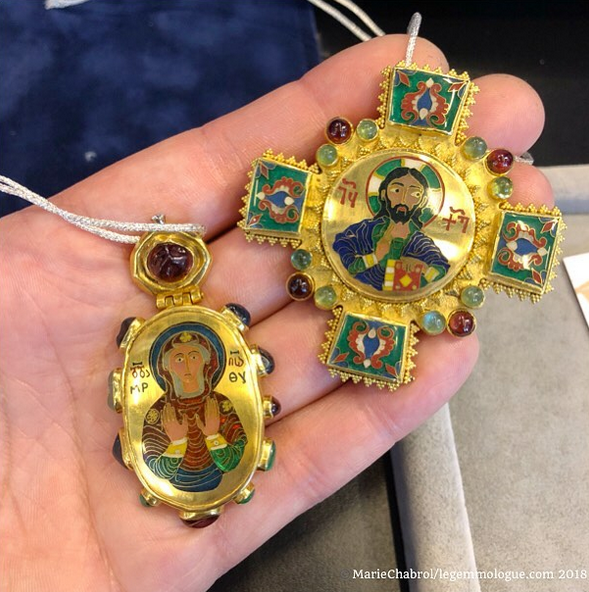 It was a great encounter with the Georgian high jewellery workshop Marilisi. Among my favourite pieces, these enamelled pendants made in Tbilisi. It takes four months of work to finish a piece like the one on the right. Sapphires, emeralds, tourmalines and garnets are added… Photo: ©MarieChabrol
In the absence of conch beads, the lambi shell is an interesting substitute. Kreoli uses it in the form of "beads" for a rather surprising result. Photo: ©MarieChabrol
Bijorhca Paris has long been known for its incredible range of materials and creative proposals. Gold and silver are of course very prominent, but there are also offers combining copper, bronze, enamel, leather, gemstones and organic materials such as mother-of-pearl, horn or coral. Of course, diamonds were present as well as ornamental stones, cultured pearls and gemstones. A diversion was also necessary to the "raw materials" area on the ground floor, which offered a variety of possibilities for the creation of jewellery pieces.
A nice meeting on the Afedap school stand with Pauline Verlhac who has just finished her training as a Jeweller Author and offers modular jewellery pieces in silver. Here is one of her rings decorated with tourmaline crystals. This young designer is particularly exciting! Video: ©MarieChabrol
During our visit to the show, we wanted to focus on exhibitors who stood out from the crowd and on this precious offer that the press and buyers have been asking for for several years. It was in fact very present and extremely highlighted from the moment we entered the show with many beautiful houses, some of which were unknown to the French public. At the same time, there were also a number of houses betting on atypical materials. A good point for the diversification of the sector at a time when customers are constantly looking for originality!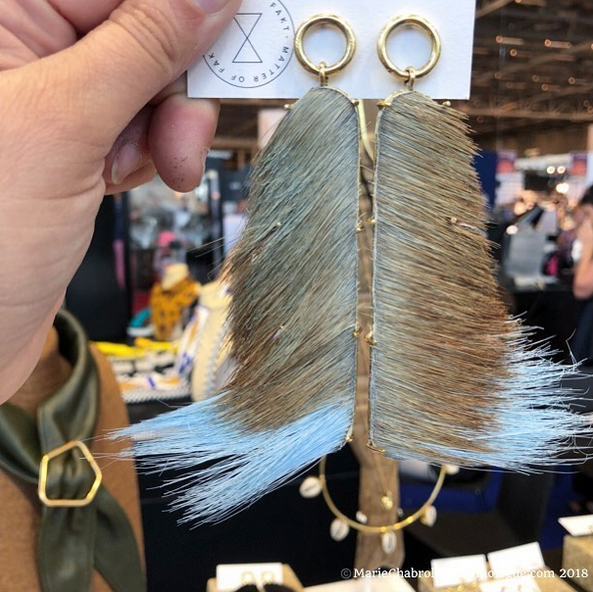 The Matter of Fakt stand from South Africa was not to be missed. And its metal and springbok hair earrings. Atypical but validated! Photo : ©MarieChabrol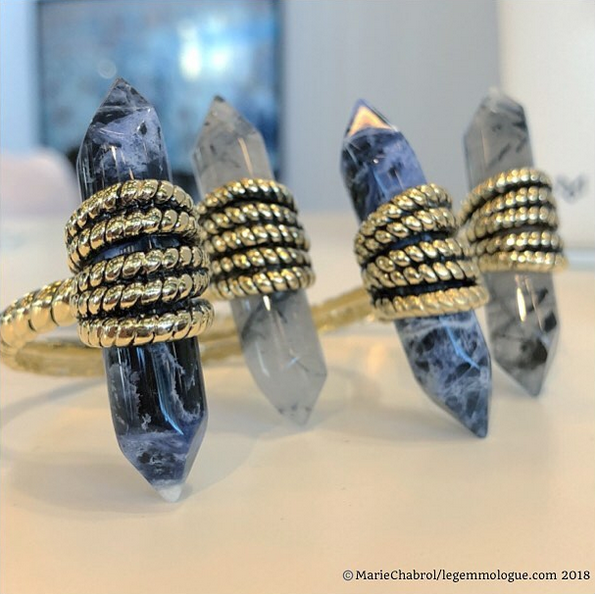 Stop by the Brazilian designer Maria Dolores to discover her fantasy work enriched with natural stones such as sodalite and tourmaline quartz. Photo: ©MarieChabrol

If you've been following me on the social networks associated with the legemmologue.com website, you may have seen a few photos as well as a take-over of the Instagram account @Bijorcha_Paris. But as I also know that many of you do not necessarily go on the networks, I propose you with the various photos that illustrate this article to find the totality of the jewels that I could admire and handle during my visit. They are my favourites of the show and I intend to keep an eye on the designers and houses they represent.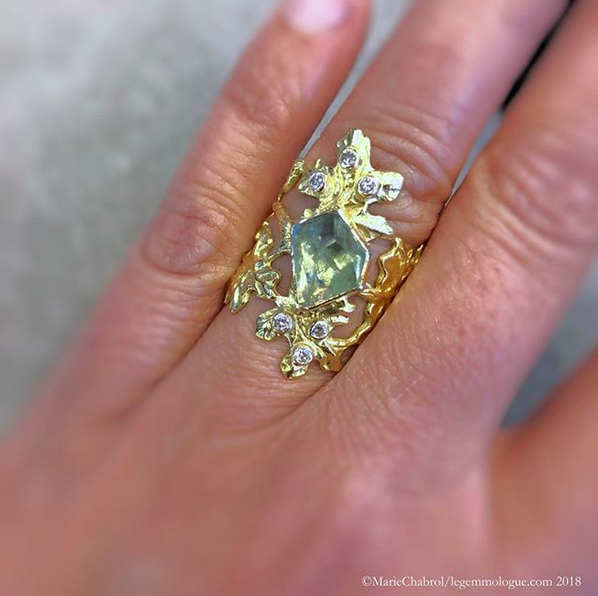 One of my favourite pieces from Marilisi is this gold, diamond and aquamarine ring. I particularly liked the way the house works the metal. Photo: ©MarieChabrol

Coming to Bijorhca Paris was also an opportunity to meet friends and people involved in the trade, but also to meet several readers of the site. It was therefore a real chance to meet you and to exchange with you. Finally, we took advantage of our visit to meet many actors of the jewellery and gemmology training. This year, the show had chosen to welcome many French structures as well as the Escola Brasileira de Joalheria (EBJ) which came especially from Brazil. This resulted in a fascinating exchange on training. This school, which is close to the AFEDAP (France) and the École Boulle in its approach to jewellery, particularly encourages its students to develop their own creativity without abandoning the technique. Pauline Verhlac, for example, presented her "Parure de Posh", a set of playful jewellery with undeniable charm. The Laboratoire Français de Gemmologie also came to meet the exhibitors and provide information on the analysis procedures for stones. The show also included numerous conferences led by various speakers, including the Académie des Métiers d'Art (on technical subjects such as 3D or the construction of a collection plan) and the LFG, thanks to the presence of their new director: Mr. Aurélien Delaunay (formerly Head of the Diamond Department of the same structure, nda).
Discovery of a house completely unknown in France and which should be less so with Nazuna and its creator Minoru Miki. His gold and diamond pieces are of a rare poetry in the jewellery sector. Photo: ©MarieChabrol
All in all, it was an interesting show that I enjoyed walking around for a day. But the credit for this goes to the show team who succeeded in creating a nice mix of large luxurious stands and small more intimate spaces. The next edition in January, which will be held from 18 to 21 January 2018, is already tempting me. And I hope to be there to share with you my encounters, the pieces and houses that seduce me, but also the initiatives of this sector that is always on the move and in perpetual renewal!
See you soon!